Remember our fun playdate with Katie & Jeremy of All Bower Power back in May? Well, here's a never-before-seen look at what happens when you put two female home bloggers in a room together. Within minutes they start ordering the boys around and before you know it you have a little mini makeover on your hands. For precisely zero dollars and zero cents.
But let's back up. The room where the sprucing took place was actually Katie & Jeremy's bedroom. Which is poetic since it's the room that brought us together in the first place (we virtually met Katie back when she shared her bedroom makeover which was inspired by ours). We became fast friends and before we knew it we were spending a weekend in the guest bedroom, just steps away from the room that brought us together (happy sigh). Anyway, if you ask me the room already looked lovely when we arrived: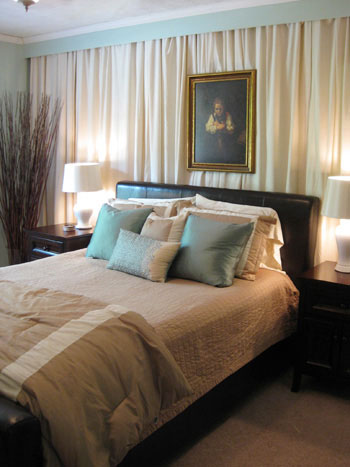 See? Gorge. But before I could even say "gor" Katie was a blur of motion, chatting about how she'd been meaning to move a few things around and how we should redecorate a bit together. Uh, where do I sign? So we called on the boys to lift a heavy dresser that was once in one corner of the room and place it in the other side of the space where a slipper chair used to be. Here they are demonstrating their masculinity. Then we just popped a mirror from the hallway and a vase on top to add height and bounce around even more light.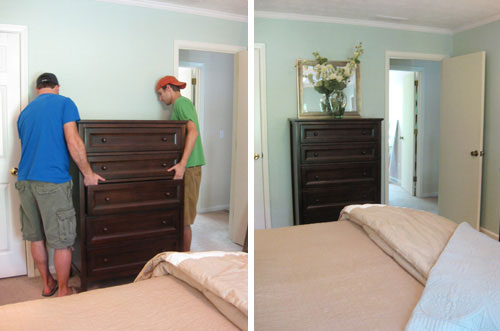 There, doesn't that look nice? Now instead of entering into the side of the chair there's a more open flow from the door into the room and even around the bed. But where would that slipper chair go? Why in the corner that previously housed the dresser of course. And we didn't even need the boys for that task so they were dismissed to go watch some strange TV show about restaurants who serve giant pancakes and twenty pound burgers. We also added an old floor lamp Katie had laying around next to the chair, but it didn't have a shade. Yet.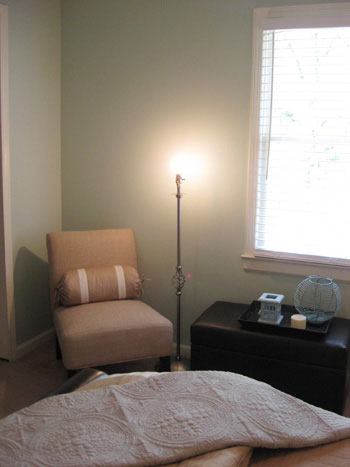 Then we decided to tackle that blank wall. We already borrowed a mirror from the hallway to put on top of the dresser so we were fresh out of things on hand to hang. Until I stumbled upon an old parasol tossed in a basket in Katie's office. Katie explained they were actually left over from her wedding day and she had quite a few laying around. And then we both got the same glimmer in our eyes and decided to make a little 3-D art with it. Katie took me down to her basement (yes, people used to speculate that she might hold me captive there if I ever visited her but that was far from the actual course of events) and we got to work playing around with power tools. And you bet your buns we didn't call the boys for help. When it comes to power tools we're all about girl power: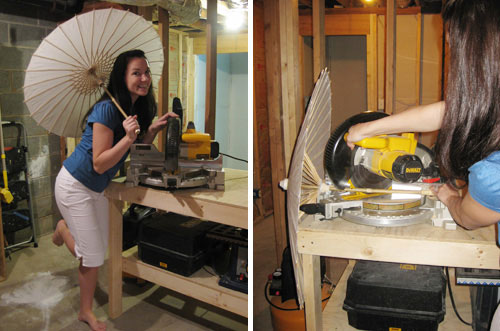 As you can see, we cut the stem of the parasol off so it only protruded about three inches from the wall. And then we flipped it over to see if there would be a way to hang it from the opposite side so that super cool string pattern inside of the parasol could face out into the room. Lucky for us, peeling back the paper on the top nub of the parasol revealed a small hole which was perfect for slipping over a nail that we could hammer into the wall to hold it in place.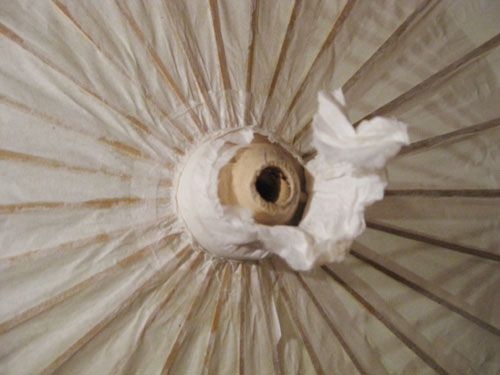 Here's Katie getting her hang on. Oh and check out the light. Although we didn't find a drum shade while we ran around readying the parasol for sculptural status in the room, we did see a blue wire basket candle holder (pictured a few photos up on the brown ottoman to the right of the chair) and placed it atop the floor lamp to create a cool wire "shade" that was just as graphic and linear as the parasol we hung behind it.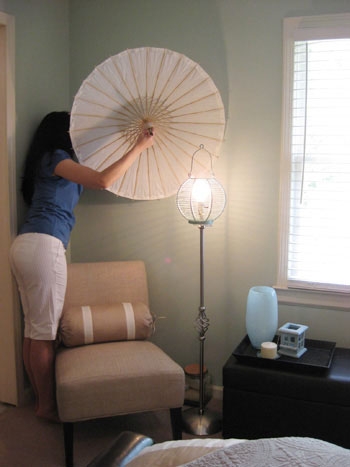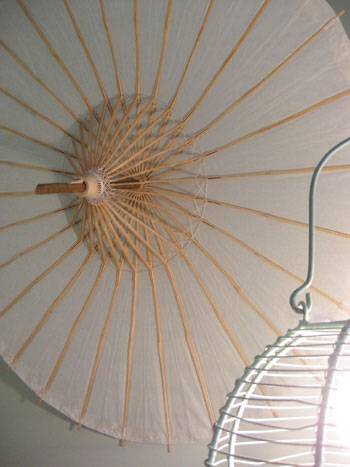 Then we did a quick pillow change for a bit more contrast with the tan chair (which happens to be the same Dolce Lounge Chair from Target that we have in our living room and den) and presto. A sweet little reading corner (or a place to toss clothes if you're me). And all for no money and a bit of weird blogger x 2 creativity. Ah the memories.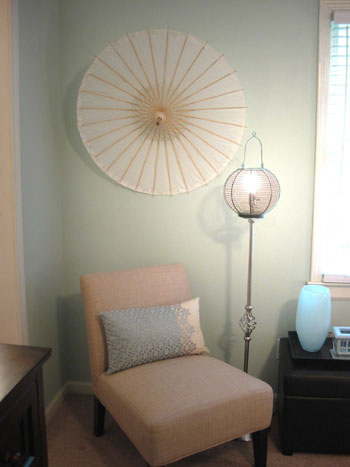 Sure a parasol probably isn't usually used as art and a metal candle holder isn't typically thought of as a lamp shade substitute… but we had too much use-what-you-have fun not to share our odd little corner creation. And that my friends, is the magic of fostering internet relationships with strangers and then agreeing to a three day sleepover.
Wanna see me and Katie Bower in almost-3D? We whipped up a fun little table setting video that you can laugh at/watch right here. Let the mispronunication and potty humor begin!