When we bought our house, there were two big issues we knew that we needed to deal with right away:
the ancient furnace for the first floor was so poorly maintained we weren't sure it would run
the 32 year old roof was at the end of it's life and there was a hole in it (it was actively leaking into the attic every time it rained)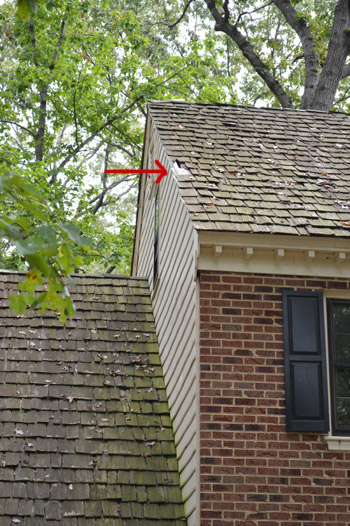 Thankfully we knew about both of these issues when we bid on the house, and we were able to negotiate thousands of dollars back at closing to go towards those updates (since a new roof and a new furnace are hardly cheap fixes). Then it was just a matter of getting them repaired as soon as possible. So while we were on our book tour, picture us playing phone tag with furnace folks and roofers in order to get those things straight while bouncing around the country. And by some miracle, we were able to get the furnace cleaned and running along with a completely new 50 year dimensional shingle roof within a few weeks of owning the house.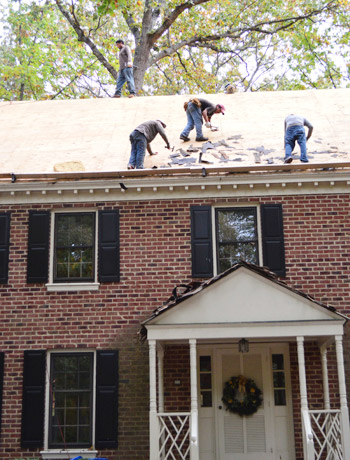 It was crazy to see how much rot there was (in some cases, the entire roof, including the plywood underneath, had to be removed and replaced).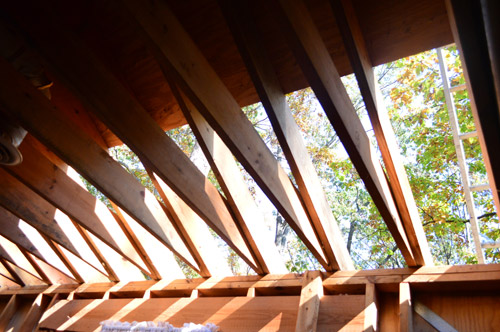 It definitely got a little worse looking before it got better…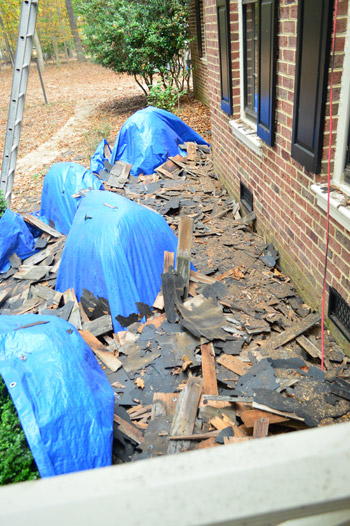 … but Clara didn't seem fazed by the 2′ piles of old roofing stuff around the house. Atta girl.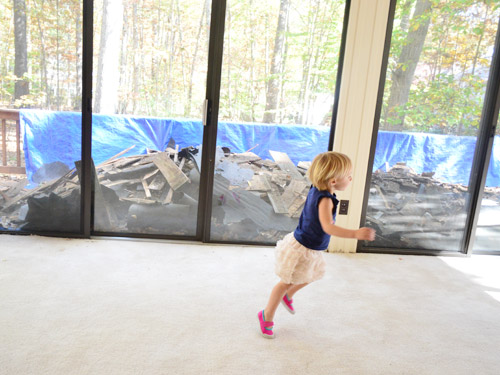 Ahh, much better.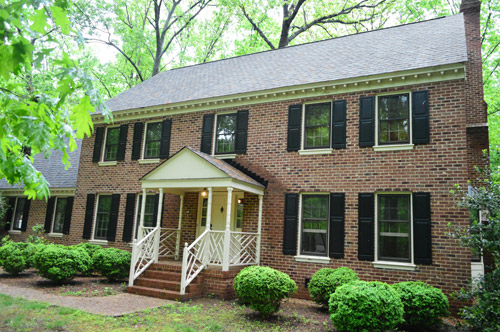 Oh and as for how we chose the roofer, we used them on our first house and loved them (they're a a fully insured family owned local business who've been in the roofing game for nearly 60 years). We still got three roofing estimates again, just to be sure, but they came in at the best price plus they were folks we had used already – so it was a nice easy choice.
When it came to choosing the type of roof, we looked around at homes in our neighborhood and noticed that the brick colonials that we loved the most had this type of roof (it's a 50 year dimensional shingle roof that has nice big slate-like shapes going on, which seemed more to scale with the house) so we pulled the trigger. You can see them best on the lower roof on the left of the house (that's over the garage) in this picture: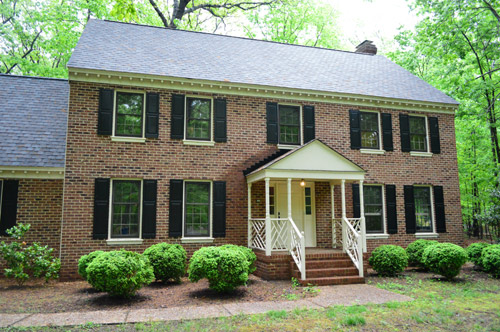 You get more of the slate-like look when you get closer. Here's a photo of a smaller awning on the back of the house that shows how beefy and square-ish the tiles are. The brand is GAF Camelot 2, and the color is Antique Slate. It actually has a lifetime warranty, so although it's occasionally known as a 50 year roof, it could hold up longer (knock on wood). Plus it has the Good Housekeeping Seal of Approval, which is nice, but I always wish there was an actual seal (you know, with a ball on his nose) in the logo. Missed opportunity.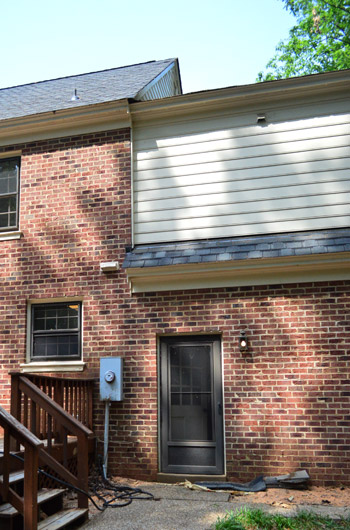 But while the new roof felt like a nice long-term fix (which was especially comforting after we confirmed that there was no long-term damage or mold from that leak) we continued to have issues with the furnace. So that initial fix felt like a band-aid while the new roof was a nice solid improvement. Apparently the furnace was original to the house (32 years old) and had never been cleaned. Never! They didn't even think the filter had been changed once. So yeah. It was, in the words of Rob Lowe on Parks & Rec, LITERALLY a hot mess.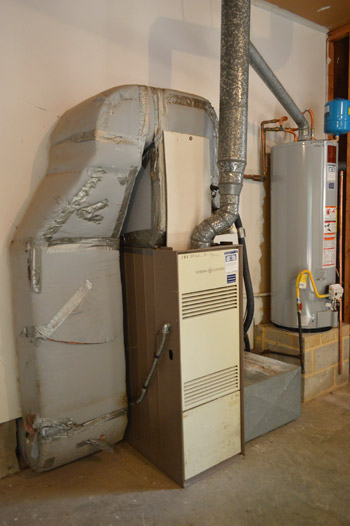 And since it was so old and has never really been serviced or maintained, it was incredibly hard to find parts. So finally after our 5th service call or so (we were smelling gas in the garage, which was SCARY and we worried there was some sort of leak or carbon monoxide issue) we got a pretty amazing call from our home warranty folks. We were getting a brand new Goodman furnace (which comes with an awesome warranty). On the house! As in, it was going to be free thanks to the 1 year home warranty that we got when we bought our house (we paid about $500 for it at closing because we knew if anything major broke in that time, it would be covered, and that peace of mind seemed worth it to us). Let me tell you, when they pulled into our driveway with a new 5K furnace (which included free installation and some new duct work)… that $500 was the best money we ever spent!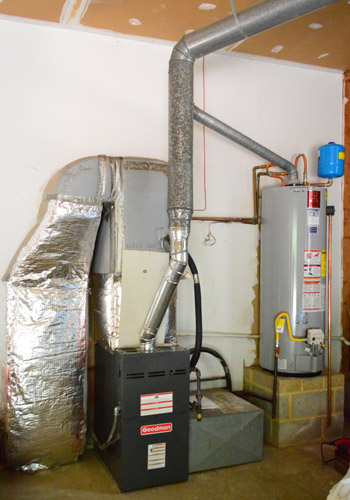 So those are two updates that we did way back when we got the house, just because they couldn't wait. Sorry it took so long for us to share them, we had to clear out some moving chaos that we had amassed in the garage to get that breathtakingly gorgeous after shot of the furnace that you see above.
On one hand it felt really nice to check two major things off the list so early (especially since one was free from the home warranty company and one was paid for with money that we got back at closing), but it was also a nice early lesson that juggling two houses was a lot more overwhelming than one. In fact John's parents had to meet the service folks at our new house for an emergency furnace appointment once because we were on a plane coming back from a tour stop in Palo Alto.
So we got these two big important things taken care of as quickly as we could and immediately clicked back into "current house mode" in the hopes of avoiding immediate brain combustion (that's a thing, right?). Then once we wrapped up the tour, the holidays, and the rest of the projects we wanted to complete at our last house, we finally allowed ourselves to switch gears back into "new house mode." Which was so exciting it made me want to write one word 3,000 letter posts like this:
Squuuuuuuuueeeeeeeeeeeeeeeeeeeeeeeeeeeeeeeeeeeeeeeeeeeeeeee!
While doing this dance.
So there's gotta be a lesson in here somewhere, right? Maybe it's "seriously consider the $500 home warranty, just for the peace of mind!" And I think there's something to our roof-picking method (we literally just drove all over our neighborhood staring at the ones we liked best and tried to analyze why we liked them). Did you do a "neighborhood crawl" like we did? Have you ever gotten anything for free within the first year of home ownership thanks to a home warranty?
Update: It has been really interesting to read everyone's experiences in the comment section. While a bunch of folks have scored new items thanks to a home warranty (and some people renew them every year since they find them to be so worth it) others haven't been as happy with theirs and have terrible stories of frustration and disappointment. It seems to really depend on the region, warranty company, and each individual situation.