Happy (ever so slightly belated) Father's Day everyone! To honor all those guys (and gals) out there who have that intrinsic need to fix things, we're giving away some tools this week. And they're coming from some folks who know a thing or two about fixing stuff: eReplacementParts.com. They're a great resources for the parts, materials, and even the how-to when it comes to repairing your tools. So this week's winner will get their choice of two of these three DeWALT tools: a circular saw, a jigsaw or a hammer drill. That's over $300 worth of DIY bounty!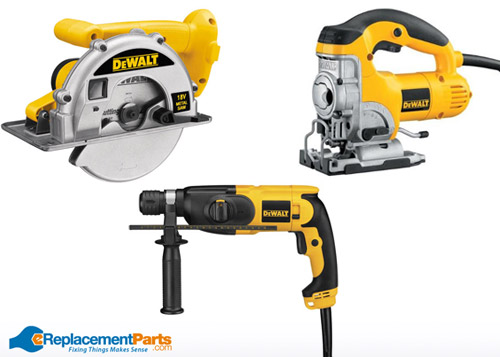 And since last week's debut of Rafflecopter was so well received (thanks guys! It saved us just enough time to combat a nail-biter of a computer crash!), we're breaking it out again. It might take a second to load, but you should see the entry box right below this paragraph. And this week the prize also ships internationally (we always try to hunt those down whenever we can).
Bonus hilarity: Check out this amazing picture the folks at eReplacementParts sent us to show their excitement for the giveaway. They sent a normal one and this "goofy" one, which is hands-down our favorite. Not sure what we love more – the guy who really committed in the middle, or the girl who's too ashamed to show her face on the right. Well played, guys. Well played.