We usually house crash people in person to grab a slew of shots with our own little Canon, but we couldn't pass up the opportunity to virtually house crash our friend Liz's 200 year old cottage in England. Charming? Check. Cozy? Check. This cottage has got it going on. And we love that Liz has fun with her home and brings in everything from a lime green lamp to chocolate walls with writing on them. Enjoy the tour!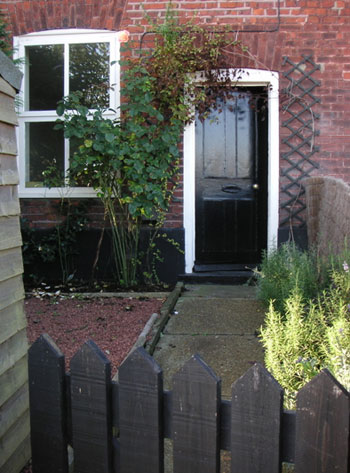 Liz, her boyfriend and their two cats have lived in their charming home for 2 years & she's been decorating since the day they moved in. The house is quirky & unique – think Kate Winslet's house in The Holiday. In fact, when her friends saw the movie, she got a dozen phone calls saying "Kate lives in your house."
Here's the simple and sweet kitchen. The countertops are solid oak & the Belfast sink is an original feature (!) that still works just fine. Liz loves her orange Le Creuset kettle (of course she fancies a spot of tea now and again) and the giant wall clock is from Habitat (a European home goods store that I pray will someday come to the good ol' US of A).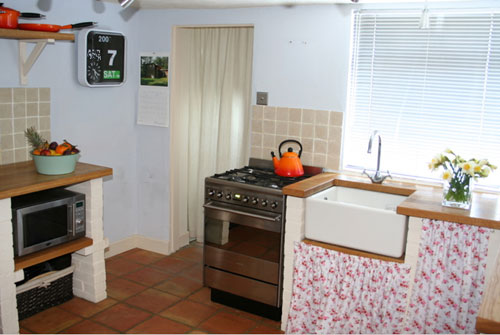 This is the view from the kitchen into the living area with a fireplace that was once filled with real logs but has now has been fitted with a screen made of firewood "off cuts" that hides their TV & DVD player. Take a moment to wrap your head around that. Have you ever heard of such a clever thing? It looks like stacked wood but it hides the telly!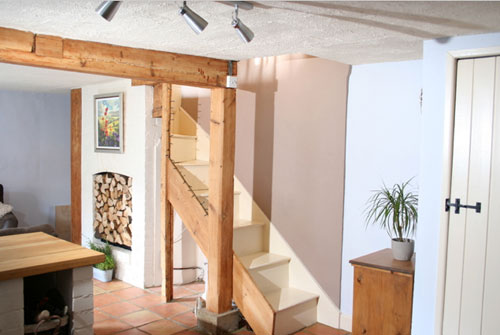 We love this cozy, welcoming little living area that Liz created with a simple set of comfy chairs and one amazing retro green lamp from Habitat.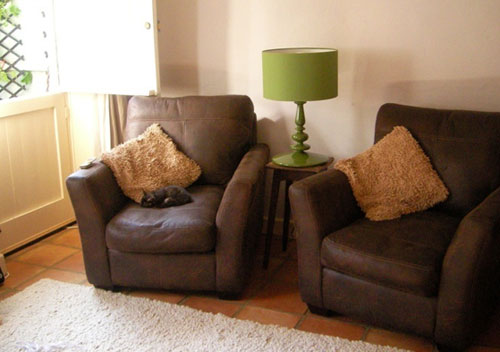 And this room had a very sweet past life as well. For a while it acted as a formal dining room complete with this this table made from planks of wood & old chairs that hail from a school.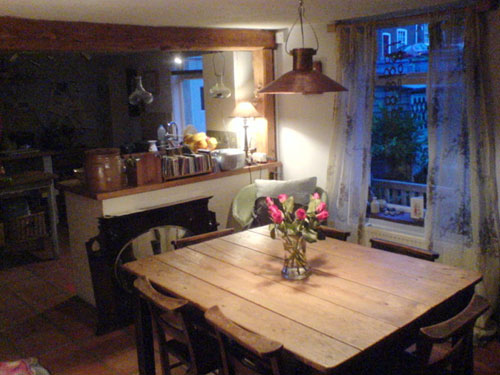 How great is this darling bedroom (with a sweet little fireplace- mmmm). The paint colors are Farrow & Ball's "String" and "Pelt" and Liz applied the wall decal (in more than a few steps) for some fun and interest. It totally fits with her home's warmth and the dark wall color creates a cozy, enveloping vibe.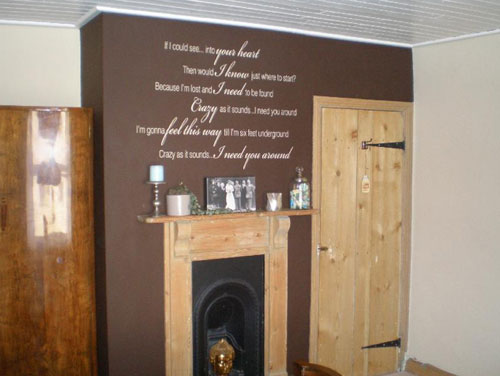 And so ends the tour of Kate Winslet- errr, Liz's quaint and comfortable cottage. Thanks so much for allowing us to virtually parade everyone through your lovely & soulful home, Liz. My next cup of tea will be raised in your honor!