We consider this site to be our happy place. A sanctuary away from all the other messes that life can throw our way and a record of the things that we'll find joy in remembering sometime down the road. So I was hesitant to address this week's bombings in Boston here, since they're about as far from happy as you can get.
But two days before the idea ever crossed my mind that participating in a race could end in tragedy, I did just that. Last Saturday I ran Richmond City's 10k, which USA Today ranked right alongside the Boston Marathon itself. Me and 40,000 others ran 6.2 miles up and down our city's most iconic street. It was my 12th consecutive time participating and I'd been looking forward to both running it, and sharing it with you guys here (just like last year).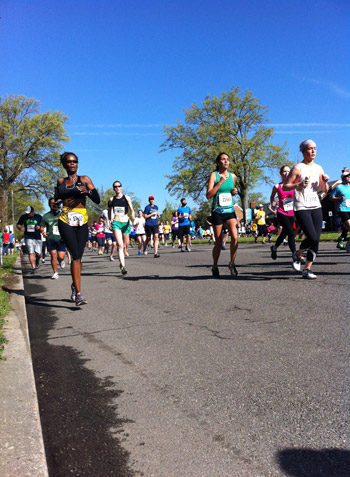 As upset as Monday's events have made me – both as a person, a runner and a fan of the city of Boston – I figured that maybe offering a reminder of the joy, camaraderie, and sense of accomplishment that can be felt on a race day might be a helpful (albeit small) attempt at bring something positive back. It's amazing how much love there can be on a day when thousands of runners crowd a city's streets.
Among the thousands of runners in Richmond that day were my family. Eight of us to be exact. There was my dad, who has run with me for 10 years now (though not literally next to me, since he's a good deal faster). My sisters Carrie (pink shirt) and Katie (blue), the latter of whom (along with my brother-in-law Martin) traveled from New York City. My cousin Brenna and her son Tyler also traveled (from Northern Virginia) to run with us. And there in the middle is my 12-year-old niece Olivia, who was running it for the first time. We didn't all start or finish together, but it was still very much a family event.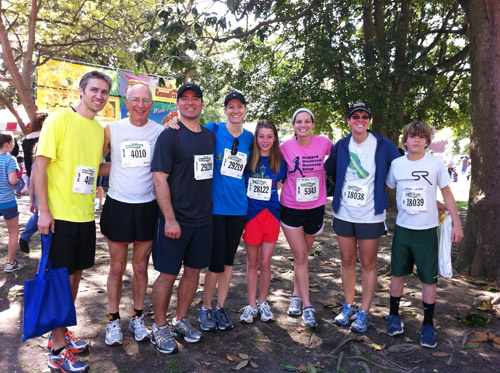 We also had family on the sidelines cheering us on. Sherry, my sister Emily, and my mom boldly volunteered to (got tricked into?) keep Clara and her three under age four cousins named Emanuel, John and Ben entertained while they waited patiently for the few seconds that each of us would trot on by. That's dedication if you ask me.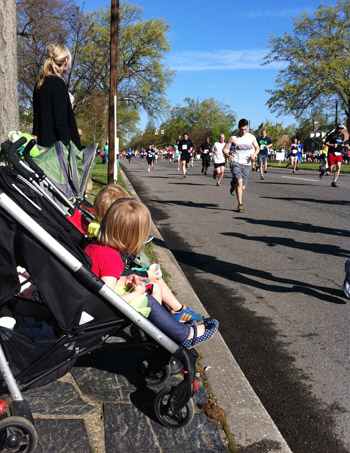 And to my surprise when I approached all four kids were calmly sitting in their strollers, waving some cowbells, and probably wondering where everyone was going. Maybe we all heard an ice cream truck?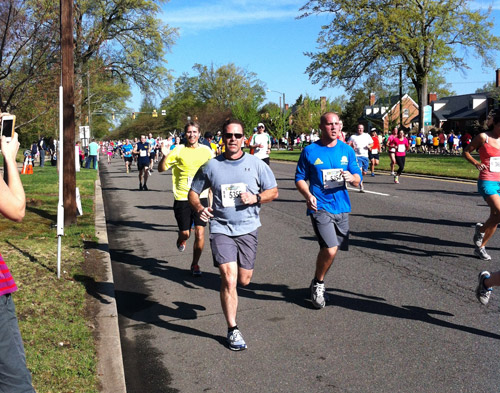 This look is the look of someone who has run nearly 4 miles and just got an incredible boost from seeing his wife and child smiling at him from the curb. PS: Note the crowd of runners approaching the turn around point on the other side of the street behind me.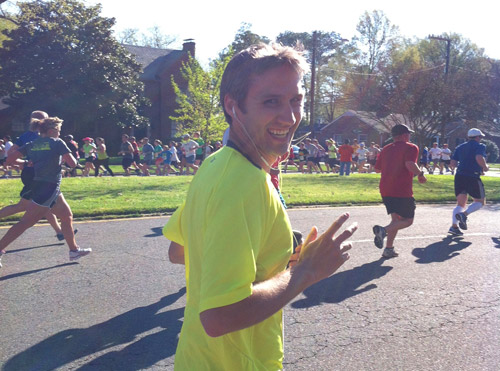 That was also the moment I noticed, as Sherry captured later in this Instagram picture, that Clara had picked out a special outfit to cheer me on. Her "Rad Like Dad" shirt and a neon tutu to match my shirt which, by the way, she helped me pick out the night before. What a girl. Maybe someday she'll run with me?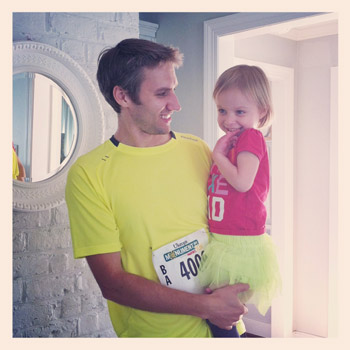 It was a really memorable day for our family. I'm so grateful to the people who cheered us on (whether I was related to them or not) and especially to the people who help to organize events like these. I wholeheartedly believe they do wonderful things for us as individuals, as athletes, and as communities. And hopeful they'll be able to continue to work those wonders as we attempt to process and heal from this week's tragedy.
PS: Runner's World has compiled a list of ways you can help and show support for Boston if you're interested.