Yup, I just hit you with an egg pun. Watch out for those this time of year. Anyway, we really were excited (there, I resisted it that time) to discover an adorable and very Easter appropriate display of nature that's actually been living in one of our former DIY projects. Can you tell what's going on in this picture?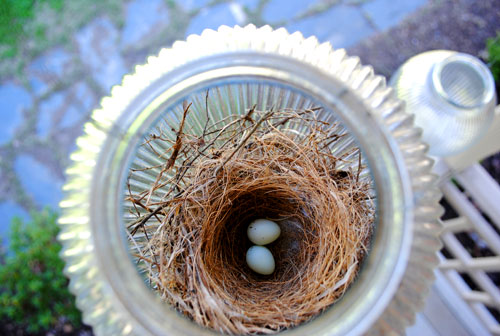 Yes, that's a nest with two adorable eggs in it. And guess where that nest is located? Why it's in one of our homemade porch lanterns (learn how we turned cheap bulb covers from Home Depot into sweet candle-lit porch decor right here).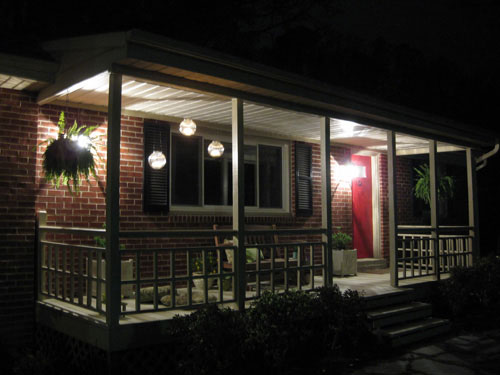 Mr and Mrs Bird just built it right on top of the candle that's inside of the middle lantern. Isn't that cute? Even the UPS lady stopped to check it out.
And on the subject of eggs, we wanted to link back to this oldie-but-a-goodie post about all natural egg dying. It could be a fun project to take on this Easter weekend. Speaking of this weekend, we're set to have a few lovely 80 degree days here in Richmond and we're oh so happy to welcome the warmer weather after what seemed like a never-ending winter (something about being due in the spring had us jonesing for sunny skies even in October). We hope wherever you are that you're having some great weather and enjoying whatever your yard has to offer. Ours has been serving up some pretty buds on nearly every tree in sight: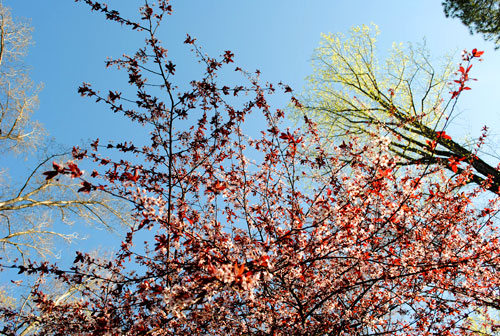 And some sweet blooms on a few of the bushes that surround our house: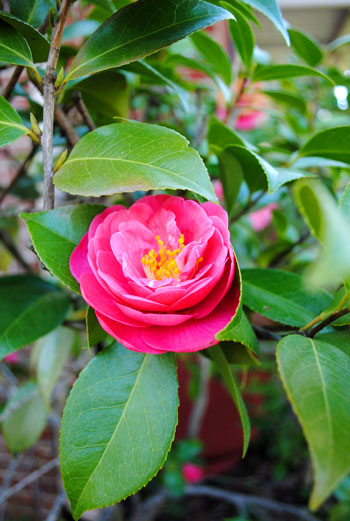 Which means my allergies are back with a vengeance. Does anyone have any all natural allergy cures to share? I've tried the whole local honey thing along with the Neti Pot with limited success and I have a good air purifier (and am sure to drink lots of water) but I'm still pretty sniffly these days. Oh well, the spring scenery makes it all worth it.
So there you have one egg-tastic discovery and some exterior photos to keep you up to date with the nature situation here at Casa Petersik. Do you guys have any funny bird's nest locations to share (last year we found one in John's bike helmet in the garage)? Have any of you been snapping photos of blooms, buds or any other outside eye candy? Do tell.