Alternate punny post title: The Updated Light Fixture Blues. That's right, we've got the blues, but we're far from sad about our "new" light fixture in the office. We just opted for indigo blue spray paint and added a giant drum shade to our old brass friend. Hence the blues joke. But you'll get a closer look in a minute. Patience, grasshopper.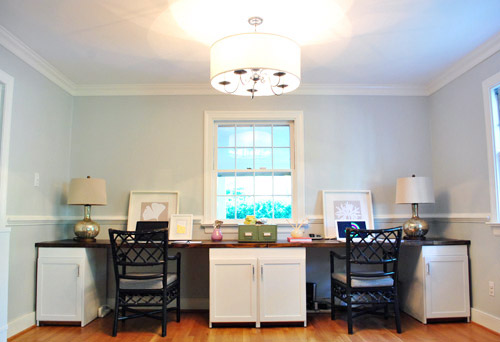 As a refresher, here's what was there before (remember to ignore the lack of height due to the too-small frames leaning against the wall instead of proper hanging art and those we-probably-won't-keep-them lamps on either side of our new desk). Our office was originally our house's formal dining room, hence the whole formal dining room fixture feel.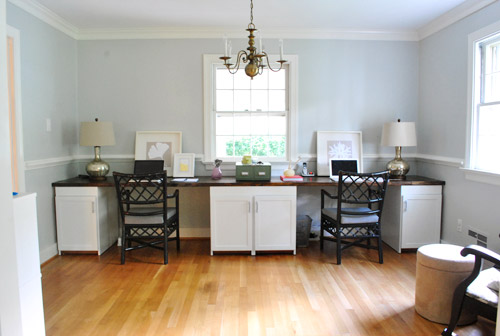 Speaking of its "feel." Over the last nine months I've felt it a lot… with my head.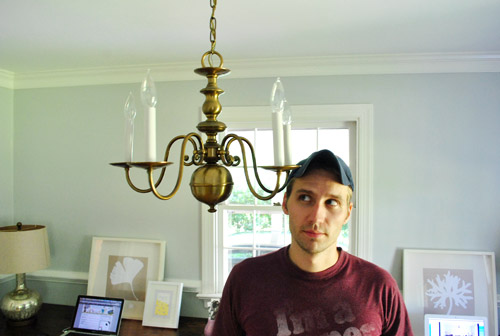 Though a more proper re-enactment of my many run-ins with the fixture would look something more like this. Just imagine a speech bubble with some expletives in it.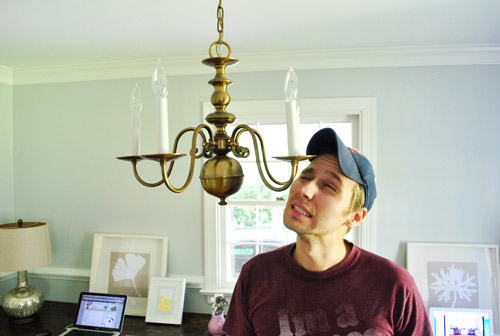 So even though the chandelier and I weren't on speaking terms, after a brainstorming phone call with Katie B, Sherry convinced me that we should do our darndest to work with what we have. Again. See, we already spray painted a brass chandelier like this in our last dining room, so this time we wanted to do a bit more than just add a fresh coat of paint. So we decided to attempt to "modernize" it a bit by tweaking the silhouette, adding a big white drum shade around it, and bringing in some sophisticated-yet-kinda-unexpected color.
Luckily we had no trouble finding a jumbo shade at our first shopping stop, which is a local favorite of ours (The Decorating Outlet which we've probably mentioned ten million times – it's also where we found Clara's capiz chandelier and the shade for the pendant we made in our last office/guest room). The best part was that it was miraculously large enough (it had to be at least 24″ wide and it was exactly that).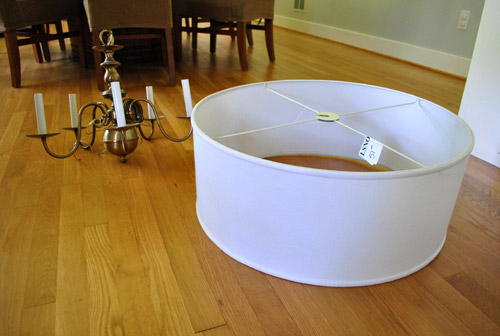 It was marked as $51, but after my better half sweetly pointed out a couple of subtle dents to the salesperson she was willing to sell it for $39. Score. I'll point out the dents in a later picture – they're not bad at all. But you know Sherry loves a deal. So even though $51 was a lot less than most 24″ drum shades like this $199 version that's only 20″ wide (yes, ours is a full two feet wide), it never hurts to ask. And $39 was the magic number.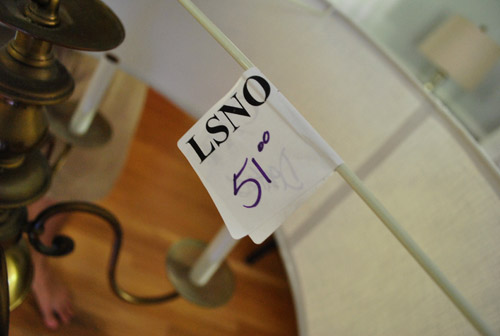 We also decided to eliminate the large ball on the bottom of the chandler since we felt like it would look funny sticking out of the drum shade ("like butt cheeks hanging out of a short skirt" as the wife so eloquently stated). Fortunately it just took a few twists of the bottom finial and the whole thing screwed right off (even the long rod that kept the ball part attached). We couldn't believe it was hollow because we assumed it would be full of wiring or something.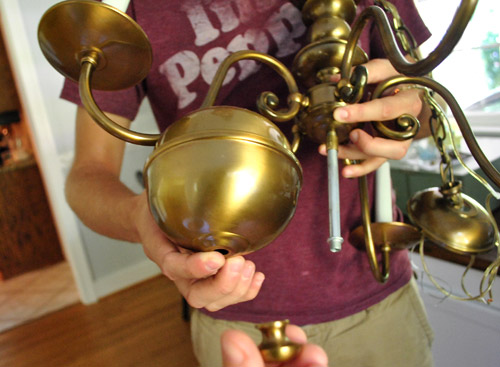 Here it is minus the ball (aka: with less junk in the trunk). We just reattached the finial to the shorter middle rod (since the extension rod that held the ball up screwed right off) and it was good to go.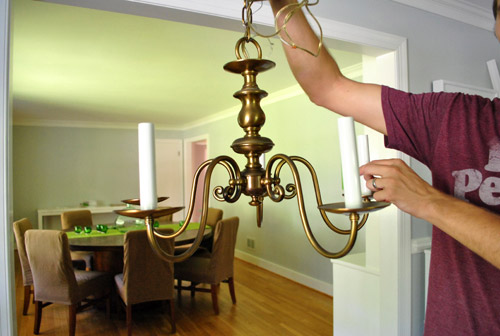 The next step was figuring out how to attach the drum shade, since it wasn't exactly made for our old brass chandelier. The obvious choice was the bottom, since there was a nice little nub for the shade's ring to slide on to (and the finial could be screwed back in to hold it up). It almost worked, but we didn't like the idea of the shade's straight & narrow crossbars being so in your face. They kinda messed with the original curves of the chandelier – ya know? So I gave it one of these faces and we moved on to the next idea: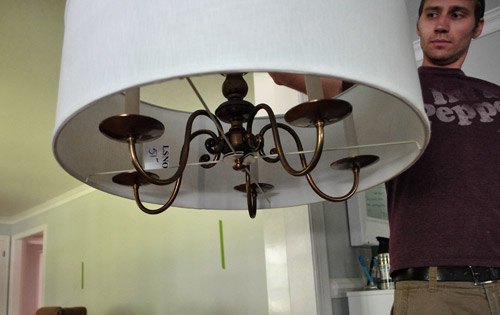 The obvious alternative was to hang the shade from the top (so the cross bars would be in the background instead of the foreground). The only problem was that the shade's top-attachment-thingie was too narrow to slide onto the top of the chandelier. Harumph.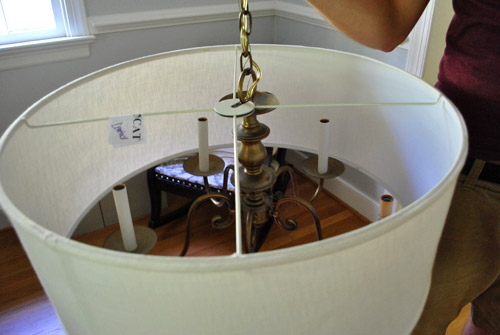 So we decided to improvise. The existing piece of notched metal had to go. Sherry was able to pry off half of it without a problem – just a little flick of the screw driver while steadying the "legs" so it didn't tweak the shade.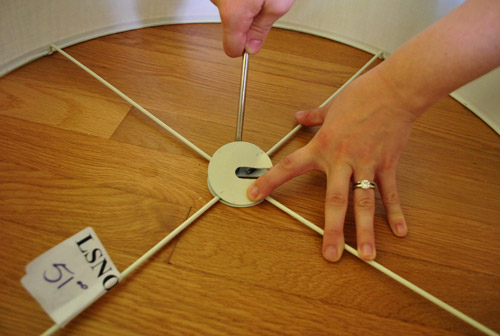 But the other half was more stubborn. We tried lots of tools, but it was requiring so much force that we started to get nervous about damaging the shape of the whole shade. (PS: You can see a couple of the small dents in the upper right of this picture – which are nearly impossible to detect from the outside of the shade).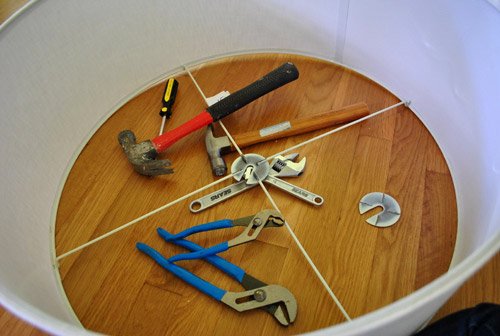 So we did what any demo-happy people would do. We broke out the hacksaw. Sherry was kind enough to photograph me looking like a sawing superhero, but it was actually she who did most of the sawing. Three out of four "legs" actually. She's my hacksaw heroine.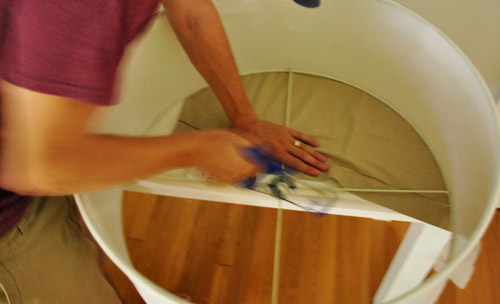 Removing the rest of that ring thing was just half of the battle. Okay, maybe a third of the battle. Because these four rods floating in mid-air certainly weren't going to solve our problem. They needed to be stabilized by something, and that something needed to somehow fit onto our chandelier.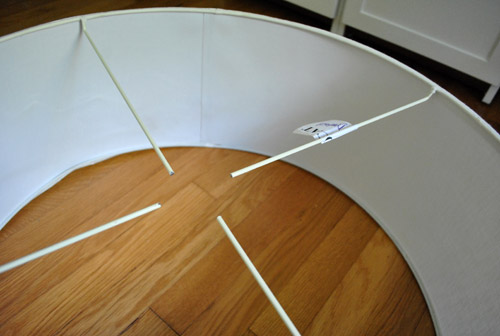 Luckily we found some spare 3″ binder rings in our office-supply drawer that were big enough to fit over the top of the chandelier. After a couple of attempts at super-gluing one to the four rods (and having the ring break off within seconds of trying to pick up the shade) I decided to try wiring it two of them together, thereby sandwiching the shade's four rods. I just used some craft wire that we had around (pretty thin gauge stuff so it was easy to bend). The method was far from complicated. I just (messily) tied some wire round and round – sort of making a figure eight shape to secure things. I wouldn't earn any merit badges for my wire knots, but they did the trick (and won't be seen in the final assembly anyway, so… yay).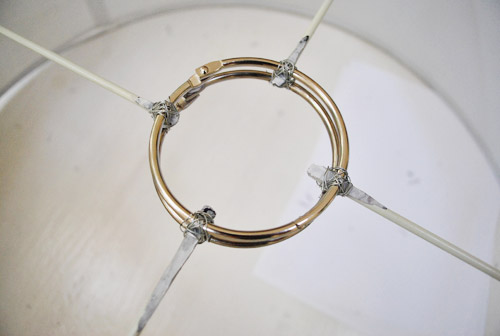 I can't believe I haven't mentioned one of the most important steps in our chandelier project: painting it raising it so I don't hit my head anymore. This involved shortening the chain that it hung from and snipping the wiring to match the new height. Once we determined how many chain links we wanted to keep (by Sherry holding it up as I walked under it, a very scientific process) we just pried off the extraneous rings with two channel lock pliers. It was nice and easy – and a big step toward me (and my delicate man face) enjoying our final product.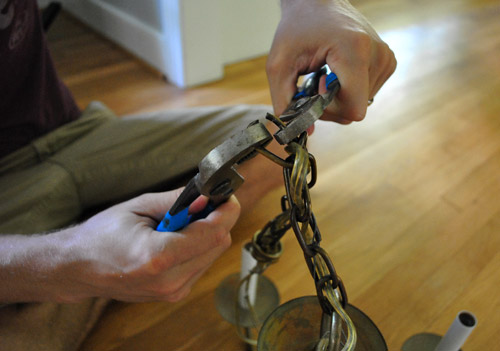 Painting it was a pretty important step too. At first we thought about something smoky like an un-shiny charcoal grey (not quite black, but close – sort of like a matte gunmetal color). But we thought it might be fun to take a little subtle risk with a rich deep color. And while in the spray paint aisle evaluating our options (yellow, green, teal, and even orange – all of which we might bring in a few other ways with things like upholstery and art), a can of indigo blue spray (in a satin finish) caught our eyes. Perhaps a nice nod to the backs of the built-ins in the adjoined dining room?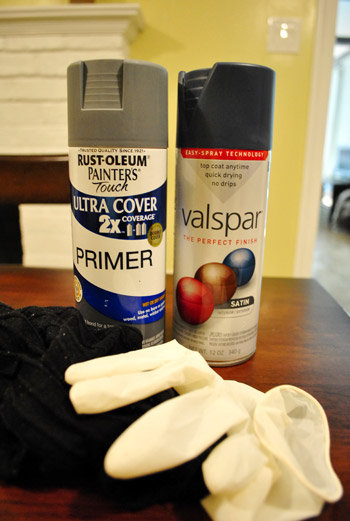 So Sherry gathered her supplies: spray primer, our freshly purchased indigo spray paint, rubber gloves, and some sexy black socks (you know, so she can impress all the neighbors with these legs). Because she needed to spray it while hanging (for the most easy-access) we decided to use the basement (with the door open and an equally-as-sexy-as-the-socks gas mask) where we could hang it from the ceiling and surround it with a drop cloth.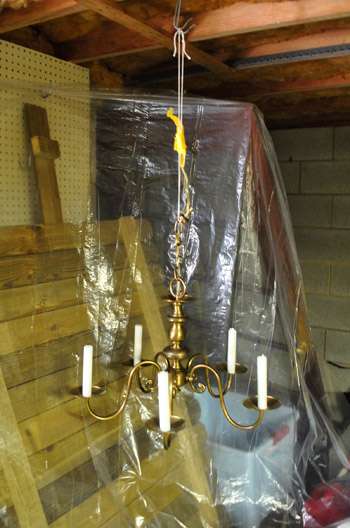 We were also sure to stuff some paper towels in the sockets to keep paint out of the interior part where the bulbs screw in (no sense in gumming up the works).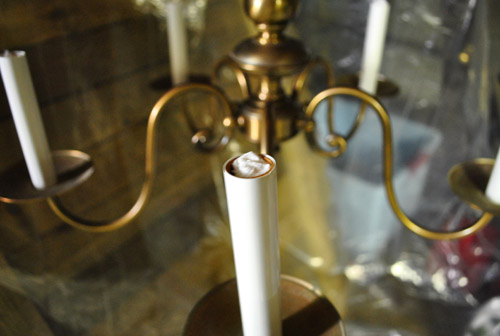 Sherry first did a coat of spray primer, which was a pretty cool color in itself. For a second we debated just leaving it…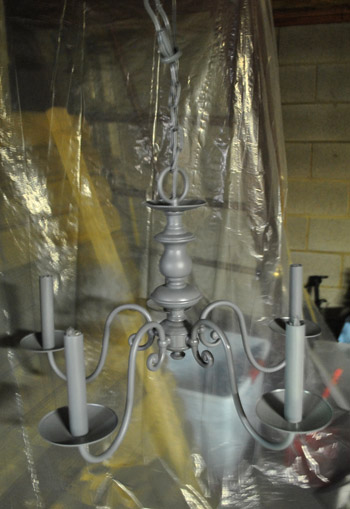 …but after going for the indigo we were immediately happy with the choice. It makes the whole thing look classic, but updated at the same time – at least in our humble what-the-heck-do-we-know opinion.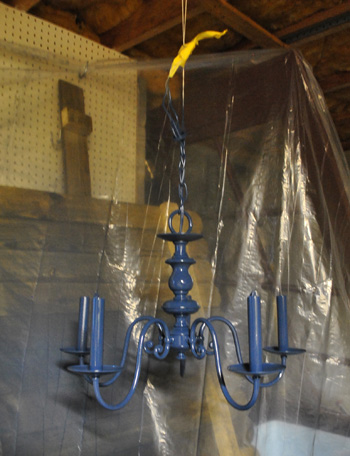 I don't have many (okay, any) pictures of the process of re-installing it because it took all four of our hands (Clara's hands were busy napping and Burger's paws were probably partaking in a sleep-sesh too). But after sliding the shade down the chain so the rings rested on the top of the chandelier's fluted center part (there's a detailed pic of this coming up) Sherry held the whole thing up while I re-wired it to the ceiling in the same manner in which I had taken it down. That's the extent of my electrician knowledge – just carefully redo what you undo. And I turn off the power to the entire house just in case things aren't perfectly marked in the fuse box (they don't call me John "Paranoid" Petersik for nothing).
And voila. The rich blue color is sort of hard to see in pictures but it's nice and clear in person.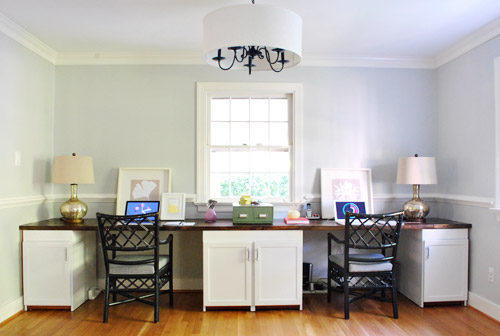 We love that it's clean and understated from afar because we someday plan to drop a huge chandelier over the huge dining table (and didn't want the office fixture to compete).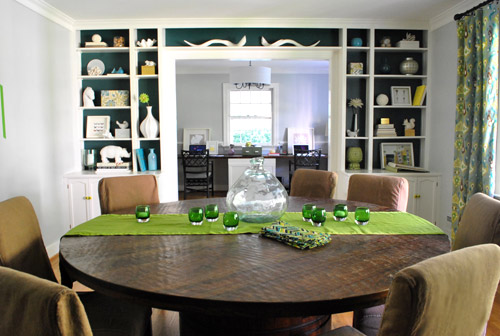 Here's a shot from the top so you can see how the binder rings rest on top of the chandelier's middle flute thing. Since the rings are smaller than the disk that they're sitting on, they're completely invisible from below. So only the flies on the ceiling get to enjoy this vantage point.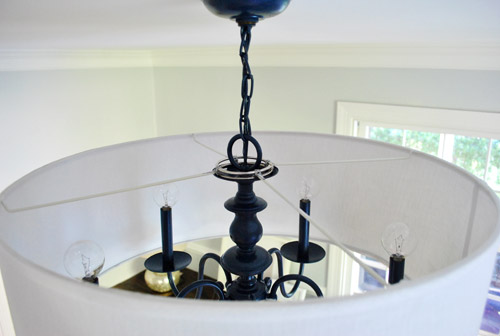 And of course, one of my favorite features of the new fixture is that I can walk right under it. Oh the simple pleasures in life. For you detail oriented folks, the bottom of the chandelier is 78″ from the floor.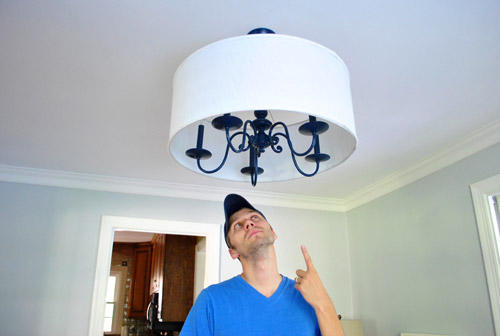 As much as we love the light off, it really comes alive when it's on. The room feels light and bright and the shade diffuses the light much more evenly, meaning the chandelier no longer casts creepy five-legged shadows of itself on every wall.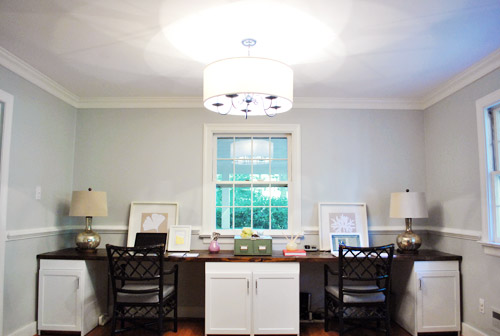 And we think the kaleidoscope pattern that it makes on the ceiling is pretty nifty.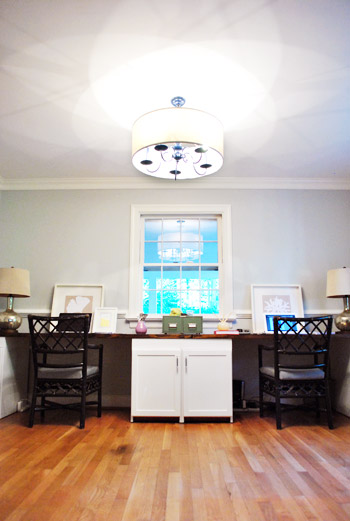 It's also a really stellar size in person. The giant 13 foot desk could easily dwarf something smaller, but the light colored shade and clean lines keep it from feeling too heavy so it's nice and airy – even with the deep blue tone on those ol' brass legs.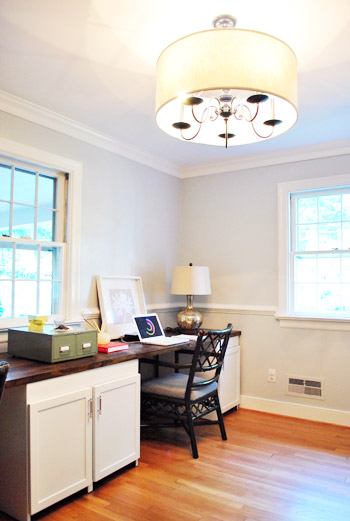 And oh yeah, we swapped out the traditional "flame" light bulbs for more modern globe-style bulbs (from Lowe's). It's a small detail, but we think it makes a big difference in crisping things up (we first fell in love with round bulbs around four years back when we used them on a similar dining chandelier in our first house that we spray painted white). We looked for CFL versions, but no dice- although we hear most things are going LED now, so here's hoping they make little round chandelier ones soon.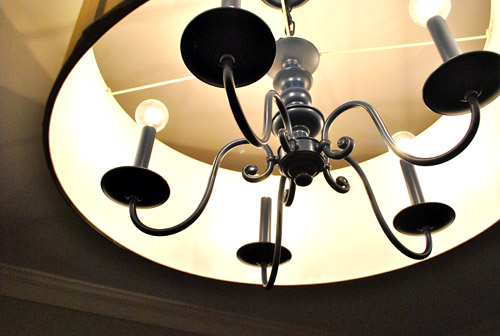 In summary, we love it. Here's the view from the floor (where Clara and Burger actually spend a fair amount of time). And speaking of the bean, she's learning so many new words these days. It charmed us to no end when she woke up from her nap after we hung the "new" fixture and pointed right up at it and said "oooooh, light."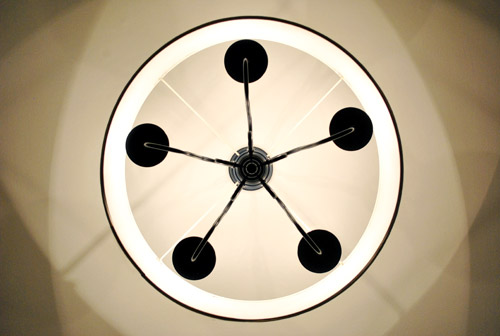 Even though the update wasn't totally free, it certainly beats the price of paying for a whole new fixture. Especially anything that's two feet wide. Here's the breakdown:
Chandelier: $0 (already owned, but we've seen them for under $10 at yard sales and thrift stores)
Drum Shade: $39 (from The Decorating Outlet, negotiated down from the already discounted price of $51)
Binder rings & wire: $0 (already owned, maybe $4 if you had to buy them?)
Tinted spray primer: $0 (already owned, but it's around $7.50 from Lowe's if you need some)
Indigo spray paint: $3 (from Lowe's)
New globe light bulbs: $9 (from Lowe's)
TOTAL: $51
Not bad considering a nearly identical version (minus the deep blue color) was recently sold by Pottery Barn for $299 (looks like it's currently out of stock).
I'm sure we're not the only ones who've updated a chandelier or other light fixture, so we'd love to hear your experiences and even see pictures if you've got a place to link to them (like Flickr or your blog). Has anyone else gone for a non-traditional-but-surprisingly classic color? Or found another way to make an old fixture feel fresher? Who else hit their head on a light at least five times a week for thirty six weeks straight? Why the heck did we wait so long on this update anyway?