A few dozen people have discovered this old picture of our former dining room (now third bedroom) in our archives and just had to know what was on the walls. Well, we're here to clear up the mystery. Did the title of this post give it away?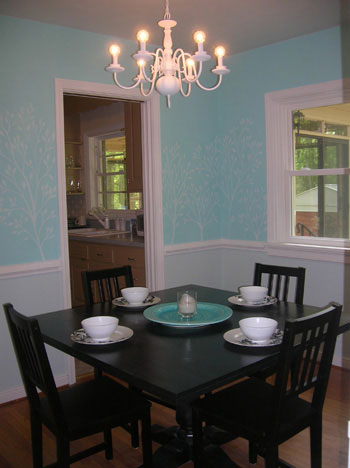 Yup, it's chalk. Let's have a closer look, shall we?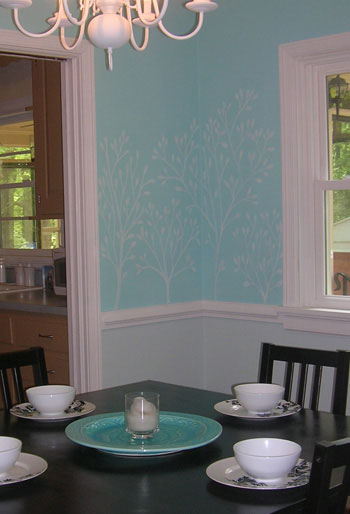 After we painstakingly removed all the wallpaper and painted the walls a bright and happy tone it still felt a bit bare in there, so I grabbed some chalk from the junk drawer and freehanded some leafy branches around the room right over the flat latex paint (which is Sea Spray by Glidden by the way). I fully intended to use a small brush to paint over them with white paint but I actually got lazy and found some spray-on chalk fixative (an old art-school trick of the trade) at a nearby craft store instead. With a few thin sprays it was "sealed" right on the wall. And the fixative didn't leave any drips or wet spots when we applied it. Whew.
It was still a bit less secure than if I had painted over my chalk branches (if you applied some serious pressure like you were sanding the wall a bit of chalk could be found on your hand) so I would recommend using a small paint brush to trace some paint over your chalk art if you'll be doing this project in a child's room and need maximum durability. But for a casually trafficked area like a dining room, chalk + fixative = perfection.
Oh and because everyone loves a good before & after (and this room no longer exists in our house since we turned it into a third bedroom) we thought we'd remind you guys what it looked like when we purchased our house: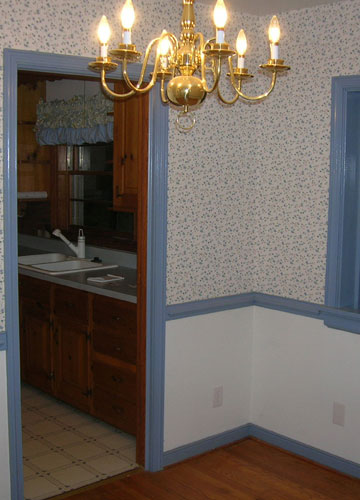 She's a beauty, eh? And you might notice that the brass chandelier looks a bit sleeker in the photos above. Another quick and easy dining room project of yore was painting the ol' brass chandy. And it's really a super simple process. Just remove yours and bring it outside or into a garage and spray it with Kilz or some other spray primer and follow that with two thin coats of regular latex spray paint (in any color that you'd like- it would be just as fab in soft green or sultry red). Of course we removed the bulbs and taped off the bulb holders so they didn't get coated with paint. And afterwards we even replaced the flame shaped bulbs with clear round Domino-esque ones when we rehung it). Simple, cheap and oh so effective. Happy chalking and spray painting everyone!