Wedding week continues here at Young House Love with a look back at all the paper goods we designed for the event – from our summery invitation all the way to the customized thank you postcard. But let's kick things off with the piece of paper that kicked things off in early 2007: the save-the-date.
We wanted something simple yet meaningful so we took inspiration from one of our favorite traditions as a couple: taking pictures in a photobooth. I'll admit that we didn't want to waste lots of quarters trying to get the perfect photostrip, so we faked our own using a digital camera, photoshop, and some glossy photo paper. The result was a memorable way to communicate some basic details (what, where and when) which was mailed off in a simple, white envelope. And who knew that it would later trigger the idea to rent a photobooth for the actual event (more on that later).

With our quirky save-the-date having broken the news, we turned to our invitation to set the mood. After all, an invite is one of the first tastes of an event that you give your guests so it's the perfect time to establish the tone, the color scheme, etc. We wanted something elegant that still said "fun, garden wedding- leave your tie at home, mister." So we designed and printed our own invites using a citrus-y yellow and green palette and brought it to life with a few graphic elements like lemon topiaries and buzzing bees. A not-so-typical wedding invitation for a not-so-typical wedding, no? Not to mention we packaged them (complete with an RSVP card, hotel info and directions) in bright lime green envelopes which I had the pleasure of hand addressing (Sherry convinced me my handwriting was better than hers). My hand hurts just thinking about it, but it was another personal touch that we just couldn't pass up.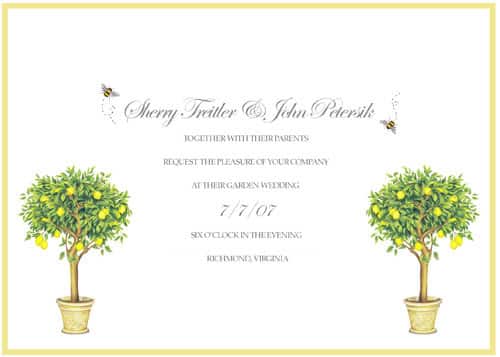 We knew we had successfully set a light-hearted mood with our invite once the RSVP postcards starting rolling in with all sorts of notes written outside of the lines. We loved them so much, we've still got them all stacked on the console in our living room. And we love perusing them every once in awhile to reminisce (and appreciate our charming friends and family). Gotta love wedding keepsakes beyond the tried and true photo album.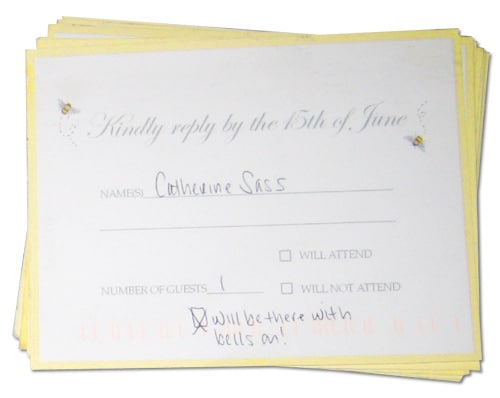 Our wedding paper trail followed our guests all the way to Richmond. For those staying in the local hotel that we recommended, we crafted a welcome packet to ensure that they made the most of their stay. And we didn't have to cough up a lot of dough thanks to some creativity. We snatched a bunch of free maps from the local visitors' center (they were yellow, conveniently), highlighted some of Richmond's must-see spots and paired it with a "When in Rome- er, Richmond" guide (a sheet of attractions that we printed at home which correlate with the map). We also threw in a Virginia is for Lovers sticker to help our friends and family mark their stay in the big V-A.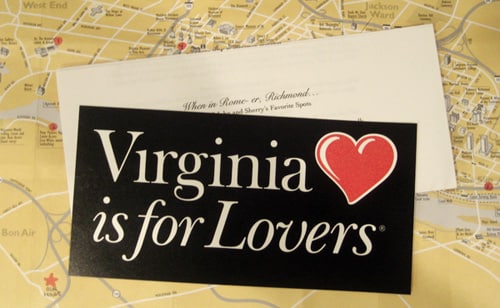 The stack of RSVP cards in our living room is currently complimented by another pile of wedding memorabilia: our homemade wedding sentiment cards. Rather than a traditional guest book, we asked our friends and family to leave us a note on quirky speech-bubble cards that we designed and printed ourselves. During the reception people filled 'em out and simply dropped them in a nearby glass vase for us to pour over later.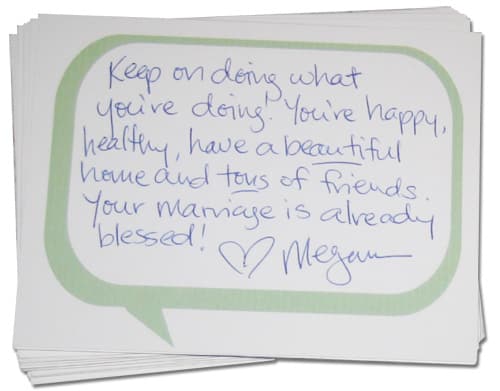 When all the "I Do"s were said and done, we still had one more bit of paperwork to take care of- the many thank you cards for our generous guests. And we couldn't let the creativity slip now. So rather than a traditional folded note card, we ordered custom postcards that featured this artsy pic from the wedding itself (for less than the cost of regular stationery). It was just another unique and personal way to help our lovely guests remember the event… and play "Where's Waldo" by trying to locate their blurry head in the background.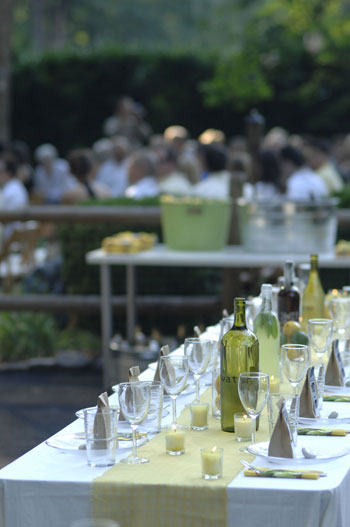 So that's the paper-side of our wedding story. Now tell us yours. Did you find an unexpected way to ask your guests to save the date? Or maybe you've received a particularly creative invite or memorable thank you that you'd love to describe? Do tell, because it could very well provide some inspiration for our fabulous readers… or even for our next big event. I just hope I'm not hand-addressing envelopes again anytime soon.
*Drop in on our Wedding Album tab below the header to check out all the details of our big day from start to finish!