Just like our first house floor plan and our current house floor plan from yesteryear, a bunch of you have requested a new house floor plan. So here ya go! They definitely help visual people like us see what walls are where, and what flows into what. So we whipped this up with floorplanner.com (which is, as the name might suggest, a free floor planning site). One big difference from the last two floor planning posts that we shared? This time there's a second level. Who's got two thumbs and a set of stairs? This girl.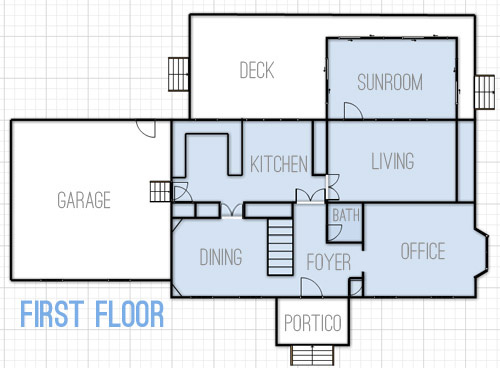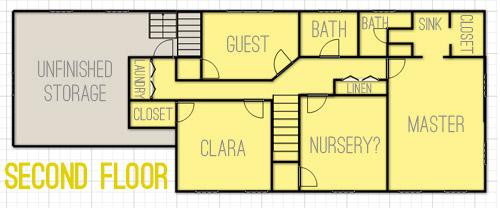 The funny thing is that when we shared a video tour of the new house, some people said "wow, the new house seems so much bigger!" and some other people said "wow, your new house seems so much smaller!" so that was interesting to us. I think it's hard to judge room size without furniture, so since the new house is empty – and covered in blue trim and wallpaper – it might be throwing people off. In reality the new house and the current house are almost exactly the same square footage (there's literally only a 20 square foot difference). The new house just looks a lot bigger from the outside since there's a visible second story instead of a hidden 1000 square foot addition off the back of the house that you can't see from the street.
As for a few first thoughts about what we'd like to do to alter the actual footprint…
we'd love to convert the big triple window in the eat-in part of the kitchen into a big french door that leads out onto the deck
there are a bunch of doors closing everything off on the first floor (they block the flow between the dining room and kitchen, the kitchen and foyer, etc) so we'll be taking those down to open things up
the wall between the living room and the kitchen will come down, but we'd love some built in bookcases on each side with a large centered opening (sort of like the built-ins in our current dining room but perhaps with glass doors and lighting)
we're planning to fully renovate the chopped up bathroom and sink nook in our bathroom so they're all one space with a nice big double sink and a soaker tub
someday we'd love to fully finish the unfinished storage space at the end of the hallway (right now it's just a raw space full of exposed beams and ducts, but maybe down the line we can floor it and drywall it to create a movie room/bunk room for Clara, potential Bean #2, and their friends when they're older) Update: due to lots of questions, I wanted to clarify the stairs you see in the unfinished storage space – those lead to the attic, but the area labeled as "unfinished storage" is on the same floor as the bedrooms (no walking up or down to get to it).
This video tour of the new house will probably make more sense out of those bullets, and of course we have a bunch of other stuff banging around in our heads (we change our minds every minute) so we'll be back with a big ol' List O' Planz for all the items on the agenda. Get ready guys, we might break 3,000 words with that baby. Oh wait, we forgot measurements! Here's an extremely approximated rundown for ya (tape measure + three year old = immediate mayhem).
Foyer: 9.5 x 8′
Office: 16 x 13′
Dining Room: 13.5 x 13′
Kitchen: 21 x 11′
Hall Bath: 4.5 x 5′
Living Room: 20 x 13.5′
Sunroom: 18 x 12′
Our Bedroom: 13.5 x 19′
Our Bath + Sink Nook (since we hope to combine 'em down the line): 8.5 x 7′
Possible Future Nursery: 11.5 x 13.5′
Clara's Room: 13.5 x 12.5′
Hall Bath: 8.5 x 7′
Guest Room: 13.5 x 11′
Laundry Nook: 3 x 7′
Unfinished Storage (with exposed beams, ducts, etc): 17 x 19.5′
Ever made a floor plan? Ever been so excited to have stairs? Tell $herdog all about it.