When Meghan Carter came to interview us, we tried to pull out all the stops to make our house look its absolute best. We were sure to have a tasty assortment of apples in our clam-shell-turned-fruit-bowl in the kitchen and fresh towels in each of the bathrooms. Heck, we even Fabrezed a bit for good measure. But we opted against bringing in bushels of fresh flowers after deciding that lush leafy greenery looks just as fresh with our simple neutral palette (and conveniently grows in abundance just steps away in our backyard.
So we were sure to snip some fresh ferns for a few bud vases in our bathrooms: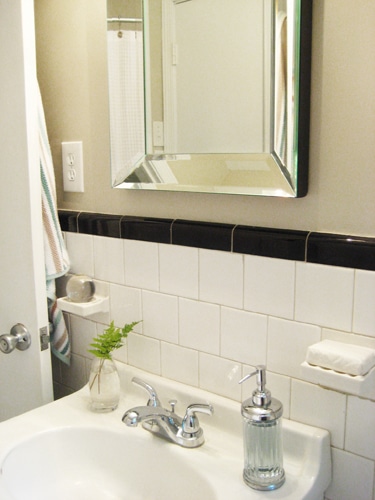 And to bring in some heavier artillery (in the form of some big leafy branches) for our oversized glass bottles in the living room.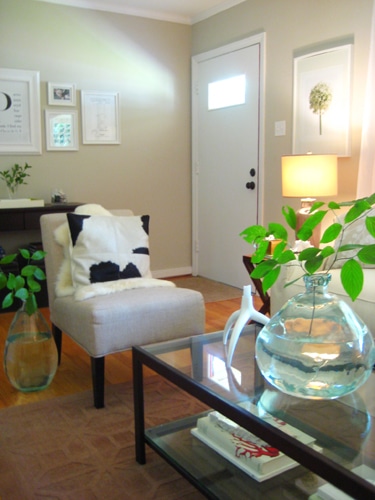 And just look how good those leafy greens look with the red front door… gotta love complementary colors.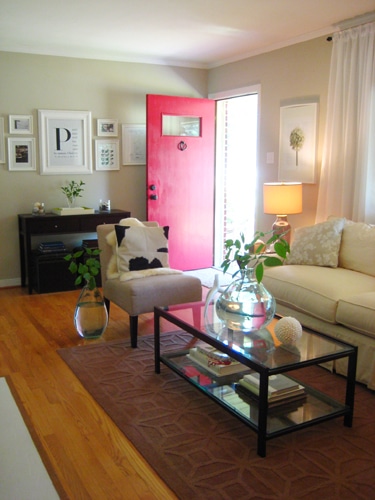 Do you guys have any rituals to get your house ready for special guests? Or any cheap decorating tricks like robbing your yard of some not-to-be-missed branches and twigs? Do tell.