We've been waiting for a good reason to update the hardware on our front door, and knowing it was about to be on camera was the kick-in-the-keister we needed to finally tackle the project. Thankfully some dead hydrangeas that we recently returned to Lowe's put $80 back in our pockets to cover the $50 project cost and then some. So we'll take you through the process and show you how to switch out your front door hardware with ease.
The existing brass doorknob set clashed like crazy with our almost-black oil-rubbed bronze porch lights and black shutters, plus the old deadbolt required a key to lock it from the inside… so annoying. So I was more than happy to move them off of our door and into our trash can: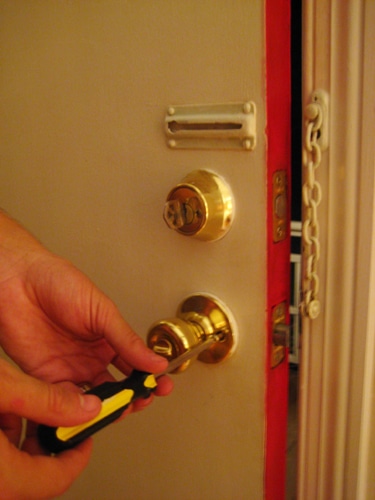 Next was the relatively easy task of slipping in the new oil-rubbed bronze doorknob and deadbolt. The only hitch there was that the existing hole for the knob was slightly too small for the new hardware. But a makeshift chisel (i.e. flathead screwdriver + hammer) allowed me to carve out a larger hole in no time. Oh yeah, and the other little problem was that some red paint peeled off with the old brass hardware… oops.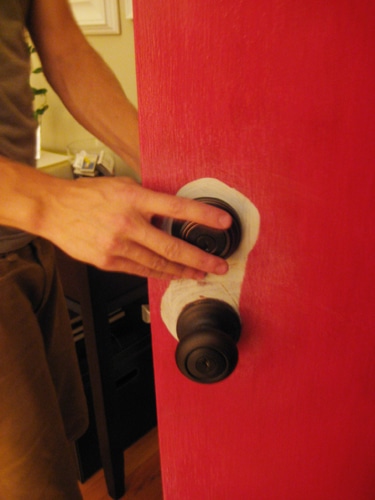 First we took a simple "paint over" approach to the peeling problem after some light sanding, but we quickly realized that we could still see the ridge between the new and existing coats. So, Sherry upped her game and slapped on some spackle, which would later be sanded and painted over for a seamless finish.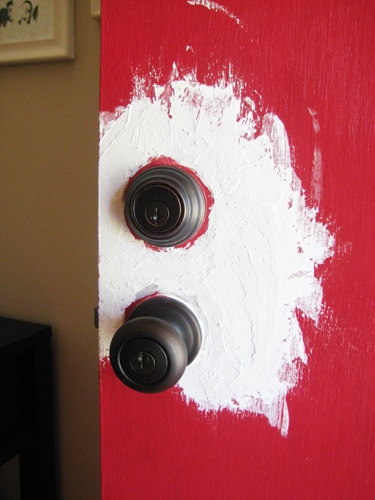 A few coats of Valspar's Fabulous Red later and our door was as good as new (and now coordinates with the rest of our front porch). Here it is in its "drying" phase: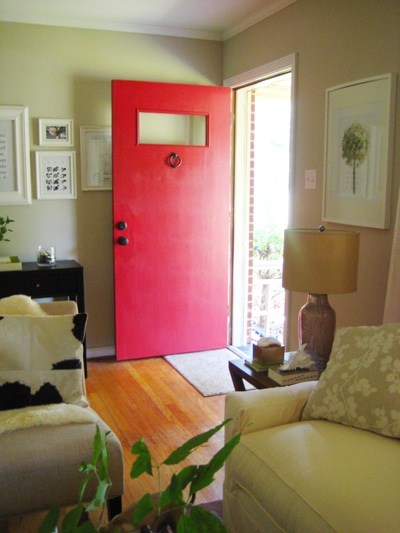 Oh, and did you notice the bull-ring knocker we added in the process? We had to track it down at a specialty hardware store here in Richmond (called Pleasant's Hardware), but it was well worth the hunt- and the $23 price tag. And despite it being called "antique bronze" instead of oil-rubbed, it's the exact same color as our new Quickset doorknob and deadbolt.