Fiddle Leaf Figs. If they're big and healthy looking they can make the room and we've all seen the glossy magazine shots to prove it. They can also ruin your day if you pay a lot for one that later croaks, leaving you feeling like a good-for-nothing plant killer. But not only have I managed to keep my big plants (mostly) alive – I've found a new favorite that's super easy.
Fiddle Leaf Fig Care
First, let's talk about the fiddle leaf fig. We, like 99.9% of blogland, have fallen hard for them. We've got fiddle leaf fig trees that have been happily cohabitating with us for years: one tall tree that resides in the office and a bushier plant in the dining room. They've not only survived, but we've even achieved new growth on them. It feels kind of like winning an imaginary fiddle-leaf shaped award made of solid gold ("I'd like to thank the academy, er, nursery").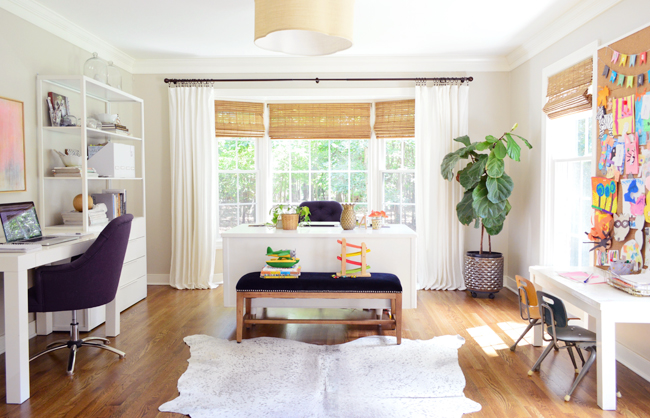 My secret recipe for caring for them isn't earth-shattering:
Find a nice sunny spot
Don't move it (ever!)
Dump 2-3 cups of water on it every 10 days or so.
Optional: I also close the air vent if there's one right next to it, since this office guy didn't look very perky with the heat blowing on him all winter.
With that care "regimen," our fiddle leaf fig plants generally seem thrilled (well, as thrilled as a plant can be).
We had a third in the living room for a little while, but, how can I put this delicately… he didn't exactly thrive in that corner which tends to get a lot less light thanks to the overhang of the back porch. This is an old shot taken over a year ago for our second book, back when the plant was new and happy and hadn't yet become bedraggled and downtrodden.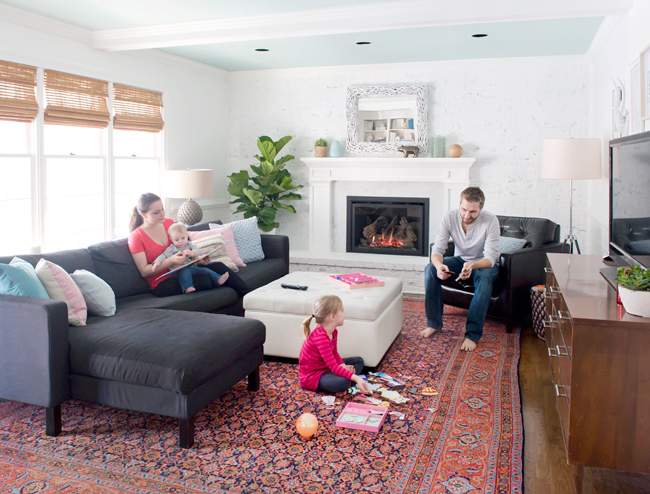 In our two sunniest rooms, the office and dining room, they've been great – which is precisely why I'm convinced that lighting/location is EVERYTHING for them. That and not getting moved once they find their happy place. We tried to resuscitate that living room fig after he'd dropped half his leaves by moving him into our sunny home office – but alas, it was too late (also, they hate being moved). Fade up on the Sarah McLachlan music for Fig #3.
A Good Alternative To Fiddle Leaf Figs
But our living room plant story has a happy ending. Enter my new favorite plant, stage left: the Hope Philodendron. I mentioned them a few podcast episodes ago (Episode #9) after bringing two home, one philodendron for the living room and then another for our master bedroom.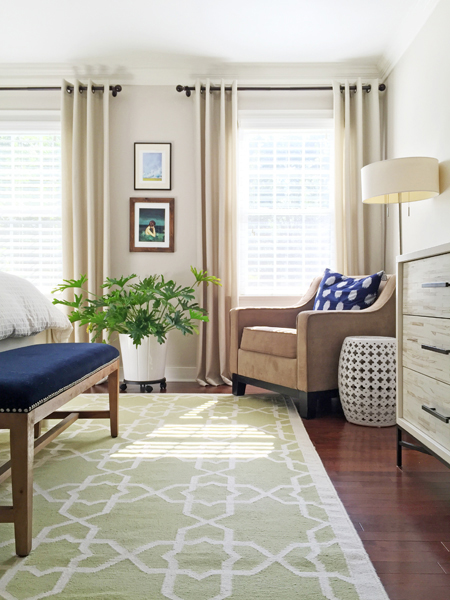 Here's why I'm loving them:
The nice big ones tend to be significantly cheaper than fiddle leaf figs (both of mine came in big 10- 12″ pots and were under $24, whereas I think we paid $49 for our figs)
They're easier to find, since fiddle leaf figs seem to sell out quickly most places around here
They've proven to be less picky about lighting (thriving equally well in our sunny bedroom and our dim living room)
They don't feel quite as ubiquitous as the

fiddle

leaf

fig (they're like his mysterious younger brother)

They still make a large leafy statement in a room, even if they're more bushy & less tree-like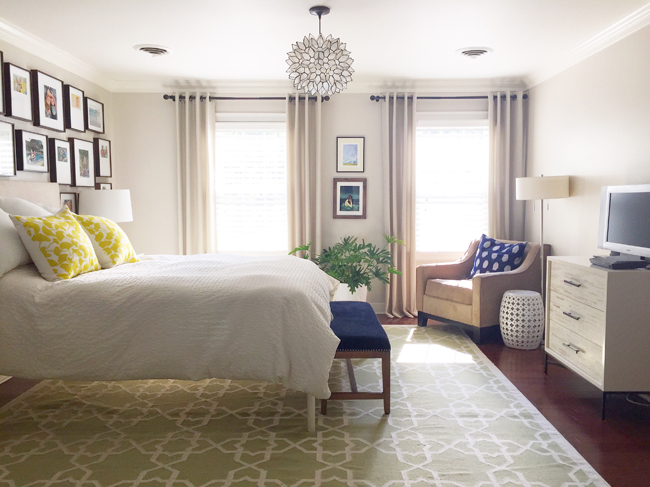 Philodendrons come in a bunch of different varieties (their leaves can be smaller, rounder, more like a palm leaf, etc) but we have been drawn to this particular type called Hope (a fitting name, since it gives hope to black thumbs everywhere). Sometimes a nursery or plant store won't mark philodendron varieties specifically, so you may need to ask for a Hope specifically (or look closely for leaves that resemble the ones below).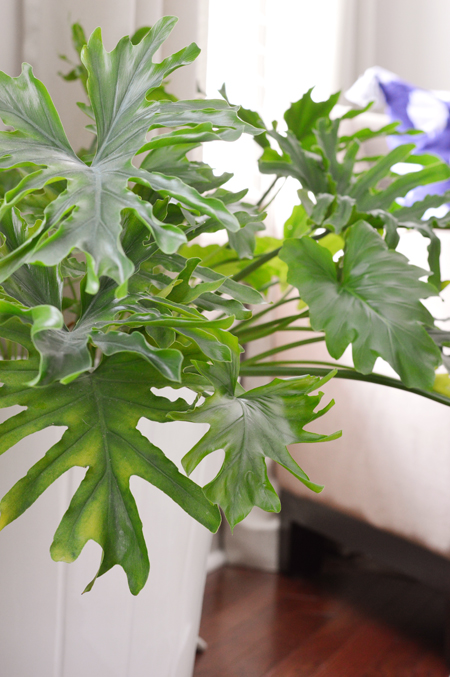 Since this variety is said to do better in lower light areas, it's a great alternative for a big, statement plant in rooms that won't support a fiddle leaf fig. I just water ours with a cup or two of water once a week and they've been more than happy. They've actually grown quite a bit, so we've had to cut back a couple of long stalks.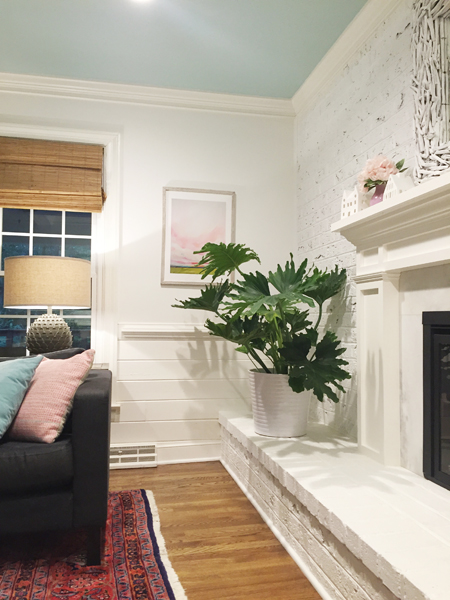 So if you're looking for something with large sculptural leaves and some serious presence in a room, we highly recommend the Hope Philodendron. They're everything I love about my two (surviving) fiddle leaf figs, just in a less persnickety package.
In Other Plant News…
And on the subject of big plants: dude, we got a kumquat tree. And it GREW A FRIGGIN' KUMQUAT! We put it next to a side window in our bedroom that gets a fair amount of light and this happy orange fruit started growing right before our eyes.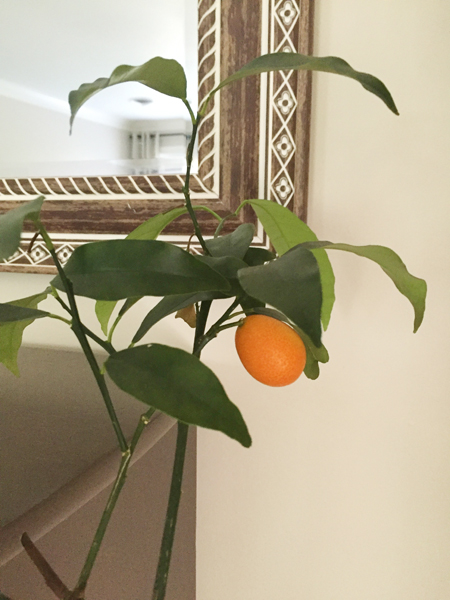 But fasten your seat belts, this story has a twist. Someone under the age of 7 plucked it off (the exact culprit has yet to come forward). I was sad for a second but then I realized "hey it's going to grow another one, so it's all good!" And then as if in protest, our little kumquat tree slowly declined – dropping some leaves and generally just looking bedraggled. There's no new fruit to be seen – even though the kumquat-plucking incident occurred around three months ago.
I don't think the decline has much to do with The Plucking Of The Kumquat (I mean people pick fruit off trees all the time and they're ok, right?). I'm convinced it just has to do with this plant being a bit finickier than I'm used to. I did a little reading up on them, and it says they prefer indirect light and need some-but-not-too-much water (I give it around one cup once a week and occasionally lift the plastic pot out of the ceramic planter that it sits in the make sure there's no standing water in the bottom).
Once he bites the dust, we may give another fiddle leaf fig a go up there since it's a pretty bright spot and we've already checked the Hope Philodendron box in that room. Maybe we just haven't graduated to fruit-bearing plant status yet? Maybe we should stick with easy (Hope Philodendron) to medium difficulty (fiddle leaf fig) for our big statement house plants.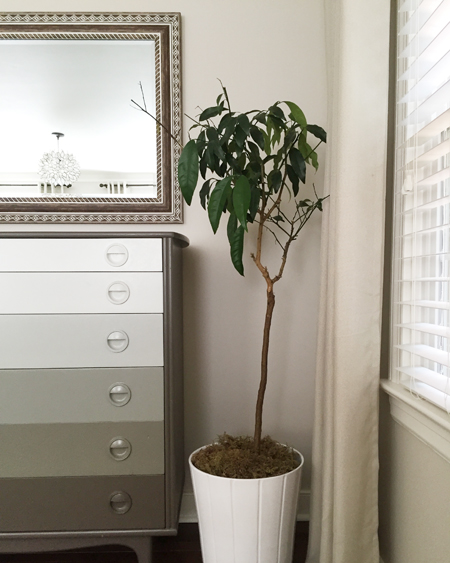 Also, Don't Repot Your Plants
Incidentally, two different people at two different nurseries have told me that houseplants generally don't do well when you repot them right after you buy them. They both said to just leave them in the plastic pot they come in if they're happy and just drop that into a ceramic planter. Perhaps down the line they'll grow so much that they need to be repotted, but don't rush to do that. So that's what we did with all of ours mentioned here, and they seem to be ok with it.
Warning: The philodendron is listed as being toxic to both cats and dogs (as is the fiddle leaf fig) so wouldn't recommend them if you have pets that eat your plants. I'd also avoid them if you have kids who do that. The kumquat tree is listed as safe for humans, but dangerous for horses (?!) and apparently if a dog eats a ton of leaves/wood from it, it can have a laxative effect. So probably not very good if your dog is into leaf gorging or bark gnawing.
Psst- For anyone who listened to this week's podcast (Ep #17) and heard about our kitchen reno, I know you're reading this and thinking "WHY ARE YOU TALKING ABOUT PLANTS WHEN YOUR KITCHEN PICS COULD BE HERE?!" Well, we're editing them and putting together a post as you read this (assuming you're reading this at 11:49 pm on Monday night) so that's in the pipeline for ya!
*This post contains affiliate links
*This post was originally published on September 26, 2016