We just couldn't wait another day to share this super cool house number idea that we spotted downtown a while back (hence the Christmas wreath):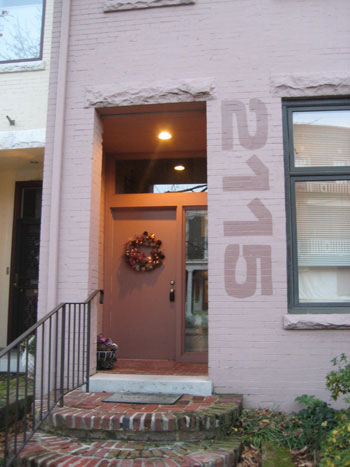 Isn't it a great way to make sure your guests can easily find their way to your door? We think they must have printed out oversized numbers on the computer, cut them out, taped them up on the brick, traced them with a pencil, and filled in their pencil outlines with a bit of two-shades-darker-than-the-house paint. Love it!
Although we hardly think our brick ranch is the right fit for this awesome street number application (somehow a downtown brownstone works a heckova lot better for this hip idea), it really made us wonder how you guys deal with your house number. Is it just on your mailbox? Do you have it above your door, next to your door, or even on your door? We've seen some great homes with house numbers on the front part of their front steps (not the part you walk on, the part that faces the street) and even some with a plaque that's stuck into the ground in a garden. When it comes to the numbers game, how do you guys treat yours? Any house number projects you're looking to take on in the near future? Dish the numeric dirt.
For another great DIY house number idea, check out how Lesley and Jeff added one to their cheerfull yellow front door in this House Crashing post from last year (p.s. they recently welcomed an adorable baby boy into their lovely home!).