Remember when we mentioned that we enjoyed Richmond's West Avenue Garden Tour last weekend? Well, one very smart family seized the opportunity to host an open house smack in the middle of the tour. And we actually knew one of the ladies manning the house (she also writes for R. Home magazine) so she was absolutely awesome about us snapping some pics and spreading the word about her friend's house. Here's every delicious detail that we captured as we breezed through.
It was immediately clear that these homeowners favor a minimalist and modern aesthetic, but they still like plush and comfy furniture- as long as it has clean lines. And the art. Oh the art! This amazing tangerine dream above the fireplace in the front room was a total stunner. Especially set off by the clean white walls and the charcoal upholstery. Yummy.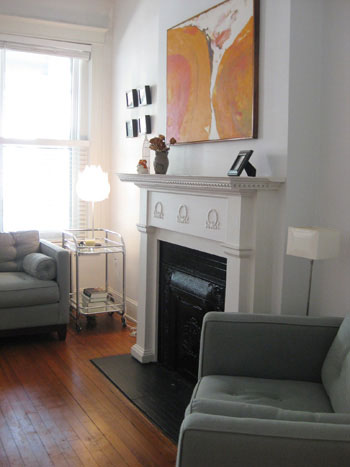 Almost all of the brownstones that we've toured have some pretty amazing wide doorways that connect the more formal front room to a less structured living room that's centrally located. And check out the bold square art that they hung above the fireplace in this room (which gorgeously mimics the square art in the adjoined sitting room at the front of the house). And seriously, how much fun is that striped chaise?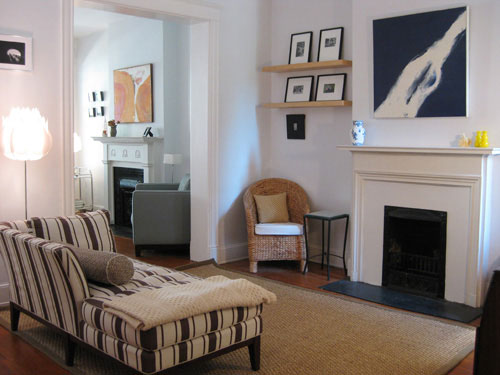 Their dining room was another minimalistic and modern space- and the uncluttered vibe puts the focus where it belongs: on that breathtaking linear chandelier.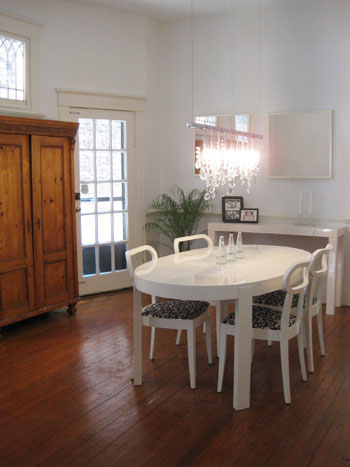 Here's a close up for your viewing pleasure. And don't worry, drooling is a perfectly acceptable response.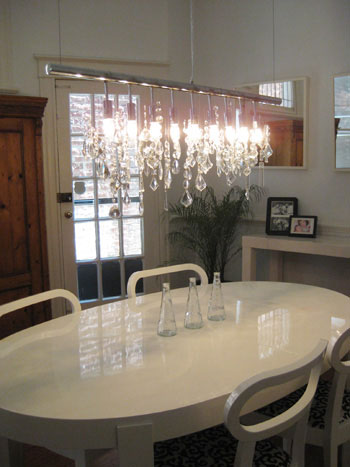 As we walked upstairs to the bedrooms I couldn't help but snap another picture of the awesome living room below. The seagrass chairs and the jute rug were a bit unexpected with such a modern aesthetic, but they totally worked. And you know we love us some woven materials.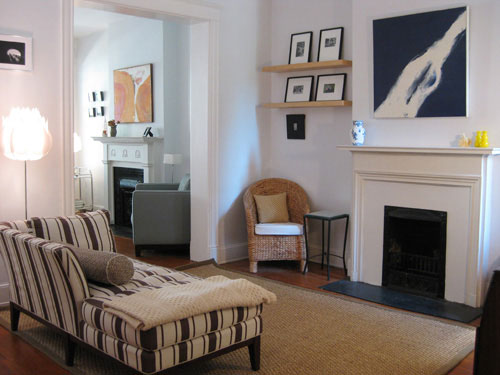 This guest bedroom/sewing room charmed us the moment we stepped inside. Not only does it have a gorgeous back balcony, but the way that the iron bed works with the black decals on the inexpensive Ikea cabinet had us at hello. We also loved the inexpensive ingenuity that the owners demonstrated. Who doesn't have a less than perfect table that could benefit from a piece of fabric being draped over it? And the fact that it was a pink sheet sweetened up the whole space.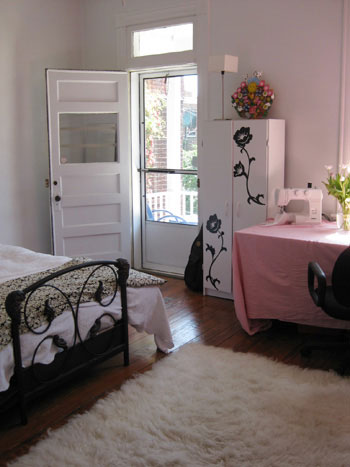 Their kitchen was another awesome exercise in modern simplicity at its best. The stainless steel open shelving looks chic and confident (and really works well with the industrial stainless steel island). And the oversized base cabinet drawers (be still my beating heart) and frosted base cabinet doors were truly the icing on the cake. Look how Domino-esque this shot is with one of the tour guides working at the sink. I didn't even instruct her to pose like that- it just sort of happened. This impromptu house crashing adventure was meant to be.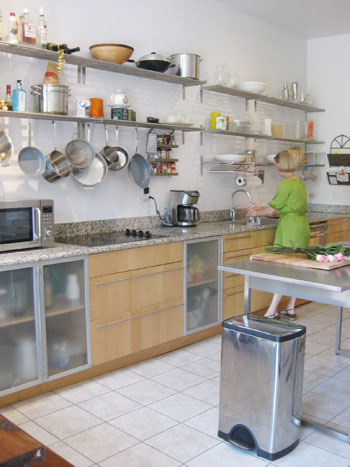 And of course since they were a part of the West Avenue Garden Tour, they also had a lovely back garden complete with a leafy vine-riddled pergola. If that's not a little slice of heaven I don't know what is.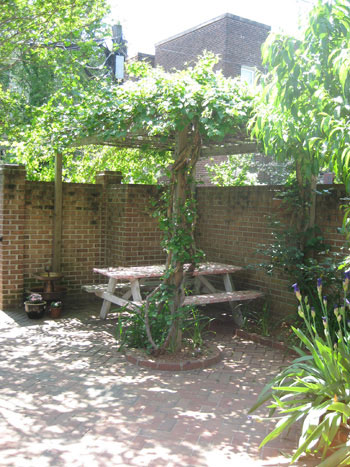 So that conculdes our random house crashing session. We hope you've enjoyed the tour. Oh and if you'd like to see another AMAZING downtown brownstone, check out this house crashing tour of Katie Ukrop's home that we posted back in January (her house was even in Domino last year!). Lovely. Lovely. Lovely.