Cha-cha-cha-cha-changes.
Some of you already noticed that after Friday's new house news we made a little tagline switcheroo in our blog header. Since it no longer seemed accurate to describe our site as "two young people falling in love with their first house" (and "two young people making the emotional decision to leave their first house so that they can take on new projects and have more room to grow" seemed a bit long-winded) we opted for this new one: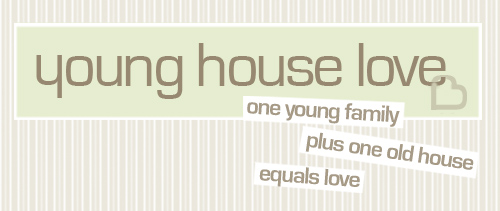 It's no "Got Milk?" but we like that it now incorporates Clara & Burger instead of sounding like it's the John & Sherry show (let's be honest, our kids are the real stars of this production). And you know I love a good math reference worked in there whenever possible. We just hope it sort of explains what the heck "Young House Love" means in the first place. Because admittedly it's not the most self-explanatory website name in the world.