Alternate punny post title: Some Midcentury Microdermabrasion. Ok, so yesterday John explained how we hunted down an old thrift store table and repaired its rickety legs. And since we're nothing if not honest when it comes to keeping things real-time in this little DIY diary of ours (if something takes two days, it earns two posts – and if a kitchen takes four months, it earns about a hundred) here's the second chapter for our little dresser-turned-media-cabinet. The title of which could be: How I Showed A Dingy Old Wood Dresser Some Sweet Sweet Love. Or Dr $herdog And Her Scrub-tastic Tricks. You know, depending on your mood.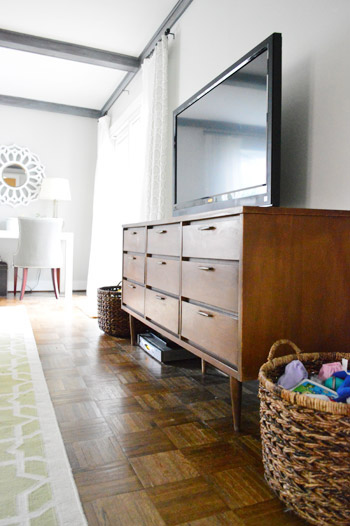 So let's dive right into how I brought this 50+ year old piece back from scratched and bedraggled territory. Here are my tools. It's a pretty simple equation.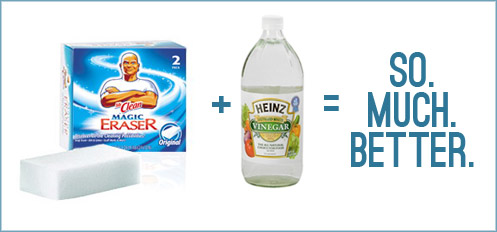 Yup, you read that right. Ladies and gentlemen, my first weapon of choice was a Magic Eraser. I've found that for old beat up pieces like this, it's great for scrubbing off years of grime. It essentially does the same thing as very fine steel wool or sandpaper does (but seems to be more gentle on the hands). The cool thing is that sometimes what you think are paint streaks and scratches actually can be buffed off with the eraser so the wood is back to looking downright sexy again. For example, see this detail shot that I took of the bottom right side of the cabinet before I did any scrubbing?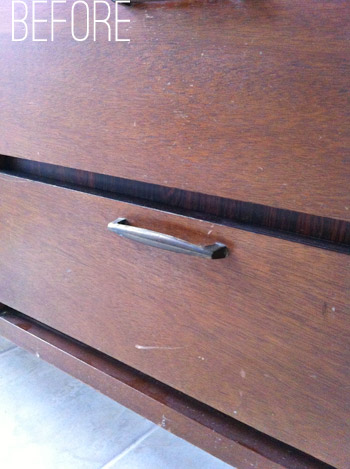 Here it is after about five minutes of buffing that area with a damp Magic Eraser: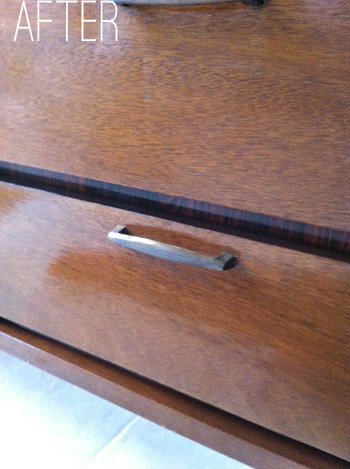 I did the same buffing thing all over the top, the sides, and even the legs (tip: you might want to test it on an out of the way spot to make sure it doesn't mess with your piece's finish, but if it's dry old wood like this guy it should work just like high grit sandpaper and just buff things down a bit).
Then it was time to clean out the inside of the drawers. Those were musty and dusty, so it was less about buffing them down to their original glory like it was for the exterior, so my approach changed. I just used an old rag moistened with white vinegar to wipe down the insides of each drawer. That removed all the dust, and since vinegar is also great for absorbing/removing musty smells in old wood, it was amazing how that tangy vinegar went on smelling strongly but then dried to have no smell at all (so those formerly musty drawers smelled like nothing at all as well). Huzzah.
Here's how she looked after about a few hours of working the outside with the Magic Eraser and the inside of each drawer with a vinegar-moistened rag.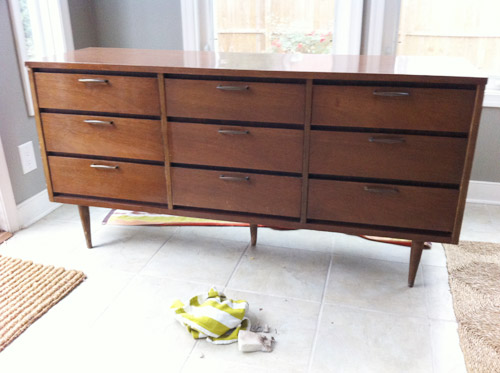 It's a far cry from the muddled old finish that we saw at the thrift store, right? Now you get the post title, right? It's like I hooked her up with some nice microdermabrasion, right? Dr. $herdog doesn't mess around.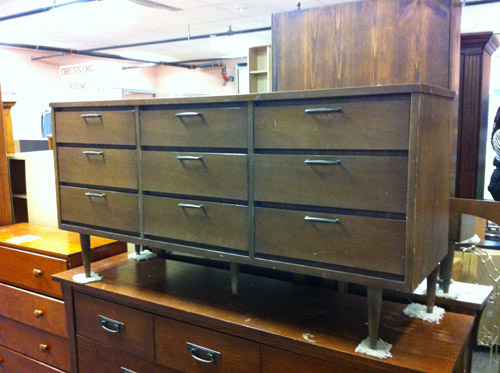 The next step was letting her sit out in the sunroom with her drawers all open so everything could evaporate and fully dry out (all the vinegar-wiped drawers need to full air out so the bitter smell dissipates). Then about eight hours later we finally (finally!!) brought her into the living room. Nothing like waiting over two years to find the right media cabinet.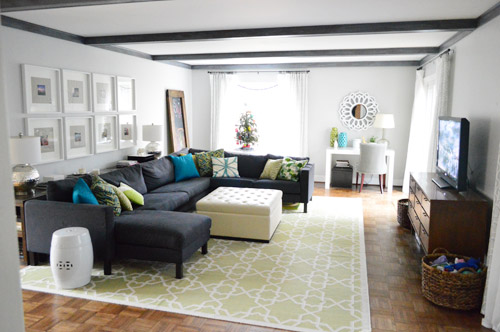 We eventually plan to use a drawer or two for the TV components instead of sitting them on the floor (we can either hinge the front of that drawer for easy remote-access to them or use one of those cool RF remotes that work through wood) but this works for now.
And speaking of planning, we also originally planned to paint the top, sides, and bottom of the piece white (while leaving the rest of it in the same wood tone that you see now – sort of like this but wood where the white is and white where the wood is) but now that we've scrubbed it down and brought it into the living room we actually like it just the way it is.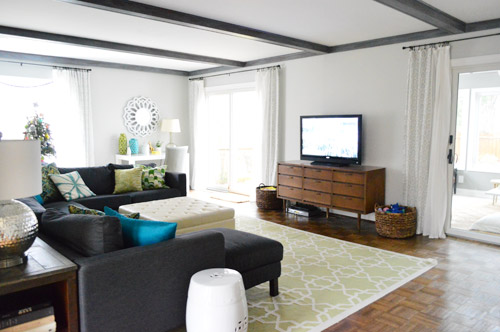 We already have a white desk, a white table, and a white ottoman in the room, so the wooden media cabinet balances nicely with the wooden console that we built for behind our sofa along with the wood-framed chalkboard that we made. We even like the original hardware (although you never know if we'll see something awesome and be completely seduced). Now that I'm sitting here staring at it, I actually think the existing hardware could look great in an oil-rubbed bronze finish since the curtain rods on both sides of this piece (as well as the dark TV on top of it) are that tone. So that's always a possibility down the line. Either way you know I'll keep you posted.
I'd also love to use some sort of wood restoring seal/topcoat to coat the cabinet (since it's pretty dry and not really very glossy at all) – just to bring back even more luster. I hit up Home Depot and grabbed something that I'm dying to try, so I'll be back with pics and details for ya about that – maybe along with a tutorial for hinging a drawer for those media components or giving an RF remote a try? Might not get around to it for a few weeks with all of our book tour travel coming up, but I can't wait to get 'er done.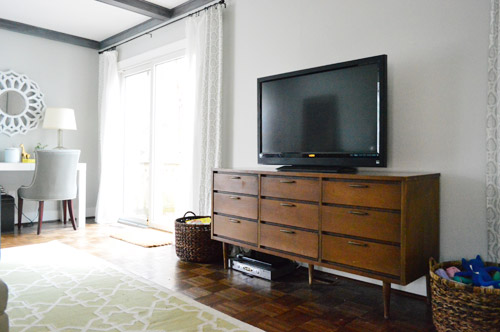 Oh and as for securing the TV so it's kid safe, we use this anchor system to keep it in place (here's a picture of it with our last media cabinet from this post, but it's the same system, we just unattached it and reattached it higher on the wall to work with the new cabinet). We've also had luck using similar systems for tethering desks and dressers and leaning mirrors to keep them from tipping (more on that here).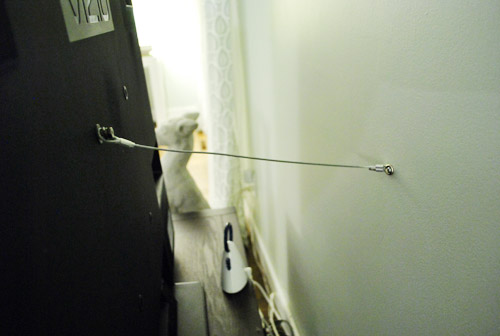 Now we're just basking in the glory of a not-too-low TV that actually doesn't make the whole room feel sofa-heavy (that side of the room always felt more substantial thanks to the teeny old TV table). Ooh yeah, I'm going to stuff those abundant drawers with all of Clara's games and toys that runneth over. Momma's excited about that. Oh and as for the old TV cabinet, we just craigslisted it for $30 yesterday! So in the end this new $59 TV cabinet was more like $29 after you put that $30 craigslist payment back in our pockets.
Is anyone else trying to bring an old piece of furniture back to its former glory? Have you ever used a vinegar wipe-down to de-must drawers? Have you tried the Magic Eraser approach on old grungy wood? I'm not sure it would be a good idea on something super shiny (sealed/lacquered) since it might make tiny scratches in the finish, but for old dry wood that looks beat up and battered already, it certainly removed a lot of things that I thought were deeply rooted into the stain (they must have been sitting right on top). Word up to less-beat-up-than-you-thought furniture.