When we upgraded to our new organic mattress this week, it left us with a spare queen mattress that we had no use for. We considered a few options for getting rid of it – selling it on craigslist, donating it to Goodwill, etc. But in the end we decided it was the perfect opportunity to give Freecycle a try.
Freecycle is a system you guys actually taught us about. It's a network of locally run message boards where people can exchange unwanted items for free. It's a pretty simple concept, but it seems to work very well at keeping unwanted items out of landfills. Heck, the Richmond chapter alone has over 150,000 listings posted (you can find the closest chapter to your hometown right here). We joined the Richmond list months ago to learn the ropes, but hadn't actively participated until this past weekend (thanks to our mattress situation). Here's how our first adventure in Freecycling went down:
On Sunday afternoon I posted this simple message on the Richmond Freecycle board based on the guidelines of the group: "OFFER: Queen Mattress, Bon Air. Queen mattress (Sealy brand) in fair condition, just upgraded to organic mattress and don't need it anymore…" It's a super easy formula to follow. Just lead with the word "OFFER" if you have something to give or "WANTED" if you're seeking something to receive. After that it's just a quick description of the item and your location.

Lucky us, our offer of a free queen-sized mattress tickled someone's fancy almost immediately. It took just one hour for someone to respond to my listing (via Yahoo! Chat, oh technology).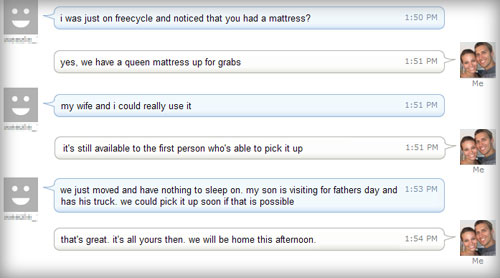 Now, it's worth mentioning that it's smart to exercise a bit of caution when arranging meet-ups with strangers (need we mention the recent horror stories about craiglist?). Some people may prefer to meet in a public place, but with a mattress and a small car it didn't really make sense for us (but we were certain to coordinate the exchange for a time when Sherry and I were both home during daylight hours. And we of course kept our loud-mouthed guard dog nearby). So we gave our free-mattress-hunter some quick directions to our house and got his free gift ready for pick up on the porch.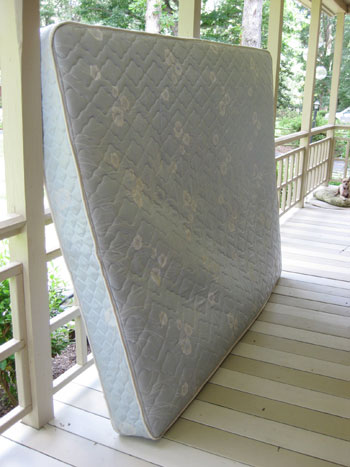 The guy arrived about 20 minutes later with his wife, son and truck. We learned that they had been put in a tight spot because their landlord had defaulted on his payments, giving them almost zero notice that there were being kicked out. They barely had enough time to pack more than a few bags before they were essentially homeless (and completely bedless). This free mattress meant they no longer had to sleep on the hard floor of their new place. You can imagine how happy we were to watch it ride away with a family in need, absolutely no money exchanged. We smiled for the rest of the day.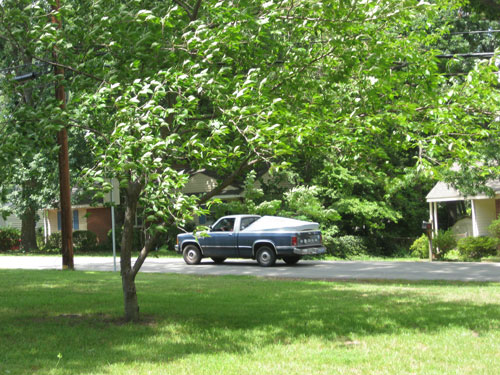 Then all that was left to do was to post our follow-up "TAKEN" message (meaning the previously offered item is no longer available). It felt almost unreal that we were doing it a mere 90 minutes after posting our "OFFER." So what's our take on Freecycle after our first swap session? Quick, simple, and win-win. It's all about people coming together to help each other out (strangers no less) while keeping things out of landfills. What's not to like about that?
Have any of you had good experiences with Freecyle in your area – either giving or receiving something for zero, zilch, nada? We can't wait to keep an eye out for a free item that we might need (perhaps one that needs a makeover…) – after all, we figure we've earned a few good karma points towards something, right?