A bunch of you got a sneak peek at this change thanks to Instagram Stories right after the holidays, but here's a quick update about the new loveseat we got and what the sitting room is looking like these days.
We got the loveseat on Overstock, and of course now it's out of stock – but I did find it here and here in the darker color (ours is the "light gray" one). So far we're loving it, and it really went a long way in making the whole area feel like a legitimate hangout space. It's also super comfy, which is really what matters (and you know this post is going to have some John & Sherry for scale pics).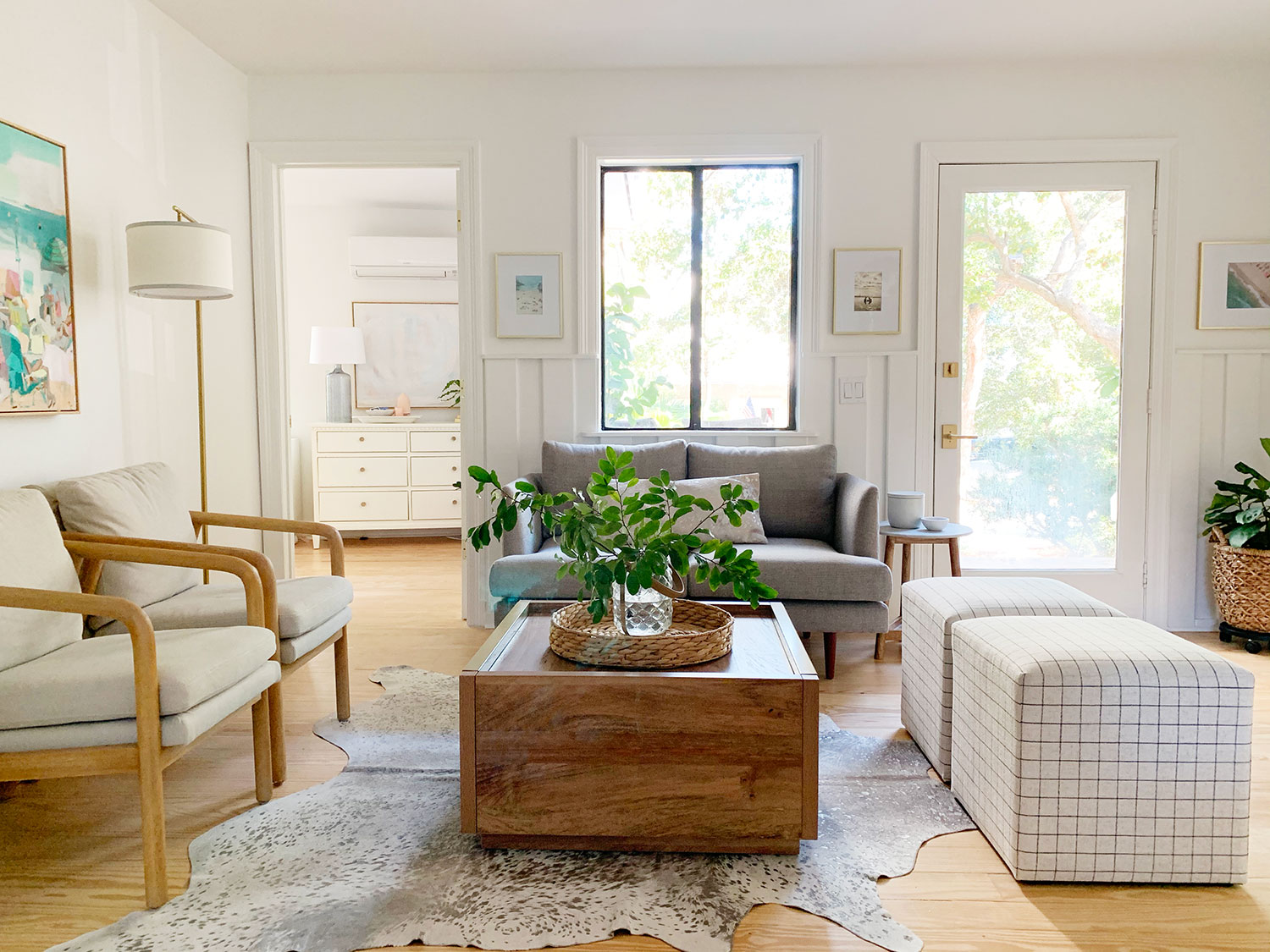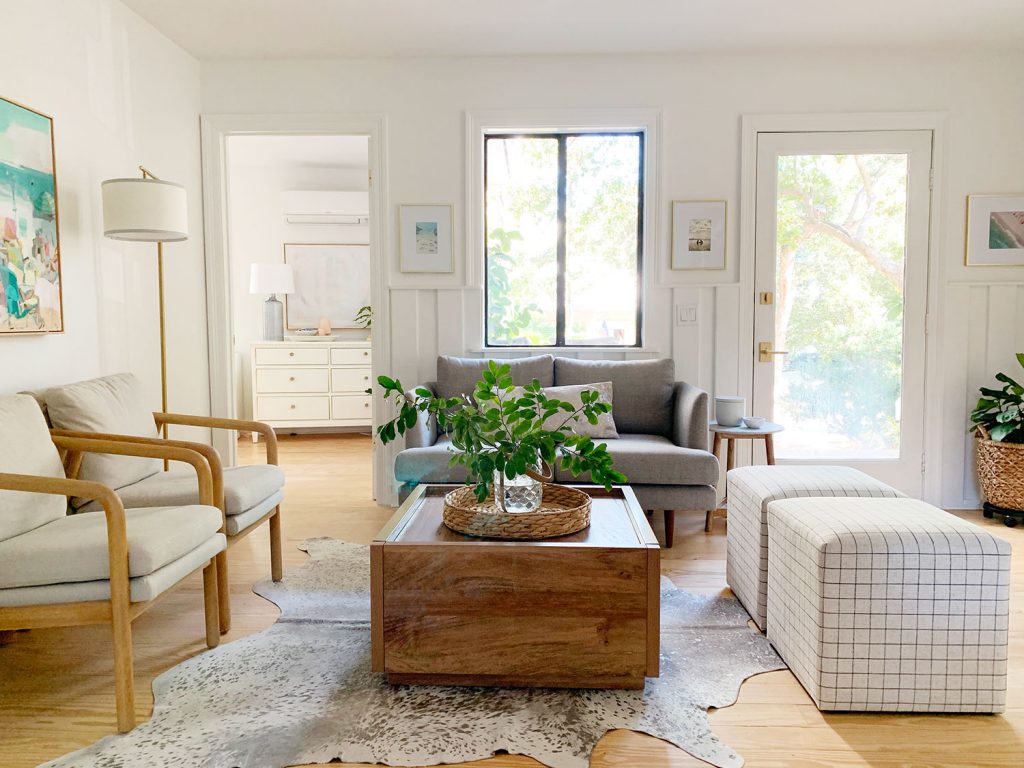 We mentioned in our post a month ago about the evolution of our sitting room area that we'd love to get some larger seating, like a loveseat for the wall below. You might remember this graphic from that post.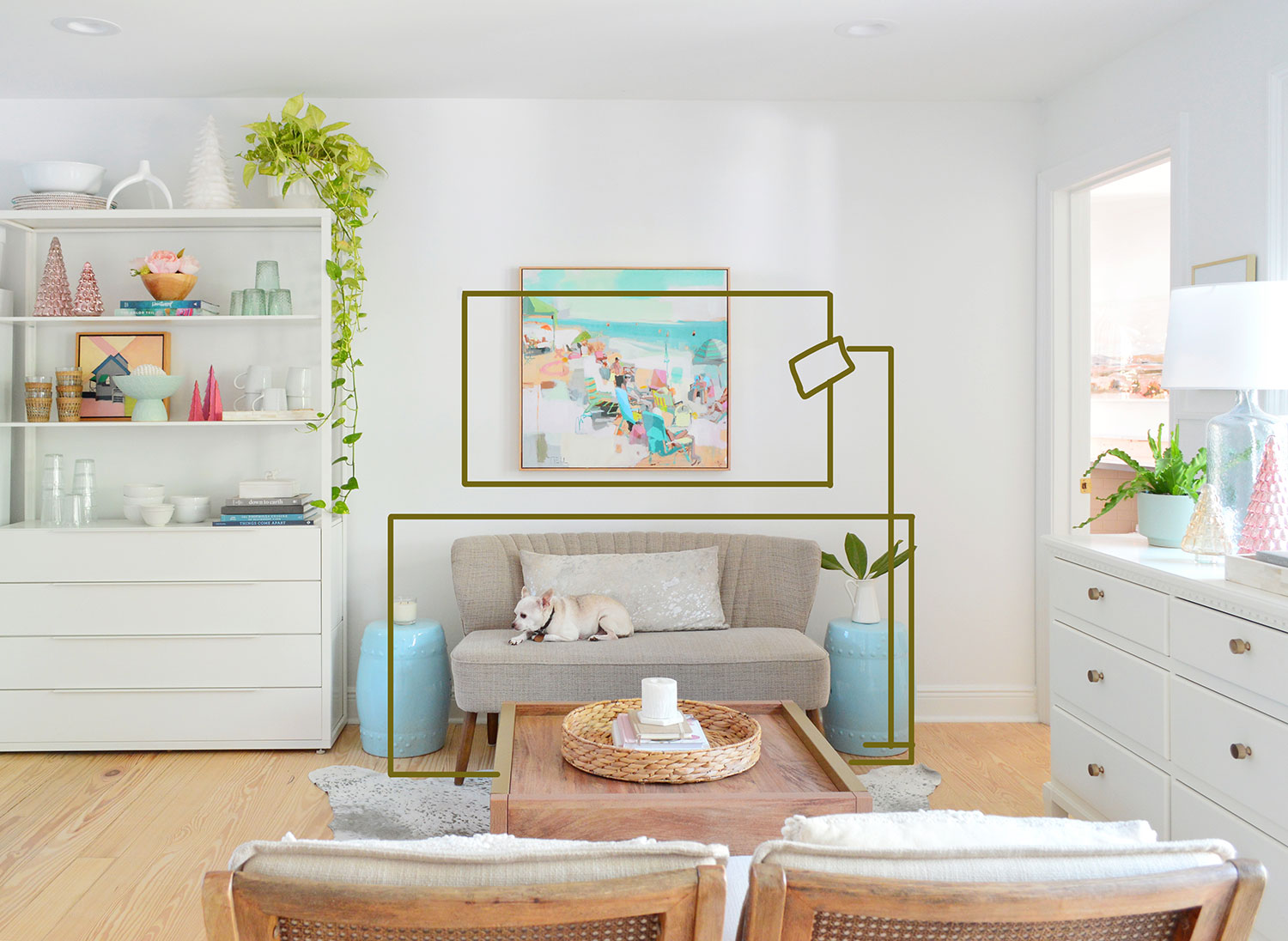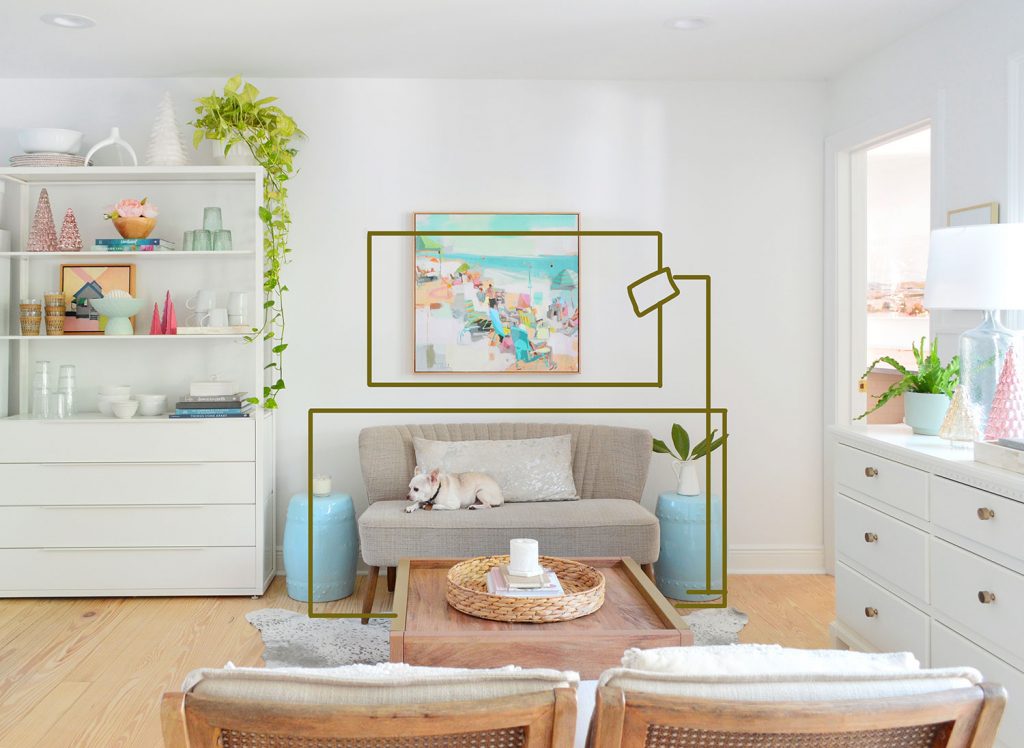 The giant aha moment happened a week or two into owning our new coffee table, which was: the dresser on that front wall next to the door (seen above on the right) which was our non-negotiable-we-need-this-here piece… became a lot less necessary once we got a coffee table that's FULL of storage (two deep drawers on each side!).
Suddenly all the things we kept in that dresser by the door could live in there (you know, like dog poop bags, sunglasses, a spare key, a mask, earbuds, Burger's leash, and other stuff that we grab on the way out the door).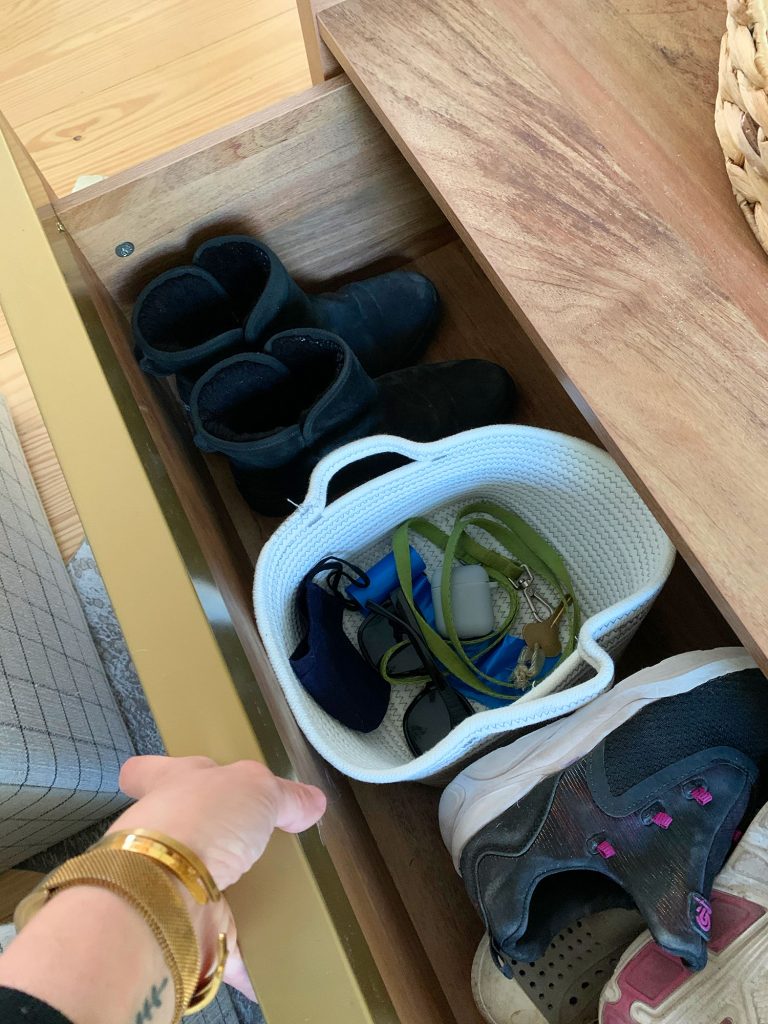 It was such a FREEING REALIZATION! Because it meant the loveseat we longed for might actually find a better spot on that front wall under the window – which it did! But let's just gaze at that pretty brass hardware on The Coffee Table That Changed Everything for one more second: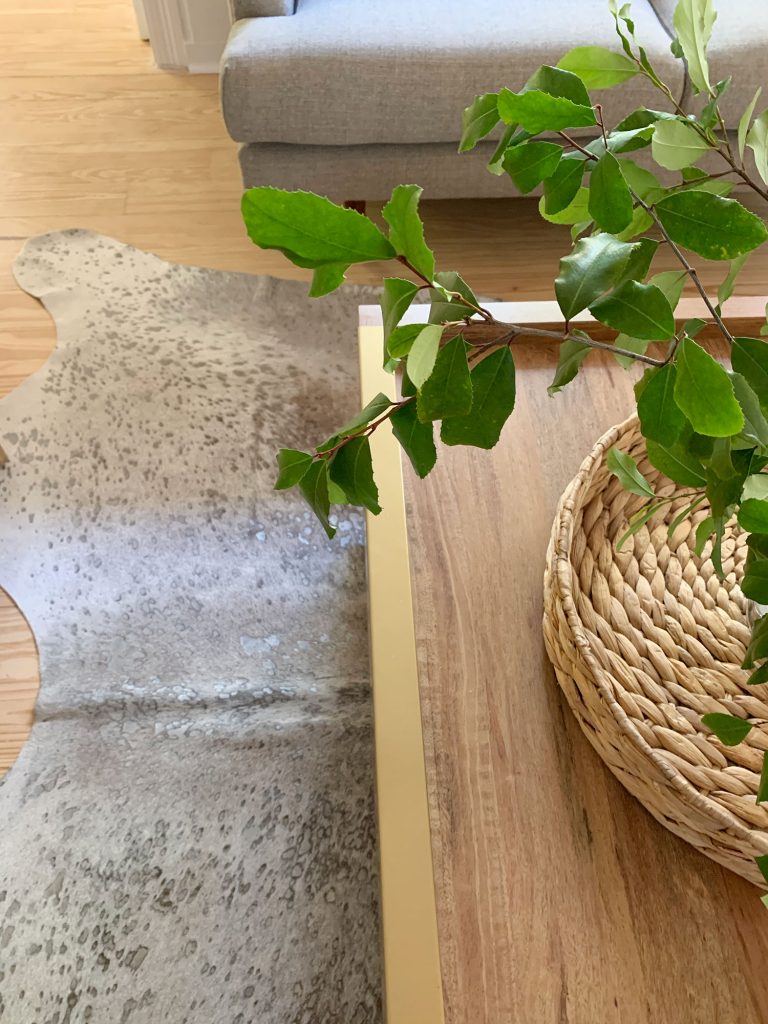 You can also see that we did get a little brass floor lamp that looks a lot like the one in our rendering from that post last month. First we dragged a heavier/larger wood one in from the bedroom (which is what you saw in our IG Stories a few weeks ago when we shared the loveseat update), but the new light just fits better in the space without feeling as heavy. It's not a huge area, but having so much soft & cozy seating feels pretty incredible for this little spot by the front door that used to just have two floating chairs.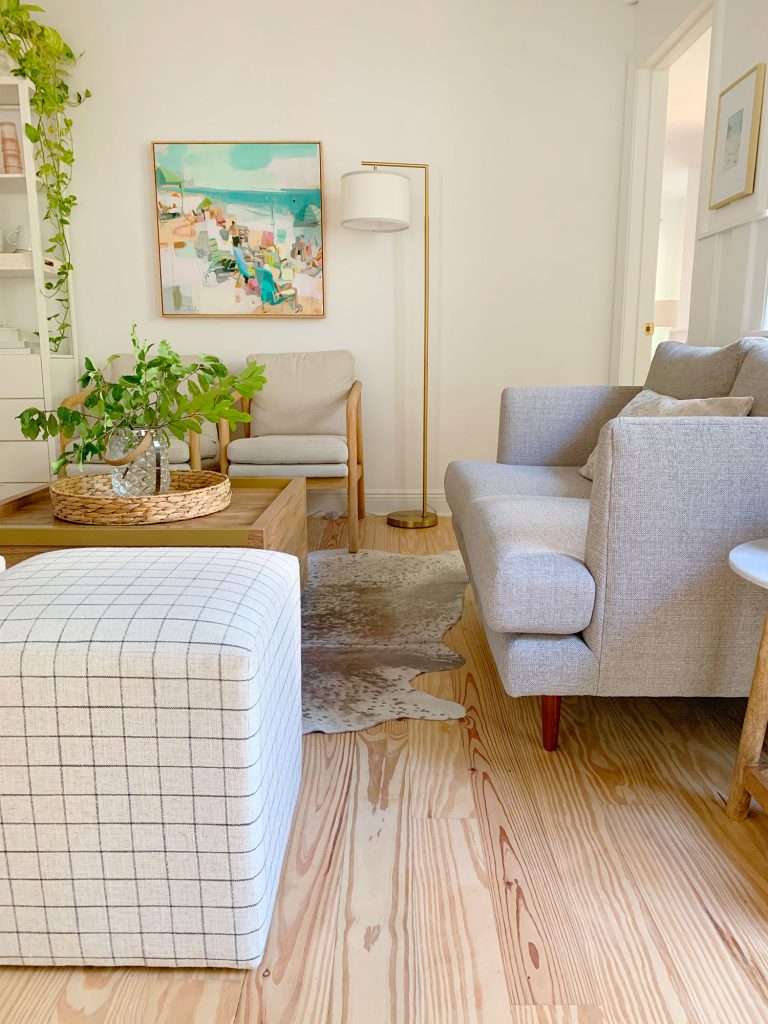 Reminder: it's normal for rooms to take a while to evolve, so don't beat yourself up if you don't get things right on the first try. Creating a home that works extra hard for your family takes a lot longer than those 30-minute HGTV makeovers. We almost never get things exactly right off the bat – and sometimes it takes us years to get there! But every evolution of a room inches you closer to the best possible solution for your family – which looks different for everyone – and likely will evolve over time as your needs change anyway. Truly, I can't stress this enough – just take your time, play around with new arrangements, borrow things from other rooms, and have fun embracing the journey. Our last house took us well over 5 years – as did our first one!
Here's a wider shot of that whole side of the room. Every time we photograph this it looks like various things are blocking the front door, but it's just the angle.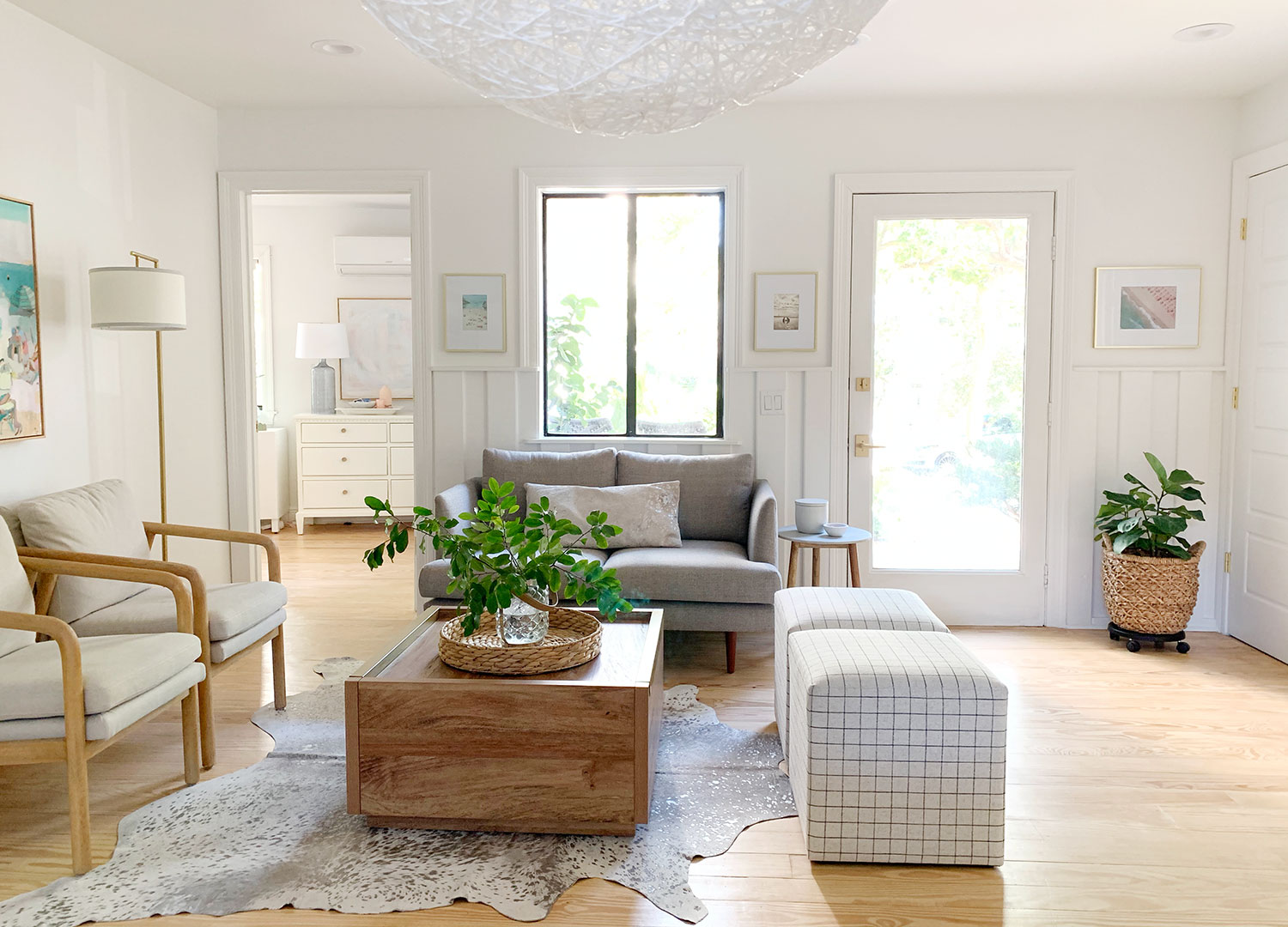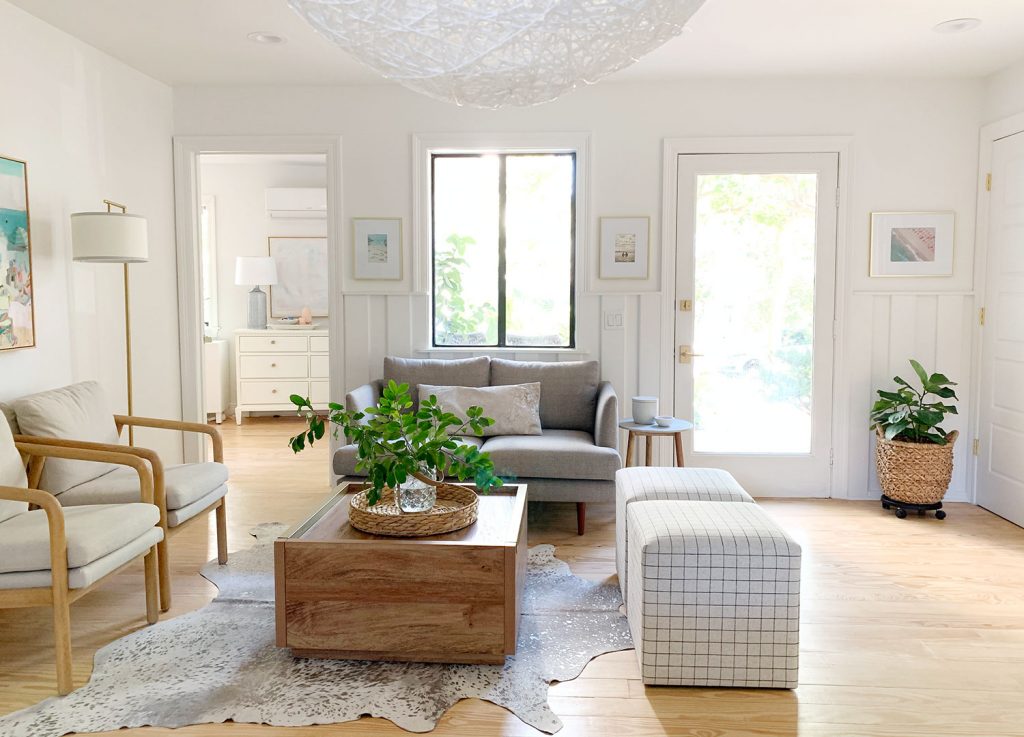 Here's a video walk-through where you can see me pass through the space like the graceful phone videographer that I am. If you watch me record that window/door wall, you can see how things appear to be in front of the door and they shift as I walk across the room (the sofa also appears to scoot over). Smaller spaces definitely have their challenges with photography, so thank goodness for video!
Note: You can also view this video here on YouTube.
I had a few people ask on IG ask if that area between the chairs and the loveseat on the left feels tight for us…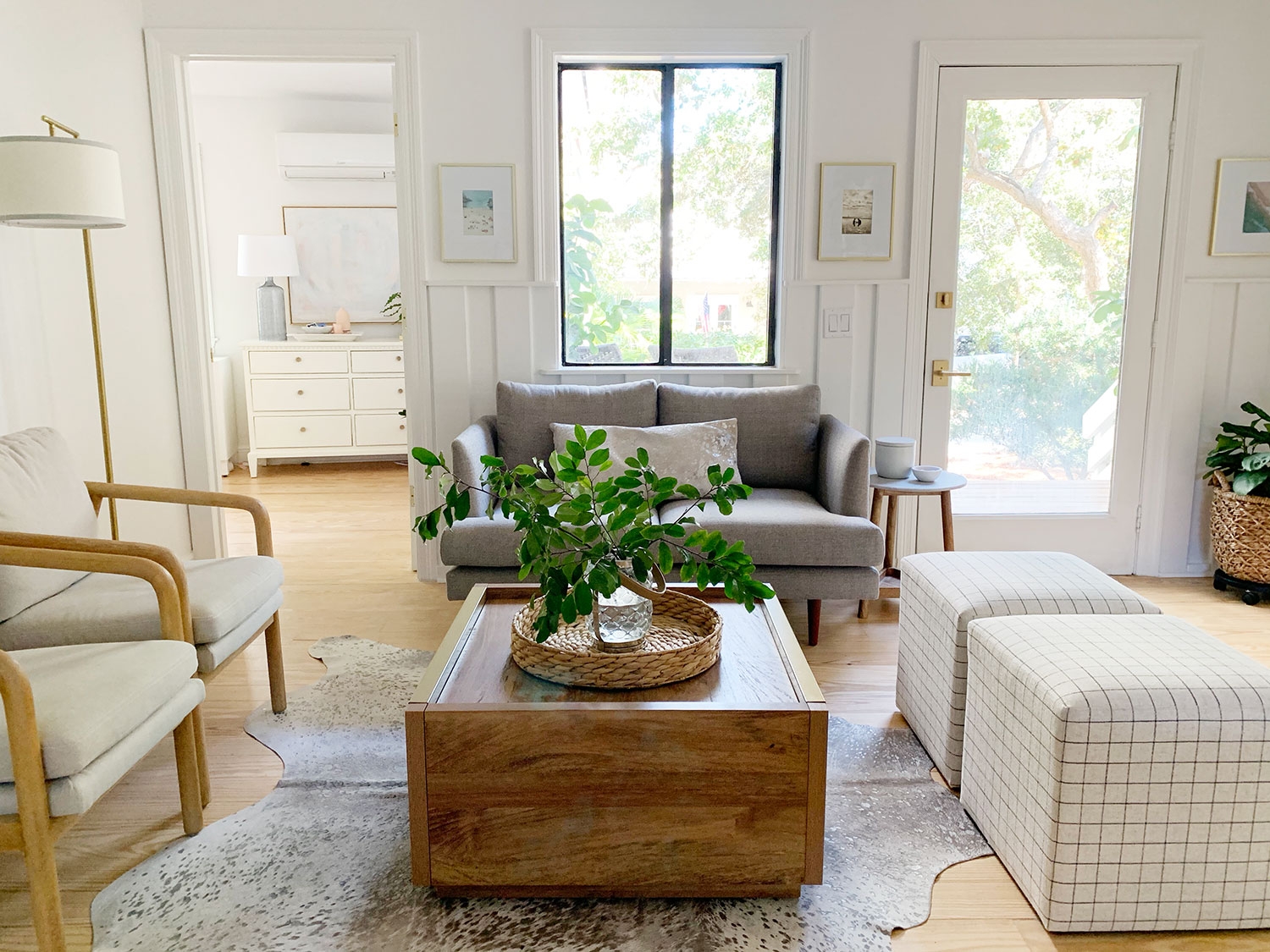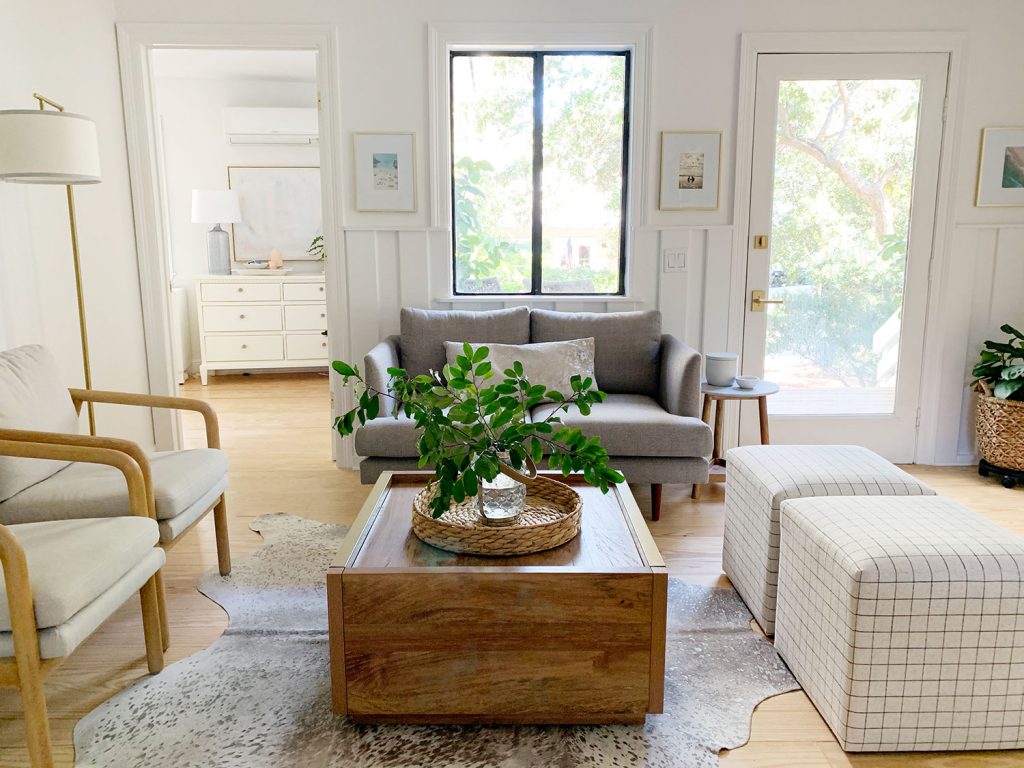 I think it looks a little tighter on video than it is in real life, because it's actually around 25″ wide. That's not exactly a huge opening but it's wider than the doorway to our bedroom closet was in our last house, and we lived with that for nearly 7 years!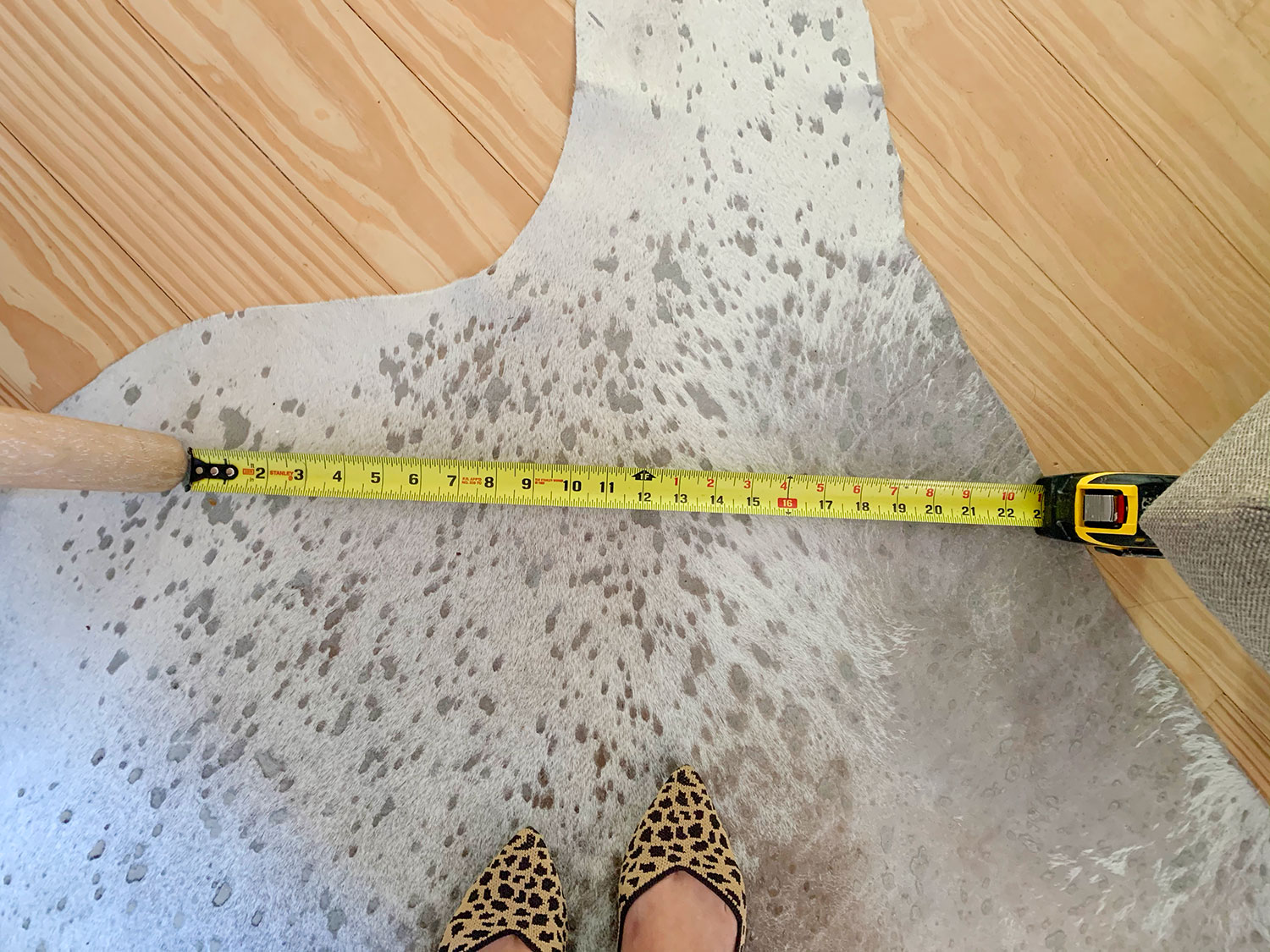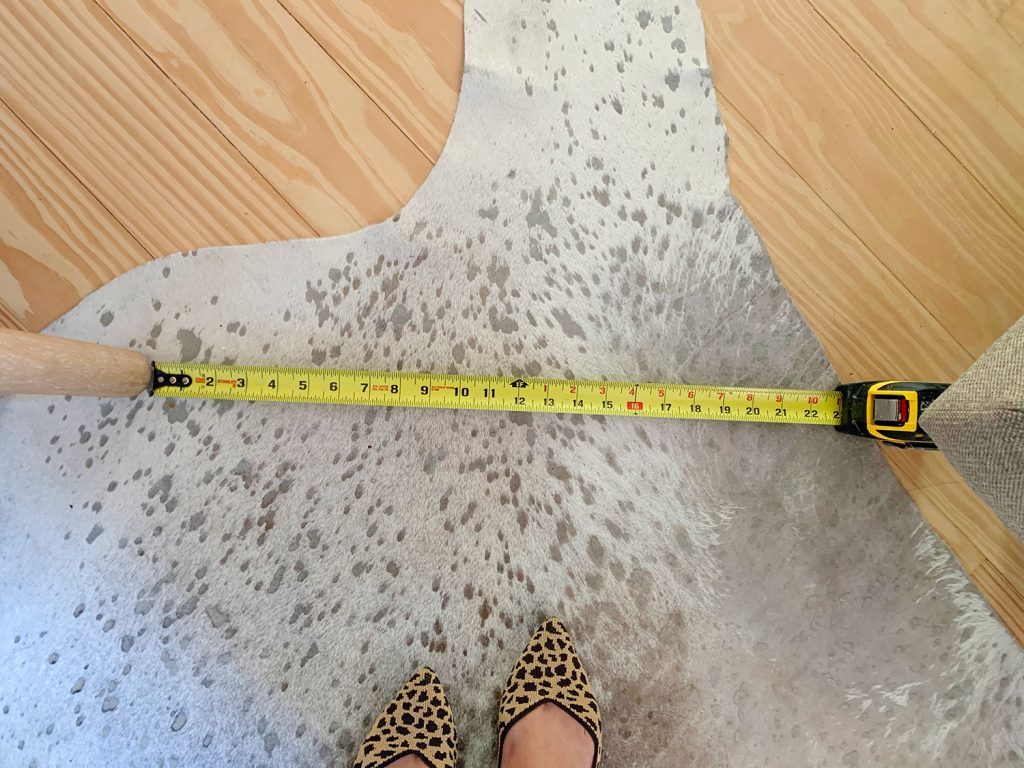 If it was too tight for us we'd just remove the little side table to the right of the sofa and move the loveseat over more, but it hasn't been an issue. I even walk backwards through it on the video ;)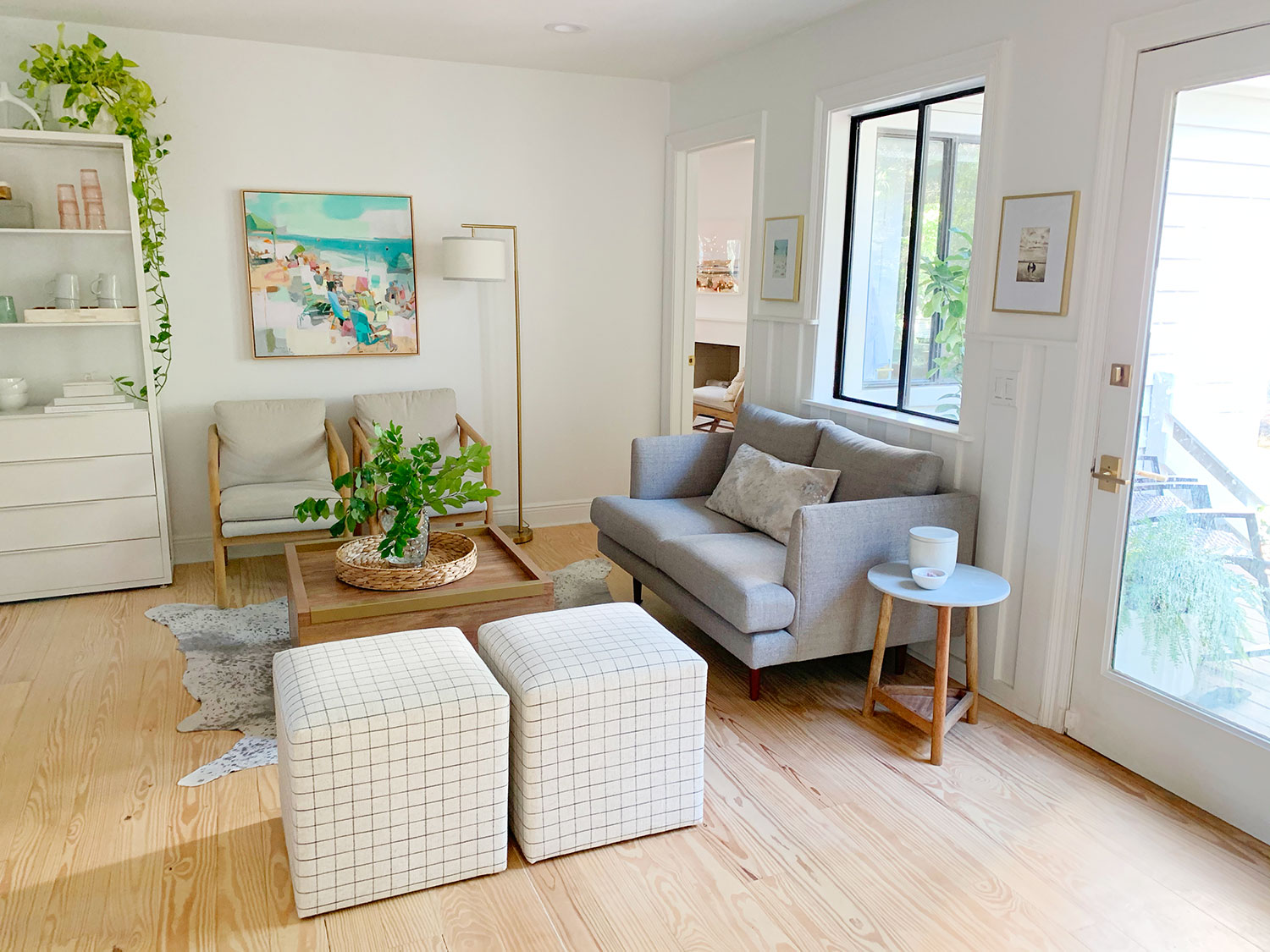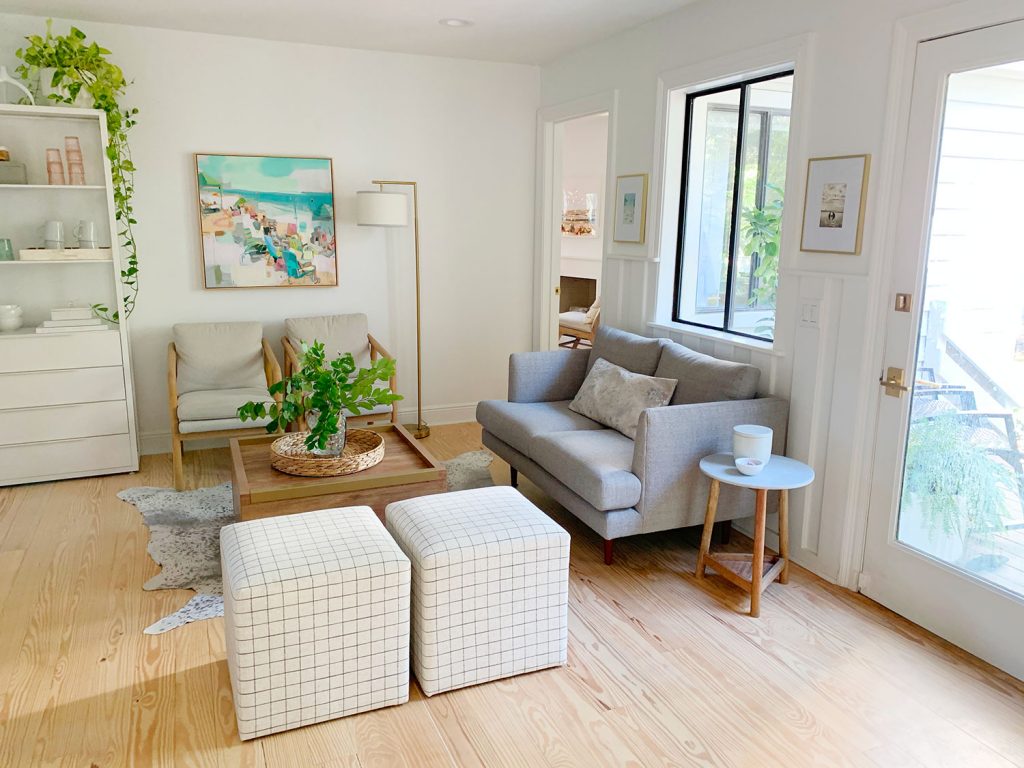 As for where we store other "running out the door" items, that's actually where the laundry closet right next to our front door comes in.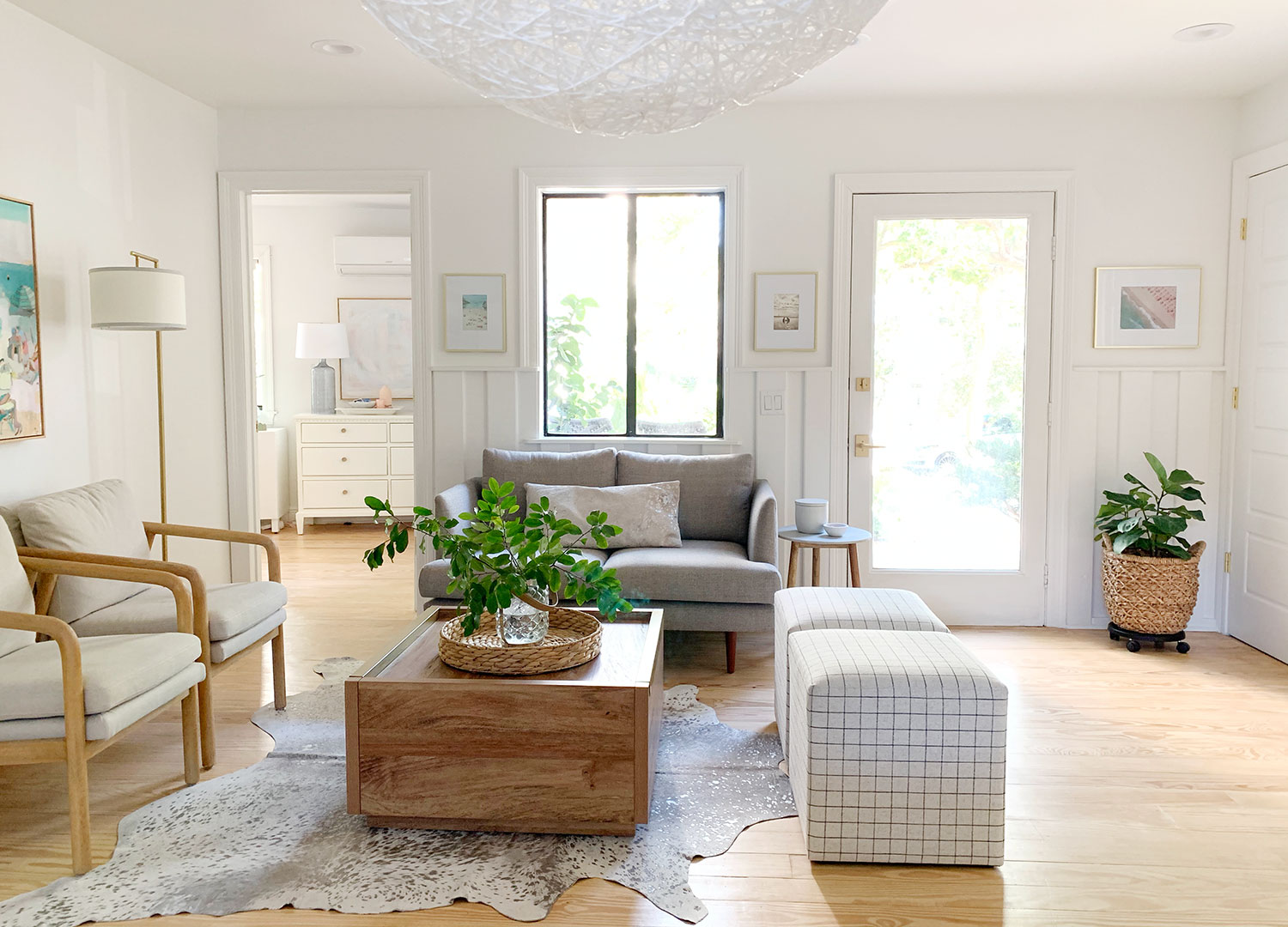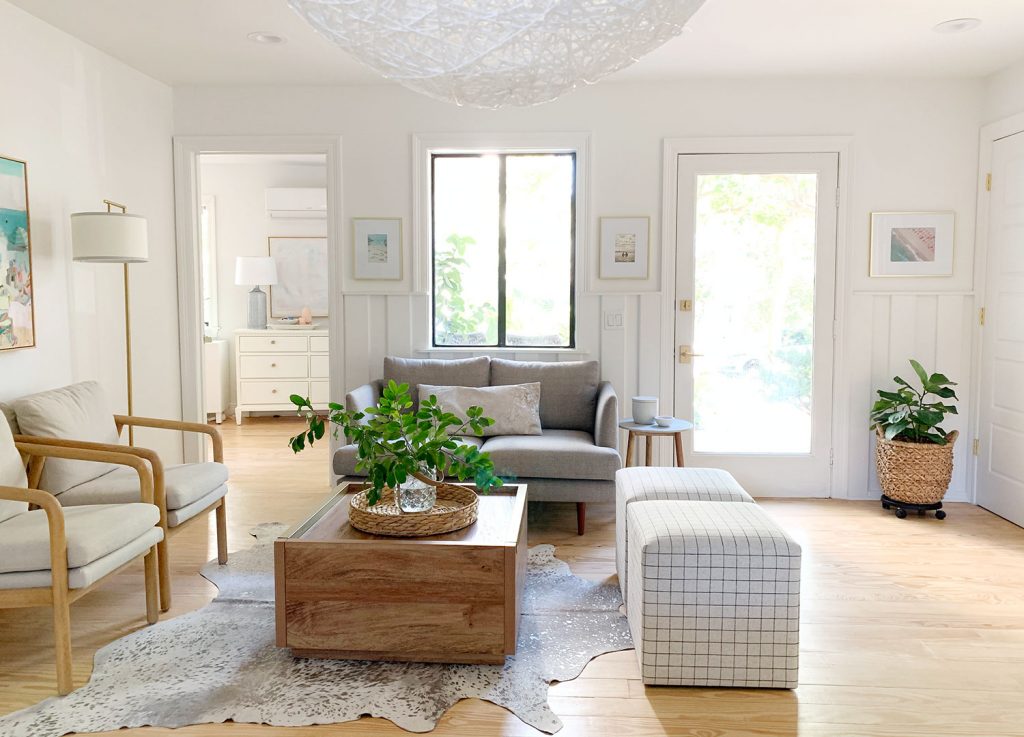 Here's what it looked like when we finished building storage shelves and a big counter for it earlier this summer: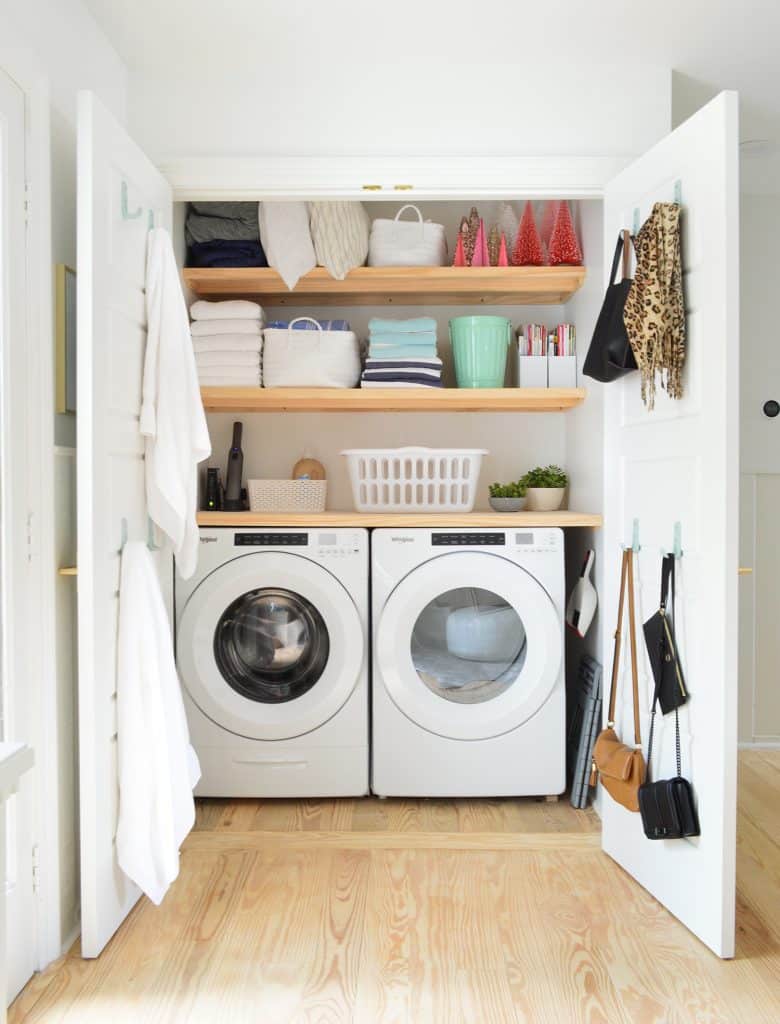 Now that it has gotten colder we use the hooks on the right for jackets, which we often grab on our way out, and we also added a few other items to that wooden counter right behind them that used to be in our dresser by the front door.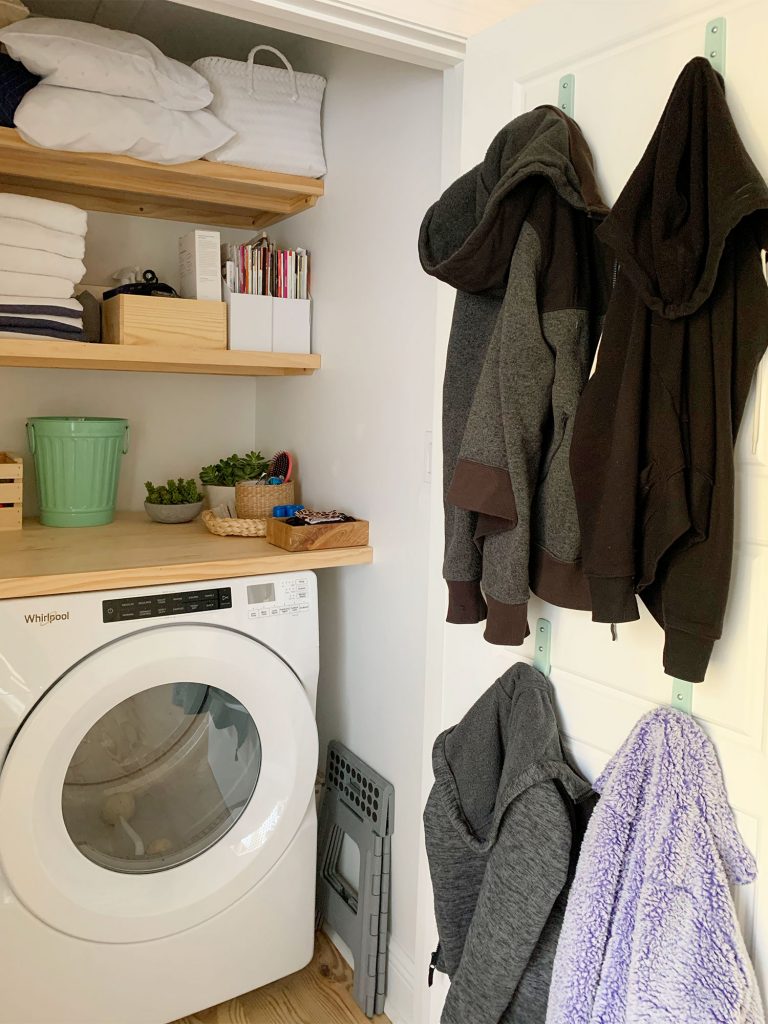 Behold: more sunglasses, a hairbrush, a plethora of additional poop bags, more masks, and crystals. You know, the usual.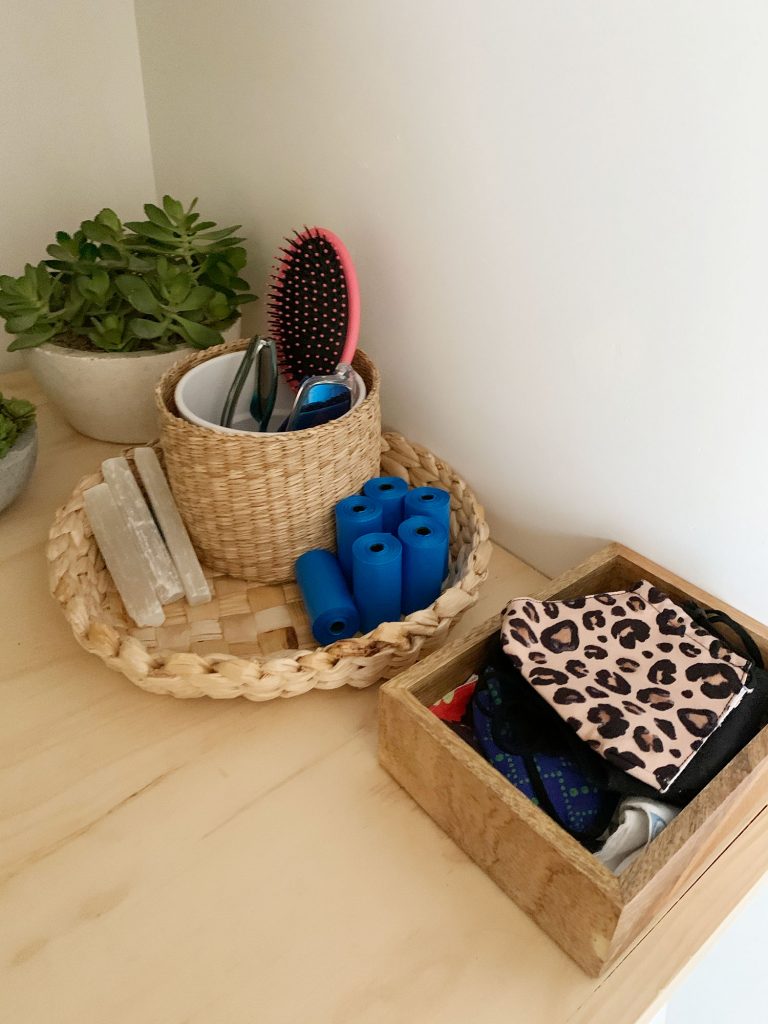 As for where our shoes usually end up – you can see here that we keep it casual with a big pile of flip flops on the front porch.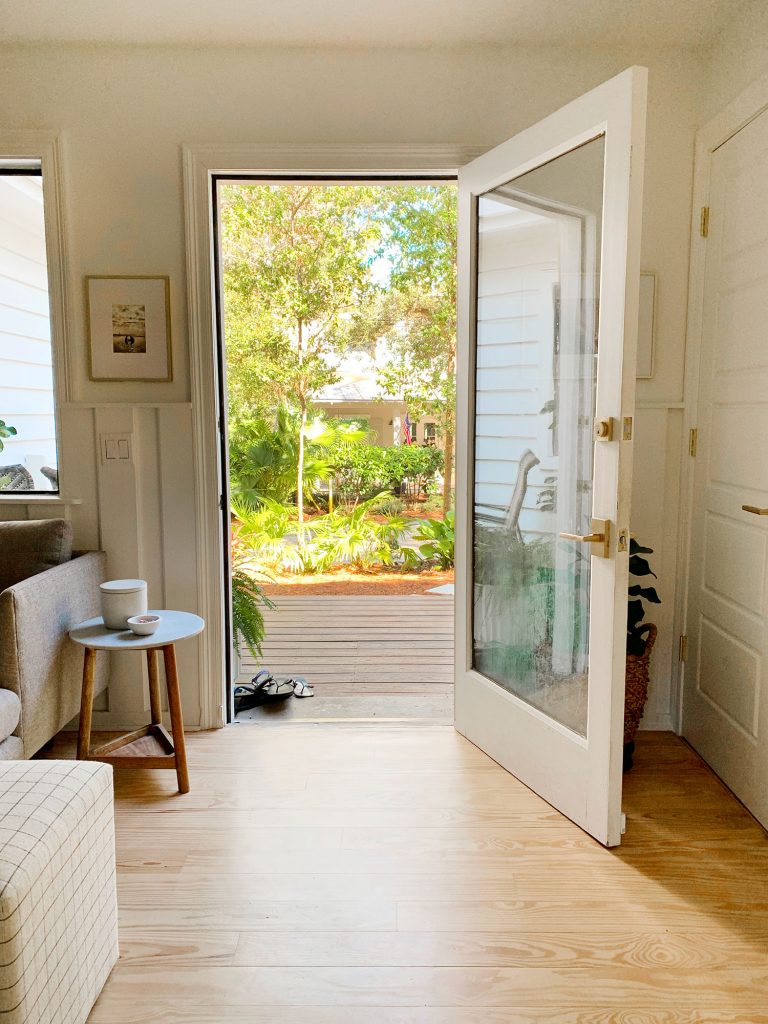 Oh and see those two white ottomans by the door? We just borrowed them from in front of the TV upstairs – but eventually some storage ottomans in their place could be even more functional. So I'm keeping an eye out.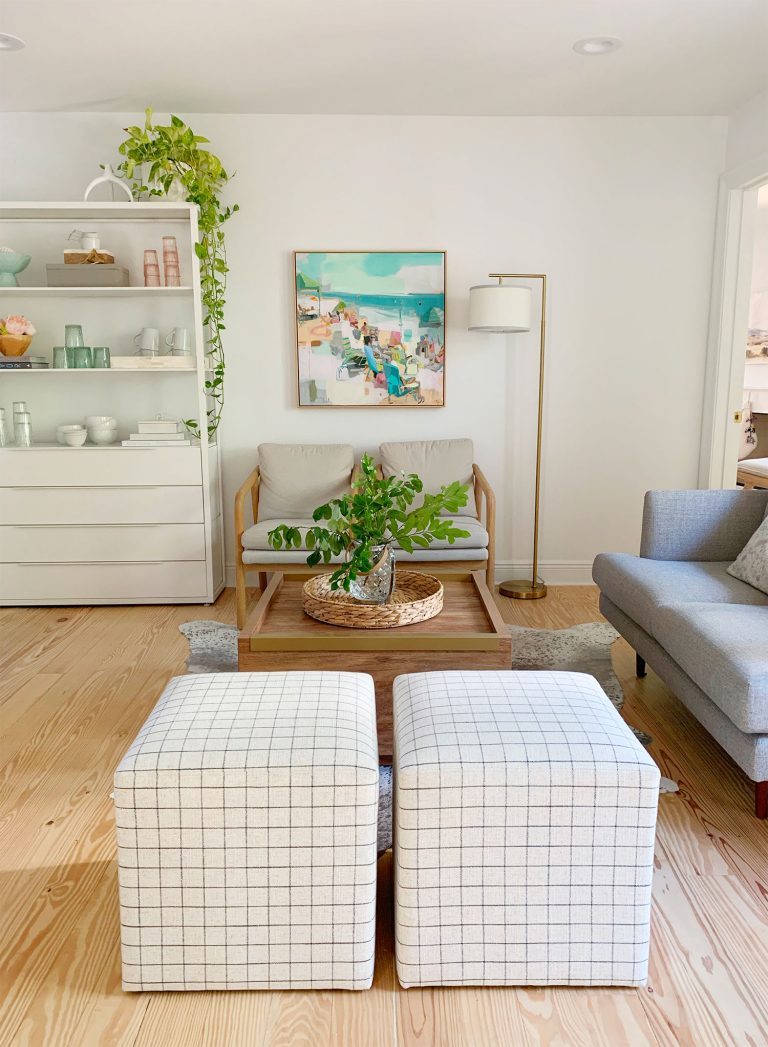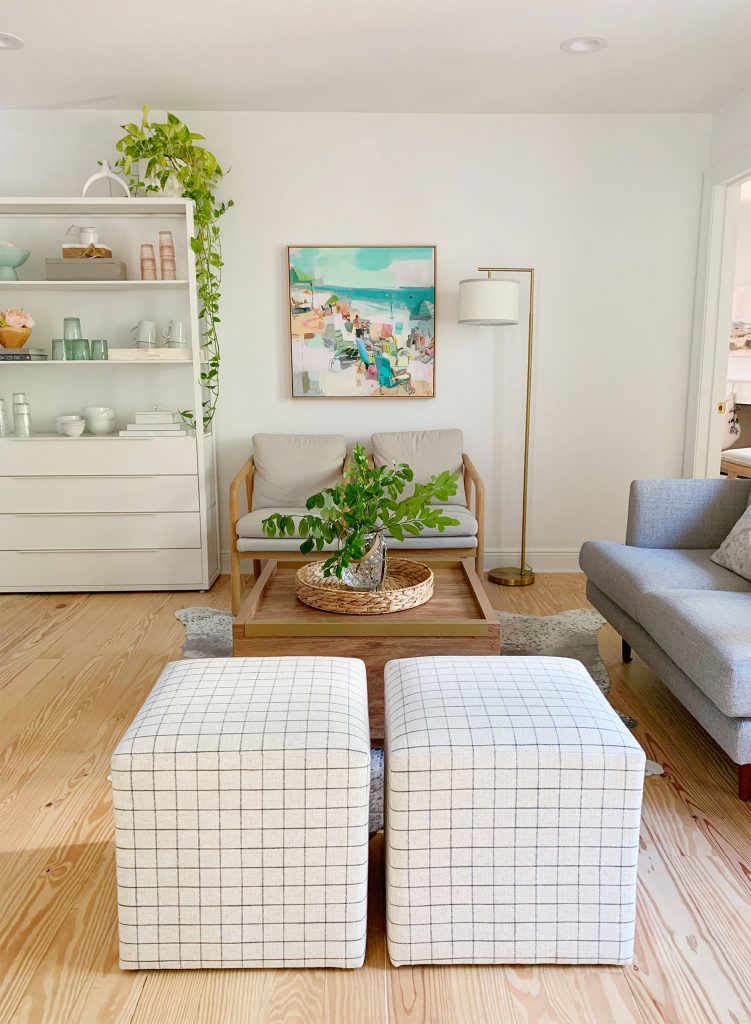 This sitting room definitely could take a larger rug someday (ideally at least the front legs of your chairs and loveseat would sit on the rug, which helps to define the space), but I love this little metallic guy. It looks so pretty with the brass items in the room and ties into the gray loveseat, so I think we'll live with it like this for a while.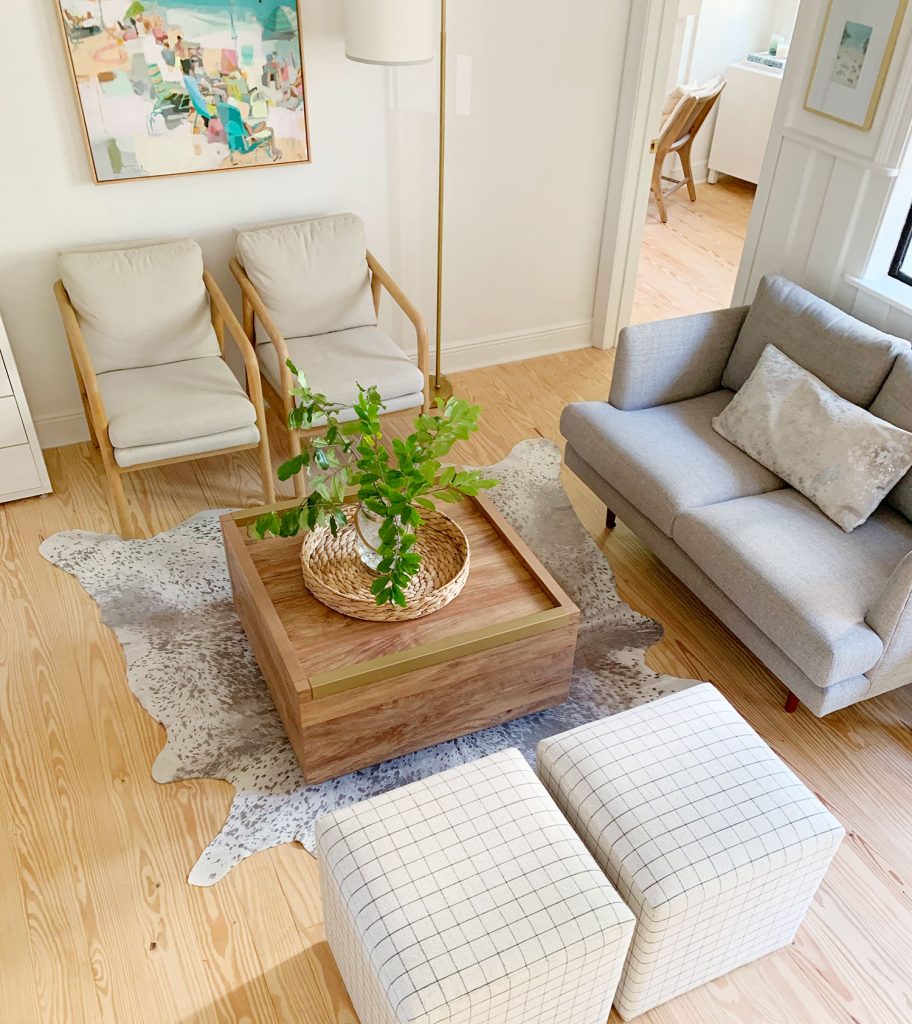 Ok, as promised, here's John for scale (with a 9 pound chihuahua for good measure). Fun fact: Burger loves shoving his face into that crack between the cushions.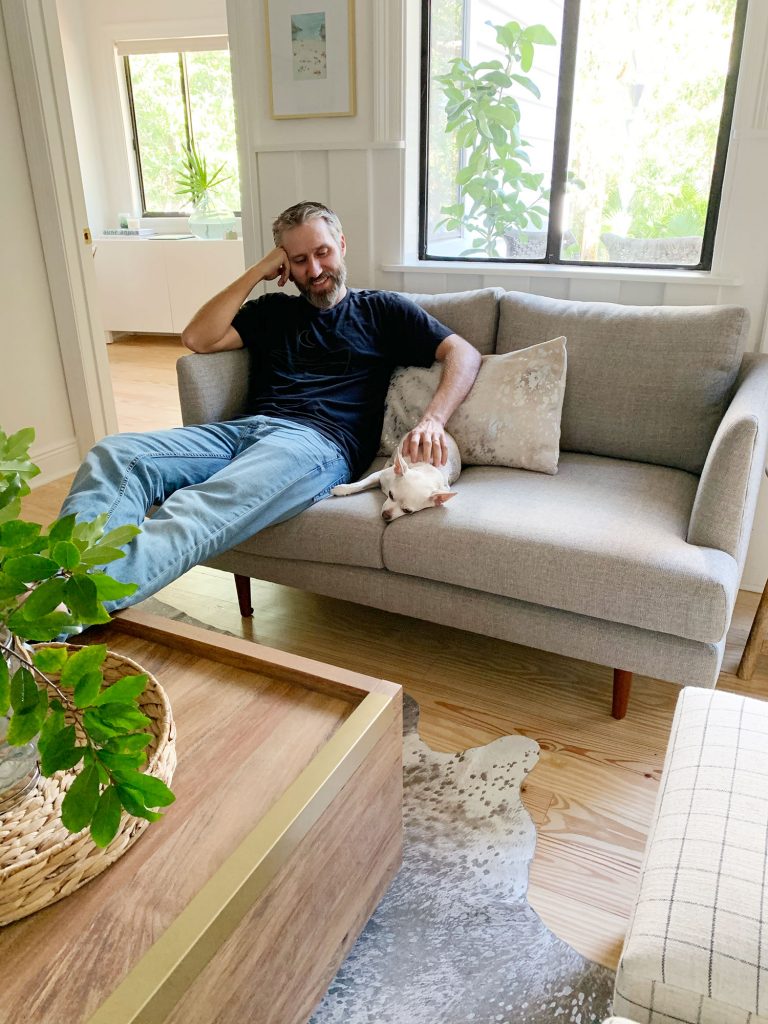 And here's both of us. I love that I can tuck my legs under myself while sitting with John – and I've spent a fair amount of time with both kids piled onto this loveseat.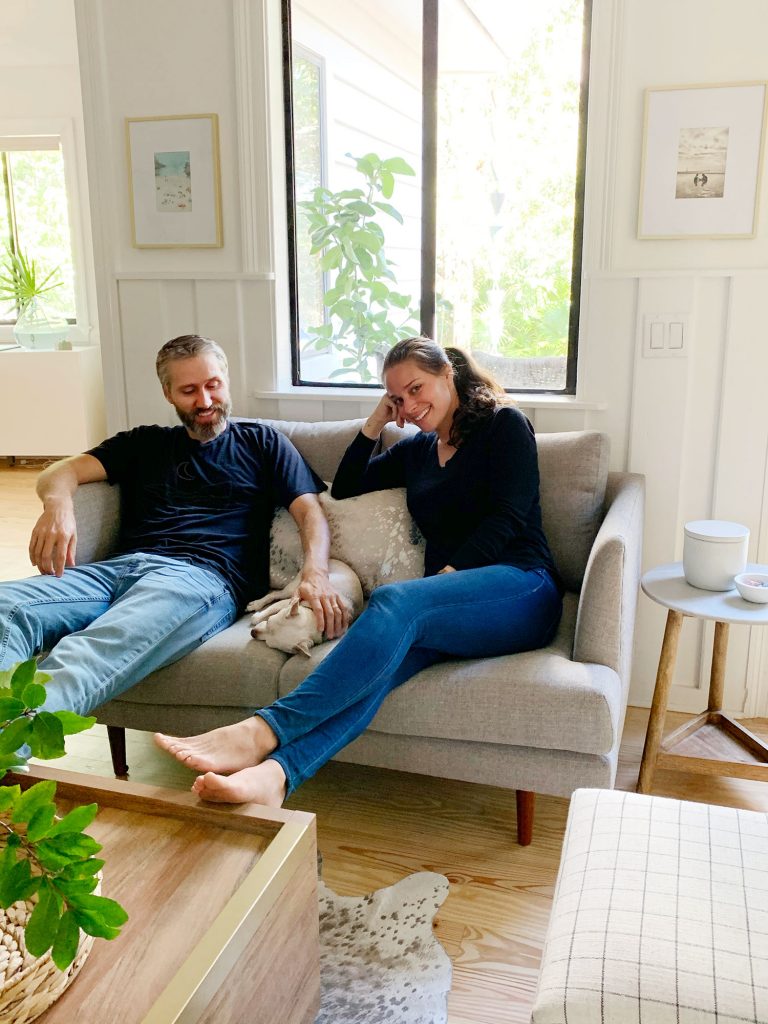 If I sit sideways, I can fully stretch out my legs with room to spare. Sometimes Burger gets right in that space at the bottom of my feel like I made it just for him.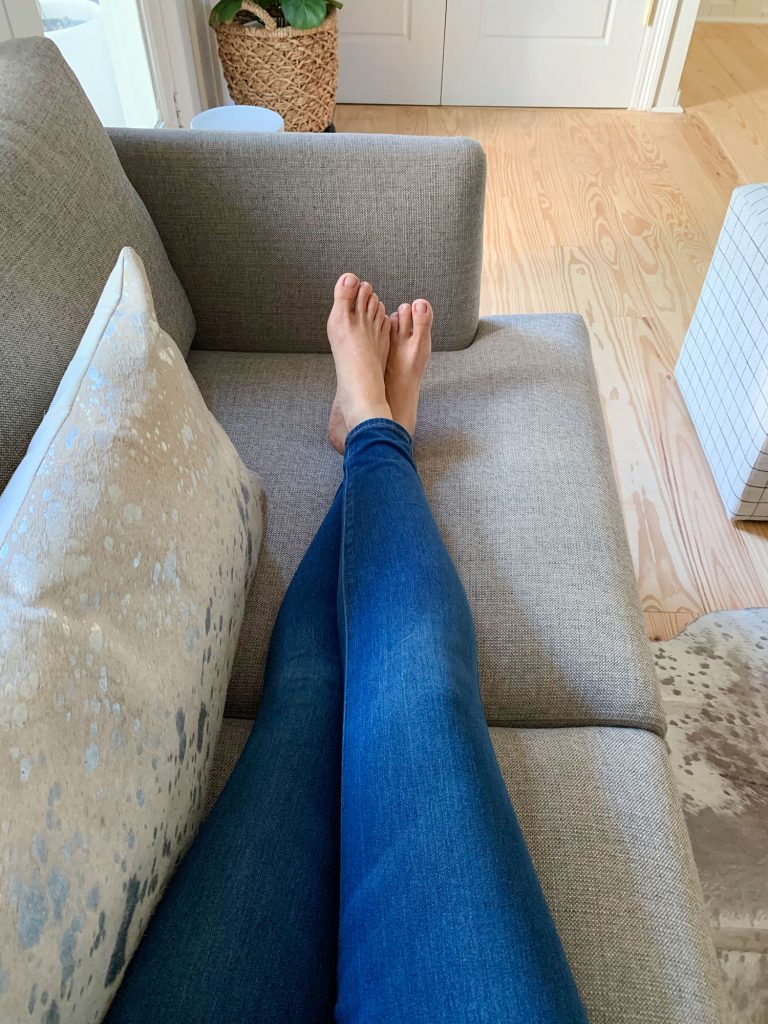 As for the fabric, it's a nice tight woven warm-gray tone. So far it's holding up to Burger's nails and kids and crumbs and all the things. I'm so mad this thing is completely out of stock on Overstock (and only available in the darker color here and here) but when it's back I'll link it. It's very comfy and it had tons of five-star reviews, which is what gave me the confidence to give it a try (there are nearly 40 reviews, many with photos, and it has a 4.8 out of 5 star rating!).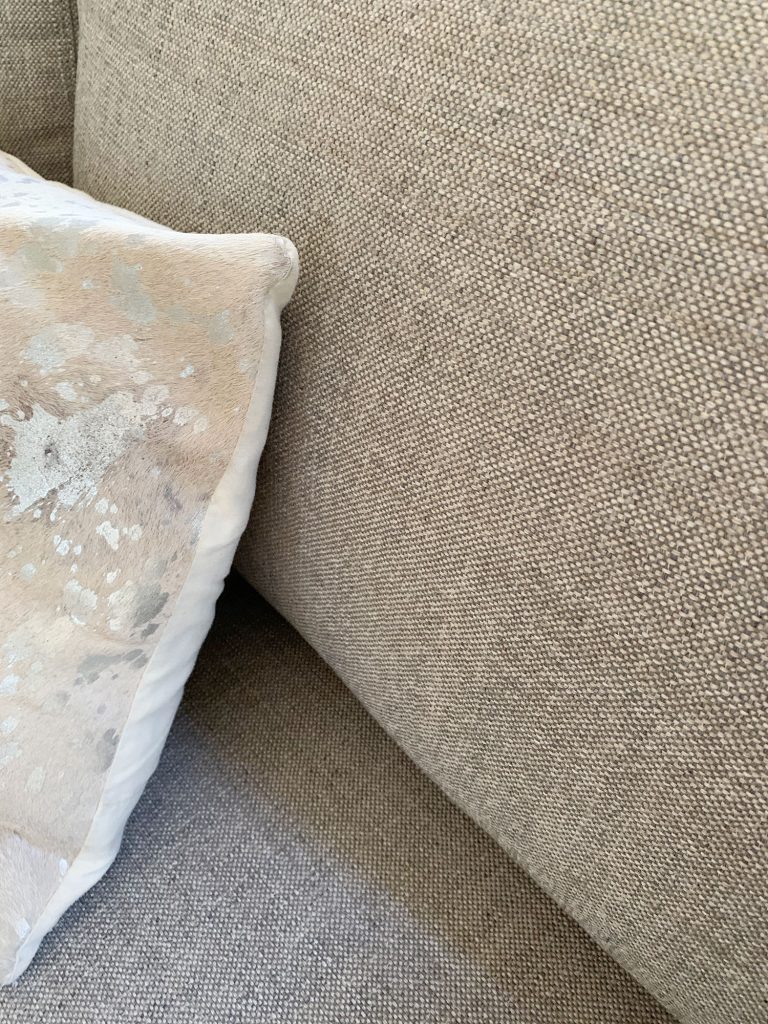 So there you have it. An updated post about our little sitting area.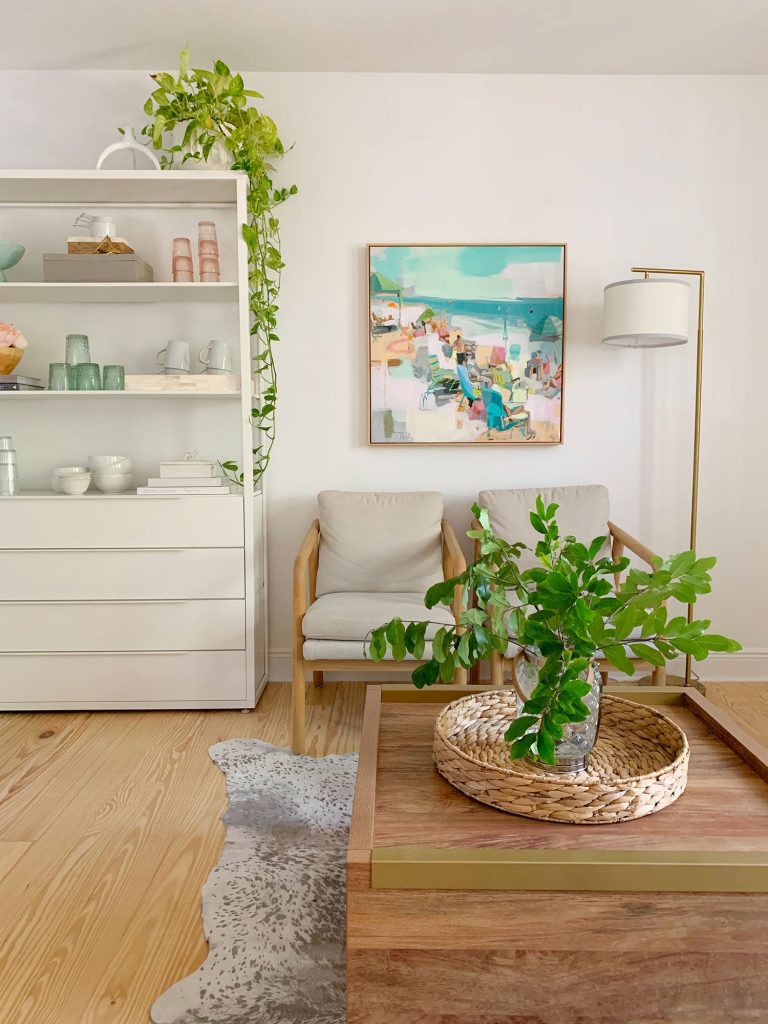 Eventually when we fully renovate the kitchen, we have a few more ideas that should make this zone even more functional and well-planned, but in the meantime we're so happy to have this space to hang, play board games, do puzzles, and have extremely spirited yarn-ball slingshot fights. Yes, the kids got slingshots for Christmas, and those ottomans make a pretty epic barricade to hide behind and pelt anyone on the other side of the room.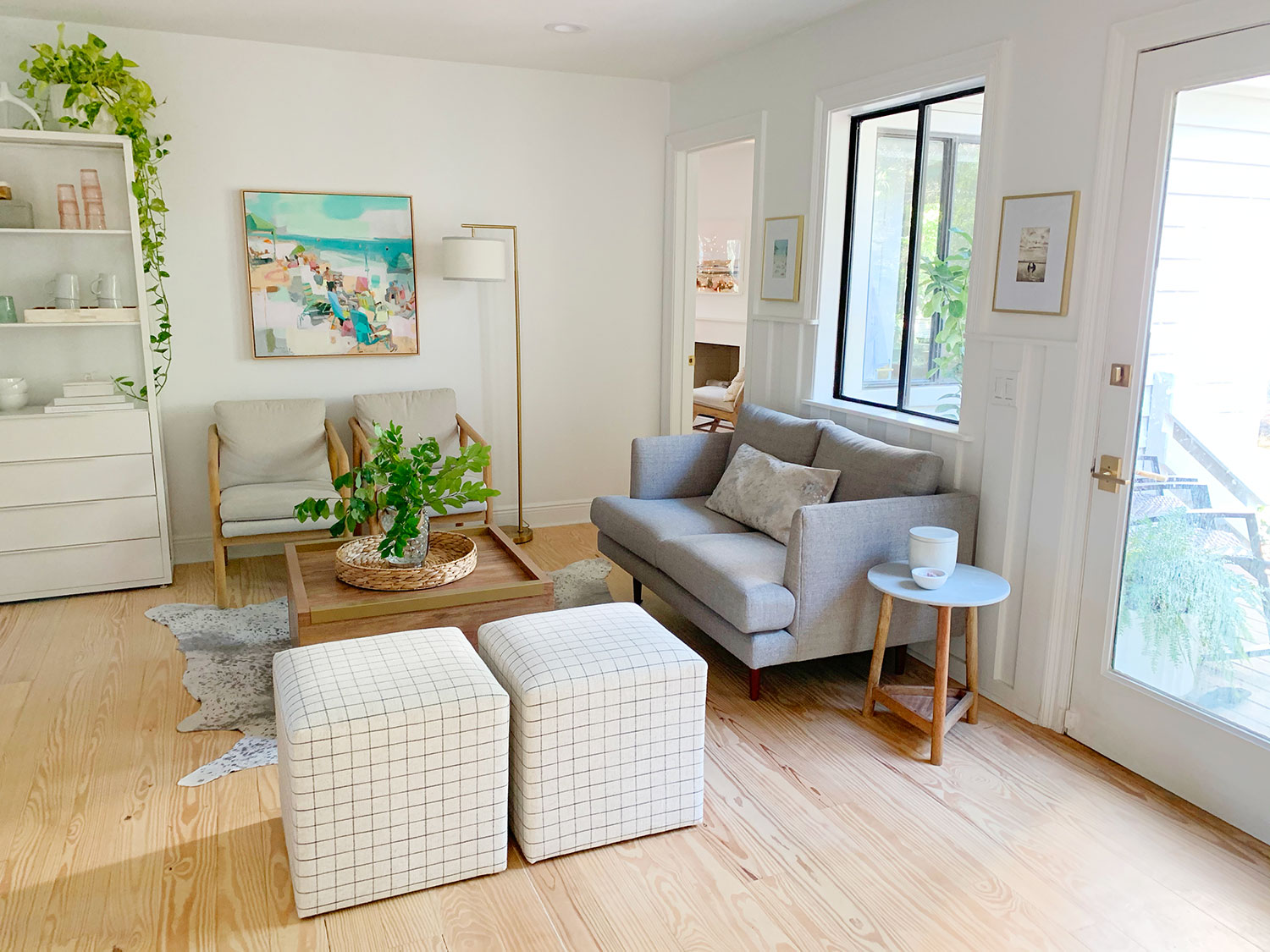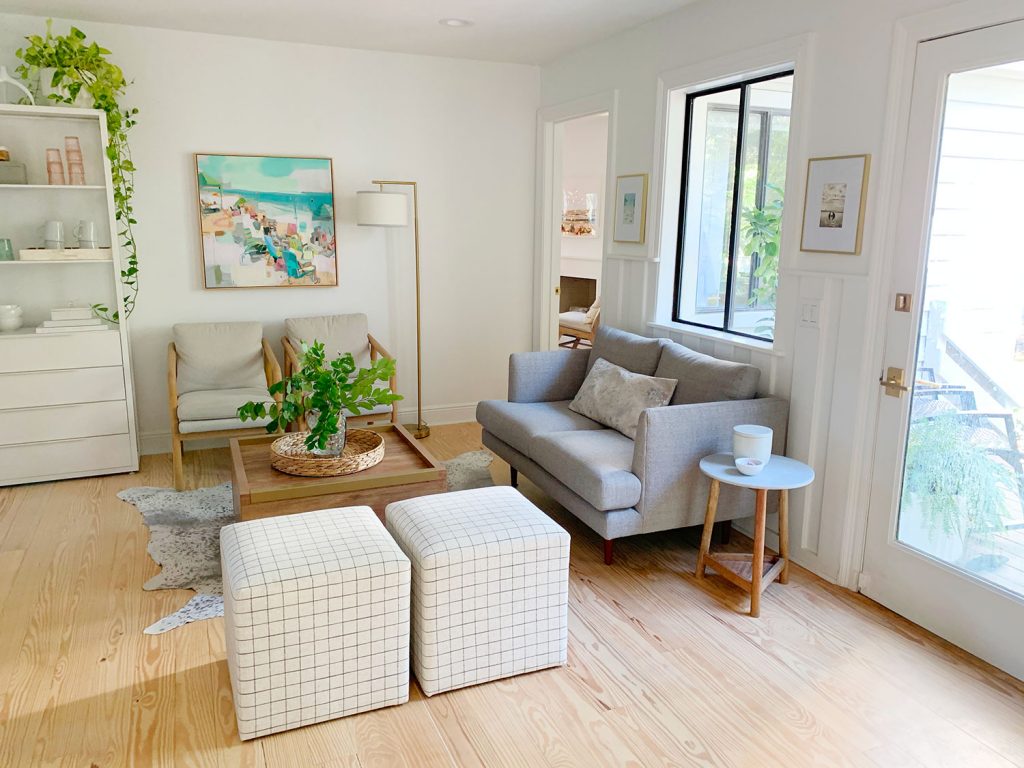 To see what the kitchen side of the room looks like now, there are tons of photos and a video in this post. You can also see every single project and update we've done to this house over the last 8 months in this spot.
*This post contains affiliate links, so we may earn a small commission when you make a purchase through links on our site at no additional cost to you.