When Evelyn sent us some pictures of her kitchen makeover, we couldn't wait to share 'em. Here's her letter:
I read your blog everyday and your enthusiasm for decorating and great deals are contagious. I too love Target, Ikea, West Elm, and had an outdoor wedding with lemons as decorations. I know you kids like to see before and afters, mine is small but the difference with our makeover is that we live in an apartment that we can't paint and can't do extreme things besides just nail things on the wall. The dining room is both our office and dining area and overflow kitchen appliance holder. Aside from the obviously fairly lame dining set, our microwave was taking up valuable counter space so I moved it to this area, beneath it there was a filing cabinet covered by a black fabric. It was an eyesore as well as the laundry sorter & crates we use to hold the recycling.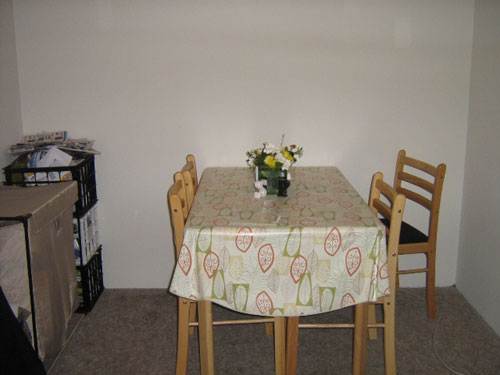 Now for the after. Lucky for us we got the chairs for free and then I just bought the Ikea Melltorp table for $60 and the Apsvik cabinet which was made for us. It's meant for a printer so it has a gap in the back for an electrical cord so I ran an outlet up to the top to plug the microwave (which is now blissfully hidden) and the bottom drawer is a filing cabinet- just what we needed. Finally, I hung a curtain we already had on the wall with a 1.50 curtain rod and bought this cuckoo clock (I waited 'til it was on sale at Target and got it for 1/2 off- just $13). Hope you enjoy our kitchen quick fix! – Evelyn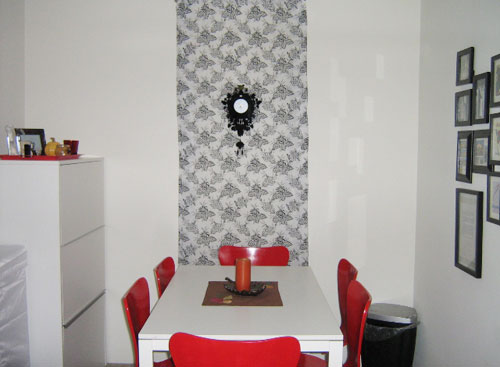 Fantastic job Evelyn! We love that you scored so many things on the cheap but created a kitchen that looks like a million bucks. Evelyn had an especially difficult challenge since she couldn't paint, but we love the splash of red in the chairs and the ingenious use of the curtain and the graphic art (and that great $13 cuckoo clock of course). Thanks so much for sharing your pics Ev. We heart them! What do you guys think?