After posting about our recent floor-painting adventure in the sunroom, we were thrilled to pieces when it prompted Stacie to send us her recent bedroom transformation. She painted her hardwood floor, people! And it looks faaaaantastic. Here's her letter:
Hi! Love the blog and find constant inspiration from your projects. Thank you for sharing. My recent summer vacation was dedicated to updating our bedroom. We've been in our house for two years and had done nothing in the bedroom since we moved in. It was the only room in our home with carpet (the hardwoods are lovely throughout the rest of the house) but after pulling up the carpet we found salvageable hardwood on only part of the floor- while discovering that about one third of the floor was actually plywood!
Having already spent our modest budget on some much needed bedroom furniture, there was no way we could afford to patch with new hardwoods and refinish them (or install new flooring over the top). So despite my love for hardwoods, I painted the floor. And it was absolutely the best choice!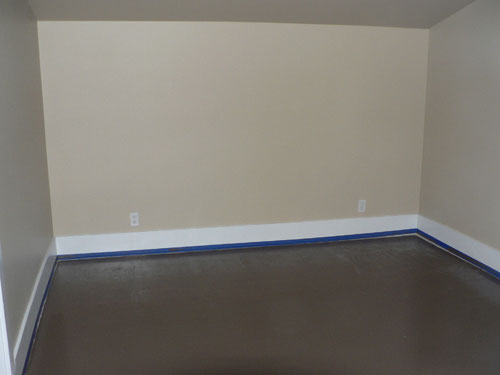 For $25 I used an Ace Hardware brand porch and floor enamel (oil based) in Espresso. Like your recent floor color, it looks like melted chocolate and has a beautiful shine. We used the high gloss finish and it makes the whole room pop.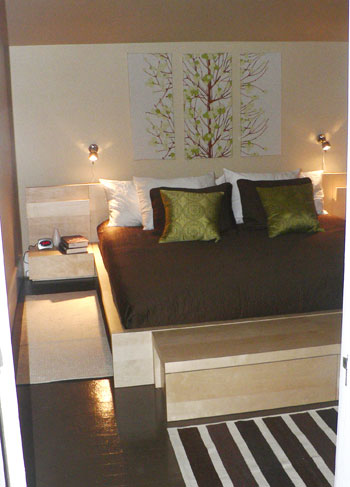 Having such an affordable solution to our floor issues enabled us to spend our money on the other larger items we needed to complete the room. Lesson learned: don't be afraid of floor paint! – Stacie
Who can argue with that $25 solution?! Thanks so much for sharing, Stacie. Your bedroom looks sleek, sophisticated and sleep inducing. And for all of you other readers who are secretly swankifying your home like Stacie, don't forget to send us the pictures. You know we love a good before and after.