Our entry table from the old house naturally landed right next to the front door of the new house too. It has lived there since day one without much second thought. Until recently.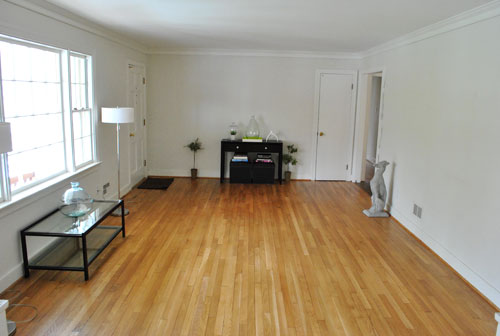 Just for fun we moved it to a new spot and ended up liking it there more. It wasn't a major relocation. It just sorta "drifted" down the hallway a bit.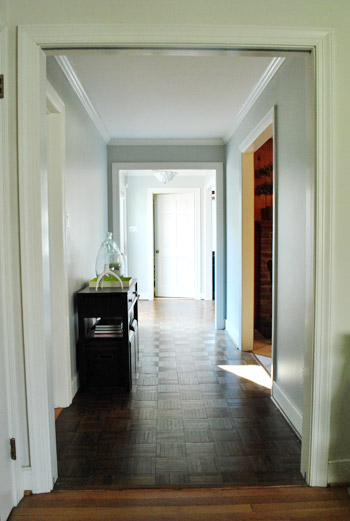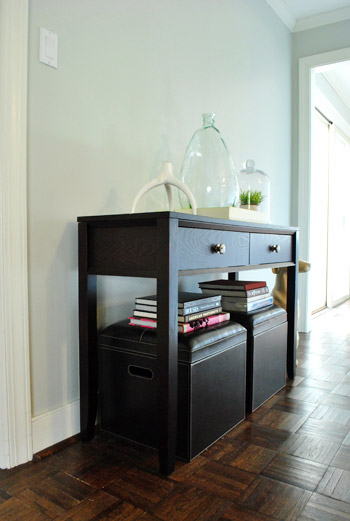 The new spot seems to suit it better for some reason. It's probably a combination of these 3 things:
It moved from an unpainted rough looking space to a painted area that feels more polished.
Visions of the previous owners' furniture linger in our minds (they had a console there too).
It was waaay too small to balance out the built-ins on the other side of the future dining room.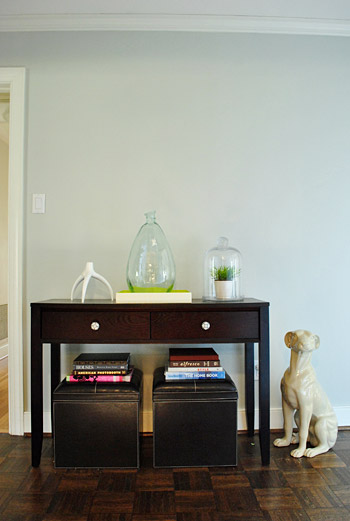 The only dilemma we had about the shift was how to center the table. You can actually see in the pic above that it hugs one door frame pretty closely while leaving lots of extra space on the other side (see below).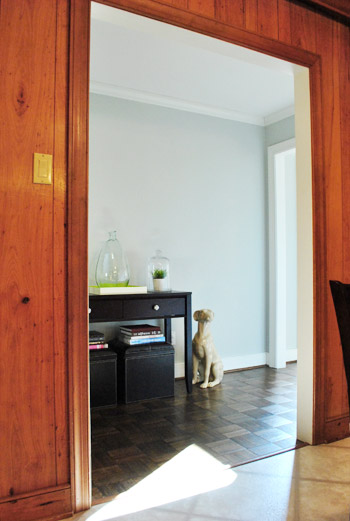 After looking at it in a bunch of different places on that wall (centered, cheated a little, totally flush on the left, etc) we opted for this "off-center" wall placement because of how it looked from the kitchen – the view we'd be seeing it from most often. See? Looks perfectly centered through the kitchen doorway. Warning: ugly paneling alert.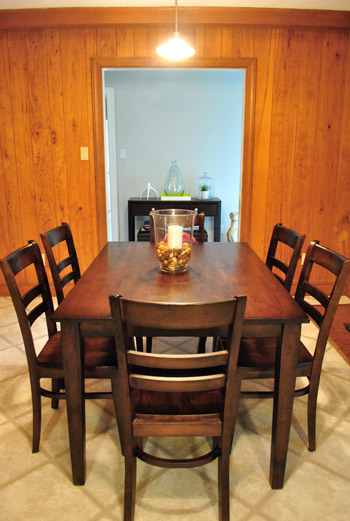 Of course now we can't just recreate the same symmetrical frame arrangement above it like we had in our first house because it'll look crazy crooked. But who wants a house clone anyway? Not this guy (points to self with thumbs). So we've hatched a new frame plan to finish off this little vestibule area. Yes, I just said vestibule. 500 points to me.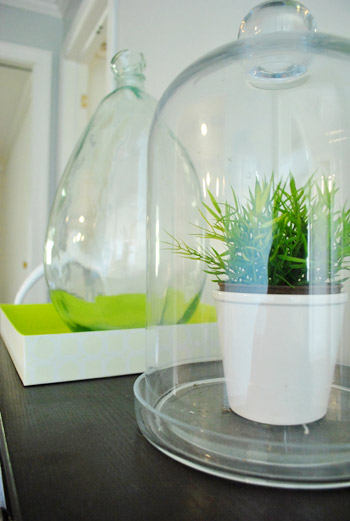 We're actually thinking we might go crazy and fill the walls with white frames of all different sizes & shapes for a mixed-and-matched-collected-over-time vibe. We figured taking the collection nearly floor to ceiling will help address the negative space next to the console, while also creating an awesome gallery for personal photos, kid art, old maps, favorite fortune cookie fortunes, and everything else we love to slap in a frame. It'll almost be like wallpaper since the arrangement will be so dense.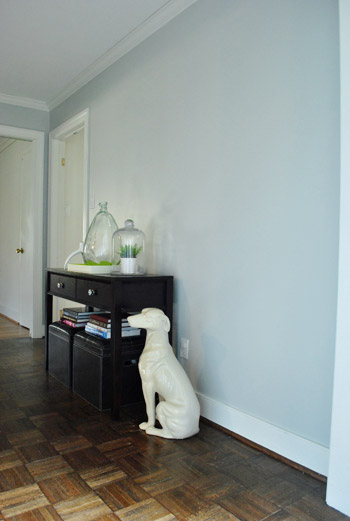 You know, kinda like this and this and this. But different because those pics are probably full of real (read: expensive) art and most of ours will be DIY & Etsy & images from old calendars. You know, the whole champagne taste on a root beer budget debacle (I'm a soda guy, just go with it, ok?). And speaking of saving loot, fortunately we already have tons of white frames sitting around just waiting to be hung. See them all leaning against the wall in the guest room?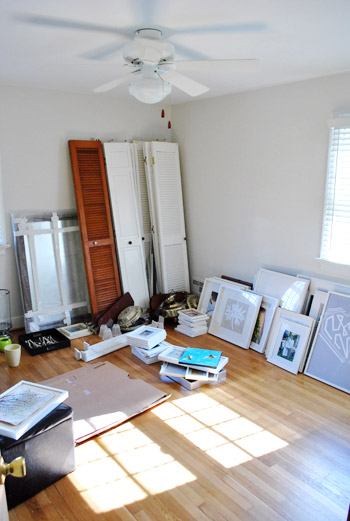 Oh and as for what will go where it once lived near the front door in the future dining room, we're keeping an eye on cragislist for a bigger more proportionate cabinet or buffet for that zone. Details to come when we find "the one."
Psst- Ack- we just learned that Facebook changed everyone's options. Grrr. So if you're not getting our posts in your feed anymore, simply scroll down to the bottom of your Facebook Home Page and click "Edit Options" and then choose "Show Posts From All Friends And Family" instead of just those people you interact with most often. Leave it to Facebook to keep us on our toes…