Imagine our surprise when not one but two readers submitted their take on some of our favorite Crate & Barrel prints (which you might remember from this mood board makeover or this mood board makeover). And since both readers took different but equally successful paths at DIYing their own versions of the prints, we decided to share both of their methods with you. Let's start with Lindsay's letter:
I thought you'd like to see the artwork I drummed up for our living room. You posted this mood board awhile back featuring Crate & Barrel's Classical Symmetry prints. As soon as I saw them, I knew I wanted to DIY them. I used masking tape to create the lines on the lattice patterned one and the last two were made with a hand drawn stencil. I already owned all of the art supplies (paper, paint, tape, etc.) but found some affordable square frames at Target for about $24 each. So I was able to come in way under Crate & Barrel's price and I always find it satisfying to hang my own artwork on the walls. Thanks for all of your inspiring projects & ideas! – Mahalo, Lindsay from Aisle to Aloha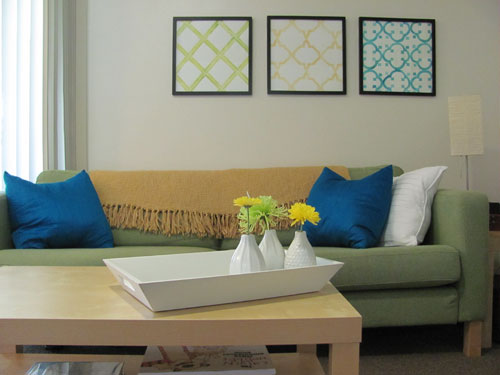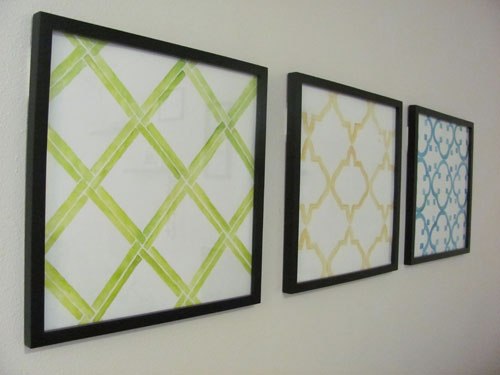 Don't they look great? Now on to Amanda's take on the same geometric artwork:
I became a little obsessed with the Crate & Barrel art that you posted for Ashley's Design Dilemma but when I clicked on the link and realized they were a bit more than I'd like to spend I decided to DIY it instead. I thought we'd put our Illustrator and Photoshop skills to the test and see what we could do to recreate these images at a lower cost. And I am in LOVE with the results! They are a smaller size than the Crate & Barrel originals, but they fit our space perfectly. And we don't have mats yet, but we may add those later on. Here are the details:
Six 10 " espresso frames from Michael's (on sale) $38.22
Six prints from Kinkos $16.11
Several hours on Photoshop/Illustrator $0
TOTAL $54.3
You've inspired me so much when it comes to decorating our new home. Thank you, thank you, thank you! – Amanda from On Being Browns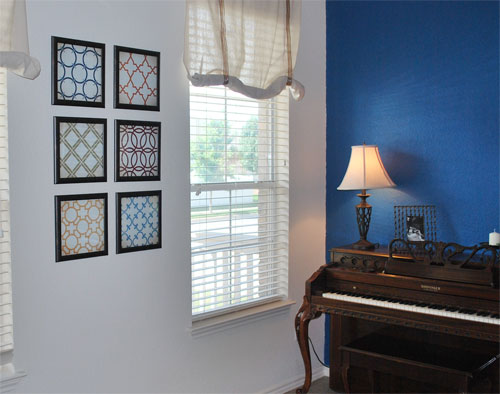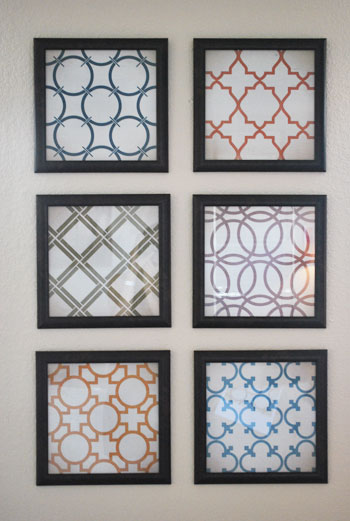 Both projects turned out so well (and so much less expensive than the originals)! We love that one is more fine-art based (involving paint and stencils) while the other is a bit more tech-savvy. So if anyone else has been coveting that C & B artwork – but not the price tag – feel free to break out the paints like Lindsay or your computer skills like Amanda to whip up your own take on them. What do you guys think? Will you be attempting either method to make some of your own inspired by the gorgeous originals (and these gals)? Or will you even try your hand at a third approach?