When we laid eyes on this major bathroom makeover we almost couldn't believe it was the same space. Anneliese sent us these pictures in response to our toilet paper post a while back, and we have to say that not only do we love her makeover but we love her TP storage as well. Here's her letter:
This is a combo email to show you the before/after we did in our not-so-fabulous bathroom and also how we store the TP. My fiancé and I live in a seen-better-days adobe in Albuquerque. The first project we tackled was the bizarre main bathroom, which featured 60s floor tile, a monstrous vanity cabinet, a mauve toilet, and a 28" high bathtub that I had to use a step-stool to get into.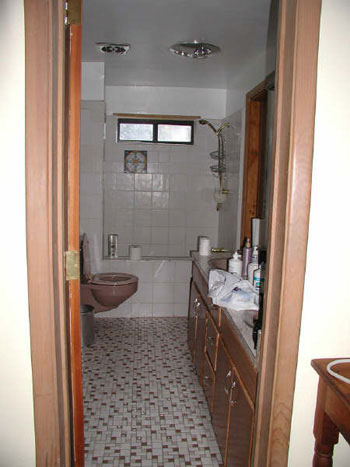 The finished project featured a slate-esque porcelain floor tile, matte subway wall tile, an antique spice cabinet as a medicine cabinet, and the prettiest gray-blue-green paint. Oh, and a bright orange floor mat that was the result of a showdown between my fiancé and I on the third hour of a massive IKEA run. It's our bit of quirk. As you can see, we're big fans of honest display in the bathroom- no having to find the mysterious replacement rolls when we run out! Thanks for all your posts on the trials and tribulations of having a beautiful, functional space on a budget! -Anneliese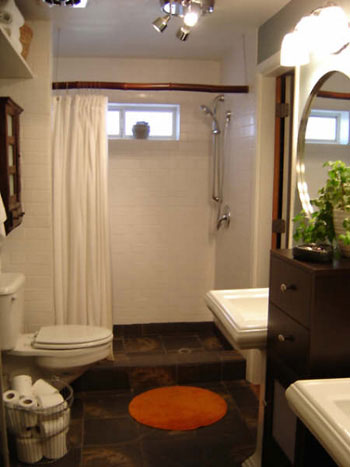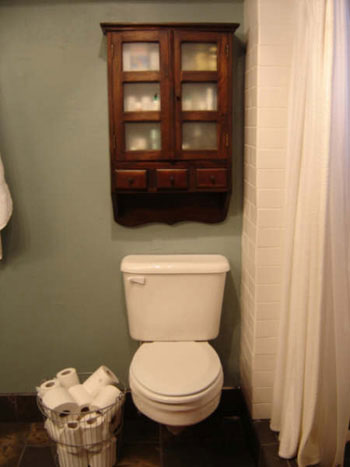 From the wire TP basket and the rich slate-like flooring to the abundance of white and the deep wood accents (that shower curtain rod!) this is one fabulous bathroom. Thanks so much for the pics guys! It's amazing what a dated and dingy bathroom can become with a little elbow grease and a lot of imagination.