This is another post that John wanted me to name Stool Boom (here's why John likes that name). Anyway, a while back I redid a stool that wasn't ours. It just showed up in the mail and I spruced it up. More on the mysterious mail thing in a minute. First here's how I got 'er done. This is a terrible before shot, but picture an old beat up periwinkle blue stool with nails and holes and a rotting wood top: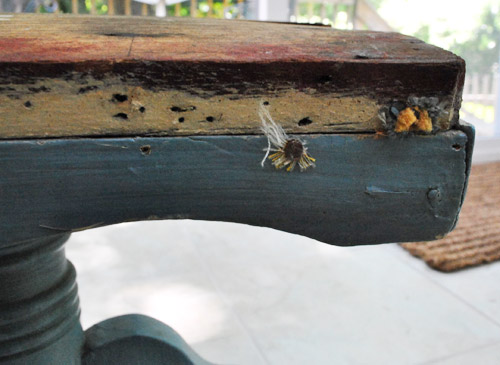 The first thing I did was get all the old nails out with the back of a hammer: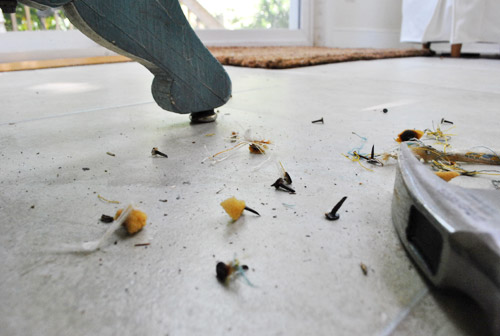 Then I primed it and painted it a rich navy color (I just grabbed a $3 test pot of paint in Benjamin Moore's Santa Monica Blue). Ignore the crazy-bright blue color going on in this picture – it's a very strange camera trick. In real life = navy. Anyway, after my two coats of paint were dry, I dug up some extra loft batting (originally from JoAnn) that I already had and some fabric that I had around as well. Why? Because I'm cheap. And it's not my stool. Haha. If you're keeping track, so far, I had sunk $3 into someone else's stool.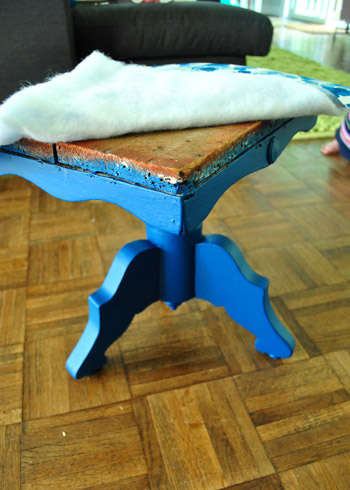 Then I got fancy and picked up two $1.79 boxes of decorative nail heads (from JoAnn). I know, I splurged. What can I say, I'm a giver.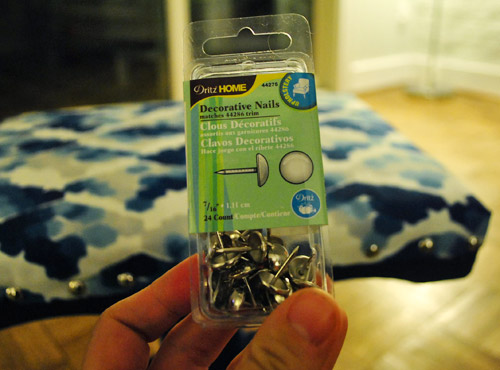 I figured I could use these guys to secure my batting and my fabric along each side of the stool. So I just cut the batting and the fabric about two inches larger than the top of the stool on all sides, and pulled the excess down and folded it under for a nice clean line. Then I tapped each nail head into place to keep things secure. I spaced them about 2″ apart (and used a 2″ piece of cardboard as a spacer to keep the gaps consistent). About thirty taps later I had done one side…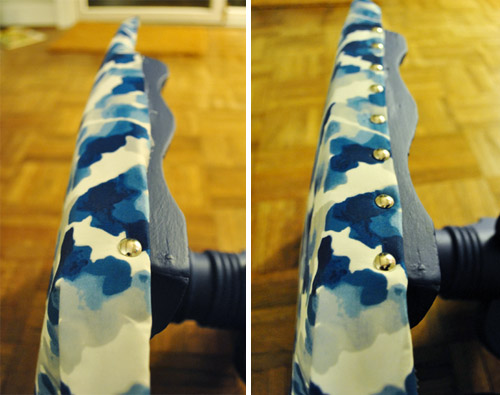 I continued to tap my way around the other three sides and I was left with a sweet little stool to not call my own. Total cost: $6.58. Except I have no earthly idea why she looks royal blue again. See the pics above – that's probably the most true that the blue looks. So it's a nice rich color but not too bright in real life.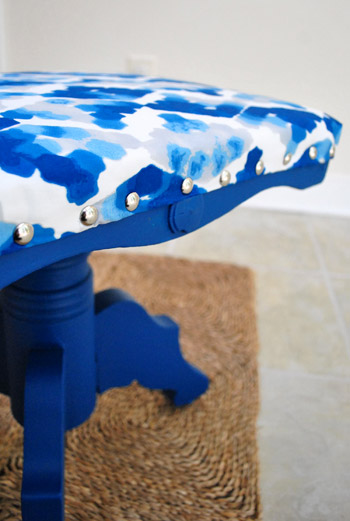 Here's a full shot from the side (the same pic I should have taken as a before instead of a zoomed in crazy one):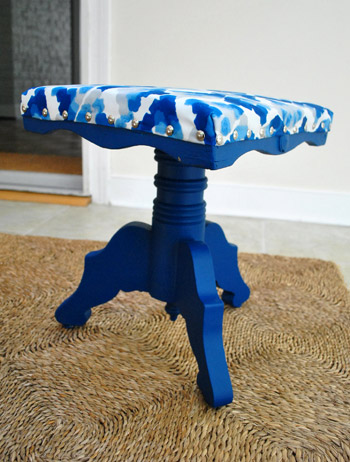 Then I hugged her, kissed her (more than once), and lovingly sent her off. Sniffle. Weird stool business going on, right?
Well, it was actually for the fine folks at Do It Yourself magazine…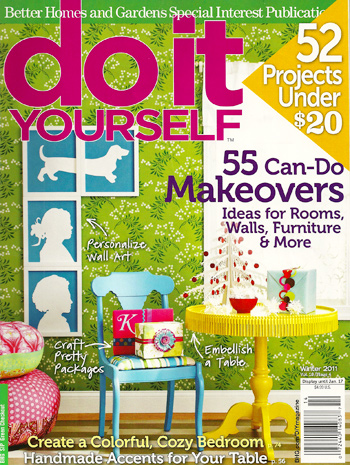 … where we have a Q and A column called "He Said, She Said"…
… but in our column we don't redo furniture, so the stool was for another article they were running in their winter issue about makeovers by a few bloggers who all received surprise items in the mail to redo. There were some pretty amazing fellow bloggers in the mix, like: Style Me Pretty, Centsational Girl, Jen Geigley, Renegade Handmade, and Lori Andrews. It was really fun see what they did, like this two-tiered-table turned cake stand from Style Me Pretty: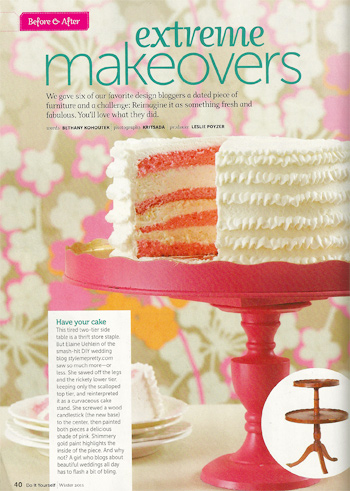 And here's my little stool makeover. I love how they styled it with yarn because of all the craft stuff that I have in our house, I have zero yarn. Haha.
Oh and really savvy folks might even recognize the fabric as one of the ones we used for Clara's weekly pictures. We love how it looks like water and the bean looks like she's swimming in this pic.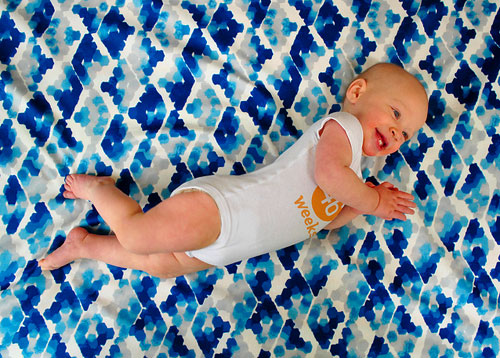 After making her quilt and birthday banner there was still more than enough for a surprise stool makeover. Gotta love it. What furniture have you guys been making over lately? Any painting or reupholstering going on? And kiddos swimming around on fabric? Hey, if it makes 'em happy…
Psst- We might be biased, but we think this video of Clara singing a medley of songs is the cutest thing ever. That girl loves to sing!