This week we're talking about when you should undo a personal change that you made to your house that might turn off potential buyers (and when we'd recommend leaving it the heck alone). We're also getting into store returns and how they're changing, because the ability to return decor items that don't turn out the way you hoped is a great safeguard… but did you know that some stores may be cracking down on that practice? Here's what we learned about the policing of returns that's going on behind the scenes, and what a DIYer can do to avoid getting their account flagged. We're also recapping our trip to a blogging conference in Austin, I have an a-ha moment regarding something you sleep on, and Sherry gets a personal call from a celebrity that kinda makes her year.
You can download this episode from Apple Podcasts, Google Play, Stitcher, TuneIn Radio, and Spotify – or listen to it below! Then use this page to check out any links, notes, or photos we referenced. Note: If you're reading in a feed reader, you might have to click through to the post to see the player.
What's New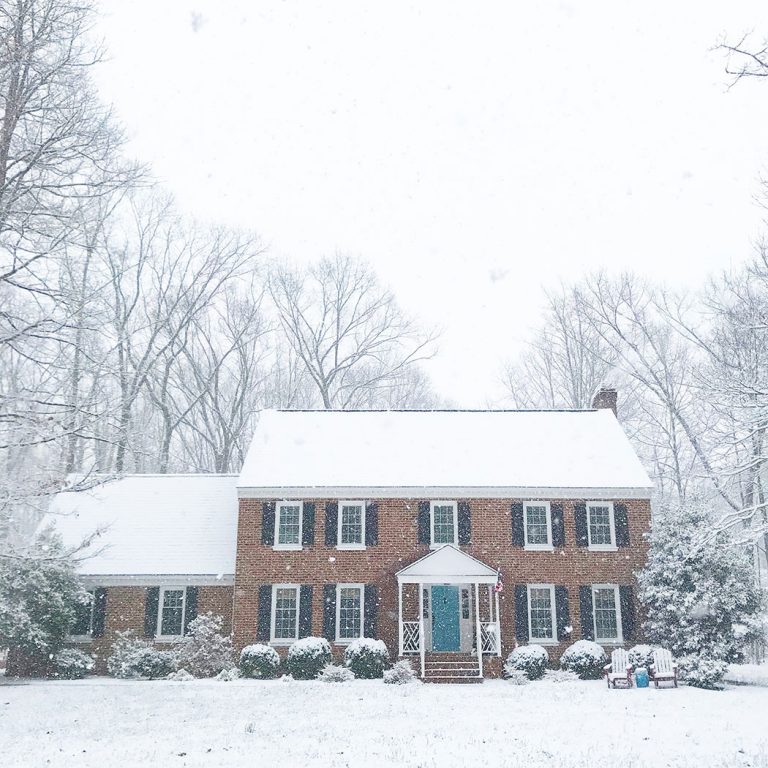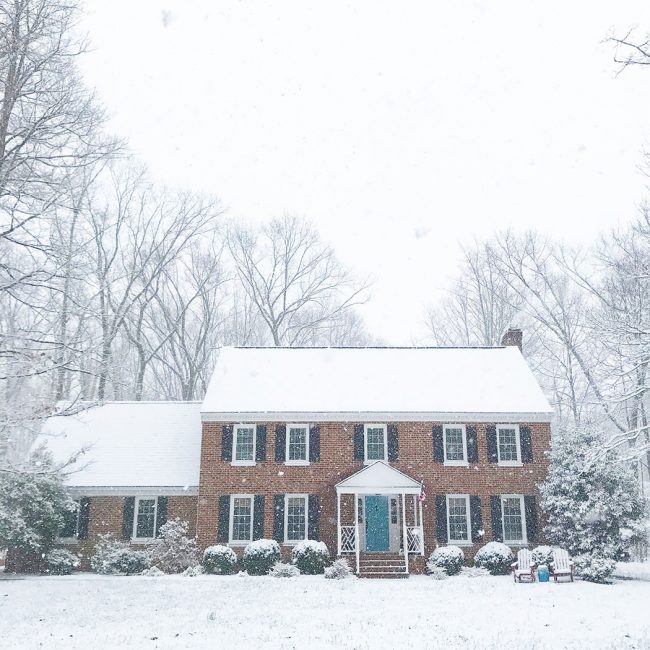 Above is the photo we took of our home quickly getting covered in snow as we drove to the airport for our conference in Austin a couple of weeks ago.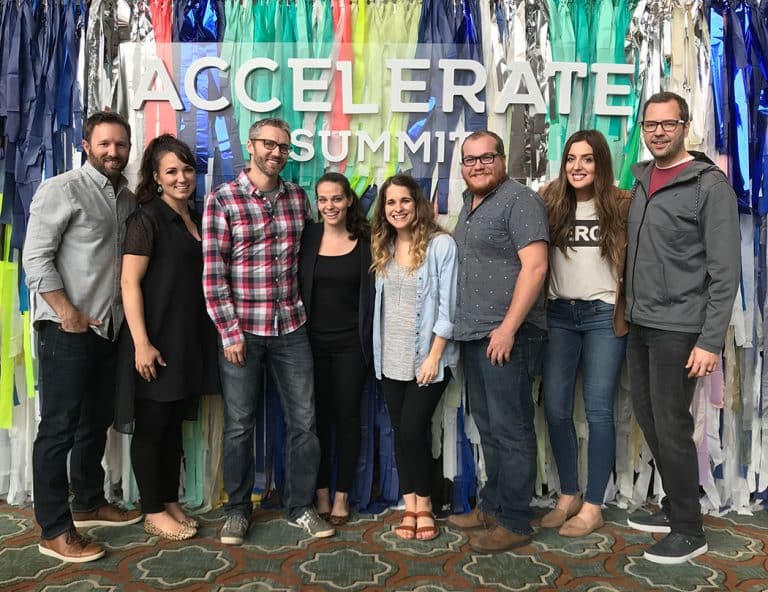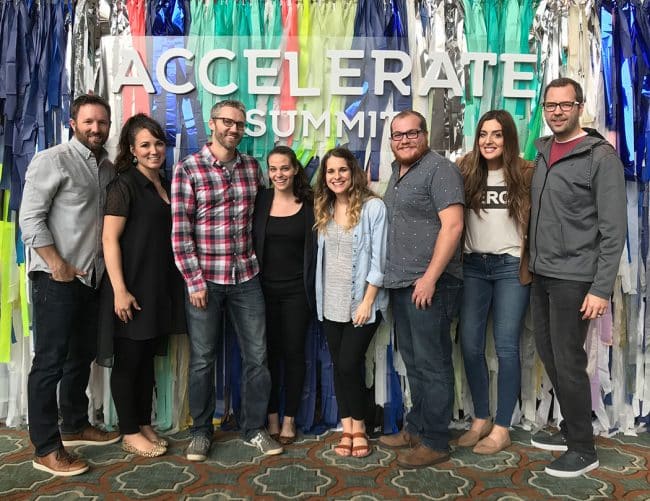 We were so hunkered down taking notes at the conference that we didn't get a ton of photos – but here's one group shot we grabbed on our way out the door. From left to right that's Jeremy & Katie from Bower Power, us, Amanda & Corey from Love & Renovations, and Julia & Chris from Chris Loves Julia.
Speaking of not the best photos, here's a long distance one of Randi Zuckerberg speaking (with the back of Michael from Inspired By Charm's head in the foreground). We highly recommend her kids book, which is called Dot (it's about kids and technology and has a really great message). We learned from her talk that it's also an animated series on Sprout.
And of course, here's a photo of the birthday girl in the Tesla that just happened to be our Uber for dinner that night. We actually snapped this picture as we were unloading on the street corner in front of the restaurant that he dropped us off at where everyone was expecting someone a lot more exciting than us to emerge.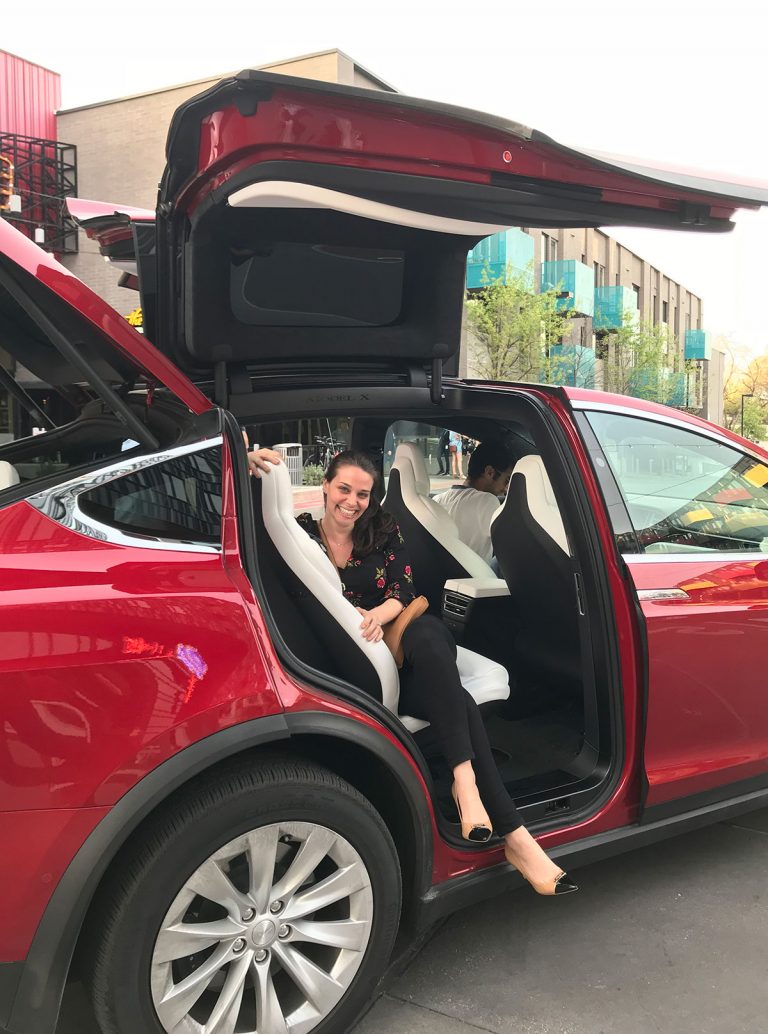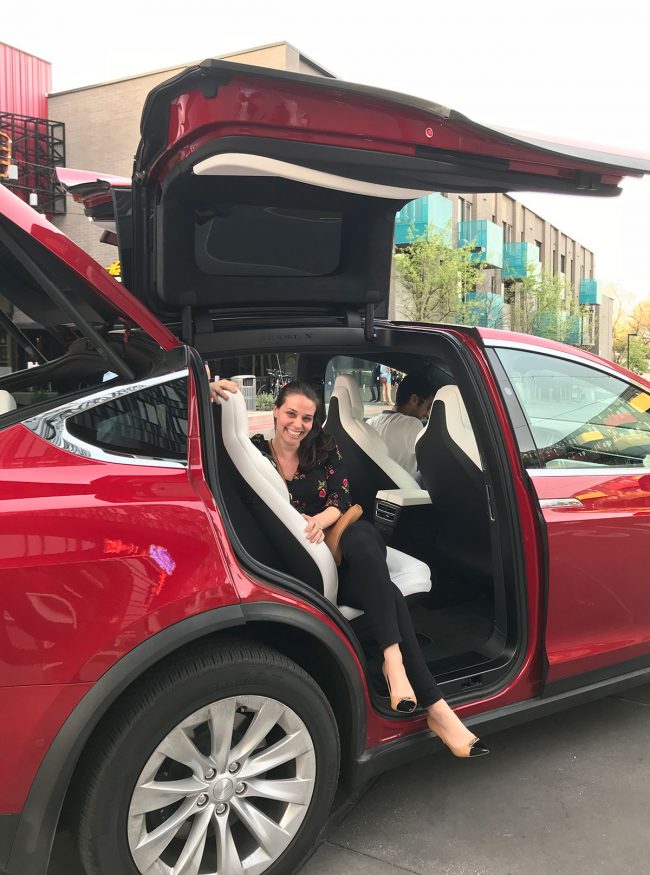 Here's where you can see the doors in action (as well as witness all of our shouting when we realized THAT was our Uber).
This shot is kinda grainy (Sherry and I were in the third row) but you can see the GIANT navigation screen on the dashboard. That's Jeremy Bower chatting up the driver about how this thing can go 300 miles after every charge.
Can We Just Talk About?
Listener Question
The house with the garage-turned-theater was actually in our roundup of other houses we considered before buying the one we're in. It's the navy one labeled "The Garage Theater House."
Sherry's working on a post with some of her general staging advice along with a ton of photo examples from various houses she has done, but here's a preview of that dining-room-turned-office-turned-homework room as it was styled when we photographed it originally (left) and how Sherry simplified it when it came time to sell the house (right). She also took some art/filing baskets off of a few other walls, but it wasn't a bunch of major changes or anything. Just a few simple ones.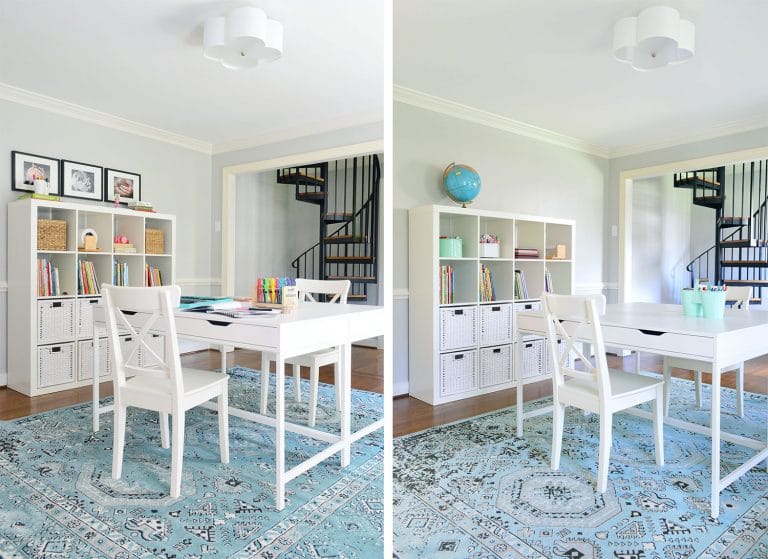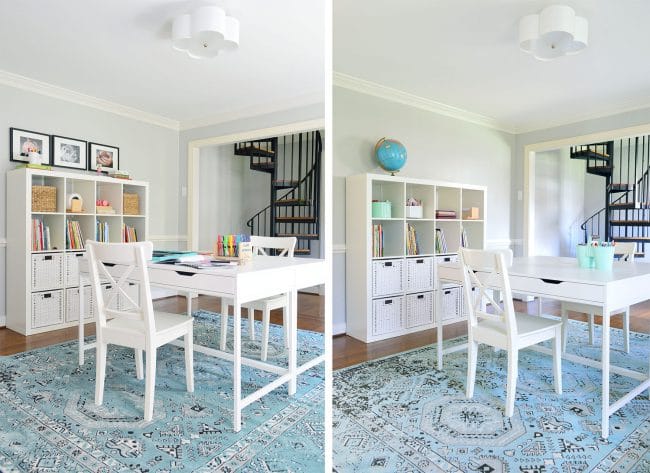 And this is the kitchen Sherry mentioned staging, where it made sense to move the island back into place in the middle of the kitchen (which only became clear after seeing it in that spot).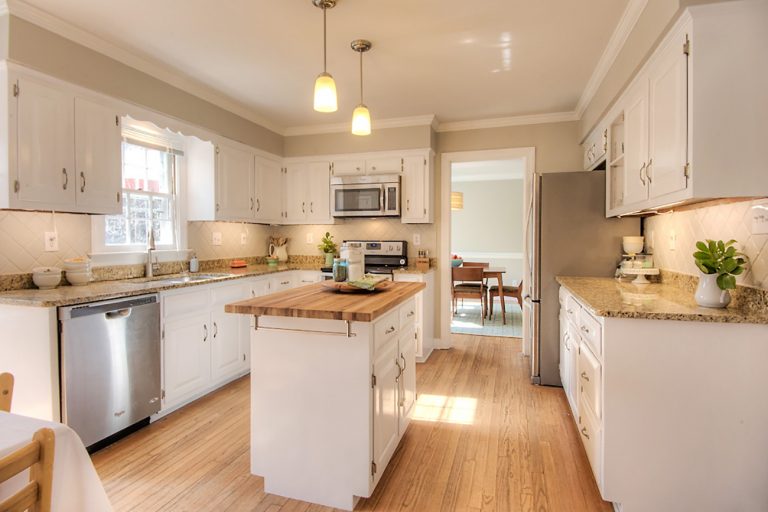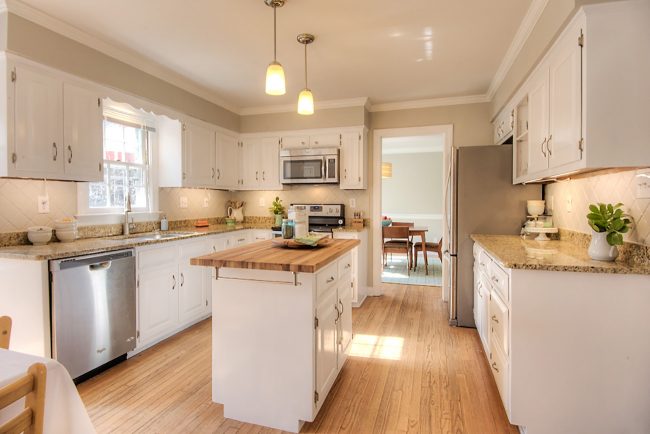 Oh, and if you had forgotten what our last home's carport looked like, here it is after we added a pergola to the carport to dress it up (we dubbed it the "cargola"). Part of the reason we also decided not to convert it to a garage is that we thought it would be more cramped than we would've liked if it were enclosed, and it would block light into our office and laundry room (which both had windows that we grew to appreciate – we didn't want to lose that light). As an update, the current owners didn't convert it either, so it still looks pretty much exactly like this but with a different car in there now.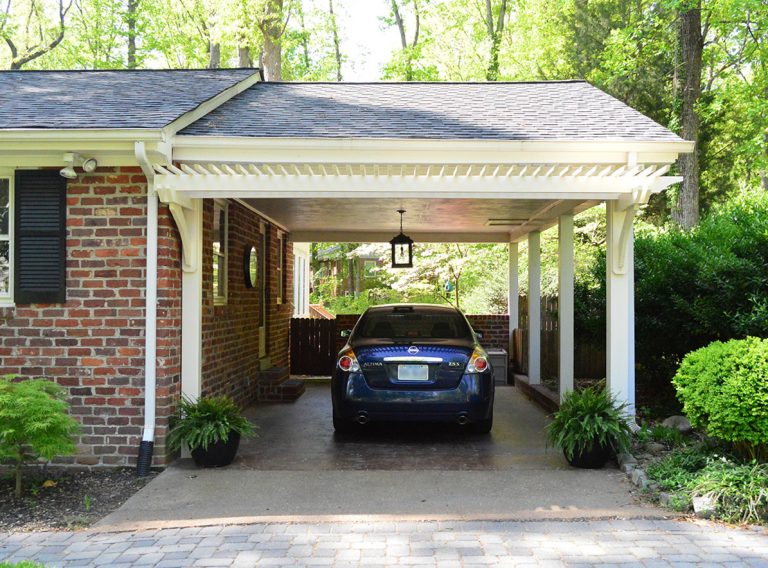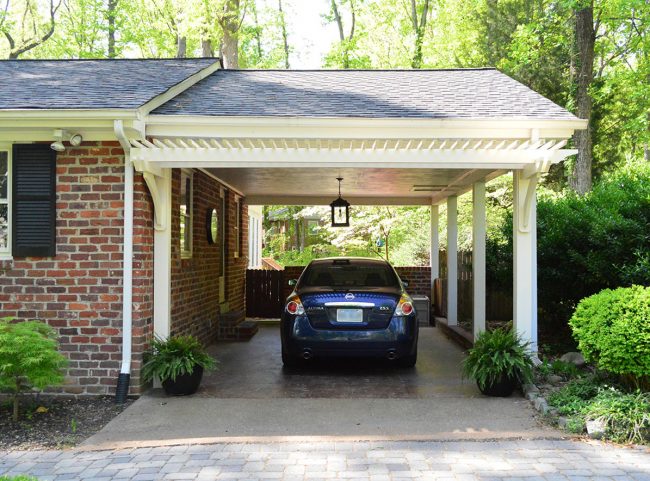 We're Digging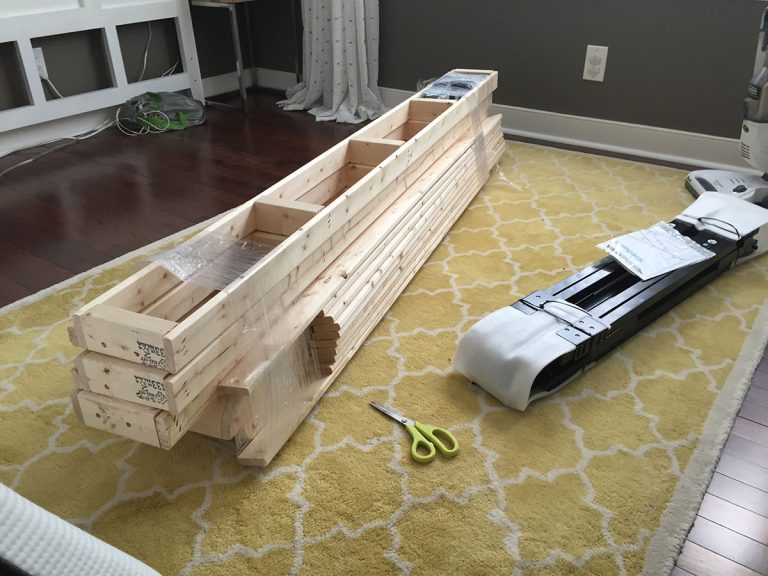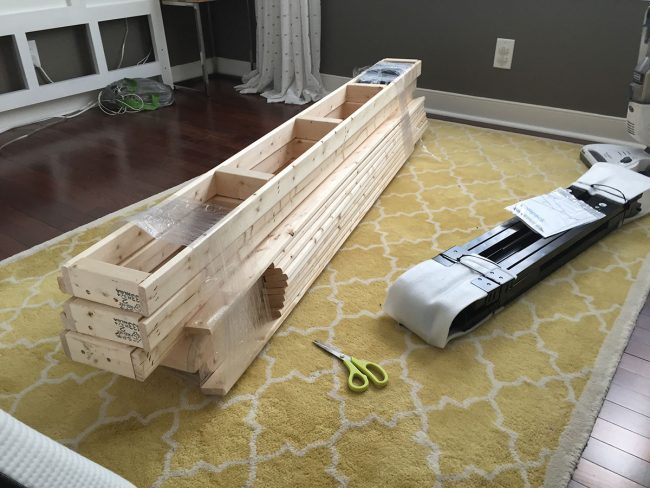 The photo above is of the first mail order boxspring we got a couple of years ago when needed one in our guest room after going from a platform bed in there to a regular metal frame (which we also ordered online). This one pictured is no longer available, so when we needed another last fall (after shuffling some stuff around for the beach house) we got this boxspring/foundation instead – which is actually cheaper and easier to put together, because it's metal (not wood). It's the one we now sleep on and it's great!
I didn't take any pictures of assembling that one, so forgive me for just using photos of that wooden one to illustrate how it goes from a pile of materials to a legit box spring. You basically just zip the cover around this frame and you're done!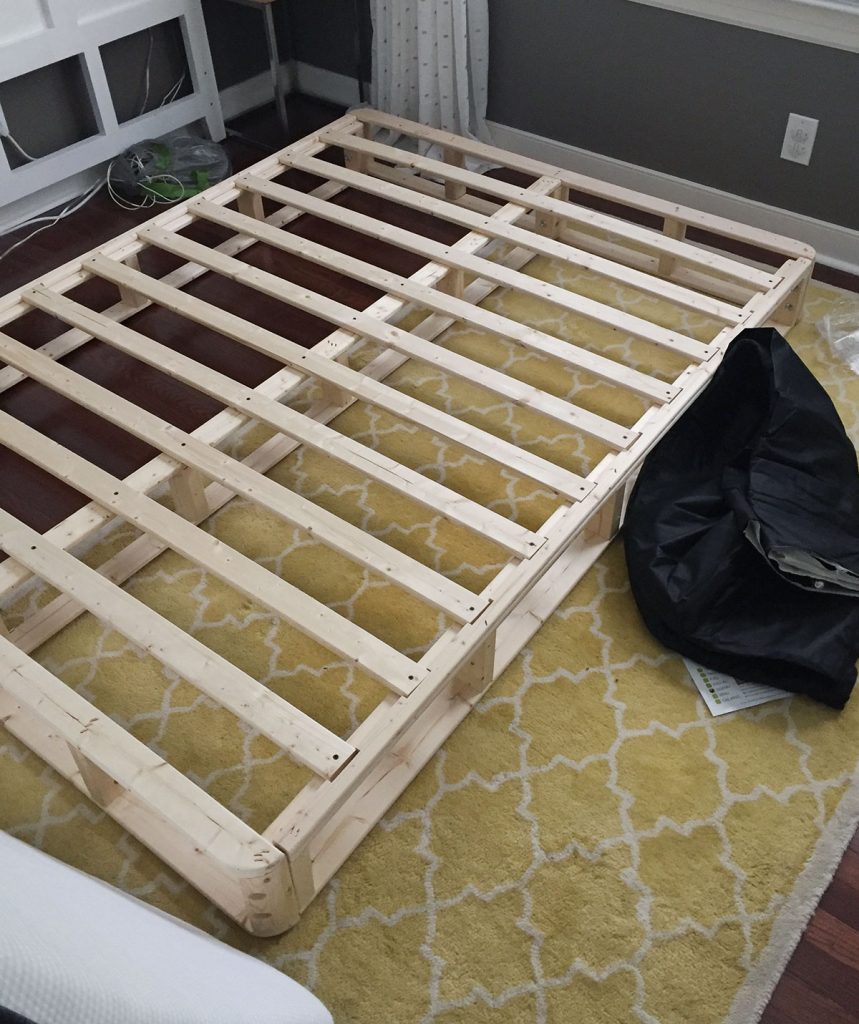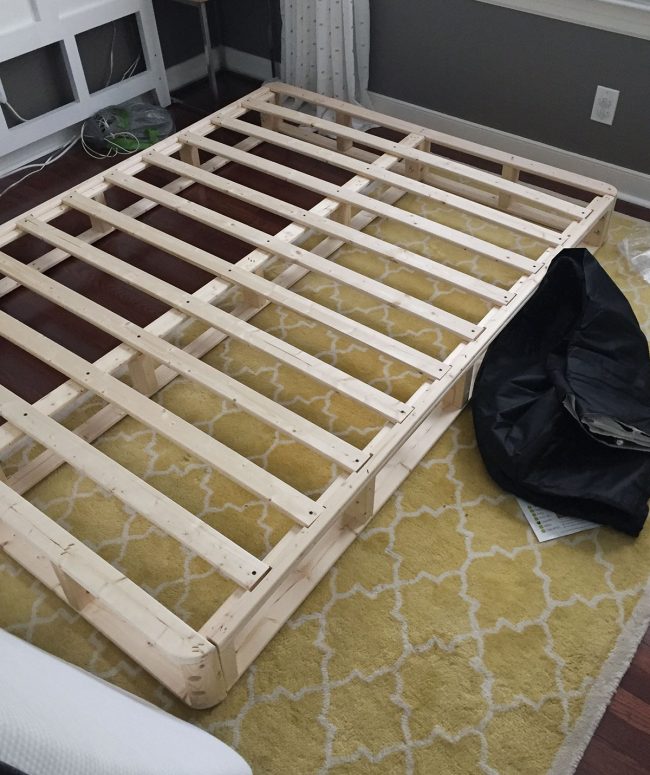 And the only thing more exciting than getting a box spring in the mail is Sherry's personalized birthday message from Real Housewives of New York City's Countess Luann (ordered via a website called Cameo). Sherry still screams for a good 7 seconds every time she watches it.
If you're looking for something we've dug in a past episode but don't remember which show notes to click into, here's a master list of everything we've been digging from all of our past episodes.
And lastly, a big thank you to West Elm LOCAL Experiences for sponsoring this episode. You can enter to win an awesome getaway to Charleston, SC now through May 15th at westelm.com/YHL. There's also a link on that page with more info about the other LOCAL Experiences taking place around the country! Such a cool initiative for local makers and DIY lovers like us.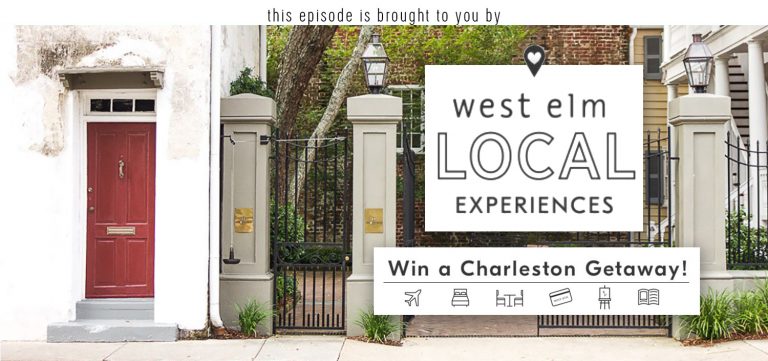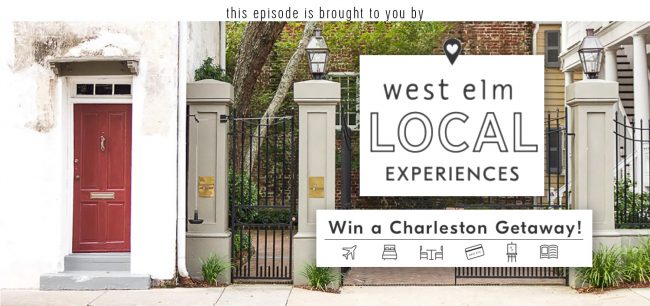 Thanks for listening, guys!
*This post contains affiliate links*