When we heard about Ansel and Peter's modern masterpiece of an office called Marvin Lang, we just had to drop in on their newly opened design studio and snap a few pics. Here's the dynamic duo striking a pose in front of their striking space- which is actually an old garage from the late 19th century that they rehabbed while salvaging as many of the rustic and industrial original details as possible.
Just beyond those giant custom double doors is the client lounge, which is chock full of vintage pieces and danish modern furniture paired with stunning original details (from the rough plaster and brick walls to the original concrete floor).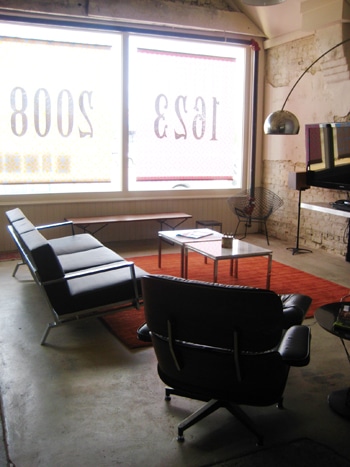 But the industrial vibe doesn't end there. Since the entire space didn't have any dividing walls or smaller rooms, they designed two closets and a spacious bathroom complete with stunning metal walls (which not only look great, but serve as enormous magnet boards).
They left the rest of the space open and airy, and the light just streams in and bounces around the exposed ceiling beams and gleams off the original concrete floors (which they sealed with a clear sealant to keep 'em clean without taking away from the original and unfussy atmosphere).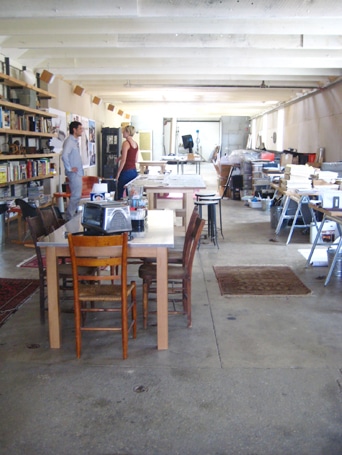 Ansel and Peter also injected some reclaimed shelves (crafted from wood that they salvaged from the building itself) for some sleek storage that's as functional as it is eco-friendly.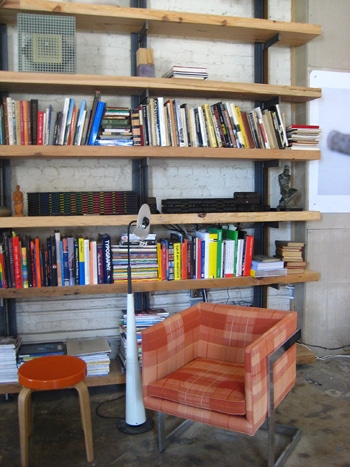 And they also installed large panels of homasote to create a giant pinboard on part of the wall for displaying prints and posters- another creative way to add form and function.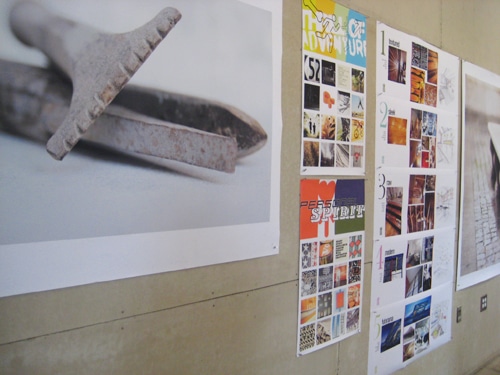 They spared no expense in their luxurious kitchen corner, where they continued the metal walls for an easy-wipe backsplash and installed a super-thick carrera marble counter with an undermount sink and a pretty amazing wall mounted faucet.
Oh and you may have noticed that cheeky sign above the counter. Ansel's graphic design work makes him no stranger to sign design, so he was sure to inject a bit of humor to each space in the form of some pretty amusing signage (our favorite is one near the bathroom that depicts people's partying in the lav).
And of course we can't leave without showing you one of the coolest original details that was happily salvaged in the space. Every so often on the floor you'll come across some rustic old chains in the concrete, which are actually the chains that used to keep cars secure back in the days when the studio was a functioning garage.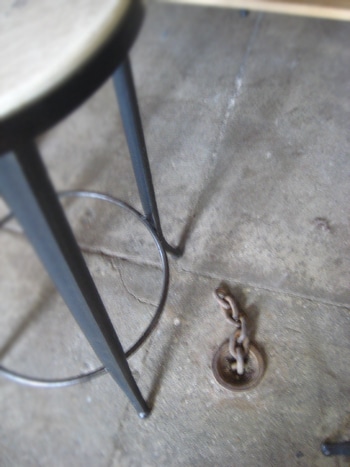 True to the building's original purpose, Ansel and Peter also explained that the front doors to the studio had to be custom built to fit the original opening, which of course was a garage door for the cars that used to inhabit the building. Gotta love a place with some interesting history (and some stunning style to spare).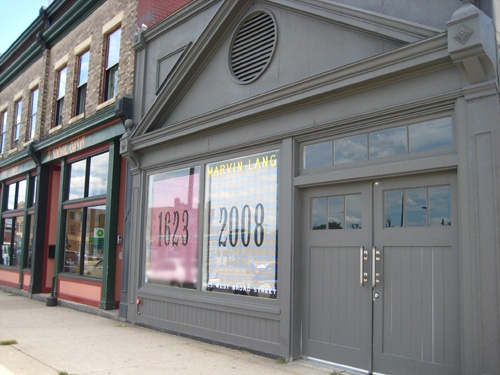 Thanks for letting us crash your fresh and fabulous studio guys! And for all of you locals with some fabulous digs of your own, feel free to drop us a line so we can come trapseing through your home or office with our handy dandy camera in tow. We may be house crashers, but we're house crashers with manners. Who knows where we'll pop up next…