Our recent Chicago meet-up with fellow bloggers Chris Loves Julia, Yellow Brick Home, and Making It Lovely left us with lots of feels (and very full stomachs). But it was seeing one of their homes in person that completely changed our minds about a "design rule" we had proclaimed for our own home (on this very podcast, no less). We're also sharing what surprised us most about the final phase of getting our duplex ready to rent. Plus the results of Sherry's latest staging assignment and a dynamic decor alternative to just hanging another picture frame.
You can also find this episode on your favorite podcast listening app, like Apple Podcasts, Google Podcasts, TuneIn Radio, Stitcher, and Spotify.
What's New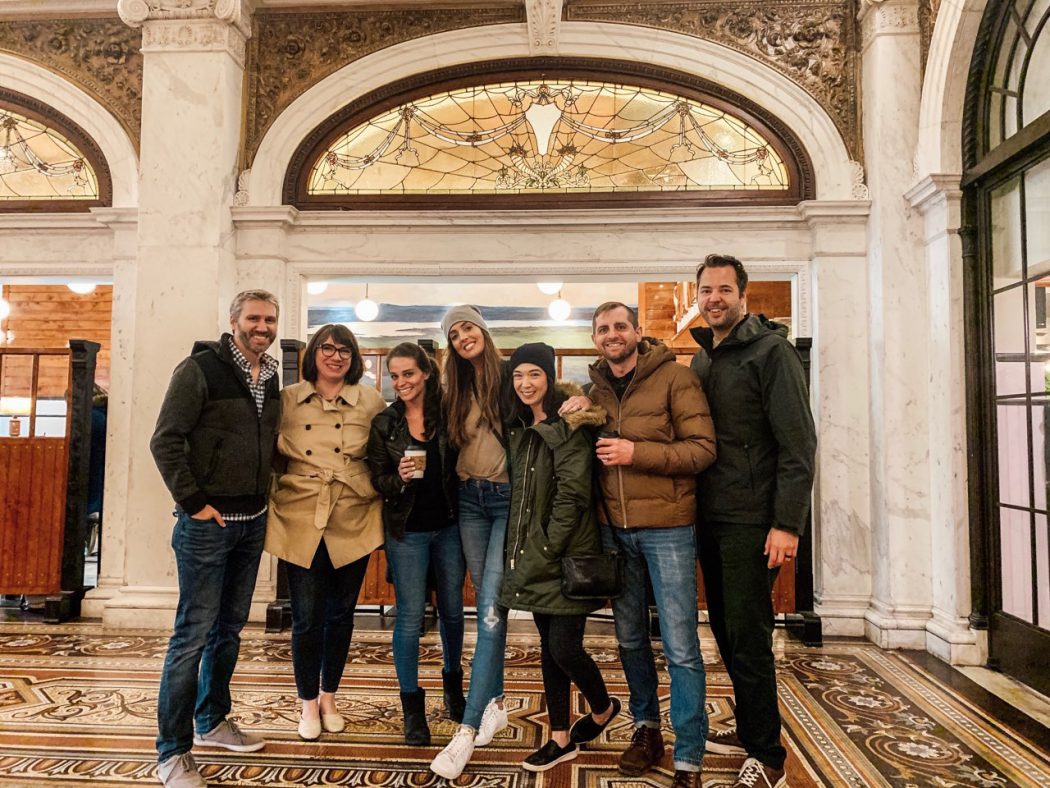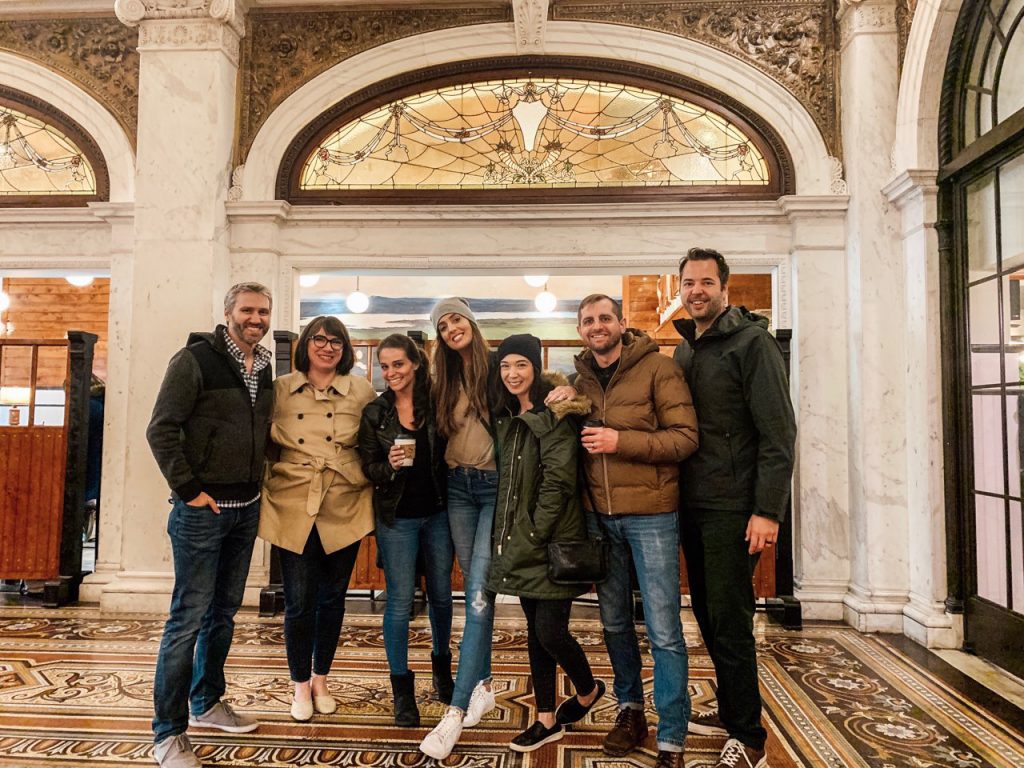 There's the crew from our blogger meet-up/vacation to Chicago a couple of weeks ago. In case you don't recognize all of the faces, they are (from left to right): Me, Nicole Balch from Making It Lovely, Sherry, Julia Marcum from Chris Loves Julia, Kim and Scott Vargo (our hosts) from Yellow Brick Home, and Chris Marcum.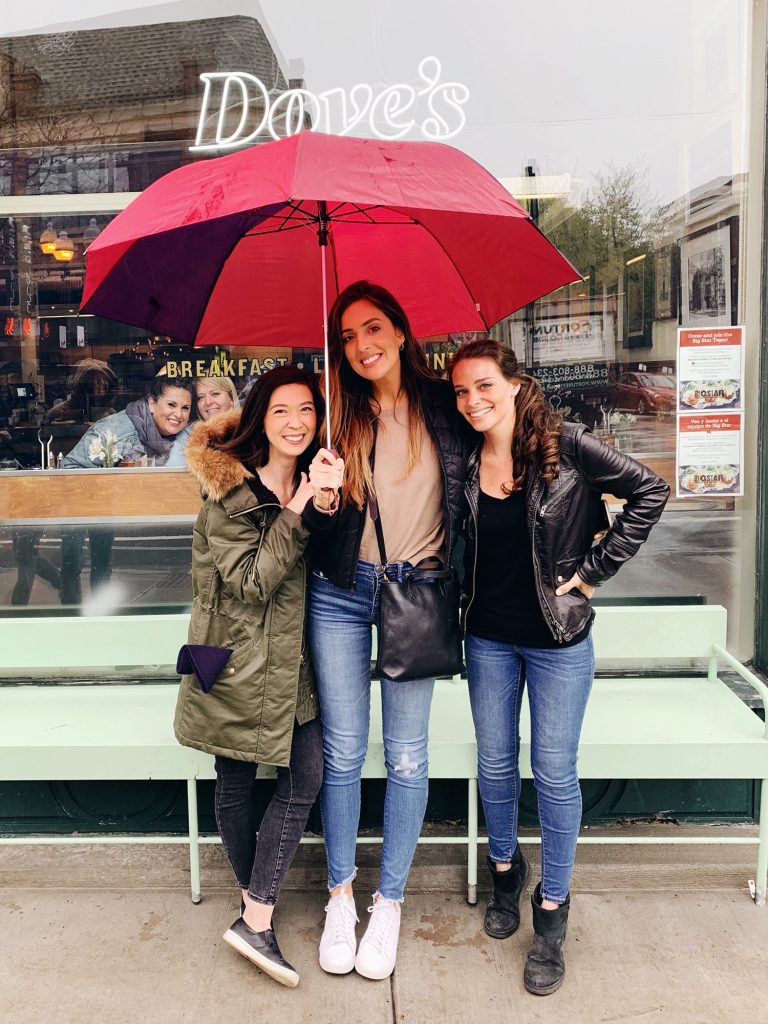 You can relive some of the trip via highlights in Sherry's Instagram profile (click the circle that says "Chicago"). Julia also has highlights in her profile if you want to see us being exceptionally camera shy.
Here's a quick rundown of what we saw / where we ate while there:
And if you heard Episode #134 a few weeks ago, you probably heard us talk about why we don't have a ton of family photos hung on our walls. So here are a few examples of what we saw in Kim & Scott's Chicago home that had us rethinking our approach.
And here's a shot of those framed Polaroids (Instax?) that I mentioned. See how it's not big art, but it still has impact because of how and where the little snapshots are framed? Kim even wrote a whole post about how she DIYed the framing of these.
Oh, and if you want to see their new renovation project (the "Two Flat" we mentioned touring), they posted a before tour last week on their blog. So much potential!
Update
If you want to hear the original story (or see a before & after) from Sherry's recent staging project, check out last week's show notes.
Finishing The Duplex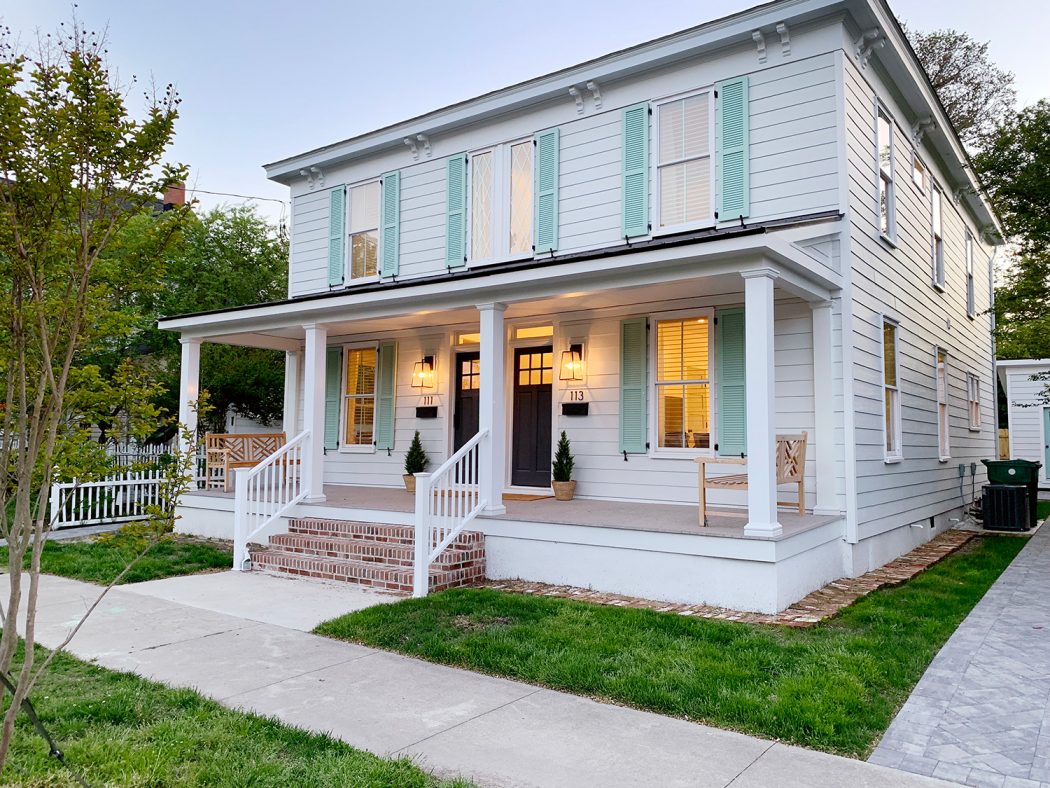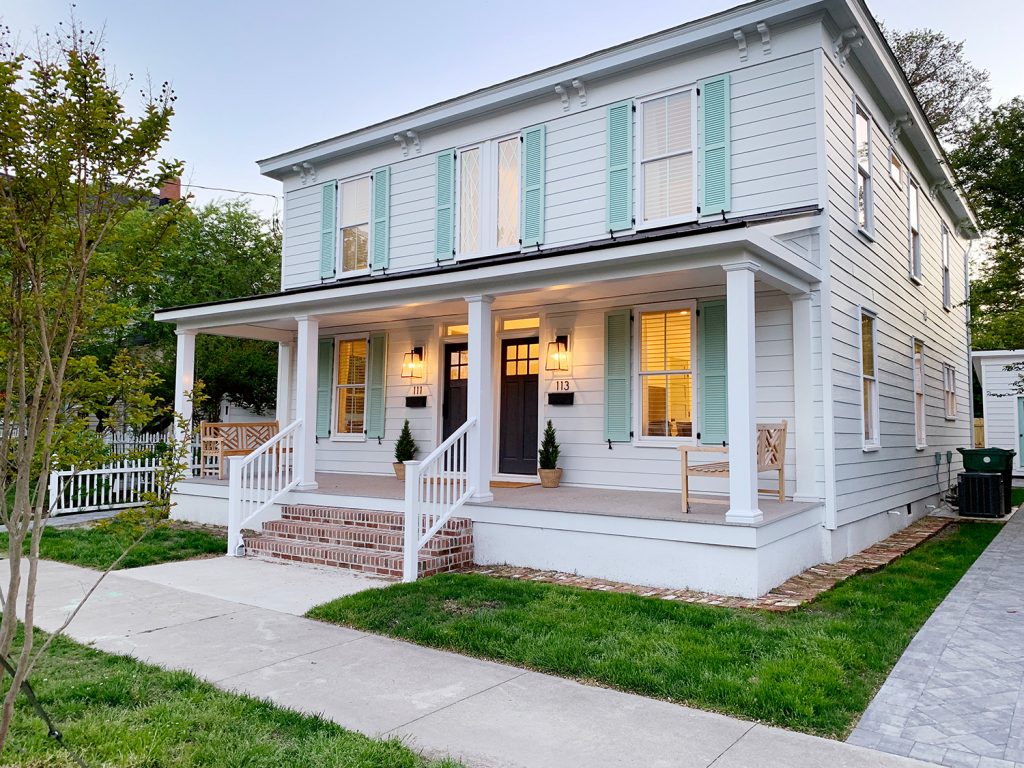 I think it was back in Episode #125 where we talked about all of the kitchen progress we made over the holidays, and I therefore declared new hope for finishing the duplex in time for summer (something I had been doubtful of after many construction delays last year). But boy did I underestimate the furnishing process!
The calendar below shows the days (marked in red) where we were in Cape Charles working on the duplex over the last four months. It was 16 separate trips – each involving a 5-6 hour round-trip drive (all done in the same day wherever you see a single day that's red). Looking at it this way really emphasizes how the furnishing phase – which Sherry guessed might take "three long weekends to finish" – ended up being a lot more involved than we thought.


Here's an idea of what many of those early trips looked like. Just lots of unpacking & furniture assembly (and making long lists of what else we'd need for the next trip).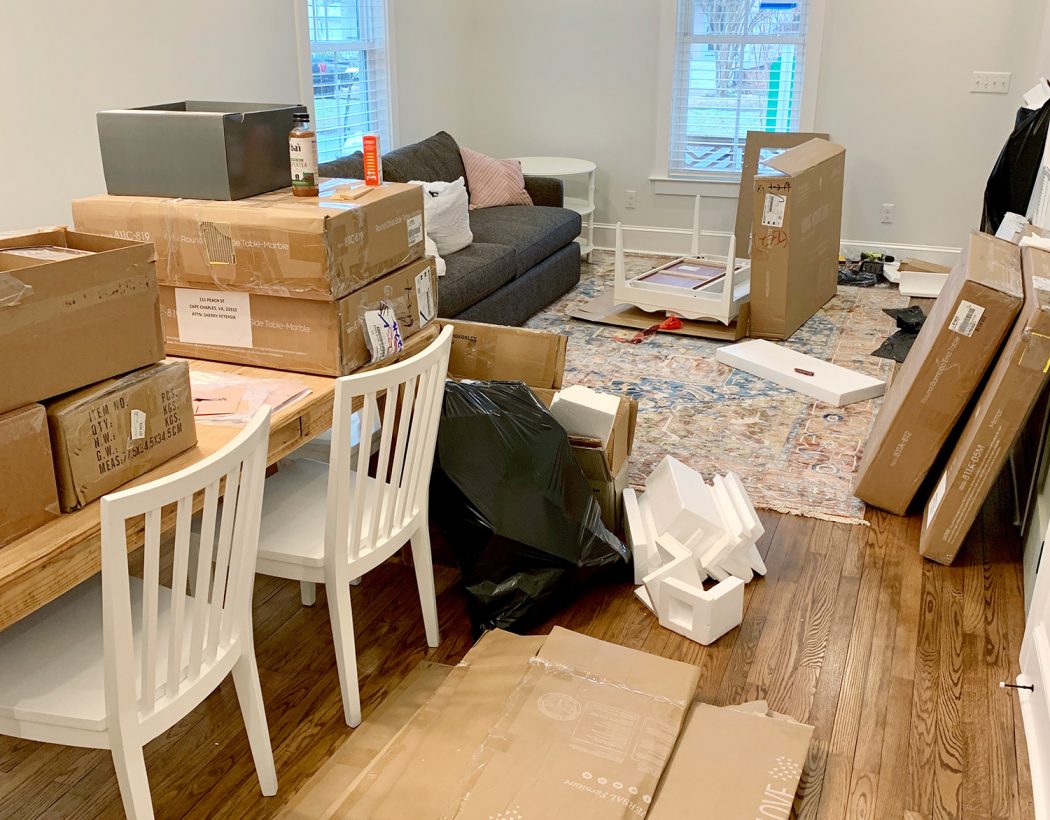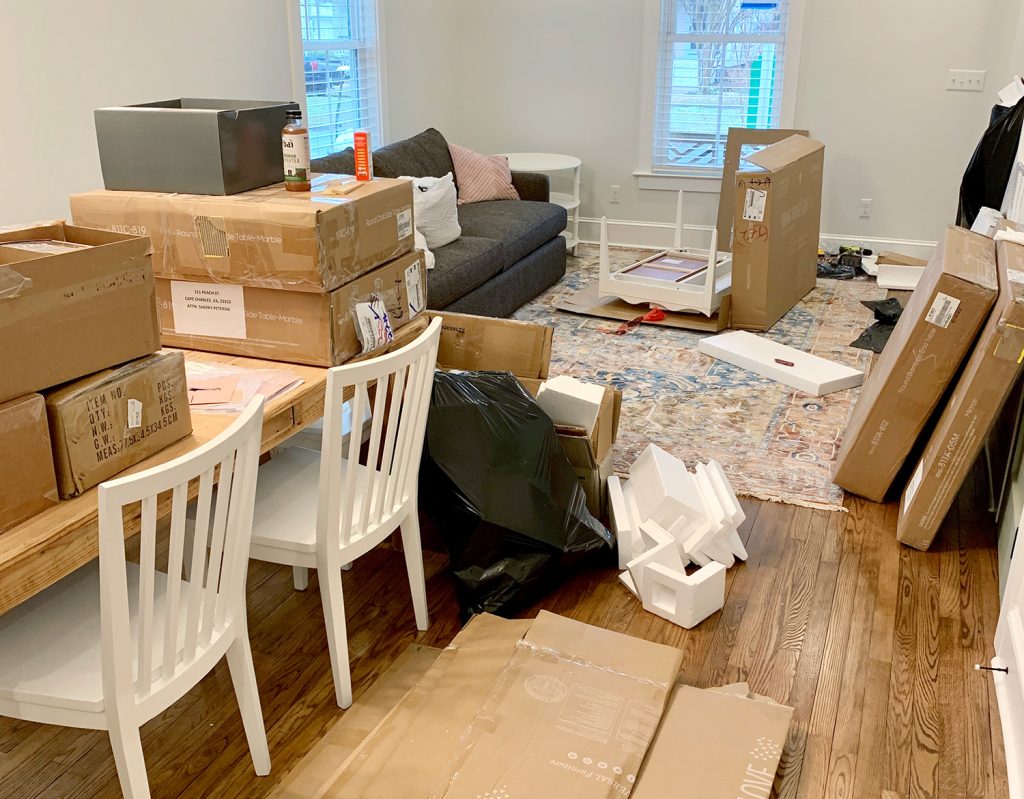 In the end, it took longer than we expected, but it feels really, really, REALLY good to be so close to the finish line (still needs to stock some more things in the kitchens, plus a few little outdoor projects – but it's safe to say that we're 98% done with this almost-two-year project).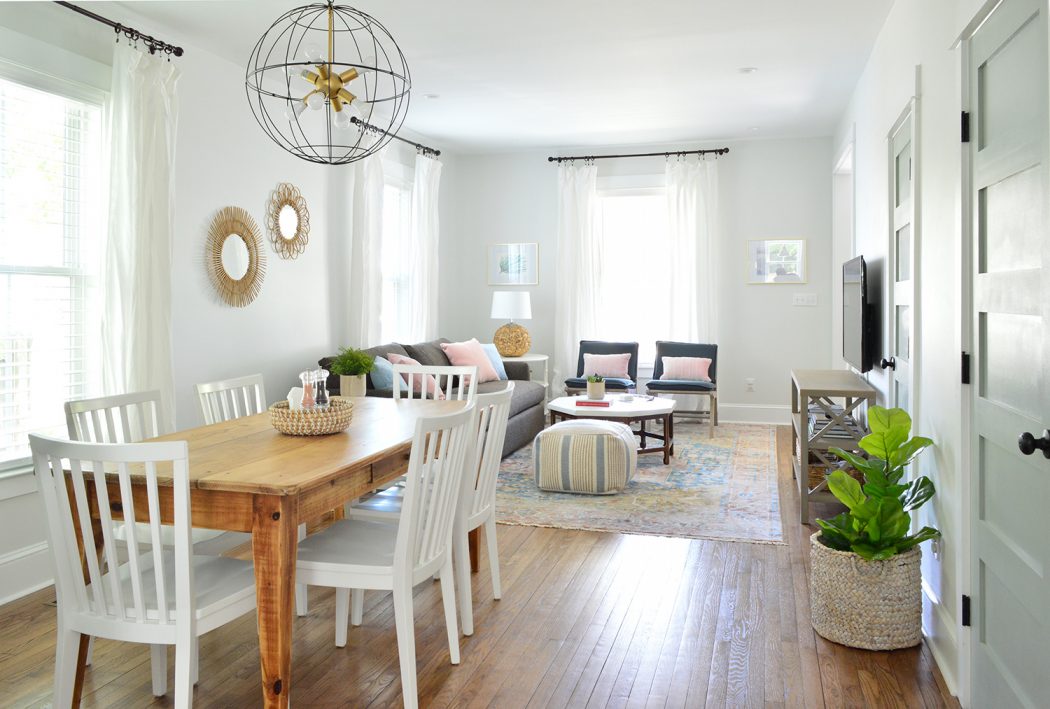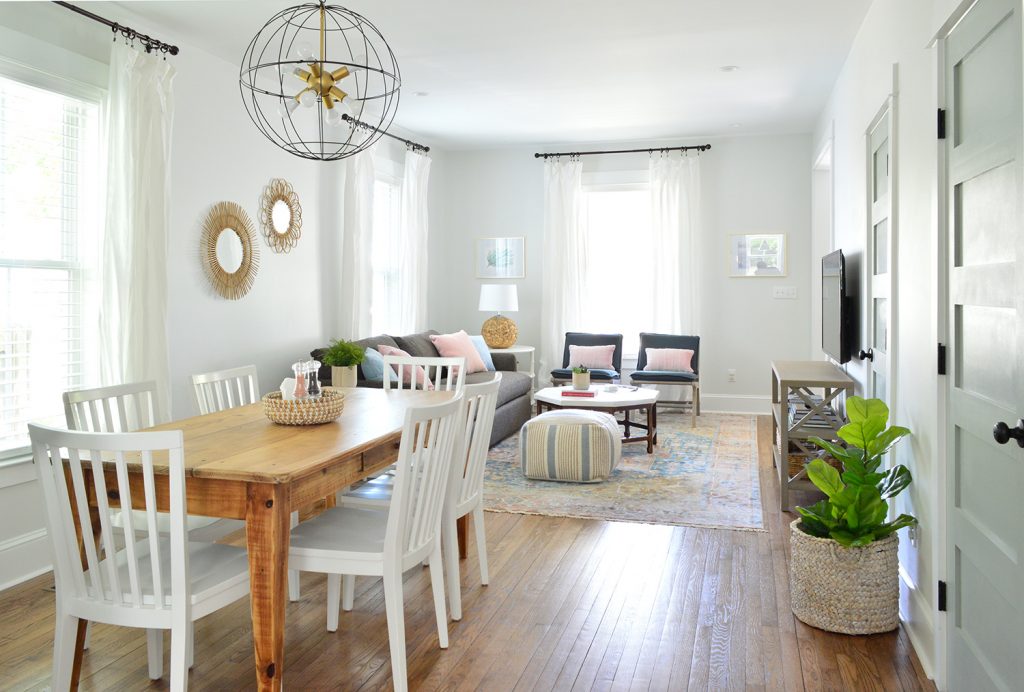 And if you missed the links to the duplex listings in last week's blog post, you can see them here on Airbnb (Left Side, Right Side). Within 24 hours of sharing them, every single summer week we listed it for was booked (I know! WE WERE SHOCKED AND SO RELIEVED!), but as of this moment, there was one cancelation (the last week of August on the Right Side – so if you click that bold/black Saturday date, the full week will become highlighted in blue and then you can click the following Saturday as your checkout day to request to book that last week).
We plan to release off-season dates for this fall (which won't require a week-long stay) later this summer. And we'll open reservations for the summer season of 2020 after this summer is completed. So there are more dates to come, we're just taking things one season at a time for now.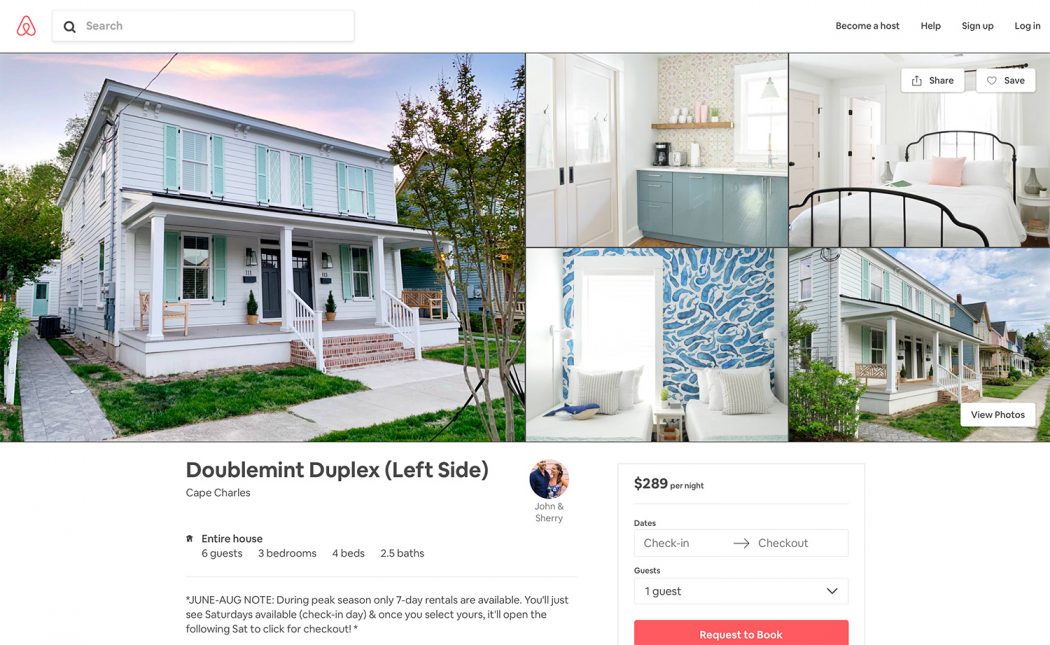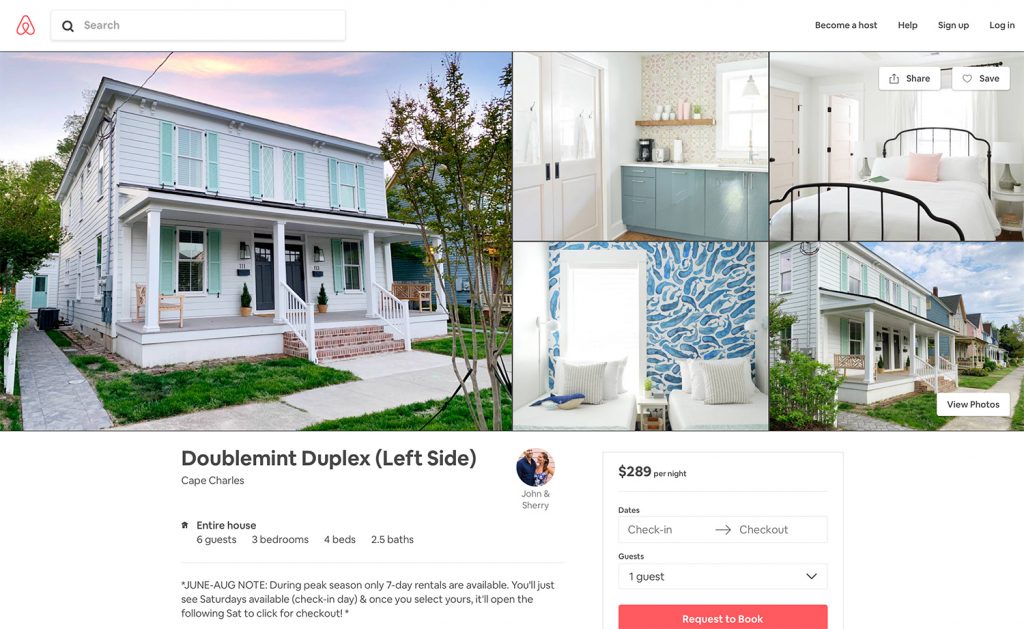 We're Digging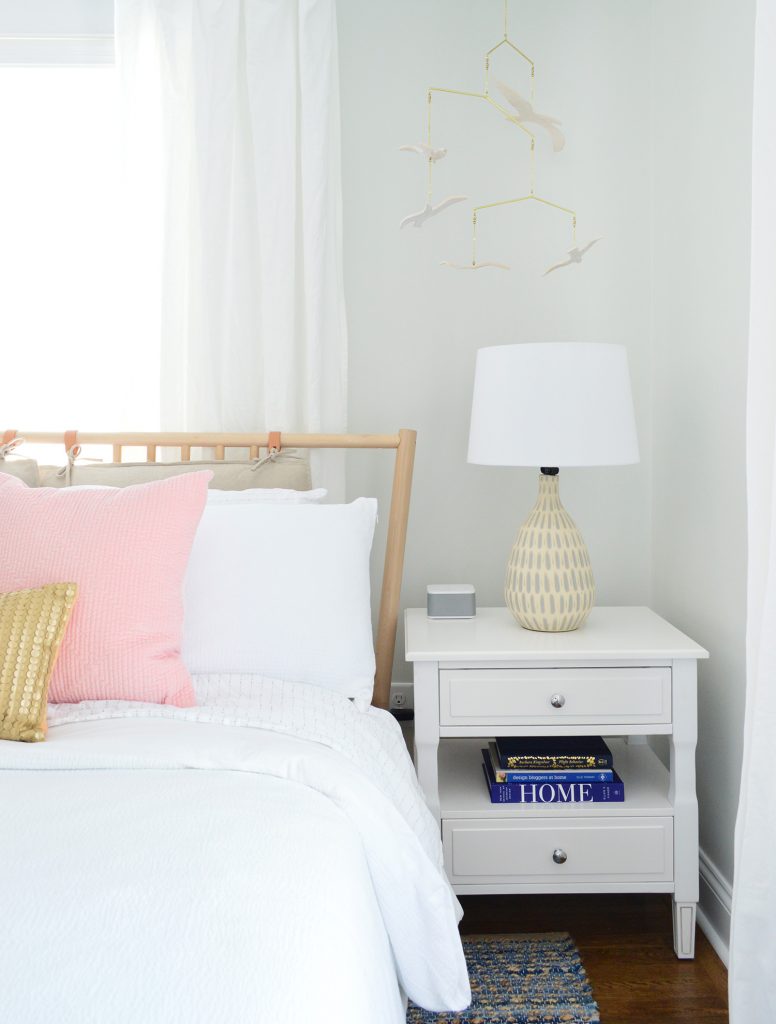 In the photo above you can see the mobile that we hung in one of the duplex bedrooms to add some interest and movement to a bare looking corner. That mobile is from Pottery Barn but is no longer sold (you may recognize it from when it originally hung in our bonus room near the TV).
You can see another mobile that we hung – this time in the beach house's middle bedroom below. This one's from Target, but is also no longer available.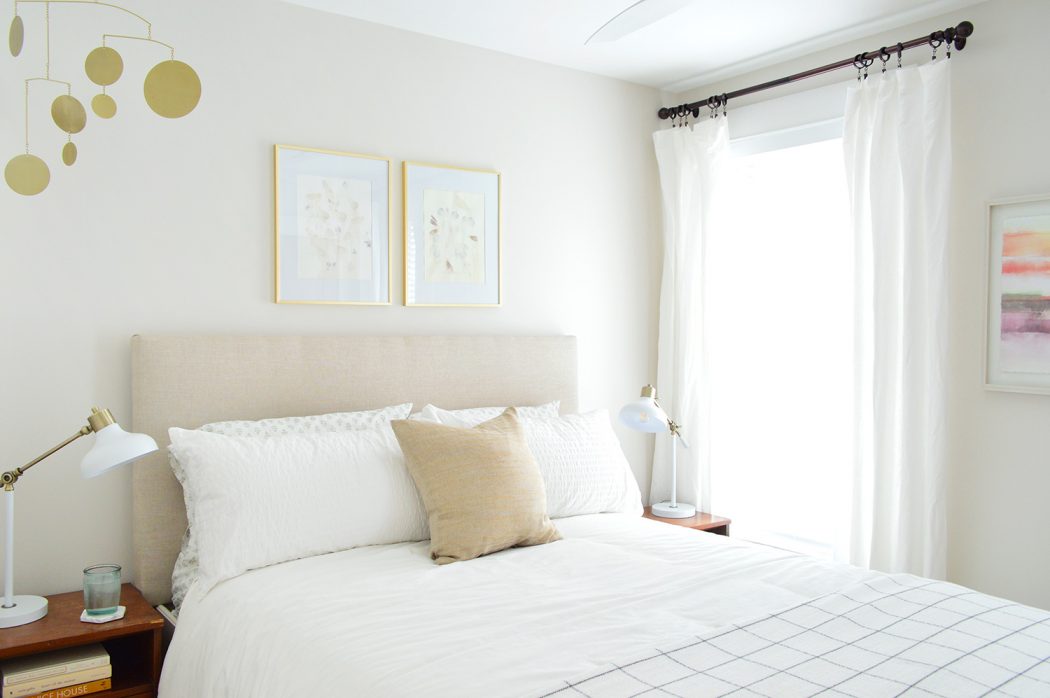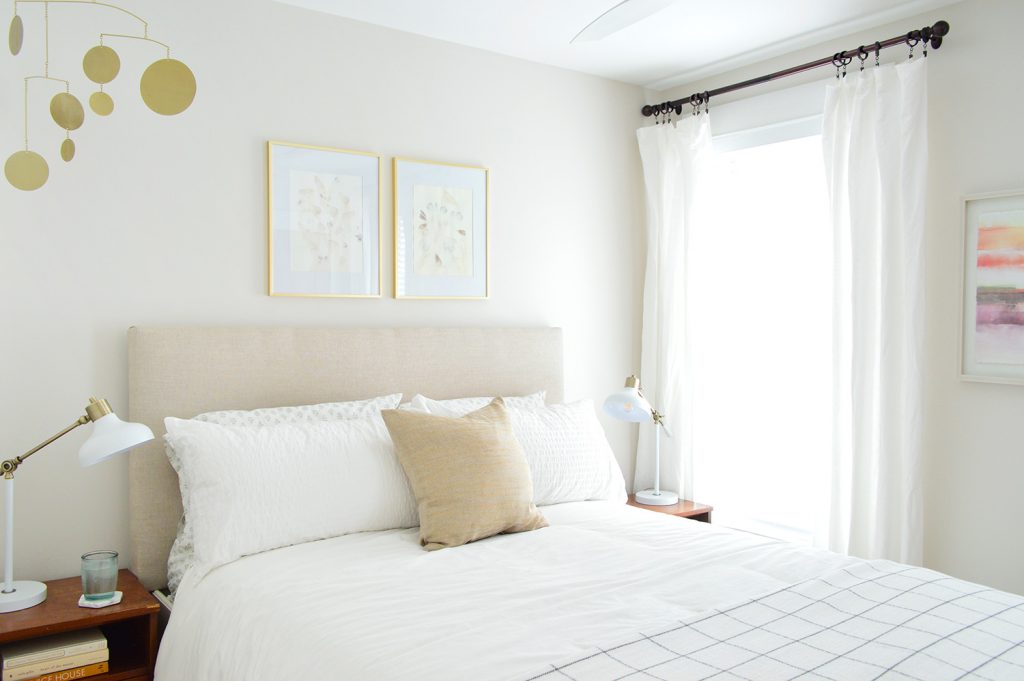 Also, now on to our very important survey…
And here is the compact car battery jump starter that was highly recommended. Again, we haven't had to use it yet, but we feel much better knowing we've got it just in case we find ourselves in another dead battery bind (we've had two of them in the last year or so).
If you're looking for something we've dug in a past episode, but don't remember which show notes to click into, here's a master list of everything we've been digging from all of our past episodes. You can also see all the books we've recommended on our Book Club page.
And lastly, a big thank you to Rothy's for sponsoring this episode. Check them out at Rothys.com where you get free shipping and returns on every order!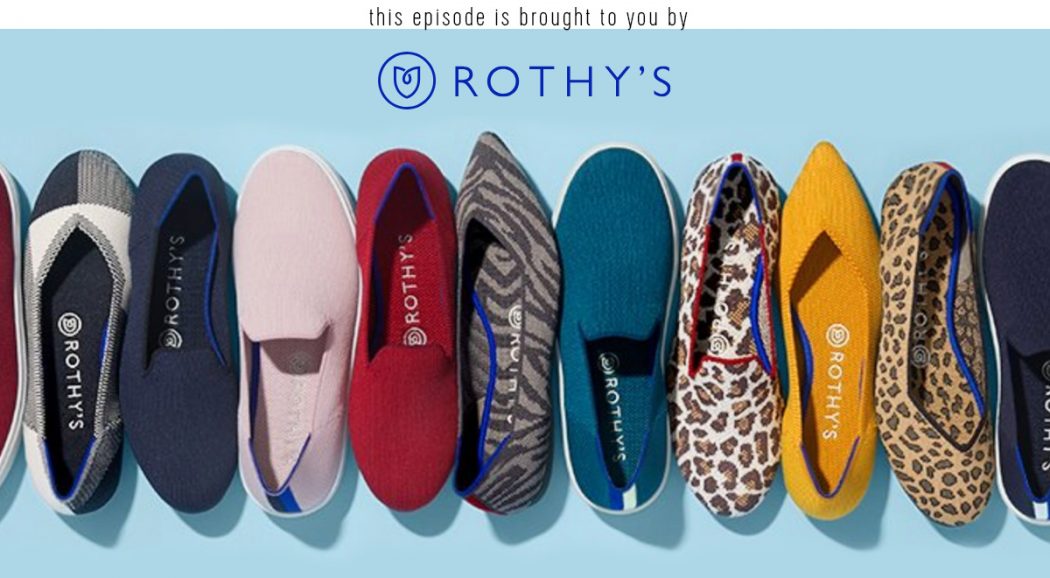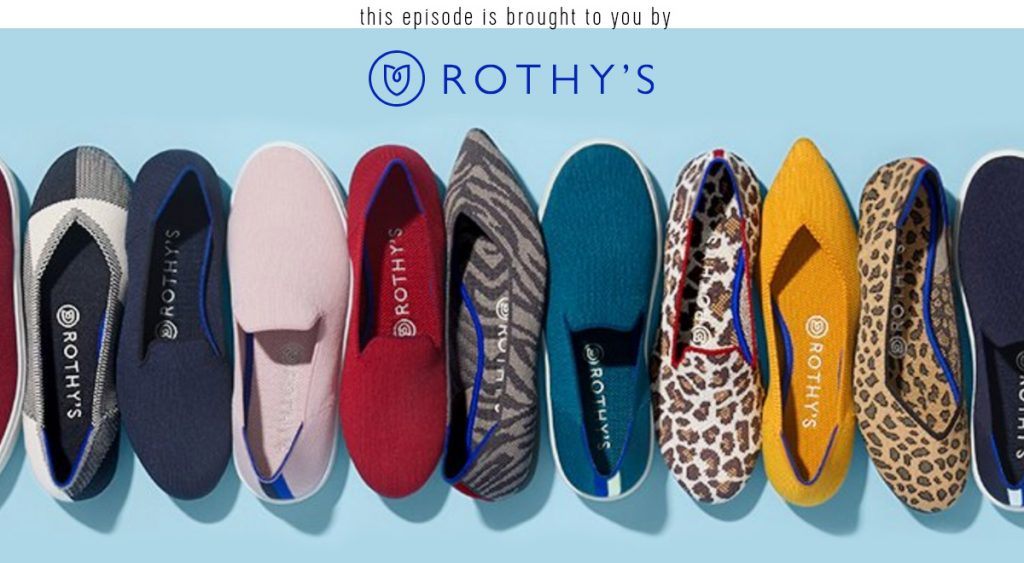 Thanks for listening, guys!
*This post contains affiliate links*