Ok, two more duplex rooms are finished and photographed! And these two involved some sweat equity. We built in some nice tall storage cabinets next to the stacked washer/dryers, and also added two hook rails per room (you can never have enough hooks at the beach!).
As a side note, the way that the kitchens connect and flow into each laundry room / mudroom is one of my favorite things in the entire house. From the bold statement tile backplashes and fun tiled mudroom floors to the painted pocket doors (we added those to make it possible to close off the sound of laundry if you're cooking, dining, or watching TV) – it's just an area that formerly had zero charm or character. So it feels nice to bring some back!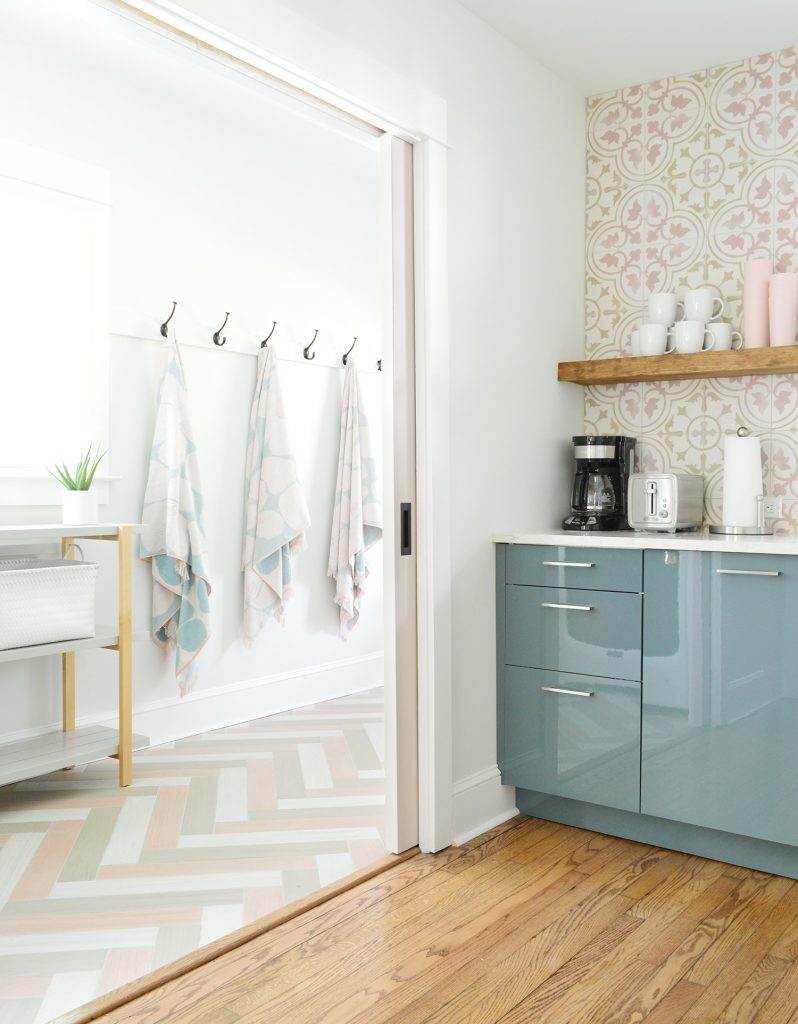 Here's what the pocket doors look like closed. We went with solid wood doors, but added glass panes at the top so light would still pass into the kitchen through the side window in the mudroom (so it wouldn't suddenly feel dark in the kitchen if you close the doors). We LOVE how they came out. These are called half-lite doors if that helps you find them. Ours are by Reeb. And these are the pulls we added to them. Affordable but so stately (they go with all of our other oil-rubbed bronze doorknobs throughout the house).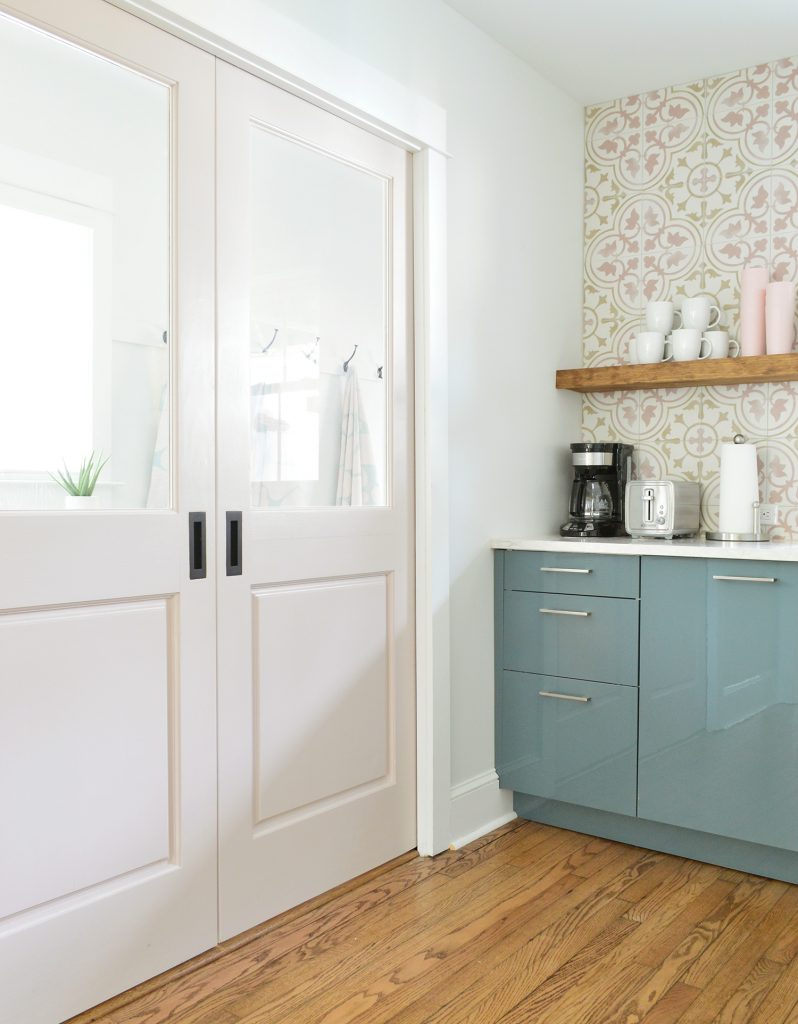 See what I mean about these spaces not having much character before? I mean except for that ceiling fan.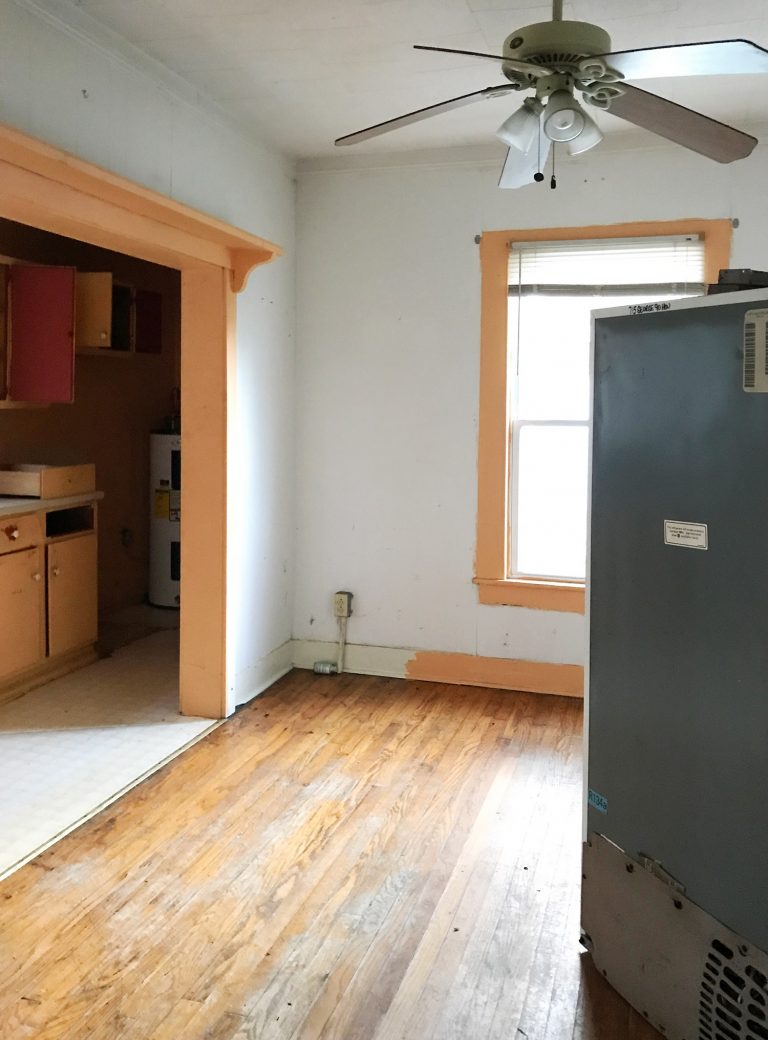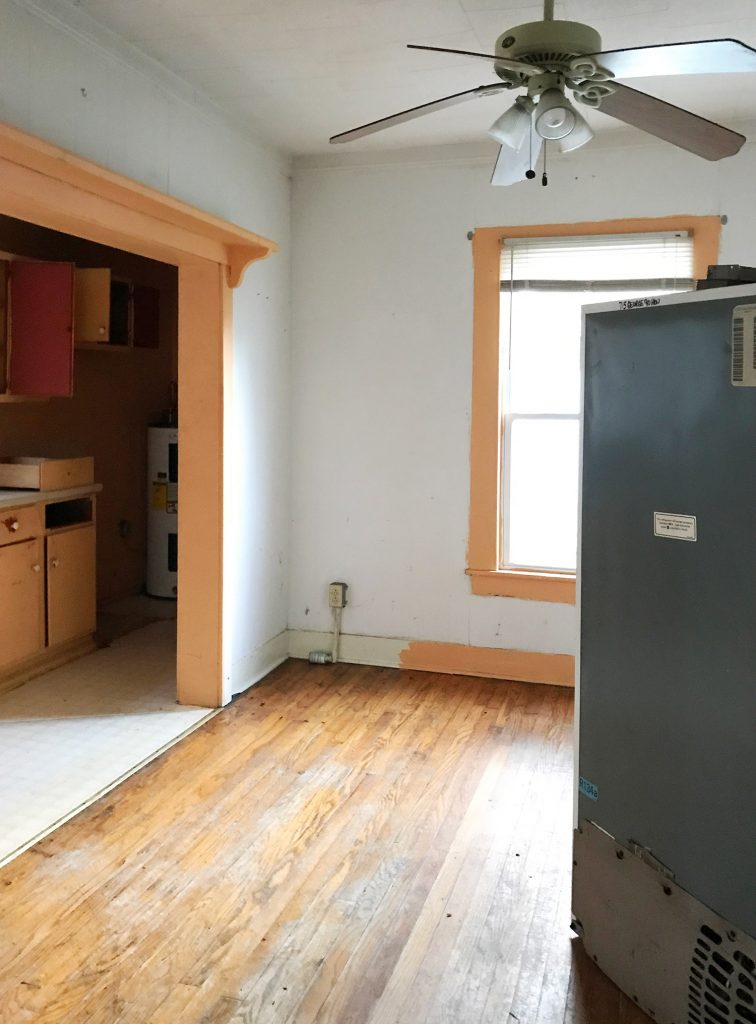 This used to be the view into the laundry room / mudroom, where someone added a very very cramped kitchen at some point (it used to be an open-air side porch, so we know it's not where the original kitchen was located). These photos are all of the left side of the duplex, by the way, but we'll get to the right side too.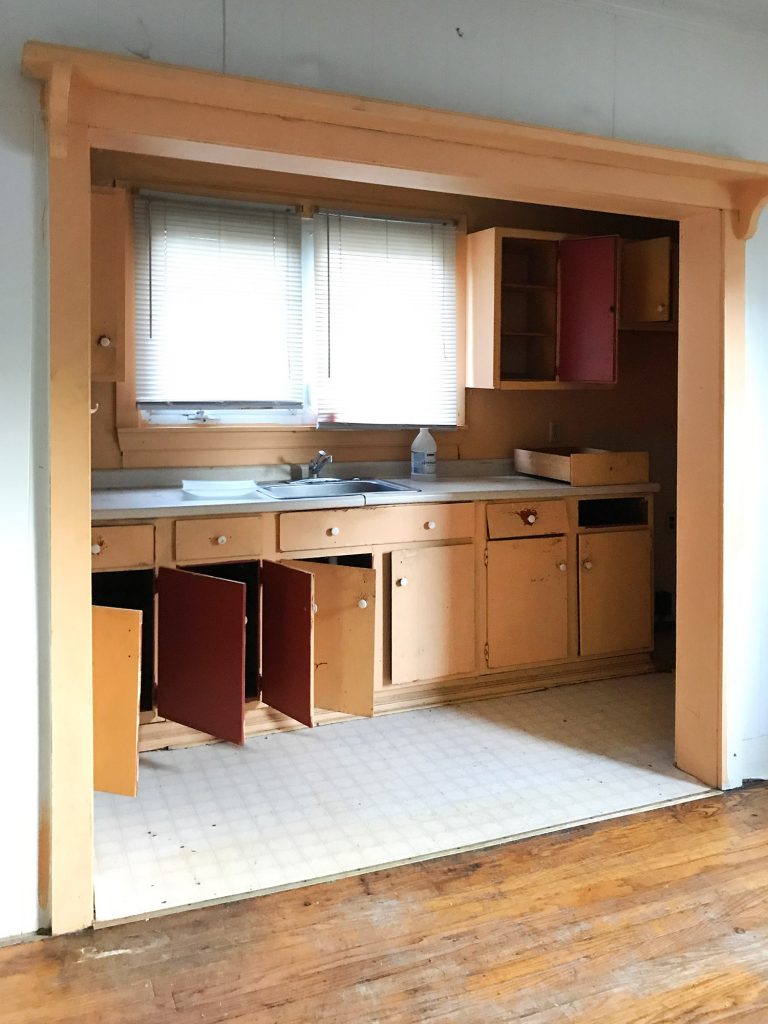 Oh and see those black dots on the sheet vinyl floor in the before photo above? They're roaches. They were everywhere when we bought the house because someone had set off a bunch of those roach fogger things before we toured it, so they were still sitting on the floors of a few of the rooms, along with all the belly-up roaches. But we were undeterred! Ha! Slightly grossed out, but honestly we have seen worse…
Anyway, here's the view now, looking through that same wide doorway where we added the pocket doors and turned that space into a workhorse of a room – complete with a stacked washer / dryer, bonus "pantry" space thanks to the shelving system with baskets (they no longer sell that Ikea shelving system but here's a similar one), and an entire mudroom portion to the right with tons of hooks, shoe baskets, a bench, etc.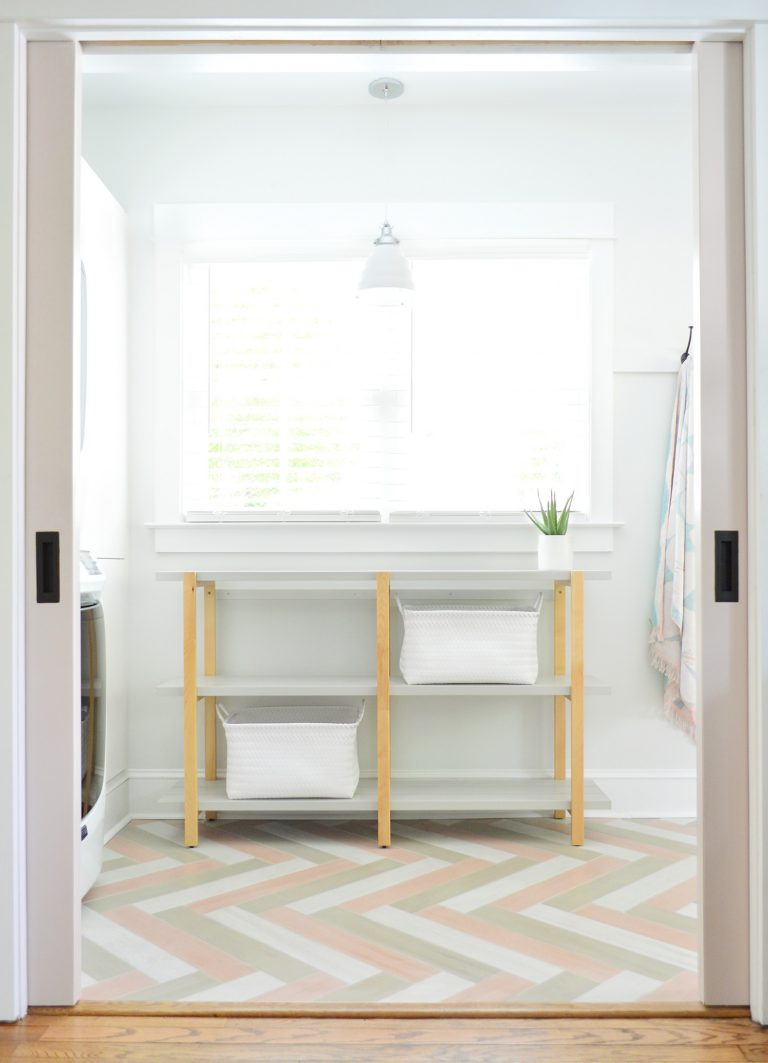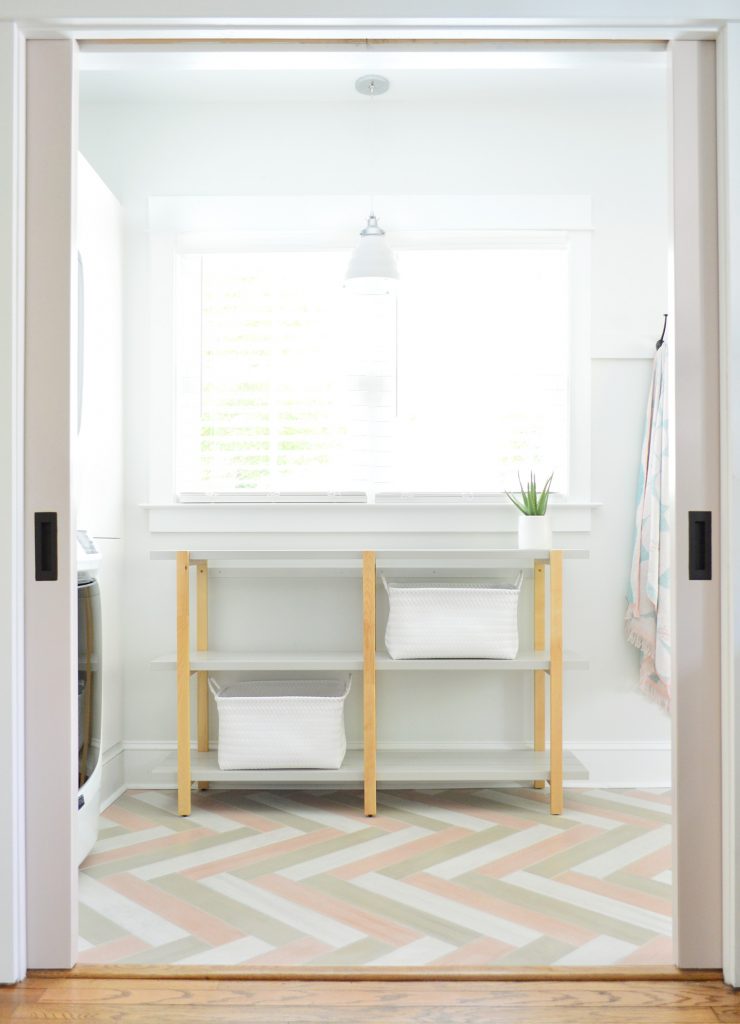 If you walk into the room all the way and place your back to the back door, this is what you see. Our stacked washer & dryer, and the storage cabinet that we built in next to it (it's an Ikea Sektion cabinet). We had originally planned to install lower cabinets where the shelving system is below that window, so we never expected to have access to that lower cabinet next to the washer & dryer (since the cabinets would have terminated into that area).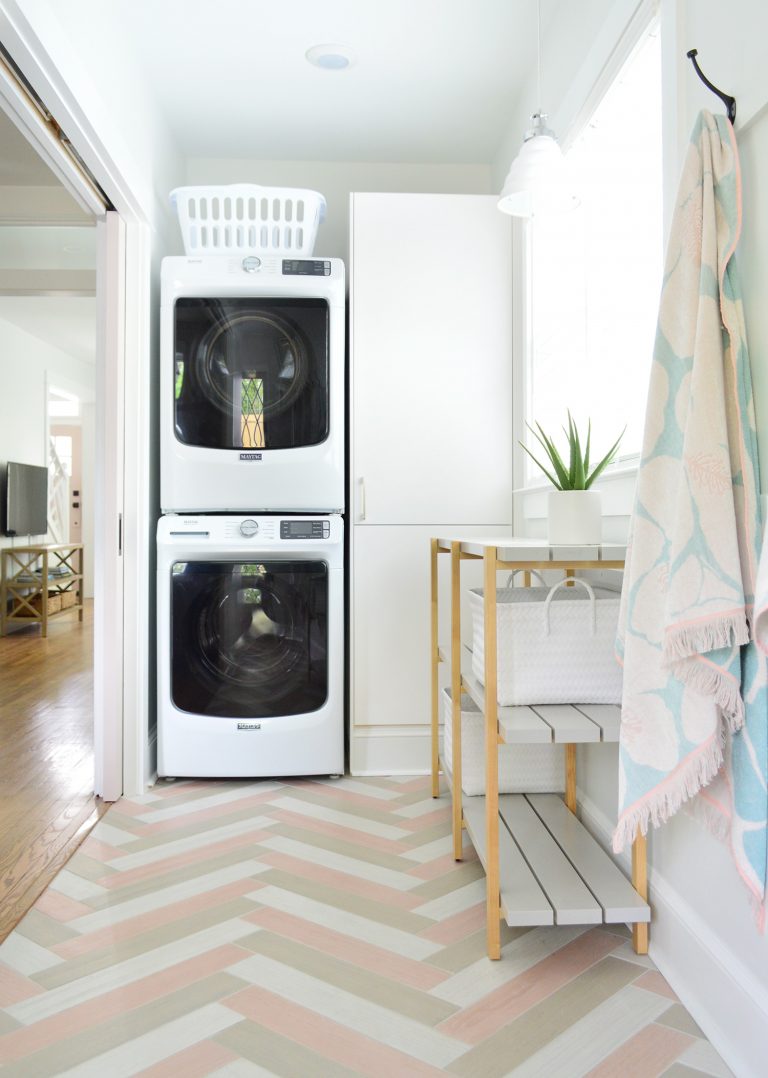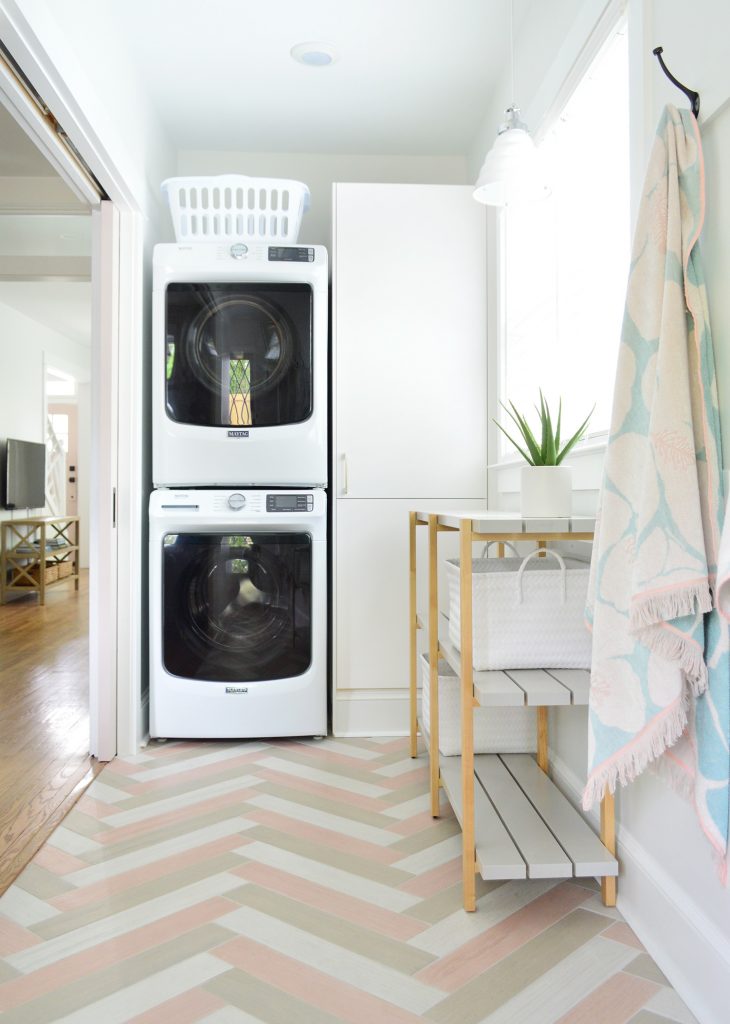 But the nice thing about this setup is that while our guests have access to the upper cabinet (where we've stocked laundry supplies, etc), we can use the lower shelf for paint and house supplies since it can only be accessed by moving the shelving system… which we anchored to the wall to avoid any tipping over issues with kids. So renters definitely won't be going in there (no worries about kids somehow discovering our paint cans and repainting the duplex – ha!) but we can access it whenever we need stuff.
Also this floor slays me every time I walk in there. We laid each tile by hand and made the pattern ourselves, but it was totally worth it (more on that process here). Anyway, if you stand in the doorway with the pocket doors and turn to your right you see our jumbo hook rail, with 8 hooks on it (we love these hooks – so affordable and substantial!).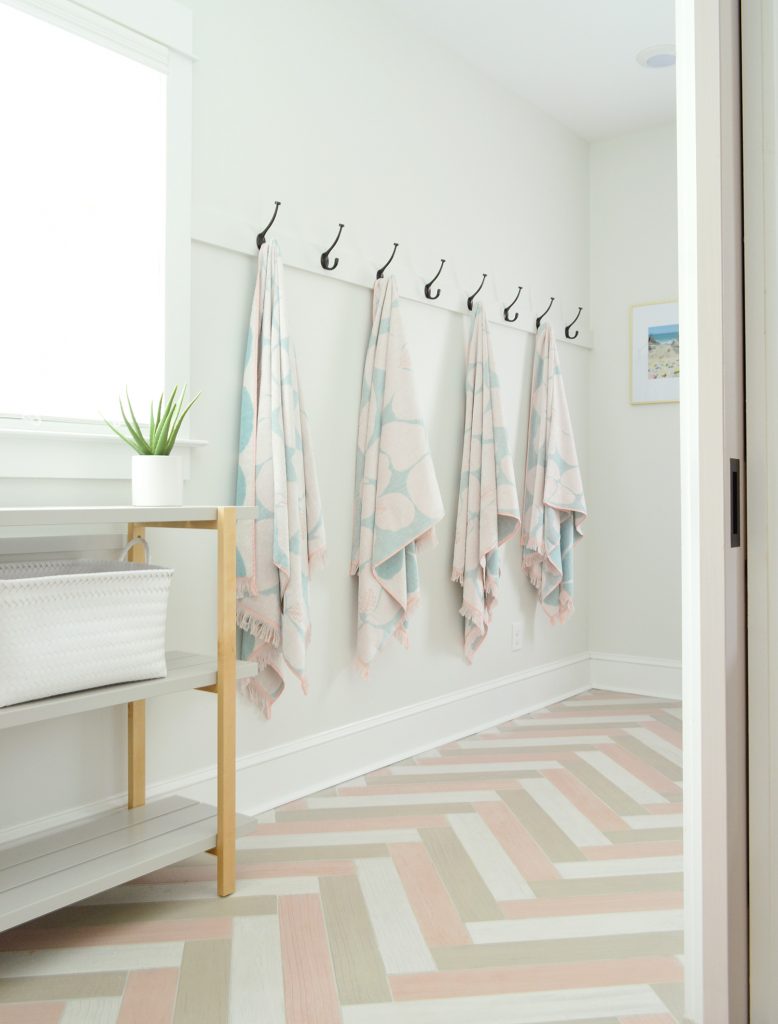 We debated some sort of built in bench with sides and shelves above it (kinda like this mudroom system) but it's JUST SO NICE to keep things open and flexible like this. If you walk in with your arms full of bags or groceries or luggage, it doesn't feel like you're going to smash into things protruding from the wall. Back when it was a kitchen it felt really narrow due to all the built-in things along that side wall.
This is the view if you stand with your back to the washer/dryer. The secondhand diamond doors that we hunted down and used in here SLAY ME. I am so glad we held out for them and didn't settle for anything else. The glass panes let in so much light and echo the original diamond paned windows in the front of the house (you can see those here) and they just feel meant to be on so many levels.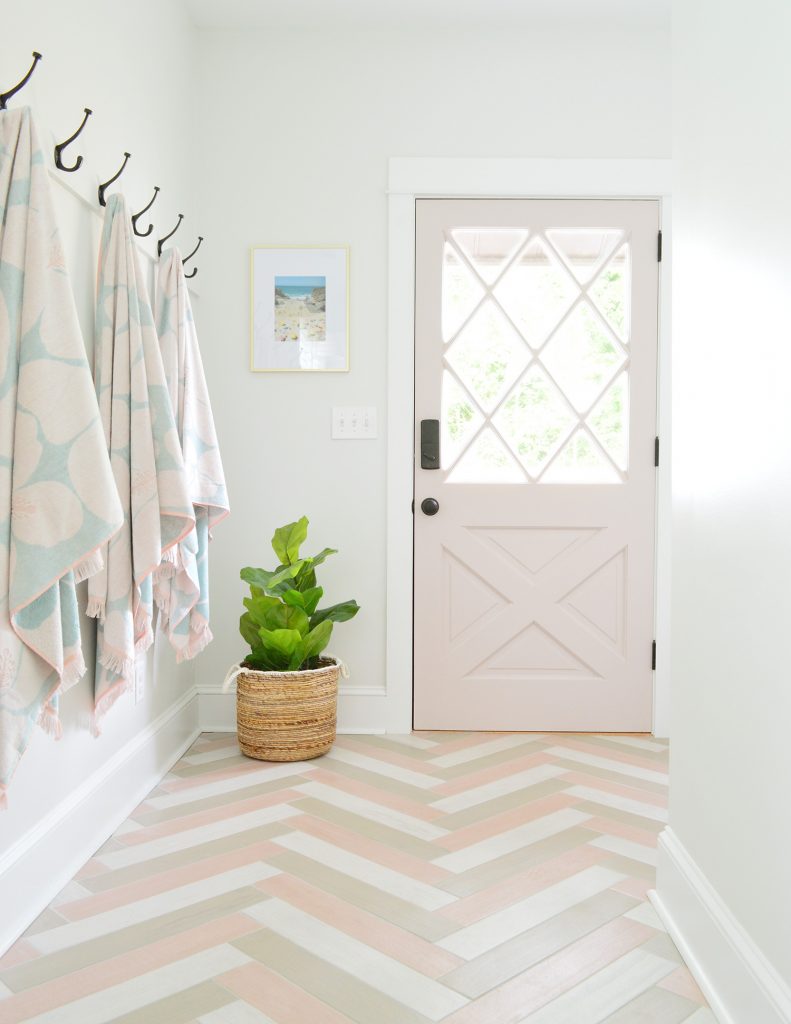 That door is also the keyless entry door for renters (since the outdoor showers are out back, so lots of people will walk back there to put their beach chairs in the shed, shower off, and come in using their code). We bought this coded door lock and have loved it so far. Approximately 1,379 inspectors and subcontractors and various other people have used it without any issues.
And just when you thought 8 hooks was enough, I'm gonna tell you once again that, in the words of The Greatest Showman, IT'S NEVERRRRR ENOUGHHHHH. After spending the summer at the pink house we learned you can literally never have too many hooks, so we added four more along this alcove to the right of the back door for a grand total of 12 hooks. We also shoved a bench in there that'll come in handy for sitting and putting on shoes, etc – and we even added two baskets to store shoes and stuff like that too.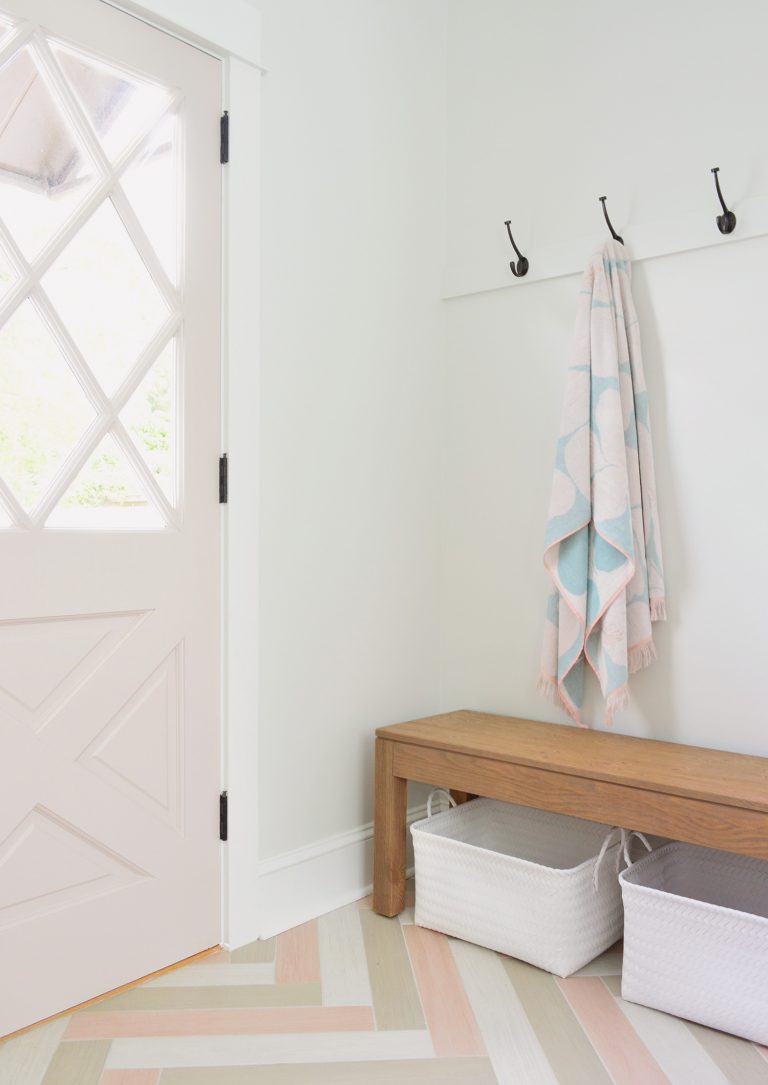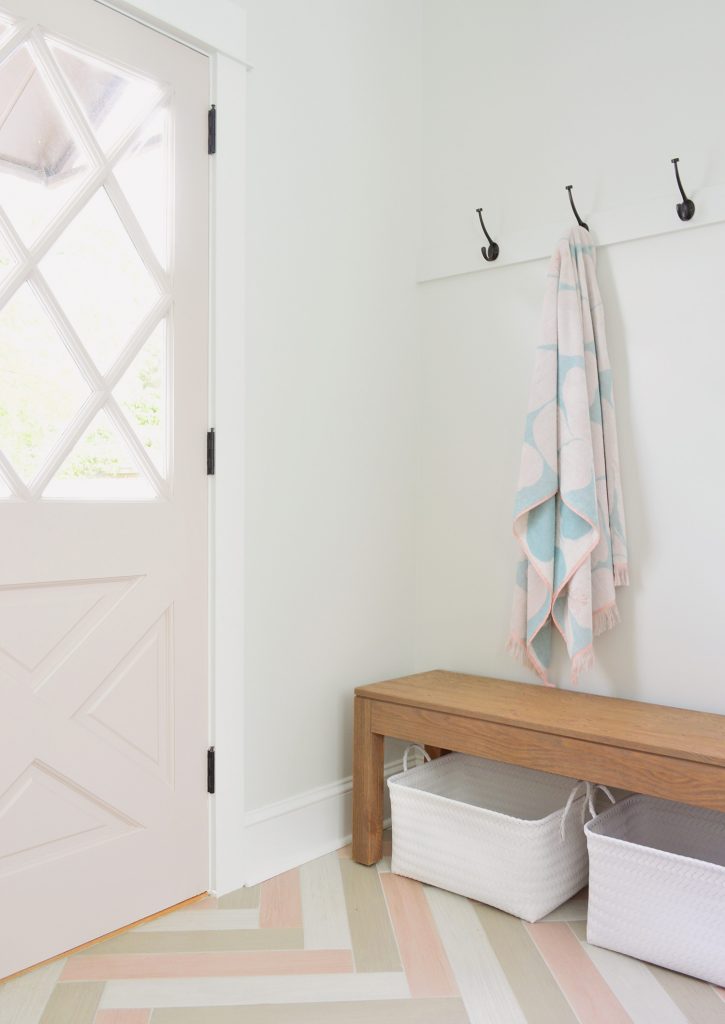 Ok, but now let's switch over to the right side of the duplex, where it's sort of an alternate-reality version of the one you just saw. If this house were a choose-your-own-adventure book, and you selected "greeny-gray doors & gray tile" instead of "pink doors and neopolitan ice cream tile" – you'd end up with this room.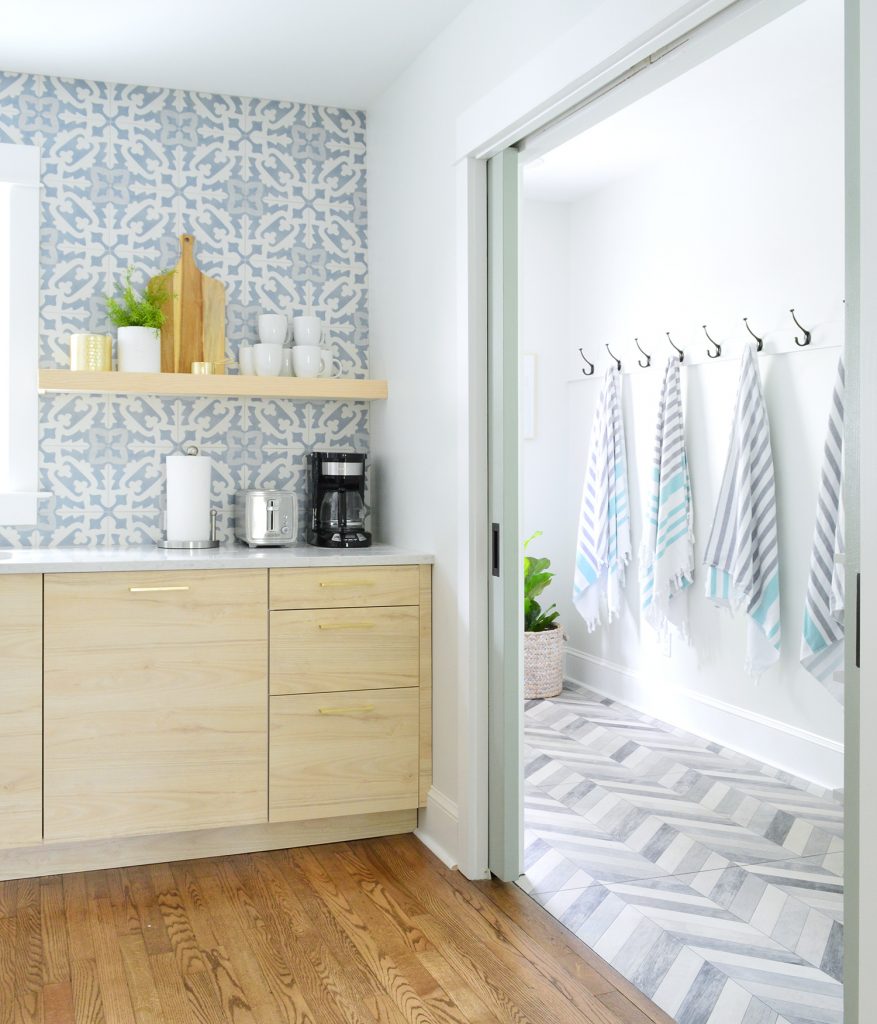 Once again it's looking very different than what we started with: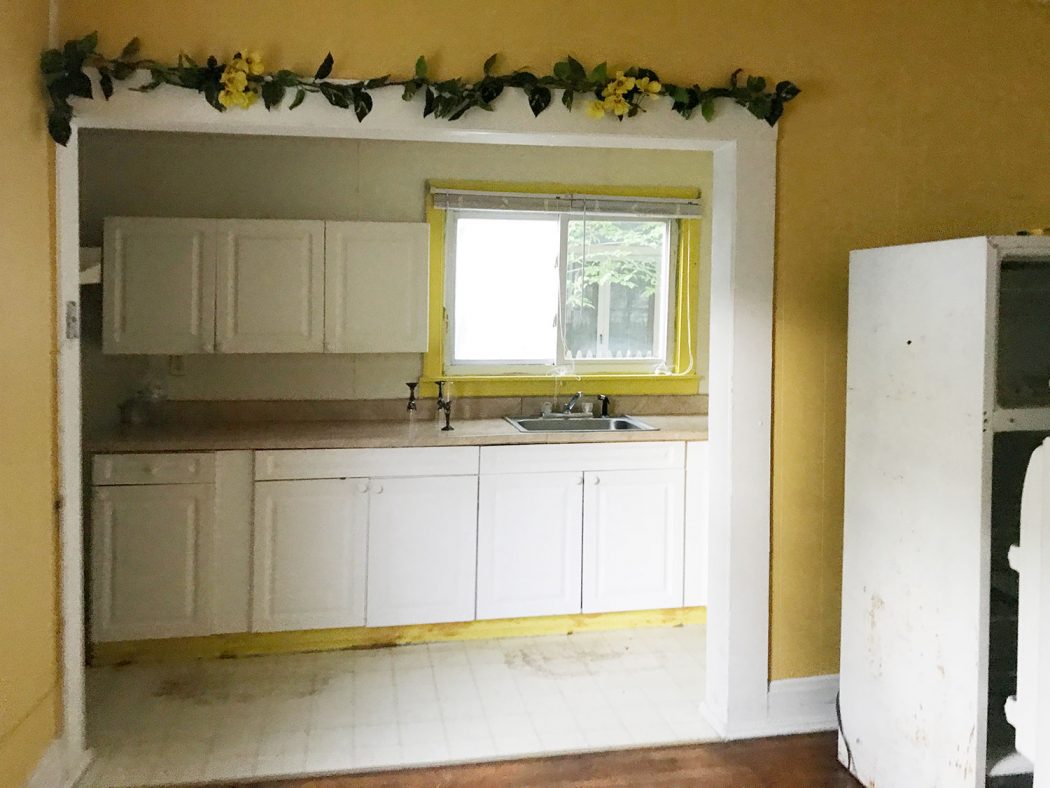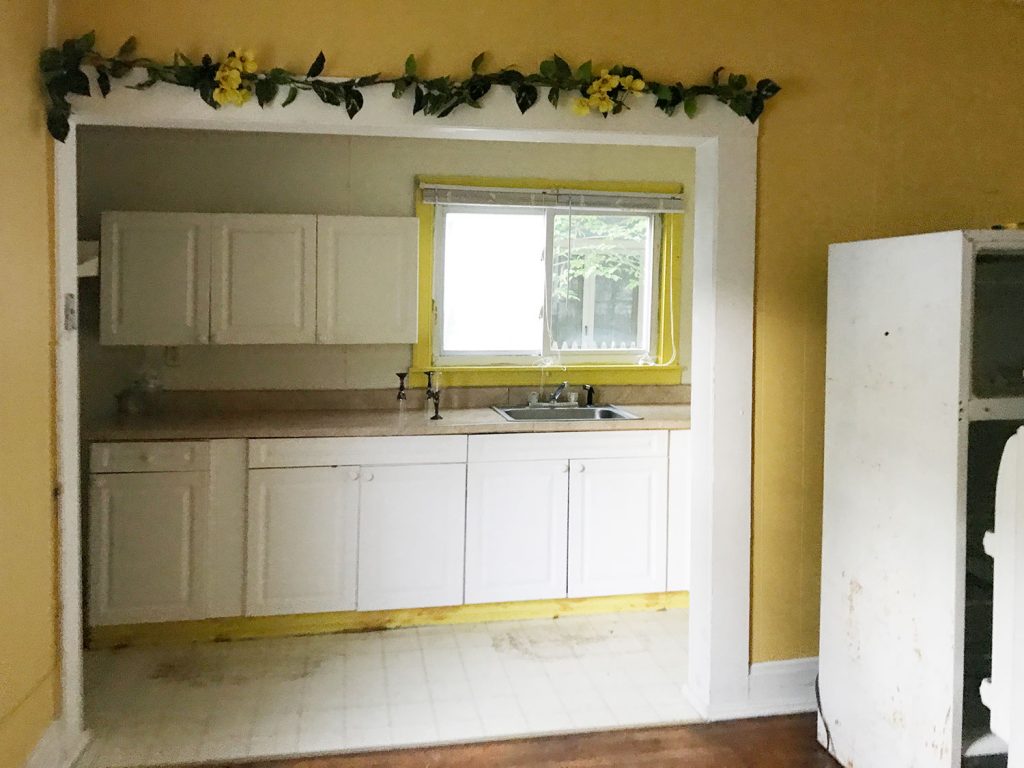 Here's the current view through the pocket doors that we added. Oh and see how the doors stick out about 3″ on each side so you can easily grab the handles? We did that on both sides of the duplex to make it obvious to renters that pocket doors existed (we worried if they hid totally in the walls people might miss them). All that we did was add wood blocks to the end of the doors, so they can't fully slide into the wall to hide completely. Plus it's so handy because you can easily grab the handles to roll the doors closed since they're always exposed. Handy to grab the handles. See what I did there?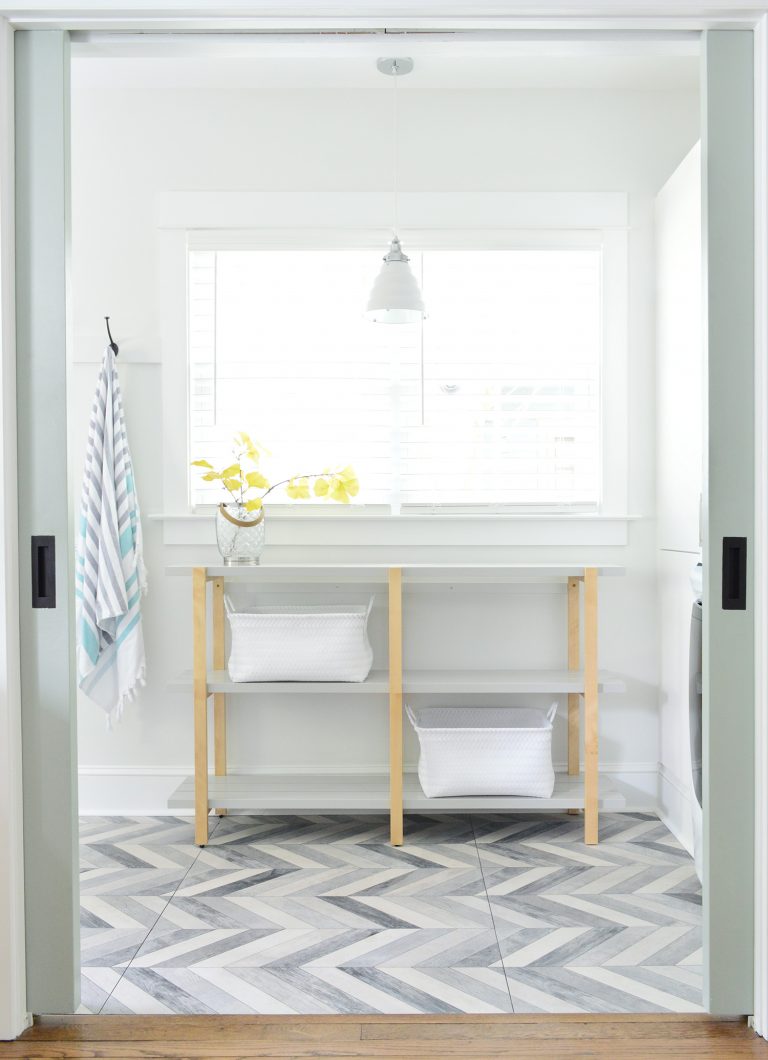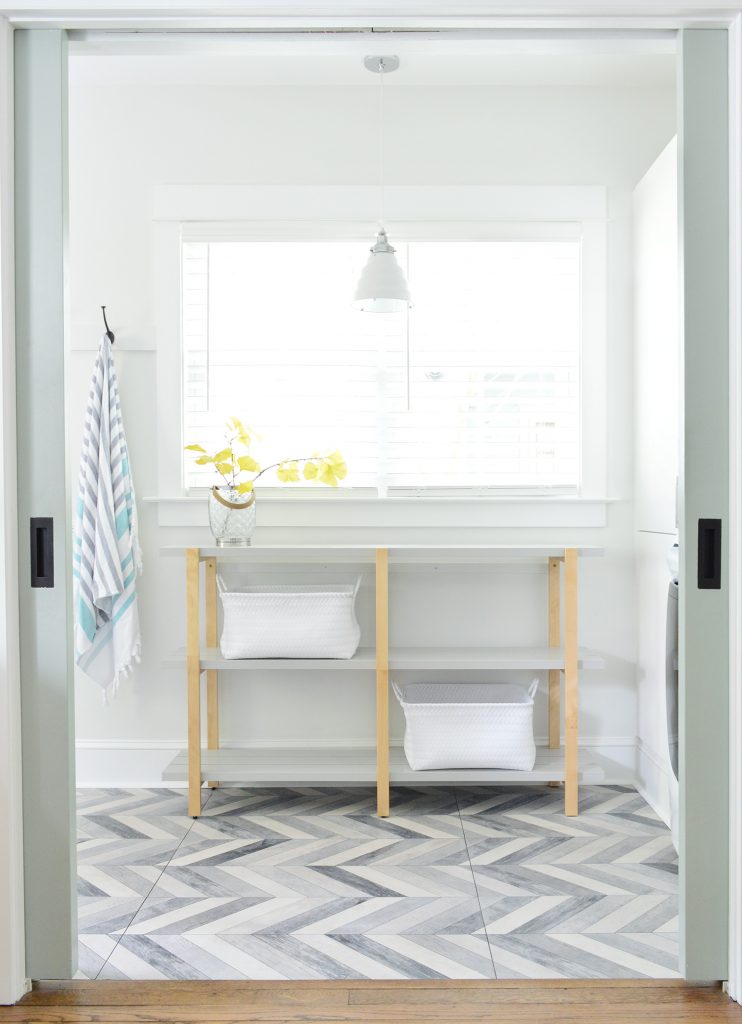 Here's the view on this side if you rotate to the right while standing in the kitchen and looking through the pocket door opening. Once again we have a stacked washer & dryer with that nice big built-in cabinet next to them. And we bought another Ikea shelving system to provide bonus pantry storage under the window (we picture people using the baskets and shelves to stash all of their chips, cereal, and other snacks that they keep around for the week).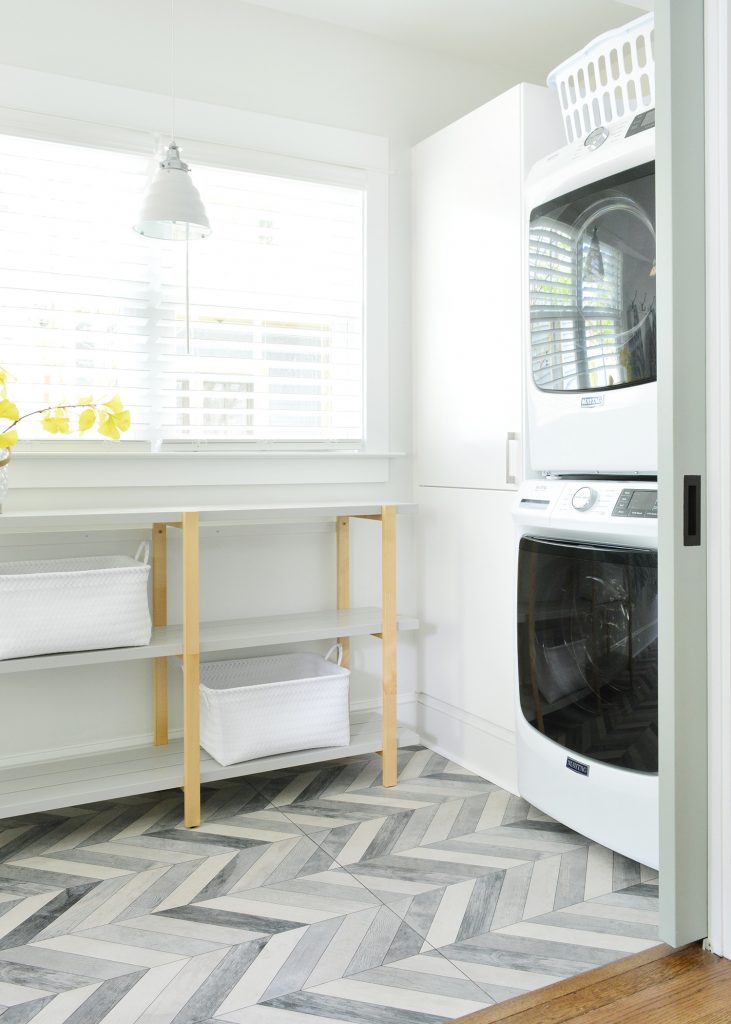 Here's the view with your back to the back door. Once again the top cabinet of the built-ins is accessible to renters (and stocked with laundry supplies) but the bottom one will hide paint and house supplies for us, and if we need them we'll just move that pantry shelf (which is anchored to the wall so it won't tip – and so renters won't have access to that lower shelf of supplies).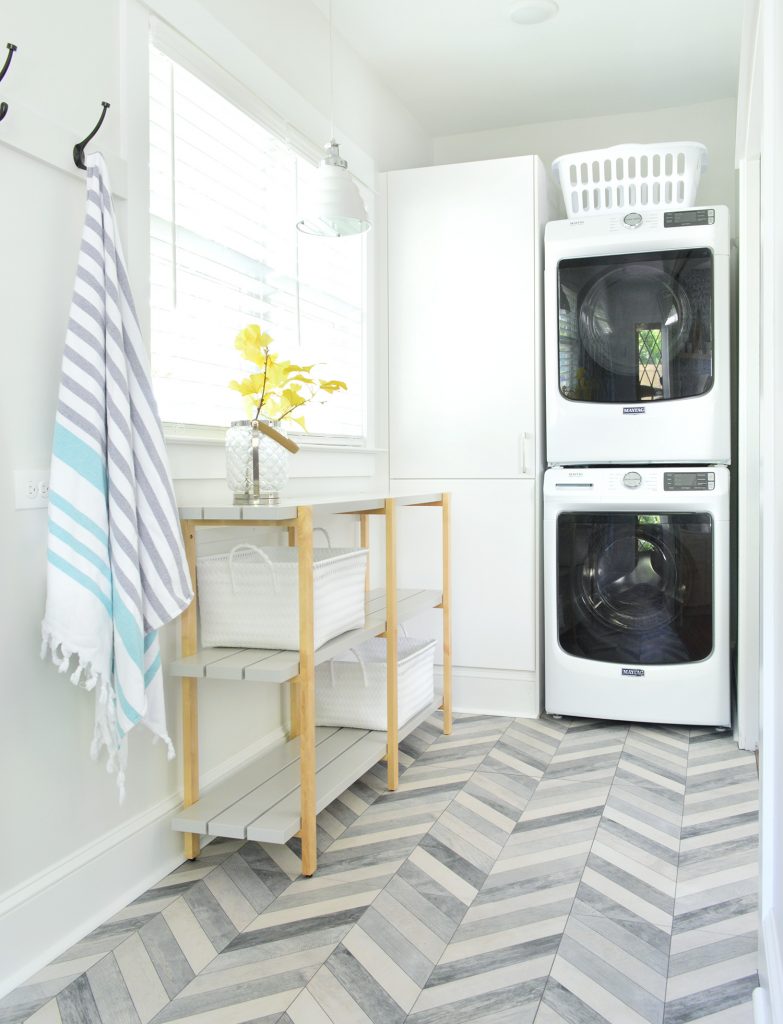 We also have 8 hooks along this wall, and can I just say that I love finding great beach towels? These are actually the same ones we bought for the beach house and have used for over a year. I love the design, the playful fringe, and the generous size – and they have held up so well! Highly recommend.
If you take a few steps back into the kitchen, here's what it looks like with the pocket doors pulled closed on this side. I love how they feel original and substantial but still let the light stream in from that side window in the laundry area.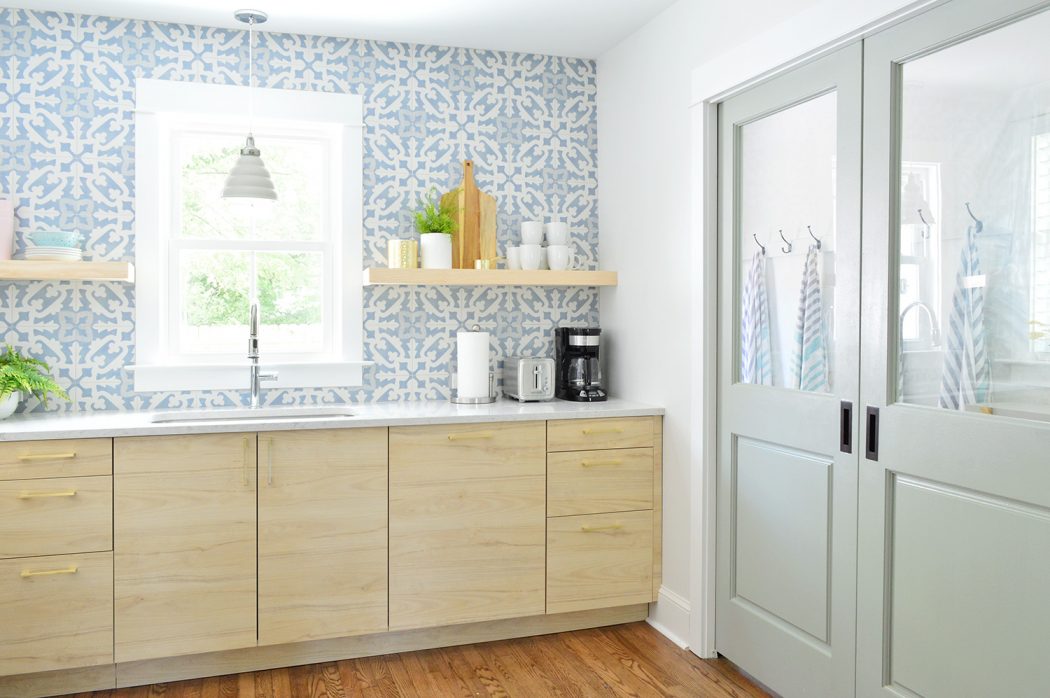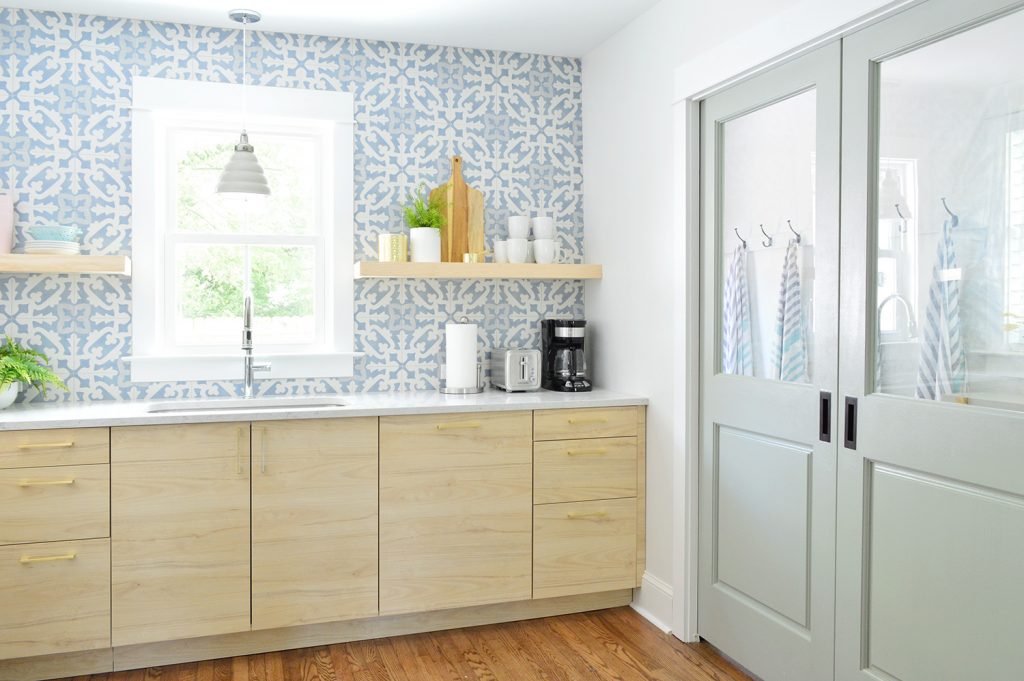 If you step into the laundry room and stand with your back to the washer/dryer, this is the view on this side. This secondhand door wasn't painted and we could't bring ourselves to cover that lovely wood tone – so we just clear sealed it. Once again, I just ADORE these secondhand diamond doors. They're a space-making choice for sure, along with the pretty glass pocket doors. Is it weird to have love affairs with doors? I think it's fine.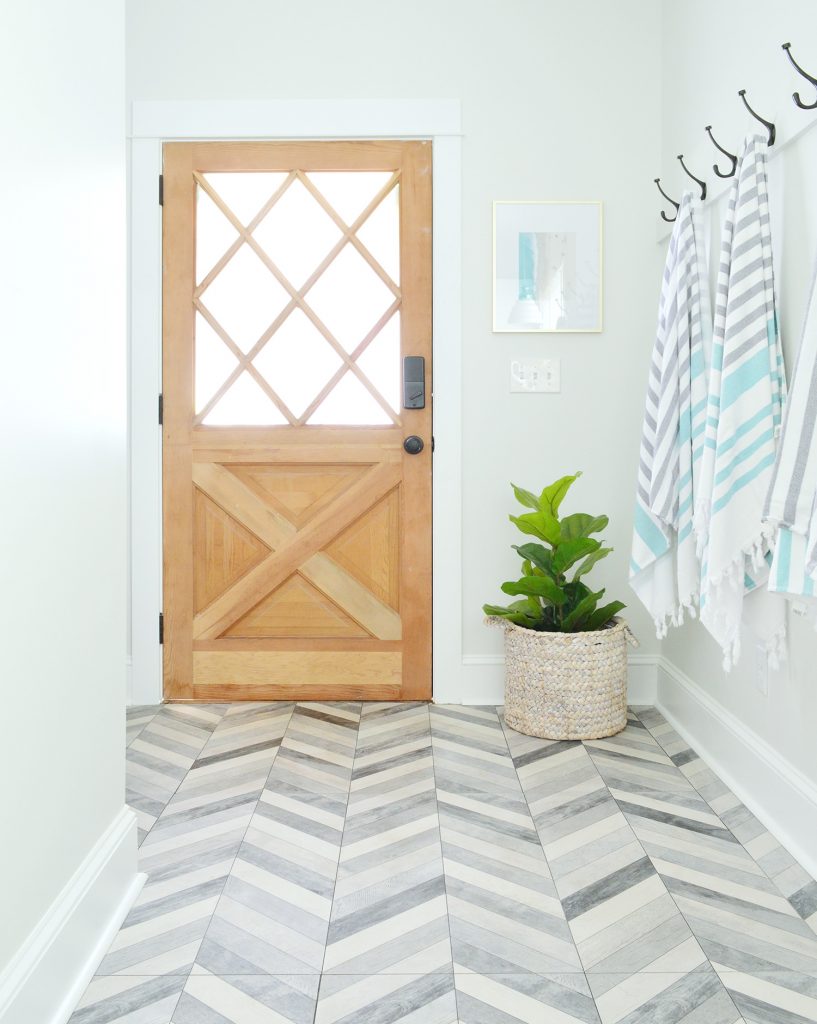 We also added the four bonus hooks in the little alcove to the left of the back door over here (for a total of 12 hooks on this side too). You can see in the photo above that the alcove is a GREAT SPOT to place that bench without encroaching on the walkway when someone comes in carrying a lot of stuff (since it doesn't protrude where people actually walk).
We originally placed the benches under the longer hook rails and they felt really tight – but they make so much more sense when they're tucked into the alcove and it's a perfect fit. I'll have to make a video walk-through for you guys soon, so you can see every single inch of these spaces, and get a better idea of how they all flow together.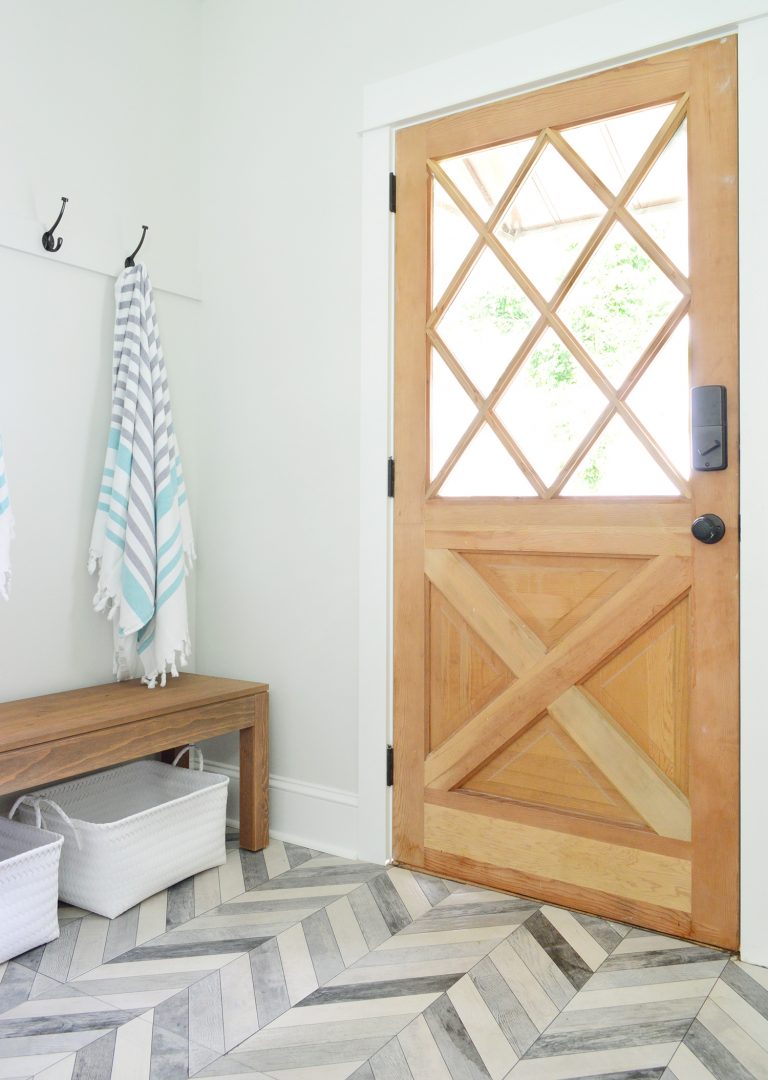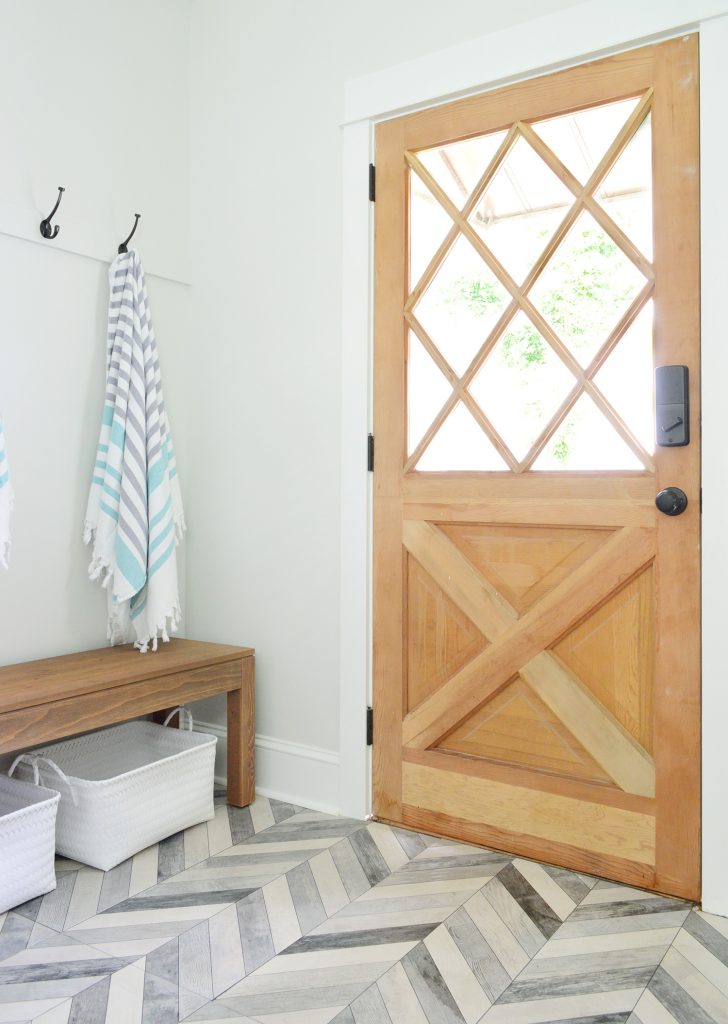 So there are the two mudrooms / bonus pantry space / laundry rooms in each side of the duplex. Not only do they add a ton of function to the entire house, they're so pretty to our eyeballs. And I literally can't pick a favorite so don't make me!
P.S. You can see all of the other finished rooms of the duplex that we've already revealed (two kitchens! the front! the back! four bedrooms! six bathrooms! two living & dining rooms!) along with how we planned the layout, tiled the floors & backsplashes, etc, etc, etc here in our duplex category. It's almost two years of updates covered in just 25 posts!
*This post contains affiliate links*