Get a load of Kelly's budget bathroom makeover. Here's her letter:
We've been working really hard on the house and it seems that the most "done" room is of course the smallest – one of the bathrooms! Here's what the bathroom looked like when we moved in: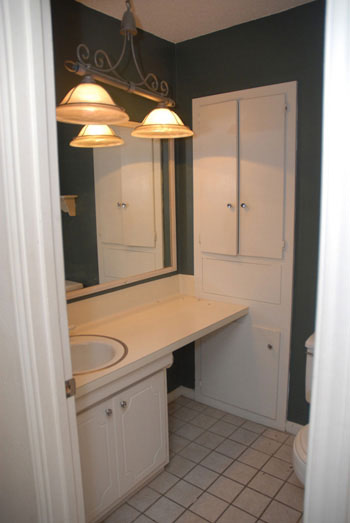 And this is what the bathroom looks like today after we replaced the old cracked toilet, painted the walls, replaced the light fixture, spruced up the existing counter and bought a slew of accessories: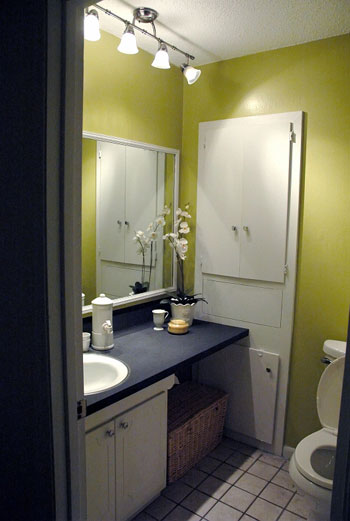 This bathroom was redone for a total of… (DRUMROLL PLEASE!)… approximately $399!!! By shopping thrift stores and looking for good prices at big box stores it's possible to really change a room's look without making it look matchy matchy! – Kelly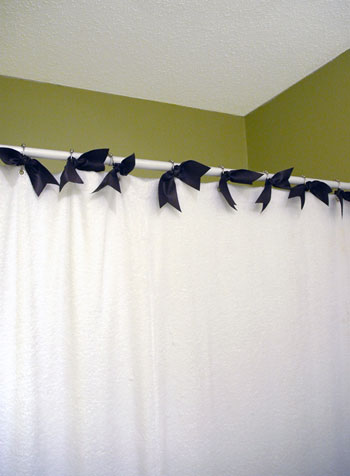 Needless to say we love Kelly's frugal yet fabulous makeover (click here for more details on her blog). From the new light fixture to the punchy paint, it really looks like a whole new room. And we especially love those bows on the shower curtain rings. Adorable!