Our July 2007 wedding still feels like just yesterday, so it's pretty funny to think that as of tomorrow we'll officially have been married for two whole years! Time flies when you're having fun. And we can hardly believe it's already been an entire year since our first Wedding Week (where we shared a slew of wedding-related details right here on the blog, which we later rounded up to create our Wedding Album page).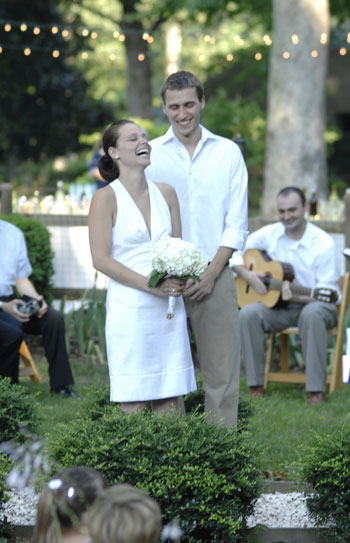 And because last year's Wedding Week was met with such enthusiasm, we figured our two year anniversary was a great reason to revisit a few more wedding-related events and traditions. Ladies and gentlemen (gentleman?), we present to you… (release the doves!)… Wedding Week II.
And we're beyond honored to announce that Abby over at the amazing and unparalleled Style Me Pretty (THE destination for all things lovely and wedding-related) has featured our wedding to help us kick off wedding week with a bang.

So mosey on over there and explore one of the most eye-candy-riddled sites that we've ever seen. And come on back for more wedding-related fare right here on YHL. In fact, this week you can look forward to:
how we met, fell in love, and got hitched
the story of John's proposal
some honeymoon details
our little anniversary tradition
and the place where we almost said "I do" (before switching to our backyard)
Sure, it's a little bit self-indulgent and a tad unrelated to home decor, but we'd like to think that our relationship is an important part of what makes Young House Love tick. So we hope you'll enjoy this week's lovey-dovey detour with us (don't worry, we'll still be dishing out some of the usual home-related stuff too). As we say so often around these parts, stay tuned…