Back in April we announced three winners in our Behr paint giveaway and now one of them has returned with pics of her paint-infused room transformation. Don't you just love hearing how these lucky people have put their prizes to good use? Here's an excerpt from Kim's very own blog post about her laundry room and entry hall makeover that included her free gallon of Behr's Gobi Desert:
First, let's take a look back at the "before." Collective shudder.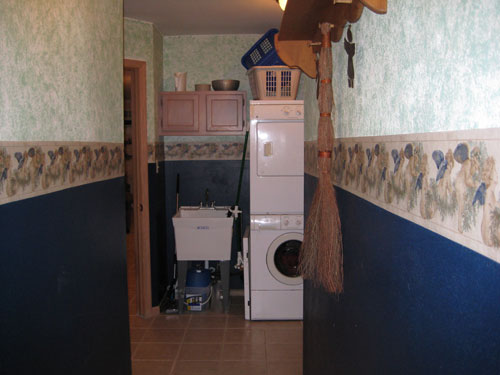 And now, the "after"! Woot!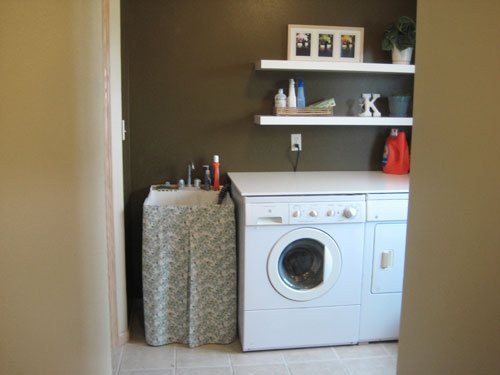 Besides a few new coats of paint (Gobi Desert in the hallway, Breakfast Blend behind the appliances), we also unstacked the washer & dryer, added a few shelves, and took down that cabinet. We will eventually re-hang that cabinet in the same spot, but I am in the process of painting it white and adding some hardware to make it look better. We wanted a countertop space on top of the washer & dryer so we could actually fold clothes there. So we bought a piece of plywood, painted it white and slapped on a coat of polyurethane for good measure. I also put some of those cabinet liners down underneath so they don't scratch the washer & dryer. So far it's working out great!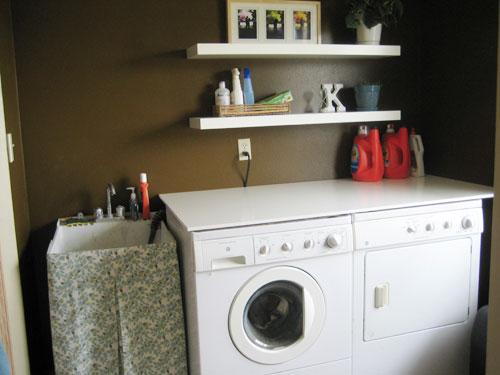 Thanks to Kim for sharing her makeover. We love to see those freebie prizes put to good use like that. Congrats on the great makeover!
And while we're on the subject of doing the wash, here's how we transformed our laundry area on a serious budget.