Don't get too excited. It's not so much aesthetic progress, as it is functional progress. We got our old spray painted metal and glass coffee table from our first house's living room…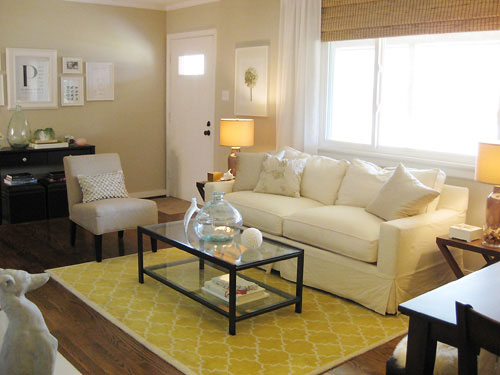 … back from John's parents (they used it when their house was on the market and then it accidentally got hidden away in storage). Then it dawned on us that although we didn't have a spot for it inside, a ton of outdoor furniture is spray painted metal and glass (like the round table that the old owners left on our upper patio). So out to the patio it went.
Is it perfect for the space? Nope. Is it great for resting my pasty need-to-be-shaved mom legs? Yup.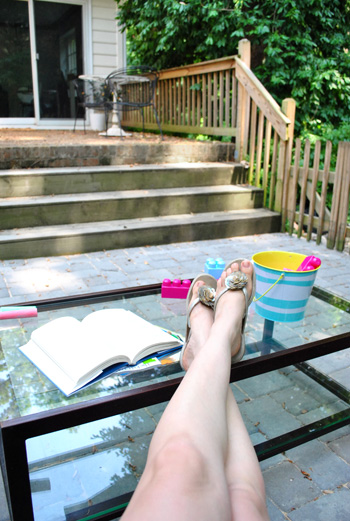 Sometimes you just gotta work with what you have (whether it's a pale set of stems or an old $30 thrift store coffee table). At least until you upgrade (when it comes to furniture, not so much with legs). Here's another table shot sans any pasty appendages: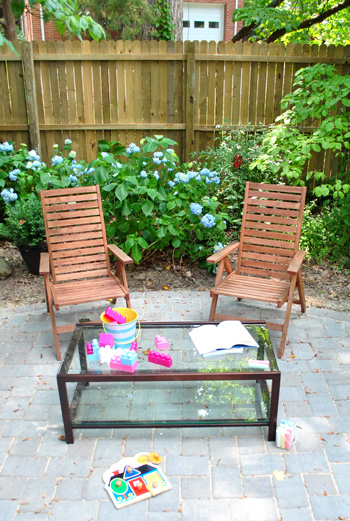 And check out the happy surprise going on in the background. Yup, our hydrangeas got all booyah on us and bloomed. We wondered what color they'd be (and actually guessed they were white when we saw the buds) but they surprised us with happy blue flowers when they opened. I know we've said it before, but it's SO much fun to experience the first spring/summer in a new home just to see what sprouts up to surprise you. It's kind of like Oprah saying: "You get a hydrangea!", "You get a hydrangea!", "You get a hydrangea!"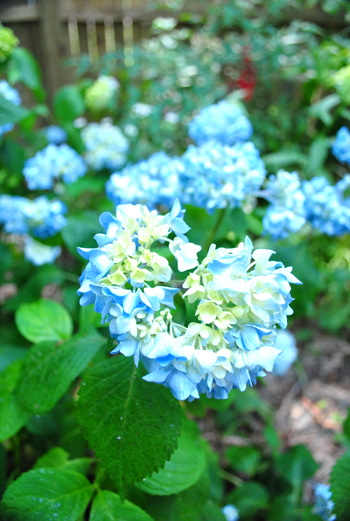 And although the patio looked so charming with some not-outdoor-friendly furniture that we stuck outside for the big patio reveal (John thinks I'm weird but I just got such a kick out of trecking stuff out there for the afters – you know, to help with scale)…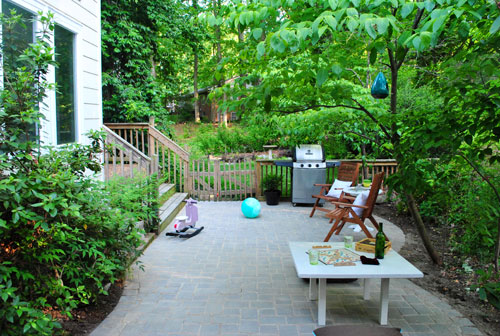 … this is what it's looking like these days: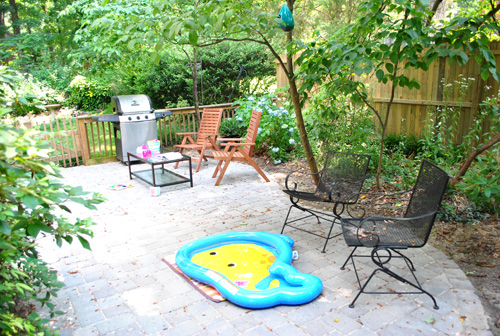 Yup, that's a baby pool in the shape of a whale. It was a gift from a friend who had the very same one when she was a baby and Clara couldn't love it more. And yes, being the protective momma bird that I am, I totally put a bunch of towels under it so it's not too hard on those swim-diapered buns of hers.
Oddly enough, although the patio is faaaaar from being "done" when it comes to outdoor furniture and pillows and all the other things that we eventually want to work in, for now… it's paradise. And it's such a nice reminder that spaces don't have to be styled within an inch of their life and filled with perfectly scaled and coordinated furnishings to do the trick. Sometimes a whale shaped baby pool plus an old coffee table = happiness.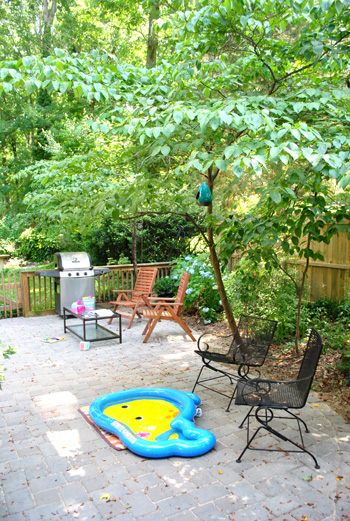 Oh and before I go, check out how much our backyard continues to fill in since our first house tour. Here's a shot of the left side of our backyard that John snapped a few months back: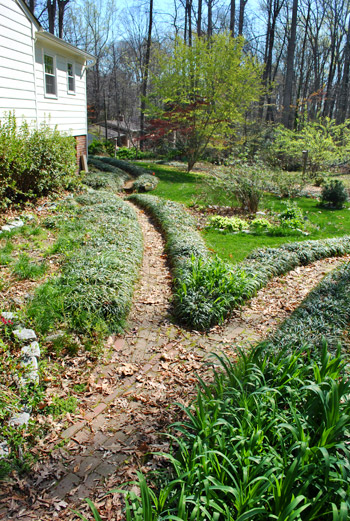 And here it is now: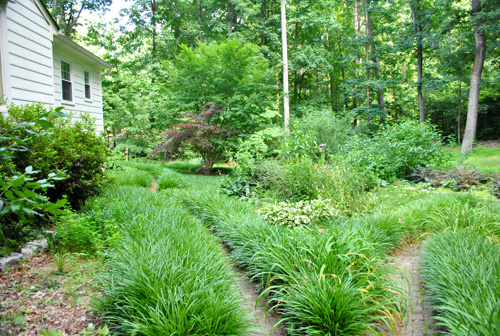 Va-va-voom, right? And here's the right side of the back yard a few months back: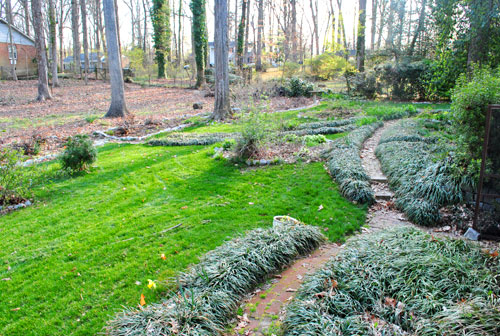 And now: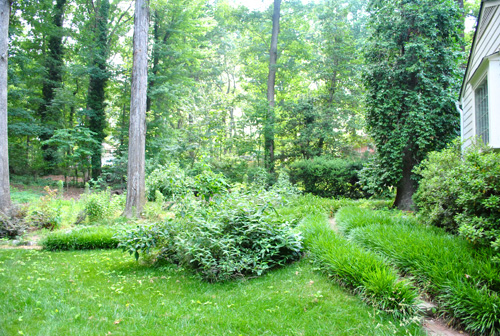 Crazy lush, eh? Welcome to the jungle. Burger and Clara seem to love exploring. And check out what an old bush that we couldn't identify turned out to be…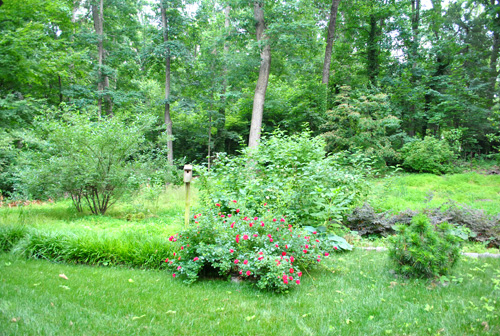 … roses!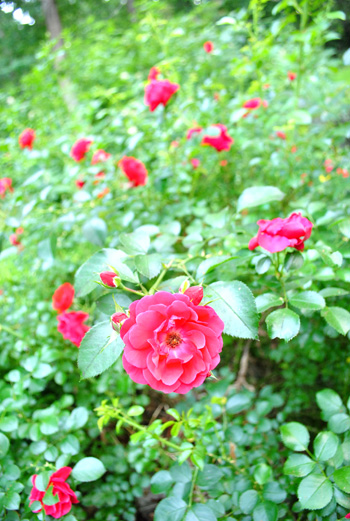 At least I think that's what they are. I'm plant illiterate so that's my best guess. One thing's for sure, there's enough monkey grass to tickle my pale legs for hours.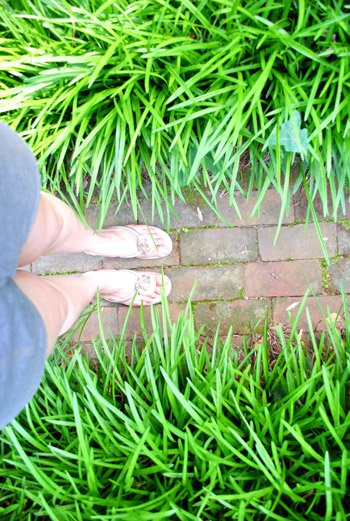 Anyway, do you guys have any spaces like our patio (laughably unfurnished but blissfully functional)? Did you own the same whale pool that Clara plays in (apparently they've been around for decades)? Are your legs as delightfully chalky as mine? You can tell me. I promise I won't gossip about it. Much.