As is the tradition, each year we like to take a video camera and walk around the house to capture what's been done outside (and what's still desperately waiting to be tackled – which is almost everything at our new house). You can see last year's here, and the one from 2011 here. And by "we take a video camera" I mean "John takes a video camera" because I've been banned from holding any sort of recording device since I tend to Blair Witch everyone (yup, it's a verb when I do it).
Enough jibber jabber. Let's walk around the house together:
Hopefully that little video answers the "what's going on outside?" questions from you guys and gives you a better lay of the land. As for our outdoor plans, there are a bunch of them listed here (they're not at all fleshed out, but we'll research/plan/think through each one as we get to it).
And since a not-actually-to-scale lot sketch has also become a tradition of ours, here's one of those for our new house: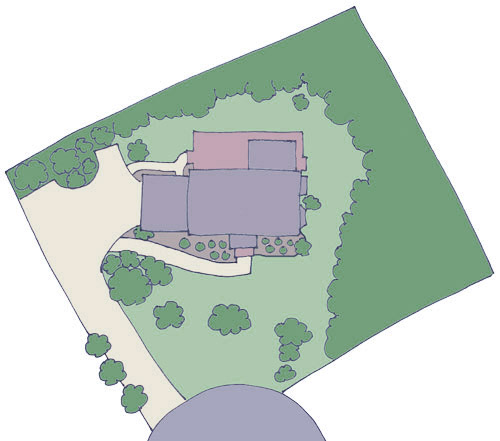 The funny thing about our new house is definitely how the lot is oriented (since we're on the end of a cul-de-sac, we describe our land sort of like a baseball diamond) but it's also pretty amusing to us that all three of our houses have had really similar lot sizes. They've all been "almost an acre" – but our first lot was long and skinny…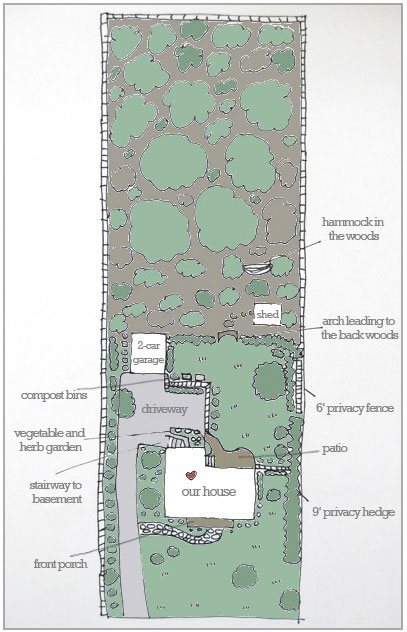 … while the second one was sort of square-ish (this one's really not to scale since the house looks as big as a Target shopping center).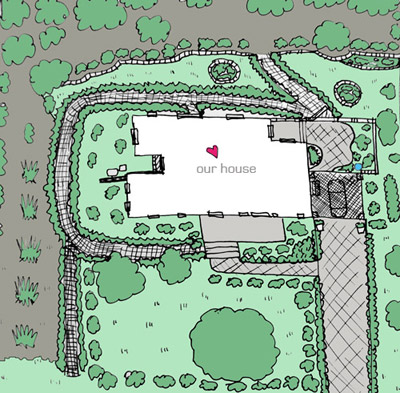 The other funny comparison for us is digesting that our last house and this house were almost exactly the same square footage (they're within 60 square feet of each other) yet the lot just looks so different from the outside. We're used to having a pretty low-lying house that almost blends in with the woods. But instead of an 1,000 square foot addition that's hiding off the back of the house (which was the way our second house was set up), the new house has a second floor that's in plain sight from the street, which makes it look a lot bigger and stand out a lot more from the curb.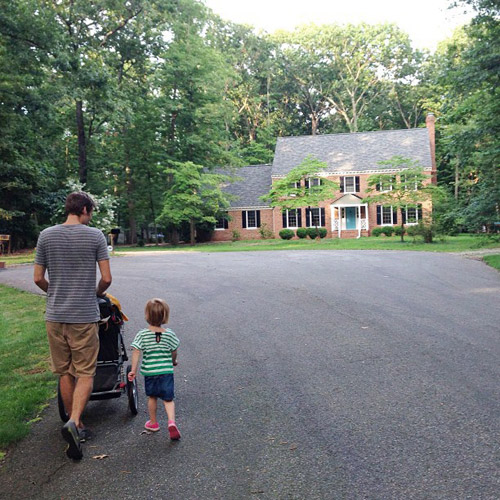 One other sort of cool, full-circle moment was gaining a double garage. We had one at our first house, and of course had the carport in our last house, but it's really nice to go back to a two car garage – just so that John's workshop can be right off of the house (instead of walking around the back of our second house and down the exterior stairs into a separate entry basement).
**********************************
Psst- We're trying out a new little bonus feature on Friday posts by ending with four fun projects, chats, or questions going on over on the Forums. You know, just in case you don't want to go back to work just yet…
| | | | | | | |
| --- | --- | --- | --- | --- | --- | --- |
| | | | | | | |
| by MayRicherFullerBe | | by Tina | | by hannaschelling | | by lcraig1027 |