Last year we DIYed a calendar for our kitchen complete with a favorite quote each month (you know, for a nice inside-joke vibe). You can check it out here.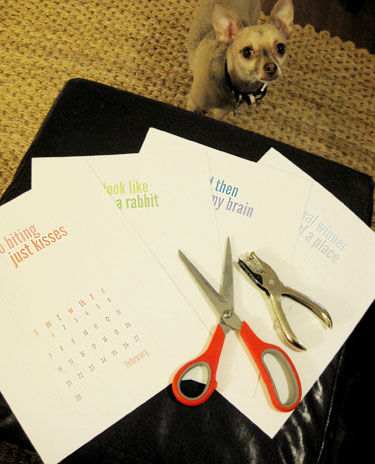 But last time we were waaaaay slow and didn't finish it 'til February. So in an effort to keep that from happening again this year, we decided to complete the project before our big move distracted us (in just one week and counting!).
We stuck with the same general look: colorful text on a clean white backdrop. But instead of meaningful words and funny phrases, we chose to do this one by the numbers. Sesame Street style if you will. Observe: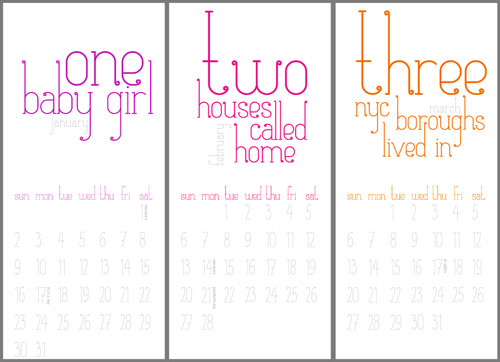 Basically we took each month's numerical equivalent and related it to something personally meaningful to our lives. For example, we've got one baby girl, we will have called two houses home (once we've moved) and Sherry and I have each lived in three NYC boroughs: Manhattan, Queens, and Brooklyn (though never together).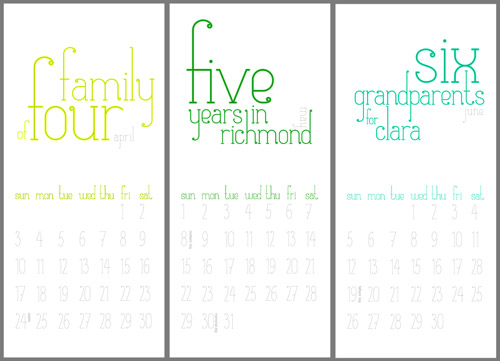 Some months even mark "anniversaries" that we'll be celebrating in 2011, like our fifth year of living in RVA (that's what we Richmonders call our city to make it sound cooler). And in '11 we'll be hitting the seven year mark of knowing one another.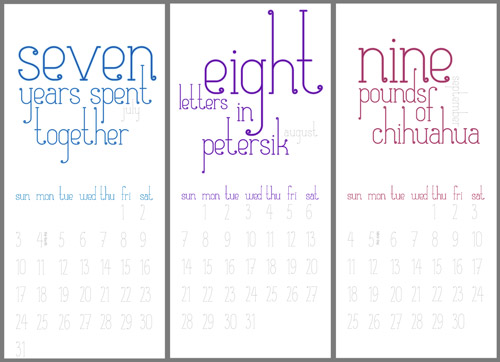 We basically followed the same design process as last year's calendar (words on top, days on the bottom) and again we cobbled everything together in Photoshop. Oh and we used another free font suggested by How About Orange (this time it's called Matilde) and just printed each page out on standard 8.5 x 11″ cardstock (it's amazing how long and "custom" it looks when you cut off the sides).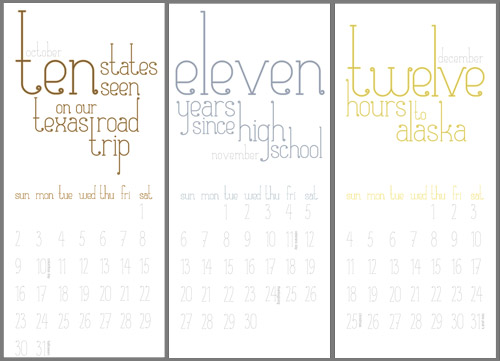 Also like last year, we've got the Photoshop file available for download in case you're interested in downloading it and editing it to create a version for yourself. Obviously you'll need to have Photoshop and know your way around a .PSD file well enough to change the text to something that's relevant to you. And you'll have to download Matilde into your Photoshop fonts folder to edit the text without changing the typeface once you download the calendar HERE (if clicking doesn't work, try right-clicking and select "save"). You also may want to try this link if the previous link didn't work for you (again, try right-clicking and selecting "save" if a regular click doesn't do the trick).
You'll only see December when you download it because that's the layer that's showing (the rest of the months are hidden layers) so to edit and print each one, just "show" the one that you want and move from month to month. And to people without Photoshop (or without enough know how to get 'er done even if you have access to it) we definitely think you can whip up something in Microsoft Word or even PowerPoint. Or try etsy for an affordable alternative that still has that homemade feeling.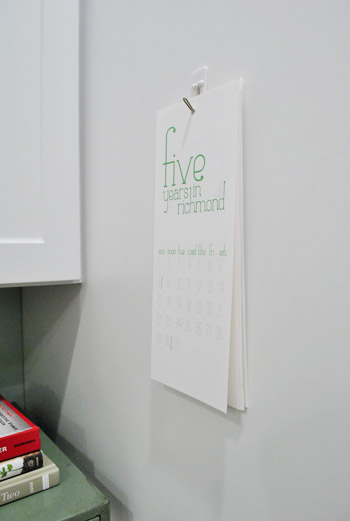 Although 2011 may still be a few weeks away, we decided to take our new calendar for a test spin on our usual hook in the kitchen – the same 3M hook that we added when I gifted Sherry with the culinary-themed 2008 calendar that commemorated the completion of our kitchen reno. Oh the memories…
Speaking of calendars, do any of you ever DIY your own? Or buy the same theme each year? For about a decade in grade school Sherry's mom gave her an angel themed calendar every year on Christmas morning. But maybe angels aren't the chosen subject matter for you. Are you more into calendars with quotes from The Office? Or articles from The Onion? Perhaps you prefer photo calendars from Shutterfly or Snapfish? Or maybe you're just too smart phone obsessed to even have a paper calendar anymore?