Our lawn was making me feel like a terrible neighbor last week. Sure, I had good reason (i.e. the ol' newborn excuse) but surely the people driving by our house everyday didn't know my airtight excuse. So to put my guilt to rest I resumed my Friday evening mowing routine. That is until our mower started spewing white smoke and sputtered to a stop. I was left with a dead lawn mower and two buzzed stripes in our yard. Awesome.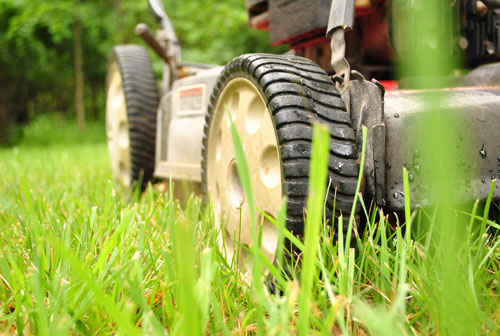 To be honest, I was more annoyed at my incomplete mow job than my busted equipment. In fact, some of you on Twitter and Facebook probably saw us seeking recommendations for mower replacements mere moments after the incident.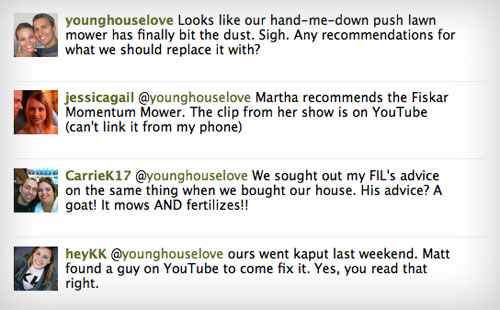 Why so quick to ditch our current clipper? It was a super old hand-me-down from a friend and we frankly never grew that attached to it. They were moving and we happened to be closing on our house in the same week so it was easier for them to offload the mower on us for a few bucks than transport it to their new casa.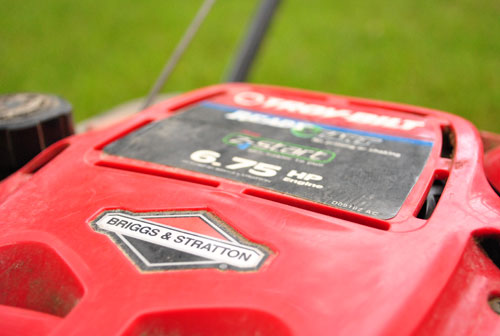 For the four years that we've owned our Troy-Bilt it's been the "mower to tide us over until we buy our own." We even have big dreams of upgrading to something greener when that time comes. In a way, we've kinda been hoping it would kick the bucket so we could get something newer and more planet-friendly. Maybe that's why I inadvertently / subconsciously neglected any sort of care or maintenance on our hand-me-down (after all, in my mind it's been "on its last mow" for a while). That means – prepare to gasp – no oil changes, no filter cleanings, no blade replacements, literally no more than simply dusting off grass clippings since 2006. I know, it's not like us at all.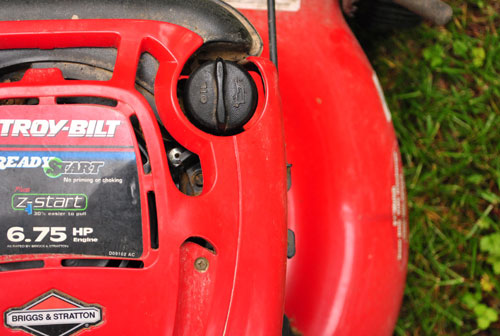 But even though I went to bed dreaming about what shiny new (electric? reel?) mower would be coming home with me on Saturday morning, somehow I woke up the next day with a Mr. Fix-It attitude and decided I'd put in one last ditch effort to repair ol' smokey. You know, in the spirit of working with what we have and keeping a perfectly workable mower from the landfill. So I grabbed a bunch of tools (since I had no idea what the heck I would need- a hammer might come in handy for changing oil, right?) along with my computer and crossed my fingers that Google would somehow magically turn me into a lawnmower mechanic.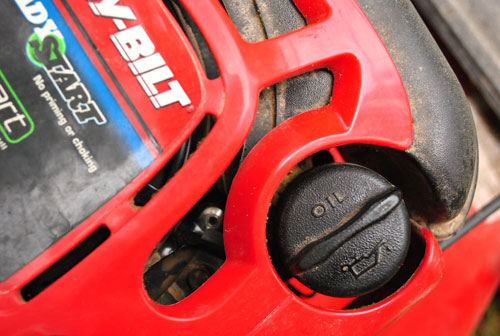 Well, it didn't. But YouTube came close. Thanks to this video from Lowe's I actually managed to change my mower's oil. Sweet victory indeed. I didn't end up needing my hammer, but I was able to use some old cardboard to substitute for a drop cloth and an empty paint can for a used oil receptacle.
My first ever oil change solved half of the problem. It breathed life back into the mower, but unfortunately that breath was still white and smoky. Boo!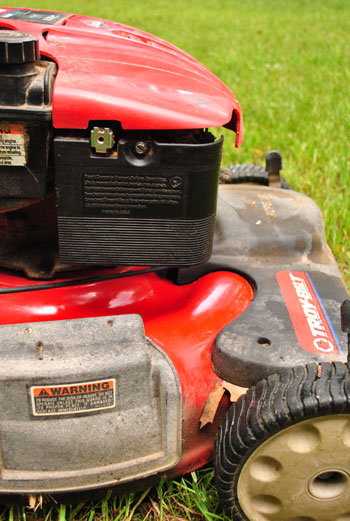 That's when I turned to another tactic suggested by our friendly and always helpful Facebook and Twitter folks: cleaning the air filter. First challenge: finding the air filter (yes, I really was that helpless). Luckily the Briggs & Stratton website came to my rescue (they're actually the makers of our lawn mower's engine). With this diagram I was able to figure out where my air filter was (eureka!), unscrew it, and do my darndest to clean it by hand (it desperately needs a new filter, but that's obviously not something I had on hand).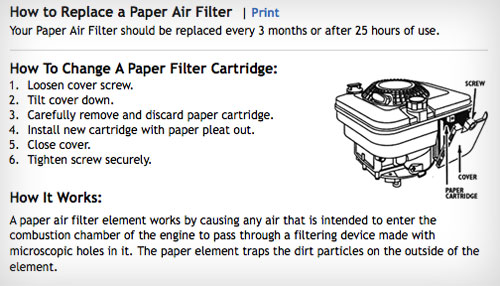 Notice how I'm not showing you any pictures of this. Not just because I didn't take any pictures of the process, but also because I think I've embarrassed myself enough without you seeing exactly how dirty my old oil-clogged air filter was. But my embarrassment ends here because (shockingly) my efforts paid off. Within a couple of minutes my mower was running smoke and sputter free. Victory!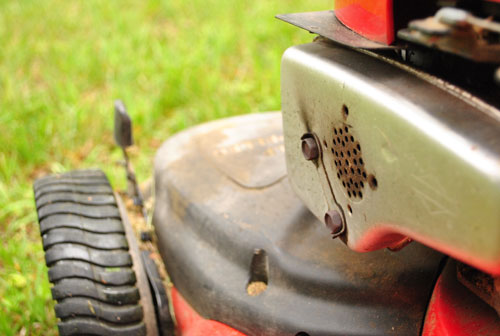 I celebrated my new status as amateur lawn mower mechanic by completing my previous day's mow job and shelving my dreams of a new mower (at least temporarily- we still have our eye on some non-gas options for the future). Plus now that I've learned a bit of lawn mower care by experimenting on this guy, I feel better equipped to maintain the next one that comes home with us.
Have any of you found yourselves in a similar lawn mower pinch? Any other lawn care equipment maintenance tips to pass along to hopefully help us and a slew of other readers avoid situations like this in the future? Here's to all of us moving one small step closer to being mower mechanics!