We interrupt our normal programming for a bit of blog business. We've updated our sidebar! Please, contain your excitement.
It's nothing major, but enough of you have had questions about the changes that we whipped up over Memorial Day weekend that we figured it warranted a quick explanation (and an apology to those who witnessed any funny business on Monday while we played around). One of my goals now that I'm a full time blogger/father has been to improve some of the function of our site and clean up the design (within my limited coding skills). In fact it was even my resolution this year. So to that end, here are a few of the things that might look a bit different (unless you read us in a reader and have no clue what our sidebar even looks like):
Change #1: A Second Tabbed Window- We've condensed some of our sidebar content into another one of those handy-dandy tabbed windows like the search box that we have in the top right corner. You may be familiar with that one, and this additional box resides just a bit lower and contains things like, um, our cheesy smiling mugs.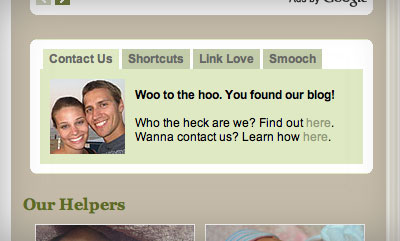 Really it's just a replacement for our old Contact button. But in the tabs behind it we've added things like a new "Shortcuts" window that contains easy links to some of the most frequently asked questions (where did you get that _______ in your house?) along with our most referenced how-to posts.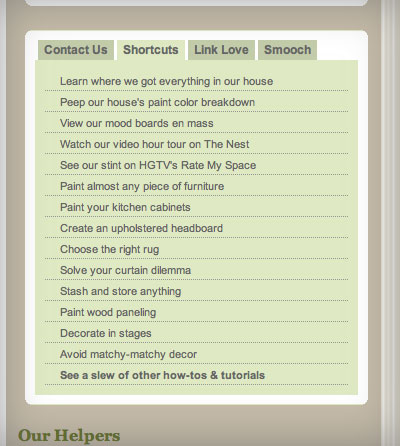 You'll also see that we've moved our Link Love section (i.e. our blogroll) up into this window so that you don't have to scroll as far down the page to access it anymore. And we even added a gooey little appreciation tab there on the end that we've called "Smooch" because we really do love you guys.
Change #2: New Buttons- Right under that new tabbed window, you'll also see three new buttons (well, two of them are just redesigned and one is actually brandy new). You can still access Burger's blog quickly and hop over to a page for browsing all of our House Crashing posts, but now you can also find your way over to a Flickr album of Clara pictures. We figure it's an easy way for those of you who are hungry for a daily dose of baby to get your fix without flooding our post schedule with "isn't she adorable" moments (which, if I may brag for a second, there are A LOT of lately).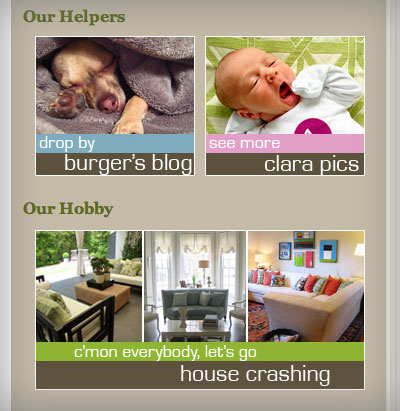 Change #3: New Boxes: This last change is really just about cleaning up a bit of the design. I finally figured out / took the time to learn how to do something simple like add a clean white box around all of our sidebar widgets (like our Twitter feed, Discount-O-Rama listing, We're Digging items, etc) so everything just looks a bit more consistent. Probably makes no difference to most of you, but it was a sweet sweet victory to me.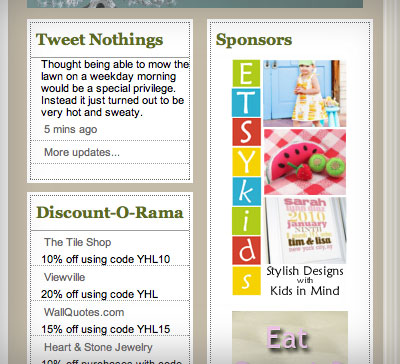 So that's the mini sidebar makeover. Hopefully you guys agree that the changes fall into the "improvement" category, but – as scary as this is to ask – please let us know if you've got other suggestions for us. We're happy to hear all ideas, but please understand upfront that not every suggestion is possible (even if only due to my limited coding abilities). Also – as scary as this is to ask as well – please let us know if something doesn't look quite right on your computer or if you think something isn't showing up correctly in your browser. Thanks everyone! Now go click on that Smooch tab up near the Contact Us tab that we mentioned for some virtual love from YHL to you.
UPDATE: Some of you are reporting trouble seeing the changes. The new buttons, like our sponsors' ads, are coded using a flash advertising software. So if your browser is running some sort of flash or ad blocker (I'm not talking pop-ups, homey don't play that here) it may be preventing you from seeing the Burger, Clara, or House Crashing buttons. If you can turn that off for just YHL, that should solve the problem (thanks Barbara for figuring this out!) And no, this wasn't a clever ploy to make everyone view our ads – I just used our ad software so that I could rotate a few versions of the buttons so you guys get served up a variety of Burger, Clara, and House Crashing thumbnails.