… and I painted something behind his back. Haha. Let me explain. We usually have a "full agreement" agreement when it comes to decor (which means we can't buy or change a thing unless we're both totally on board, which keeps us from holding something against another person for years like a recliner that you hate but the hubs just had to have, etc). But I tend to bend the rules when it comes to things that can be undone if John doesn't like them. I figure in that case, since it's 100% reversible, and I'd be the one spending the time reversing it if John didn't agree with my choice, that I don't have much to lose except for the time it takes to do and undo something. Which is nothing compared to the high I get from doing it while he's gone. Haha. And the last time I did something without asking first (which admittedly wouldn't have been the easiest thing to undo, but since our other two bathrooms were backsplashless I was confident he'd be on board) it worked out swimmingly as Mr Petersik kissed my cheek and told me I was a home improvement goddess. Ok so I made up that last part. He probably smirked and agreed that what I did "wasn't bad" and only admitted he loved it hours later after getting used to the idea that I took a crowbar to the walls again. But anyway, back to what I painted.
I had grabbed a little jar of Liquitex Soft Body Acrylic paint in Cobalt Turquoise at Michael's after mumbling something about wanting to get back to painting (I had a 50% coupon so it came to $7 and some change).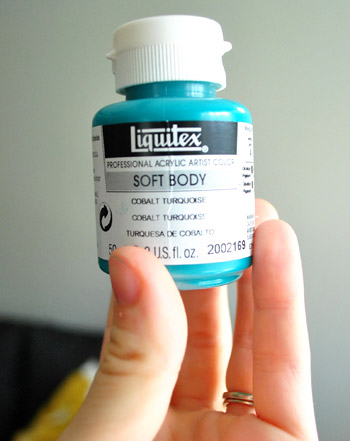 Didn't seem to catch John's interest at the time. But then again, he didn't know that I had plans to paint a light fixture of ours. Yes, while sitting on The American Dream (aka: Karl, our new much-loved sectional) the other night, my eyes kept wandering away from the "Real" Housewives of Beverly Hills and over to the brass and glass pendant light over the table in the corner of the room.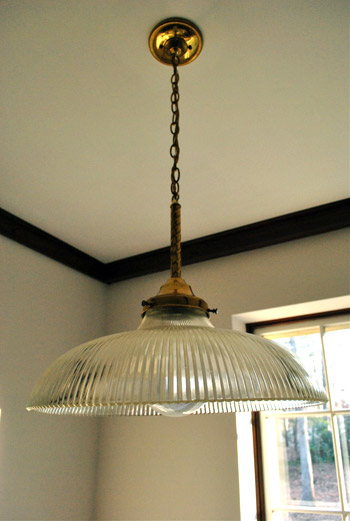 Granted, the lighting situation in the living room is extremely awkward (that's the only light fixture in the entire room and it's essentially in the corner). So we'll definitely be bringing in some additional light sources as the space evolves, but I figured it couldn't hurt to "tweak" the pendant we already have. Just for fun. Especially for cheap. So when John ducked out for a run while Clara was down for her morning nap, I slinked off to get my little jar of Cobalt Turquoise acrylic paint. And I squirted a little dab of it onto a plate and watered it down a bit thanks to a nearby cup of water.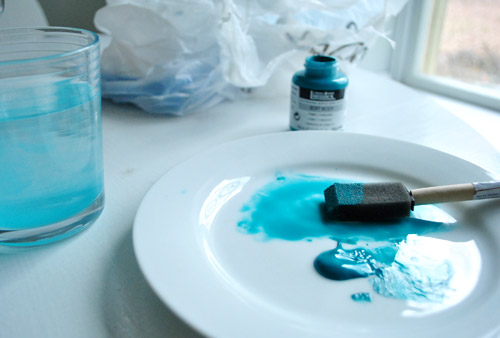 Then I just turned off the light switch, removed the big round light bulb (so I could get to the entire inside of the glass shade with my sponge brush) and brushed on some of the watered down turquoise acrylic paint all over the inside of the shade. I used vertical stripes of slightly watered down paint, going with the vertical veins in the light, which left me with a nice even application.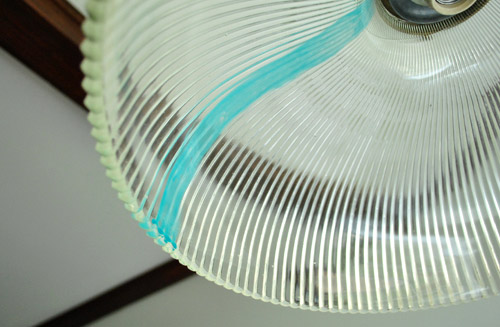 Surprisingly, it began to look like a turquoise glass shade with a nice soft effect – since I painted the inside of the shade instead of the outside, which would probably have looked a lot harsher and less convincing. See how diffused and subtle it started to look from the outside of the shade?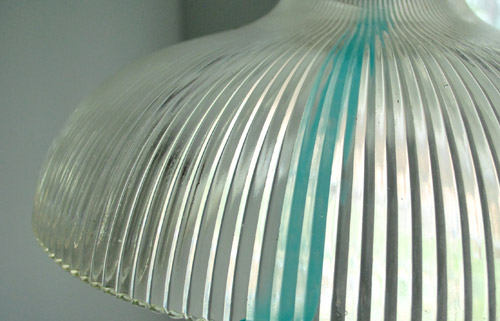 And once it was all painted (before John stumbled in all sweaty and surprised) I was left with this: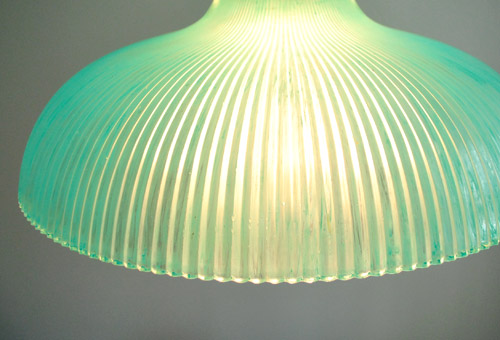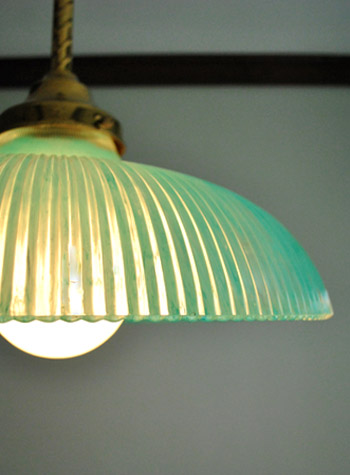 It's not perfect, but I think that's part of the charm. And it's 100% removable, which is nice too (scrubbing it down with a sponge is all it would take to undo it if the mood strikes). So it's renter friendly.
Admittedly this could have been a disaster. Well, not a permanent one since I knew it was easy enough to undo, but going into it I didn't really know if the paint would bead up and drip down the glass shade (it probably would have if I watered it down too much) or if it would look streaky, heavy, and completely unconvincing (it probably would have if I hadn't watered it down at all). Happily, it stayed right in place and dried nice and evenly, for a surprisingly believable colored glass effect. It's a little varied looking, but it's kind of a soft vintage effect. Honestly, when the light's on even an Expert Light Studier (that's a job right?) would have a hard time knowing that the color was painted on. It looks just like an old turquoise glass shade.
Oh and I gave it a few hours of drying time before putting the bulb back in and turning it on, just so the thin layer of slightly watered down paint had time to "cure." I had vague worries of the paint somehow heating up and melting/dripping all over the place when the light was on, but it was on for about ten hours straight yesterday (I decided to "test it" before I blogged about it for obvious reasons) and no dripping or streaking has occurred at all.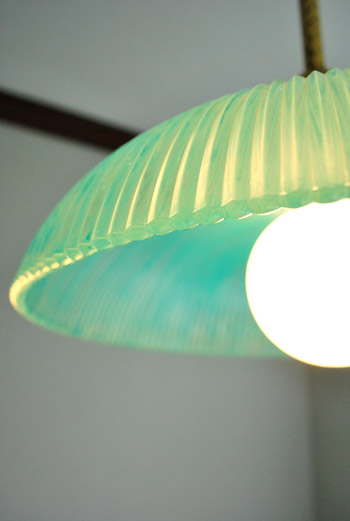 Looks like it's there for the long haul. And by long haul I mean until we replace that fixture and rectify the lighting scenario in that room as a whole. And guess what? Hubs likes it! Especially when the light's on and it's all soft and sweet, like a glowing turquoise beacon of love. Ok, that's going too far, but he really does like it.
I did briefly wonder if it posed any kind of heat hazard, but I figure since paper lampshades are a common item, and they don't actually catch fire, dried paint on a pendant that doesn't actually touch the bulb shouldn't be an issue. Oh and one tip to anyone crazy enough to follow suit would be to move any furniture that's under your pendant (or toss down a drop cloth or painting sheet) because I did notice tiny turquoise splatters all over the table (which thankfully was painted and poly'd, so they wiped right off).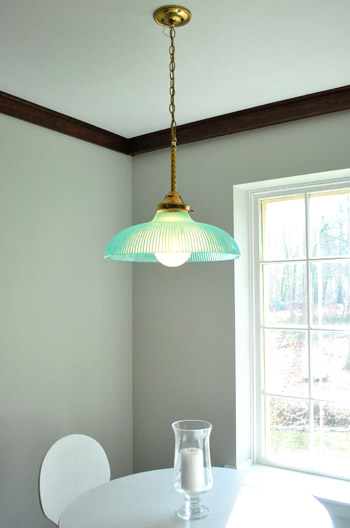 Now all I have to do is tackle that dated brass chain for a full light makeover (some oil-rubbed bronze spray paint might look nice once we add some oil-rubbed brozne curtain rods above the window and the sliders with some bright punchy curtains). Sure we might swap it out later, but I'm already enjoying the view a lot more in the meantime. Plus I just get a rise out of keeping John on his toes. Next time he goes for a run who knows what I'll do. Haha. Anyone else have any while-the-hubs-was-out adventures to share? Come on, I can't be the only one.