***This giveaway is no longer accepting entries – check back soon to see who won!***
Good news – everyone can get 10% off Mrs. Jones Soapbox products using code YHL10! Even better news (for two of you), random.org has chosen our winners as… Jenna (who can't wait to clean up and declutter her office) and Erica (who's excited to clean her garage of all the winter cobwebs, salt and dirt). Congrats!
Spring is (mostly) in the air, so we figured this week's freebie will excite anyone who is setting out to do some spring cleaning and doesn't want to disturb the fresh spring air with the scent of chemical cleaners. Since we're not ones to get on our soapbox, we'll let Mrs. Jones do it instead. Mrs. Jones Soapbox is a line of natural homemade cleaning products that work. And they come in recycled and reusable packaging. What's not to like about that? Plus, you get your choice of glass or plastic packaging – either of which is pretty enough to leave out on the counter (you know Sherry goes crazy for the "they look so posh" glass bottles, right?).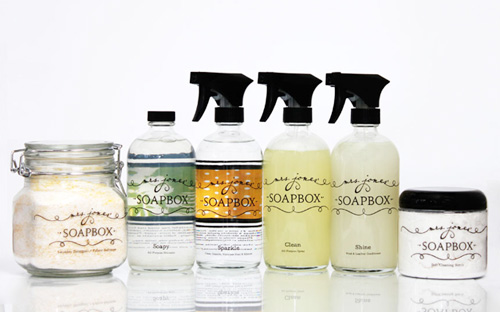 PRIZE: All Mrs. Jones' Soapbox products shown: 5 piece Combo Kit (including Clean, Shine, Soapy, Sparkle, and Scrub) plus an 80-wash jar of Laundry Detergent (a $60 value)
TO ENTER: Comment on this post with the words "SPRING CLEAN ME…" and…
BONUS QUESTION: … mention something that you're desperate to tidy up, organize, or scrub down. Is it your tub? Your windows? All that desk clutter?
GIVEAWAY CLOSES: Wednesday, March 30th at 8pm EST
NUMBER OF WINNERS: Two
PRIZE SHIPS: The United States and Canada
USUAL STUFF: One entry per e-mail address is permitted. The winners will be selected using random.org and announced on Thursday as an update to this post. That's right, come right back here on Thursday morning for the announcement of our winners. Good luck…
Note: We weren't paid or perk'd for hosting this giveaway, we just like rewarding our lovely readers! See our Giveaway FAQs page for more info. Pics from Mrs. Jones Soapbox.