Clara turned three on Tuesday (Threesday?) so we've spent the last few days marveling at this wonderful little lady before us and wondering where the heck the time went.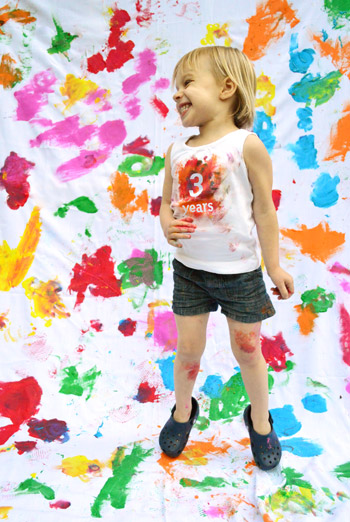 And just like we did for her two previous birthdays, we marked the end of another 12 months by customizing the fabric backdrop for her photo project. You might remember that this tradition started on her first birthday, when we used my handwriting to create a pattern that we printed on fabric using Spoonflower (here's how we did that).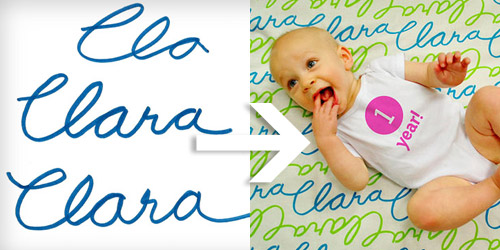 Spoonflower came to the rescue again last year, but we took advantage of Clara's artistic abilities and converted one of her scribbles into the fabric that time (here's how we did that).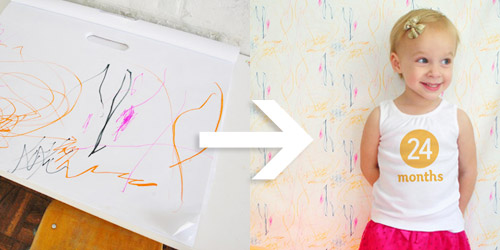 Last year's fabric turned out a bit fainter than we would've preferred, so this year we knew we wanted to (a) involve Clara again and (b) make sure it came out bold and colorful. So we decided to just unleash Clara on the fabric itself…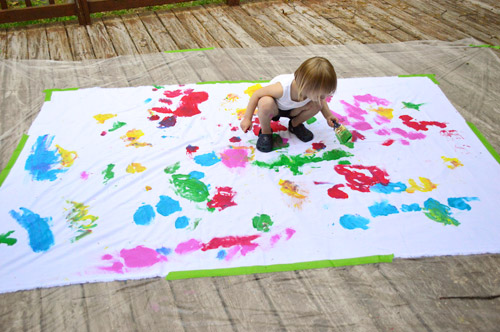 Since it promised to be a messy project (if all went as hoped!) we headed to the new house where there were lots of big, not-too-precious spaces (like the deck) and taped down a drop cloth. Then we taped the cotton fabric down right in the middle of it.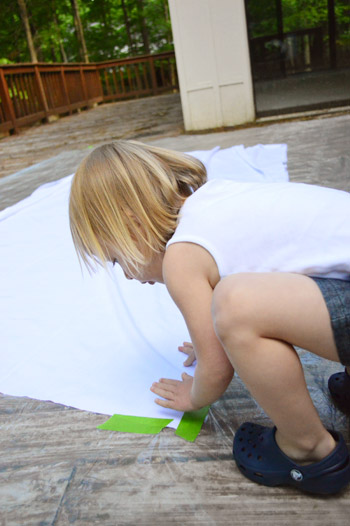 For the paints we went with these little pots of Crayola Kids' Paint (from Target) because it's what Clara's used to and it's washable and non-toxic. We contemplated using some sort of fabric paint so her masterpiece could be preserved, but ultimately these kid-friendly paints were better suited to the free reign we were able to give our budding 3-year-old.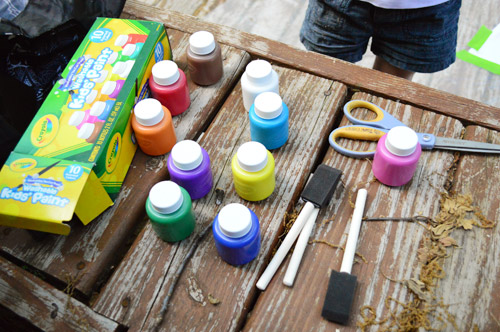 She chose pink first and basically just went to town pouring it right out of the bottle and smearing it with a foam brush.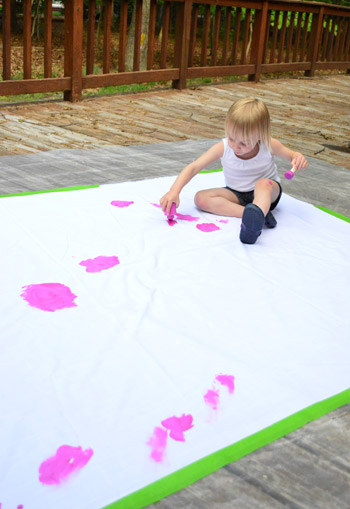 Here's a quick video of our painter in action.
She even added some hand prints and footprints. They're our favorite.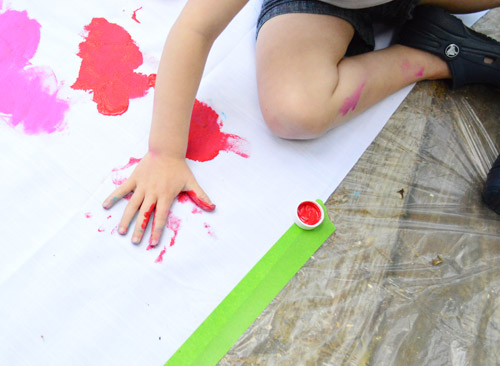 It took about 30 minutes or so for her to fill the whole two yards of fabric with paint splotches. Right as we were wrapping up we got the idea to let her paint her shirt, right where we typically would photoshop the circle with her age on it. We figured why not give into the theme, right?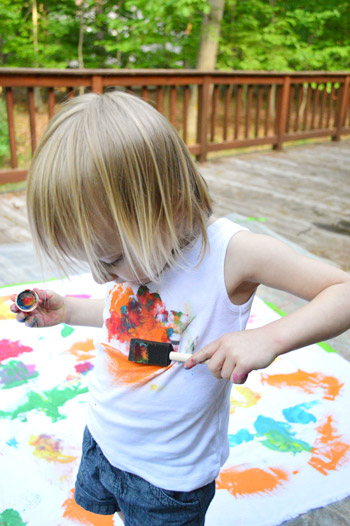 So with the paint still wet and Clara still a mess, we dragged the whole drop cloth over to the side of the house where we could tape it up to create a spot to shoot her photo.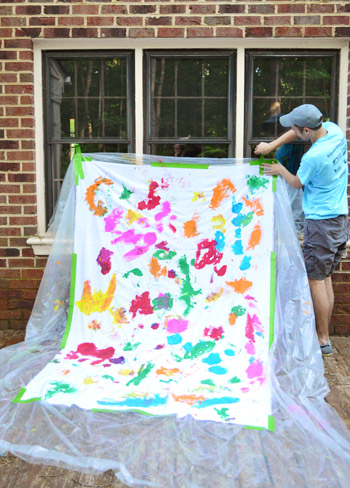 Despite being dangerously close to losing all light (and losing the patience of a girl who was so far doing a very good job listening) we managed to snag this shot at the start of a jump. Jumping is kind of her default motion these days, so it was perfect. You can read how we add the number to her shirt in photoshop here.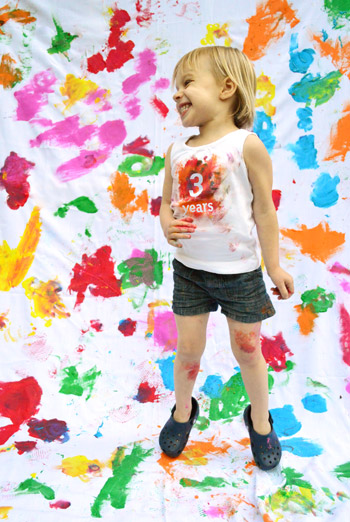 We also caught a bunch of pretty hilarious outtakes, which you can browse over on Young House Life today. Sherry calls this her Stomp The Yard pose.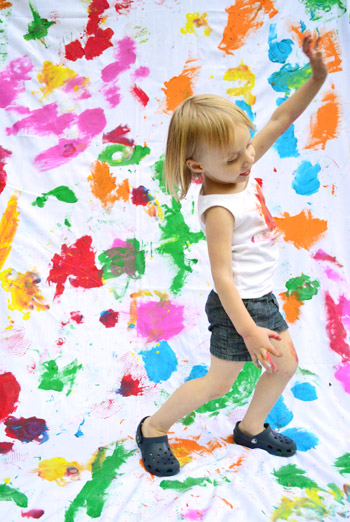 And with that folks, we're calling it a wrap on her monthly pictures. I know it would be fun to keep them going, but we think she has started to outgrow enjoying them (read: it's becoming more challenging to convince her it'll be more exciting than doing whatever else she's doing). So rather than force it, we'll use this as a natural stopping point – although we'd still love to break out a new fabric for each birthday – and maybe even for her half birthday – depending how she feels.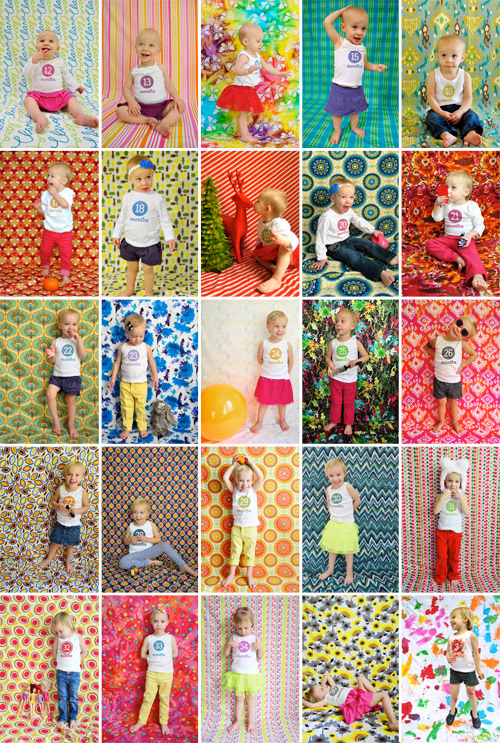 The 25 pictures above are the ones that we took between age 1 and age 3, and the 52 weekly photos that we snapped during her first year are below. You can see all 77 of them at full size over here.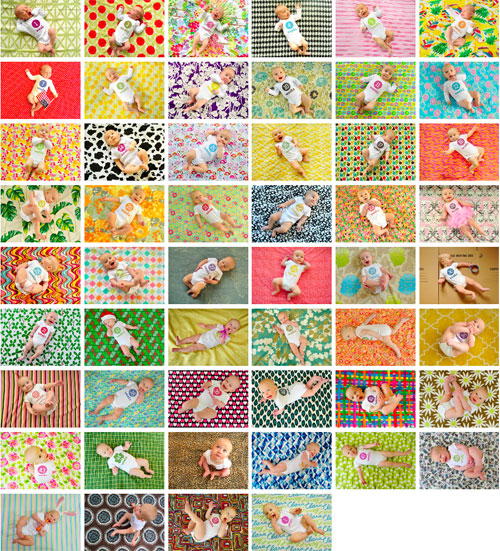 Oh and speaking of photo traditions – Clara's also lucky enough to have spent all of her birthdays (including her actual birth date) with three of her grandparents. Our favorite thing about studying those photos is noticing than each adult re-wears the same shirt at least once.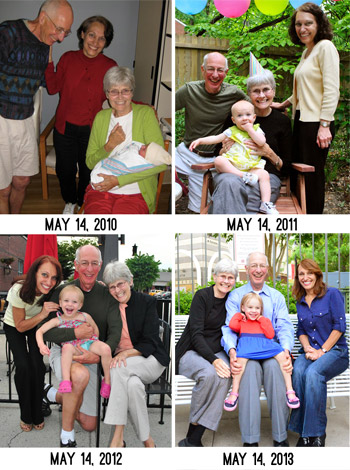 Is anyone else out there making their own fabric? Wrapping up a photo project? Letting your kid loose with little pots of paint? Happy weekend everyone!