How do you like that sensationalized title? Haha. It's like Star Magazine up in this joint. This is basically a post idea that John and I came up with when we realized that there were a surprising amount of nooks and crannies in the house that we've never shared. And some things that are a lot bigger than a nook or a cranny. Which is weird for two over-sharers like us. So consider that remedied now that we're over-spilling the beans in true Petersik fashion. Without further ado, here's the first we-can't-believe-we-haven't-shared-it-yet thing. Our pantry: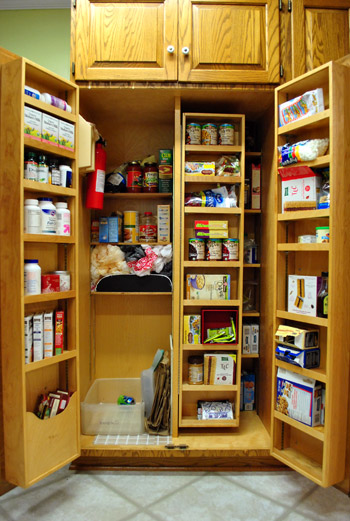 We've mentioned that we have a pantry-ish cabinet next to the wall oven in our kitchen…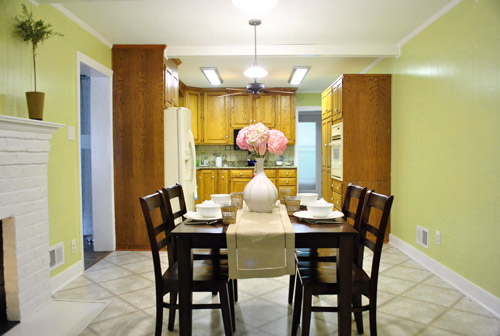 … but realized that we never opened wide and snapped a shot. All the cabinetry in the kitchen was replaced around 25 years ago, so the swing out doors and the little middle compartment that also swings out (so there's storage on the back and on the wall behind it) must have been quite the state of the art stuff back in the day. Heck, we're still kind of charmed by all of those little shelves to stash stuff – although we do occasionally forget where we put something which leads to a ten minute cabinet swinging search party.
Ok moving on, betcha didn't know we had an in-ground irrigation system. Fancy, right? Since I'm not fancy I just use the term sprinklers. It's not for our whole almost-acre lot, just for the front yard and a small portion of the backyard that's grass. Of course we're "frugal" with our water usage, so we only turn it on after a while without rain (when we're not on water restriction of course), but they're actually pretty handy (it definitely beats wrestling the hose). And Burger jumps off the couch/out of the bed and runs to the window if they turn on. Which is always hilarious. The guy loves watching them do their thing.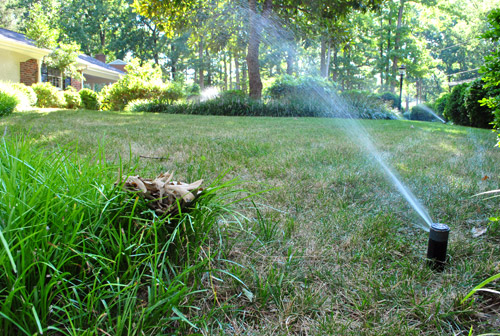 Up next is just an update that we've been meaning to share. Remember I mentioned that I got a rendering of our first house for John this Father's Day? Well, I finally got around to framing it. First here's a shot of the pretty little pen & ink + Prisma marker portrait: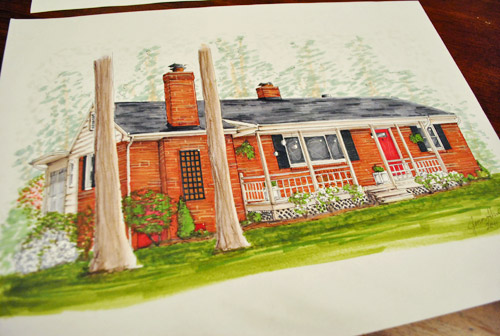 The artist (Jennifer Ahnquist from Kentucky) also included this first-draft sketch in the envelope as well, which was really fun to see: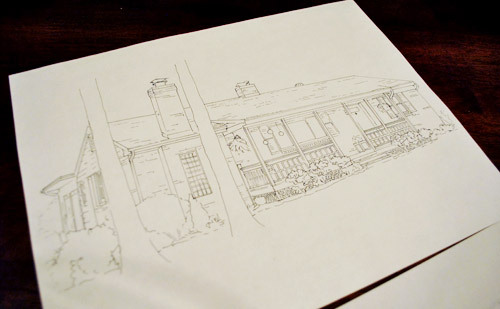 So here's the portrait hanging up in our always-changing hallway frame gallery. We hung it nice and low (using the same affixed-to-the-wall-so-it's-baby-safe method that we outlined here) since Clara loves saying "ohh hou" which is "bean-talk" for old house. So cute.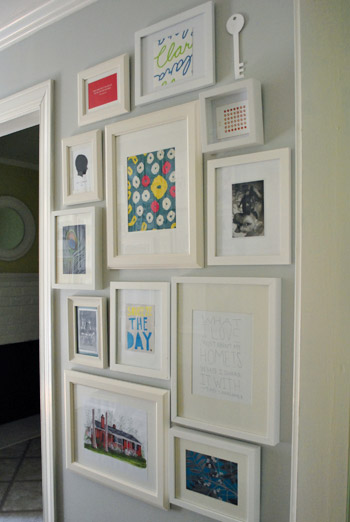 Oh and see the frame above it? That's this page from a hand-me-down Boden catalog that my BFF left at my house. I loved the playful riff on "seize the day" so I just cut it out (following the imperfect background rectangle) and popped it into that frame. Can't wait until Clara starts learning to read, since it's down towards her level.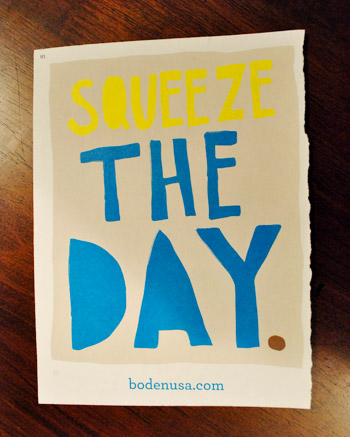 This never before seen tidbit might scare you in an is-that-the-vine-from-little-shop-of-horrors-and-will-it-try-to-eat-my-face kind of way. Yup, that's right, the green leafy mass on the tree trunk next to our upper patio is a vine. It's actually "hugging" a tall healthy oak tree (we had someone check things out, just to make sure), and apparently the vine down towards the base shouldn't be invasive enough to do too much damage, but if it continues to grow and starts looking too heavy or the tree starts not-thriving we'll be on it like white on rice.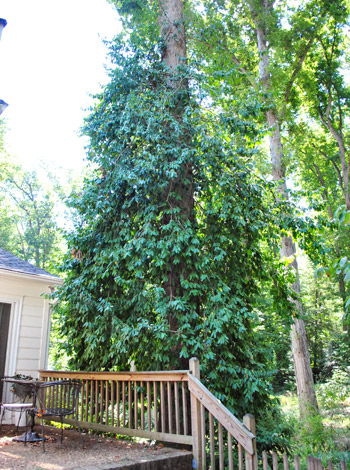 And now for the that's-a-shame thing that we've never really pointed out specifically. We love the extra wide reclaimed pine floors in our bedroom, but they desperately need some love. Check out the faded square in front of our dresser (our best guess is that some piece of furniture sat there for so long that the floor somehow faded around it).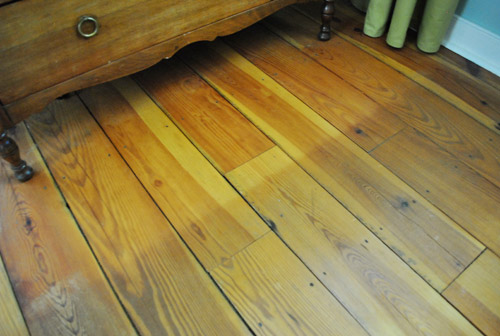 It has also completely lost its seal, so the previous owners must have placed something brown here on the floor that was sucked right into the wood and stained it (floors with poly or some other sealer usually prevent this from happening). So refinishing it (along with a lot of other damaged areas of hardwood in our house) is definitely on the someday agenda.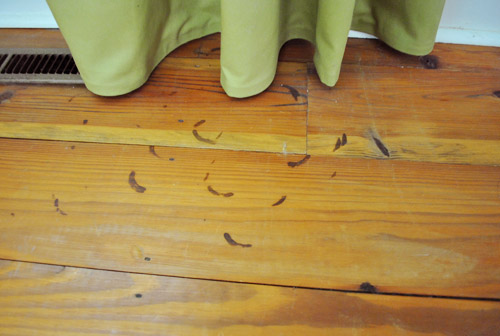 We also ironically learned in the very last post about our first house how often we re-share the same angles of a room over and over again – but somehow miss taking shots from other vantage points. For example, we never shared a shot like this of the den (looking into the kitchen/laundry nook) until moving day when everything was packed up in the truck. So it makes us want to include mundane photos like this one of the hallway that connects Clara's room, the playroom, the guest room, and the hall bathroom to the heart of the house (the hallway frame gallery/kitchen/dining room/living room, etc).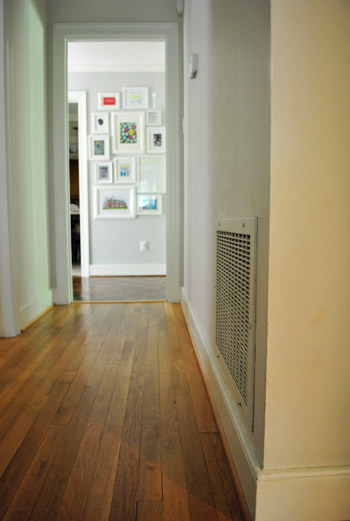 See that giant intake vent near the floor? I'm dying to add some sort of wainscoting to the hall, but I'm not sure how I can do it with this beast going on. Maybe just work it in around it and paint it glossy white and hope that it looks semi-seamless?
Ok, and here's the thing that will probably surprise everyone the most. This is the south-west corner of our house: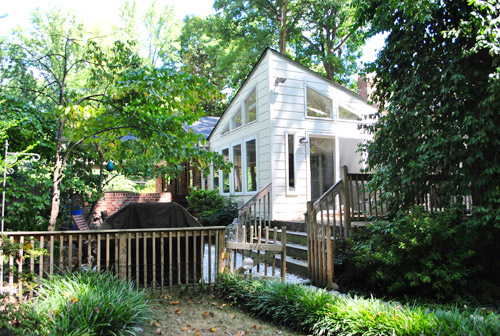 Yup, it's pointy. The entire sunroom actually slants up. Which definitely threw us off during our walk-through since the rest of the house is so mid-century and ranch-ish. This room was added in the 90's, so that might explain the different look. But it's actually a really airy and light-filled room from the inside – thanks to that lofted ceiling: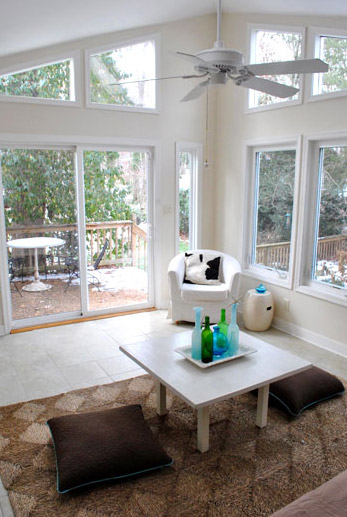 So it has lots of potential and we're happy to have it – strange slanting-up roof and all. We actually have a few ideas for trying to integrate it down the road when it comes to the exterior, but who knows where we'll end up. One thing is for sure: we'll keep you posted. Probably in that typical over-sharing fashion that we know so well.
Is anyone on the floor? Come on, somebody tell me that something shocked them. Probably not. I wish we had crazier house secrets (although I do have a recurring dream about discovering a hidden room). Wouldn't that rock?
Psst- Speaking of dreams, I actually had one about Beyonce last night. But the real one (as opposed to the chicken one that we mentioned yesterday). We bought a tiny horseshoe shaped necklace together (it was $100 so I put in $40 and said "you're the rich one, so do you mind doing $60?). Ugh, I'm even embarrassingly cheap in my dreams. But Beyonce was cool with it. The oddest thing is the concept (how on earth were Beyonce and I going to share a necklace? Are we together so much that swapping it back and forth is easy?). So strange.