I'm back as promised with:
an egg chair update (since I just tossed pillows on it but promised to share the rest of the details once we figured out a real seat and all that jazz)
three new egg chairs that we recently brought home
I guess we should skip right ahead to those huh? Don't worry, our living room doesn't look like an egg chair family reunion. They're of the dollhouse variety (you can read more on Clara's DIY dollhouse here):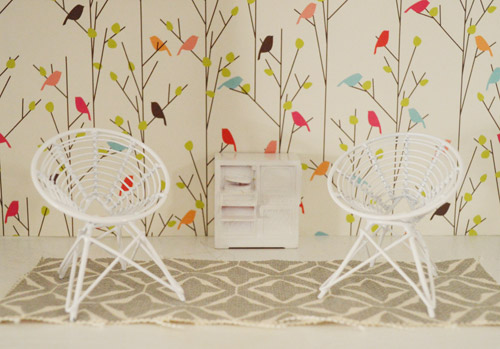 When a super sweet reader (thanks Nicole!) told me CB2 had them on clearance for 50 cents each (wahooo!) I couldn't resist. They're actually Christmas ornaments (hence the super sale price so far into the year) and all I needed to do was clip off the string that was meant to hang them from the tree and they became serviceable chairs for a certain small pig family. So that's how three of them somehow ended up in my cart and I just clicked "buy" – and the rest, as they say, is history.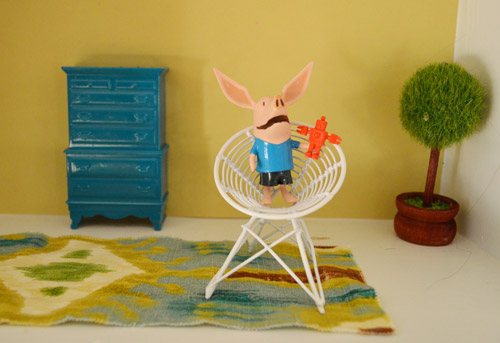 The fun part is that Clara loves putting Olivia and the rest of her family in them since they're a bit more "hold-y" than her other chairs (they don't slip out as much as they do in the smoother and smaller brass chairs that she has in a few other rooms). So that's the dollhouse upgrade that's going on.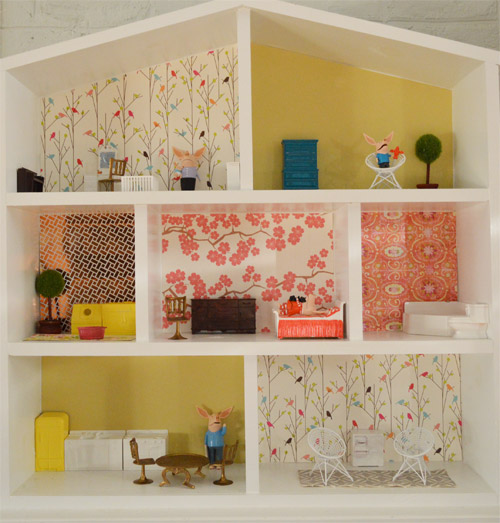 But back to the real-person-sized egg chair in the corner of the living room. Remember when we got it from a local thrift store and he looked like this?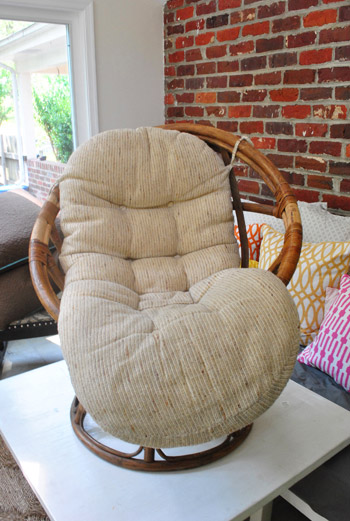 And then we painted him and tossed a few already-had-them-around pillows on during the "just for now" phase?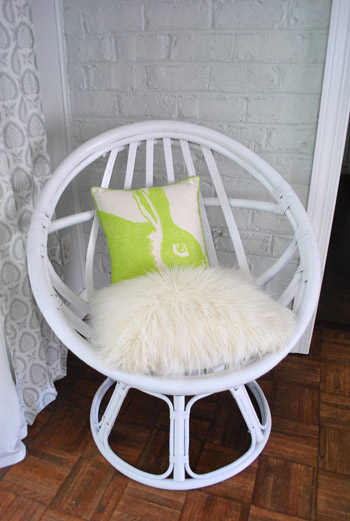 Well, we're finally in the "taa-daa, it's finished" phase thanks to a pretty simple and cheap-o update. Yup, we landed on a permanent seat cushion for the guy. And oh happy day, it doesn't look like a feminine hygiene product anymore.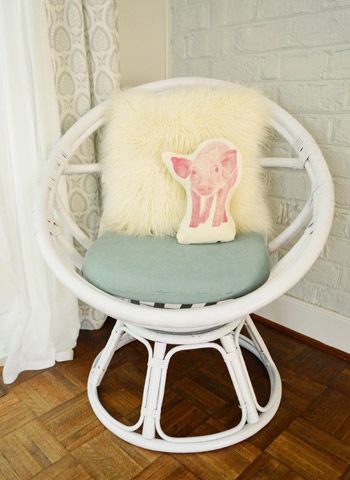 Although I thought I might end up buying foam and fabric to make a custom seat, we ended up finding a seat cushion on sale for $14 at Pier 1 in a soft blue tone that's pretty much a neutral in our house (it's in nearly every room in some form – like art, pillows, curtains, etc). We weren't sure if it would fit the chair though (it has a pretty unique rounded shape) so we just bought it and hoped for the best. Turns out it totally didn't fit at all: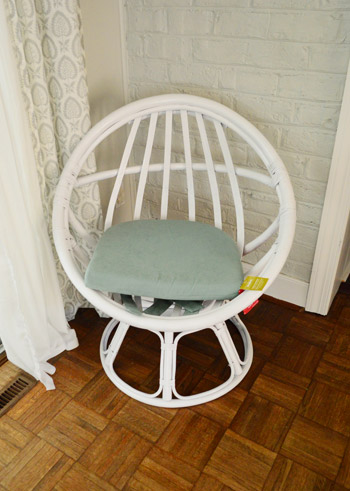 Womp-womp.
But then I wondered what would happen if I turned it around so the rounded part that should be the back of the cushion was facing out towards the front. Lo and behold, it sat a lot better and actually looked like it made sense!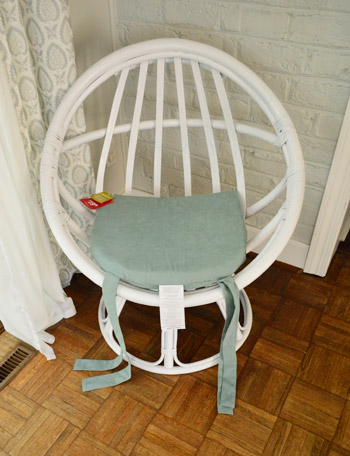 So I cut off the ties and the tag which were screaming "this is the back of the cushion" and didn't look back. Oh yes, I'm such a rebel. It actually kind of looked like a custom cushion made just for the chair since it's such an unusual shape and it laid so well on top of the chair. Then it was just back-pillow time and I tossed a few different options on there. Like this blue and white back pillow from HomeGoods a while back: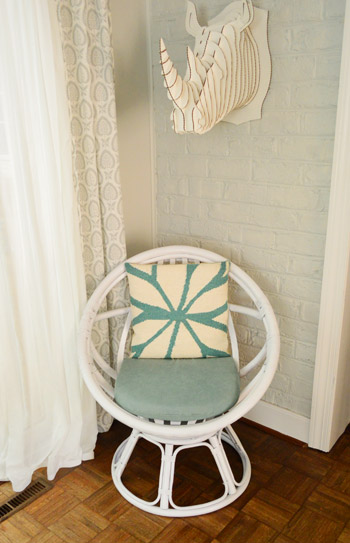 And this faux fur pillow from Target last year: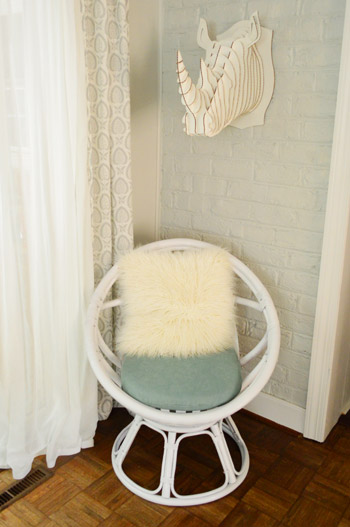 And this bunny pillow from HomeGoods a few months back: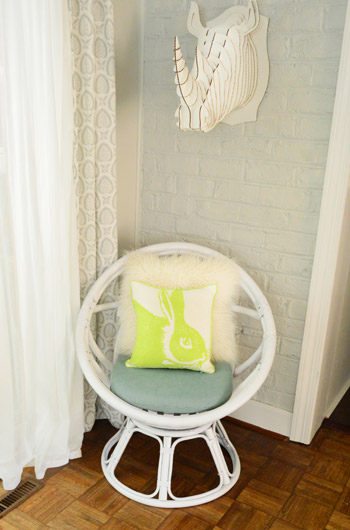 I finally landed on this rhino-meets-pig combo (the pig pillow is from a local store called Buford Rd Pharmacy a while back):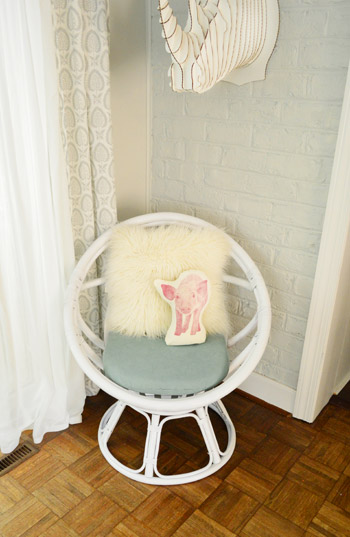 So that's the story of our egg chair's quickie new cushion solution with a bonus dollhouse egg chair update tossed in there for good measure. Ten points for anyone eating an egg sandwich while reading this post.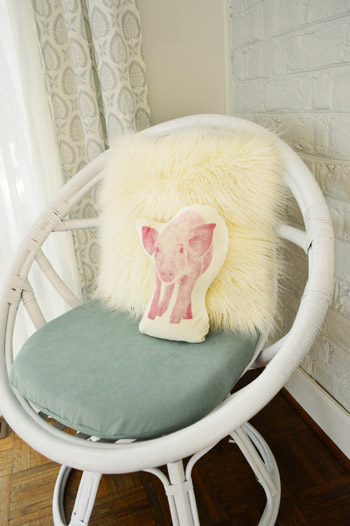 Is anyone else out there buying chair cushions or turning things around to see if they work better backwards than forwards? Any other dollhouse decorating going on?