Things I'm great at: making up words to songs when I don't know them, eating Oreos, dancing like Elaine from Seinfeld.
Things I'm bad at: loading the dishwasher, remembering to get haircuts more than once every few years, and apparently doing monthly budget bloom posts.
I used to do them once a month for over a year, but then I fell off, struggled to get back on it six months ago with one measly post in February, and just never got it together in any sort of regular pattern. So here's a random Budget Blooms post after over half a year of absence in that department. Won't you forgive me? In return I played around with these sweet tulips that John brought home from the grocery store for $5 in not one, not two, but three different "vases." That's in quotes because only the first containment device is actually a vase…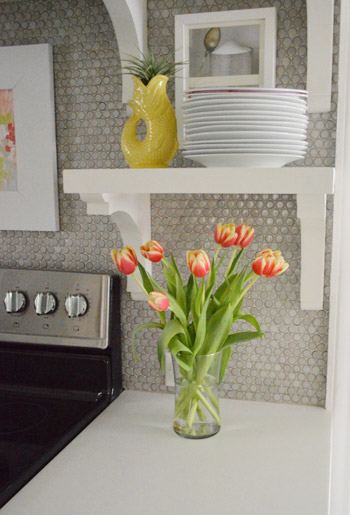 It's one of those free ones I got when a good friend of mine sent me birthday flowers a while back.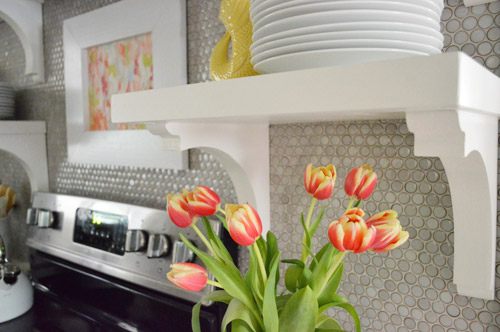 It was really simple and pretty, but then I broke out my metal thrift store pineapple urn, just because I thought the shape was sort of penny-tile-ish with that going on in the background.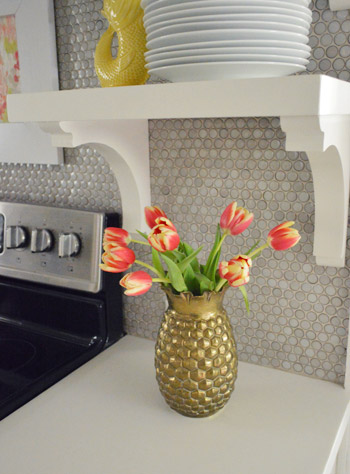 Crazy diagonal shot: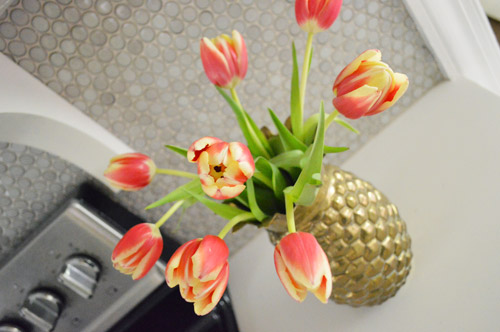 Wannabe-artsy cropped shot: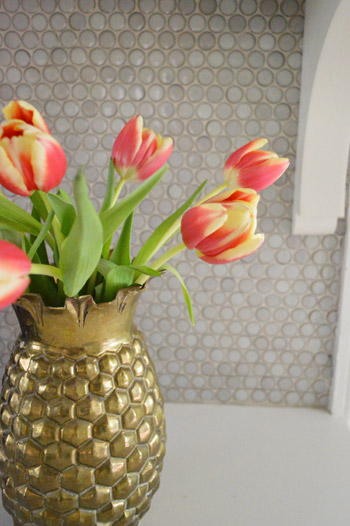 And here's my third "vase" – which is actually a tin lantern from HomeGoods a while back that usually lives on the dining room built-ins. It even came with a clear glass cup in the middle of it (maybe for a candle?) so it was perfect for tulips and water too.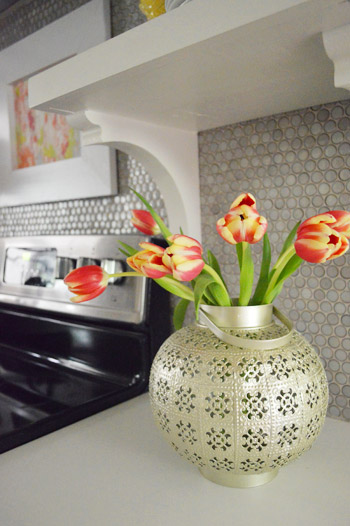 Which one's your favorite? And while I'm asking questions, is anyone else being better about treating themselves to inexpensive monthly budget blooms or doing some other monthly blogging feature? Have you ever done something for over a year and then just inexplicably gotten terrible at it? What's my deal?
Psst- You can peruse a whole mess of Budget Bloom posts from the good ol' days here.
Pssst- You might wanna check out the update that we added to the bottom of our homemade basket light. It's such a small world!