Let's talk about planning planting beds, digging them out to crisp up the edges, spreading a truckload of mulch, and other fun curb appeal delights. Yes, with Clara's birthday party coming up this weekend (more on that another day) we've been trying to give our landscaping a little attention. Mother Nature has done her job by cranking the greenery to eleven, so we've done some work to further improve the view from our front porch. And from this post title, you can probably guess what I'm talking about.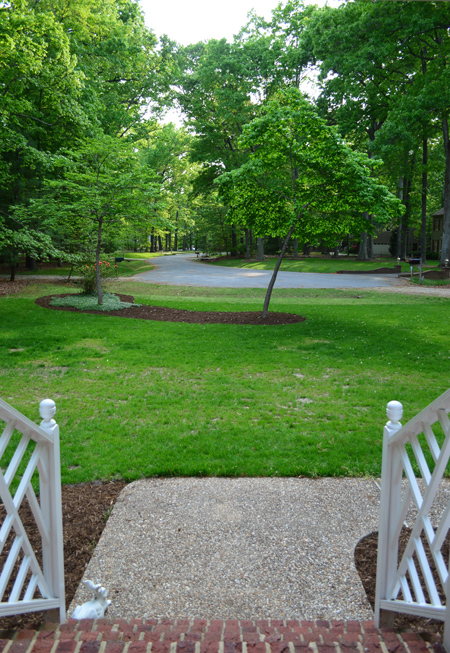 Let's hot tub time machine our way back to last summer (after all, there is no classier way to time travel) when most of our plant beds were looking like this. A nice gradient from weeds to dirt.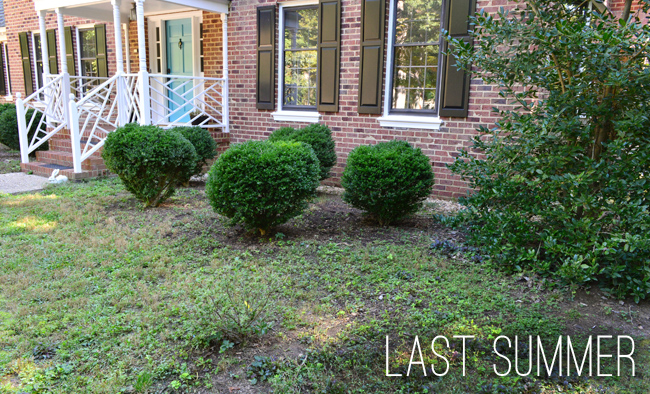 Our grass came in fairly well (not perfectly though, so we overseeded this spring and will probably aerate/seed again in the fall) but we didn't get around to mulching. So by this spring, we had slightly better defined planting beds thanks to thicker grass surrounding them, but they were still looking pretty rough themselves.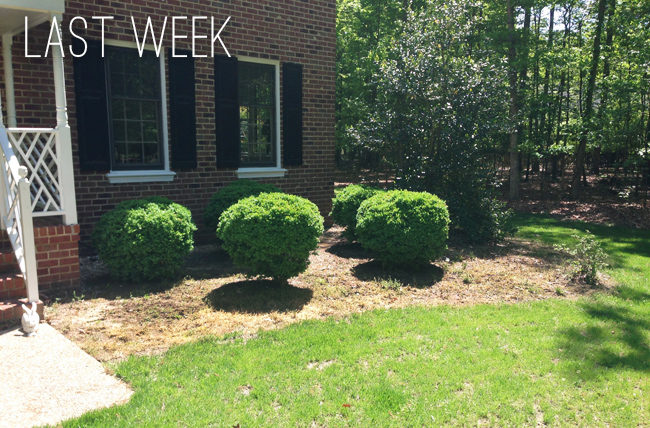 We looked into free mulch since some of you said that was available in your area, but came up empty. So after getting recommendations from a few neighbors and doing some math, we decided to get mulch delivered this year rather than haul a bunch of bags home from Home Depot. We learned that a 10 cubic yard delivery of basic hardwood mulch would run us $280 through this local company that a few of our neighbors used each year. We did the math and realized that even the cheapest stuff at Home Depot would've been $300+ for the same amount… and it would have meant hauling 135 bags home ourselves, so that made the delivery route a pretty easy call.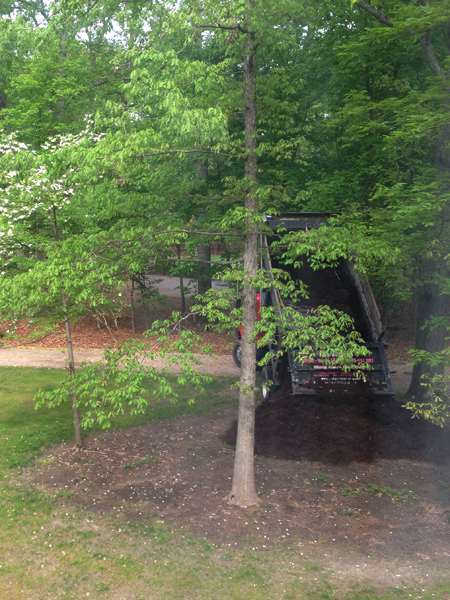 Not that there wasn't lots of hauling involved. Instead of bags, I was shoveling wheelbarrow after wheelbarrow full, but at least I had a helper for a little while. Next time I'll have to convince her to upsize her tiny trowel.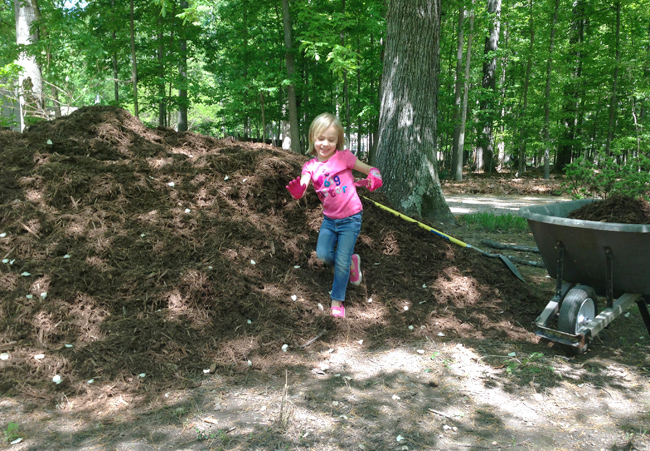 It took 2.5 afternoons, but by the end our landscaping was looking a lot better. We still have a ways to go (like actually planting more and taking care of some bare-ish grass patches) but at least we're getting closer to that ever elusive "curb appeal." Although we're still not 100% set on the shape of these beds (we're debating extending the one in the foreground along the outside of the path so we can plant things on both sides of the walkway eventually.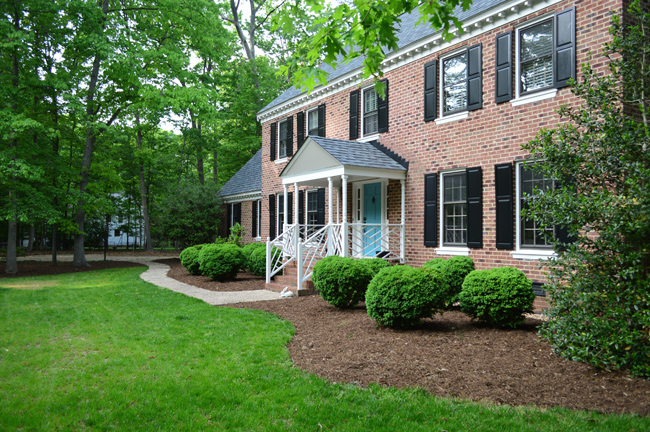 In addition to hauling and spreading, I also took a crack at defining the beds. Many of our neighbors have beautiful landscaping with crisp grass-to-mulch lines that we've long admired, so I thought I'd attempt the same look. I started by outlining the shape with a hose – intentionally going into the grass so it would be thick at the border.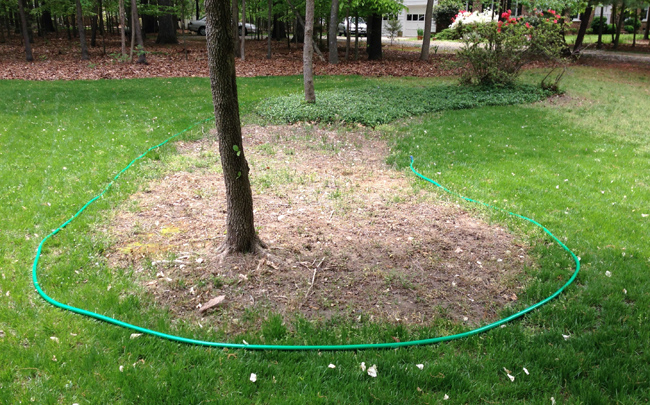 Then I used this small edging spade to cut along the line, just digging out a small chunk as I went.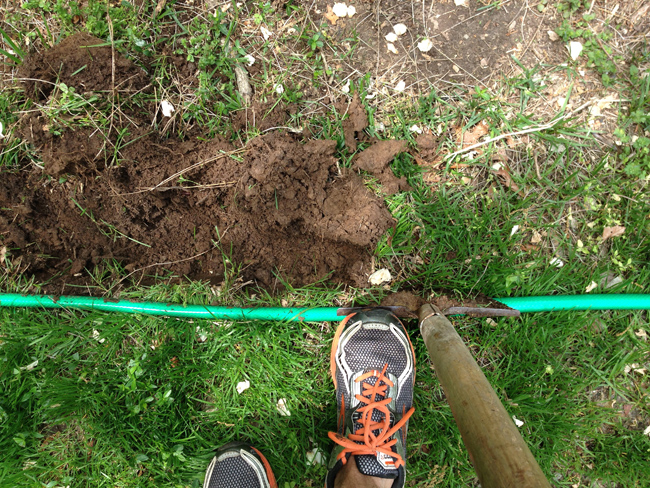 Next I went back along and dug up any grass in the area that I wanted to mulch. This not only helped to keep grass from eventually sprouting up in the mulch beds, but also recessed the whole bed below grass-level, so the mulch will hopefully stay more contained.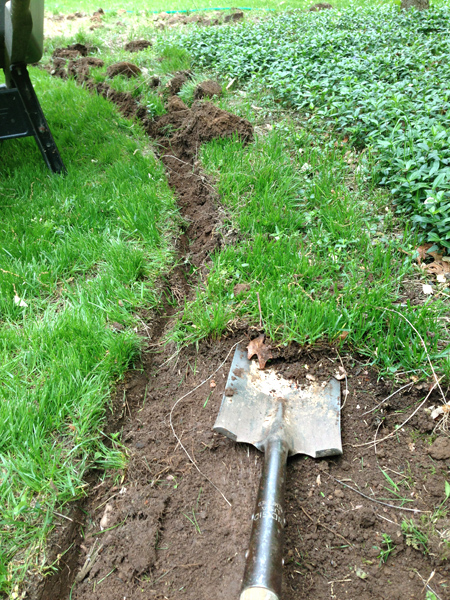 Here's the bed all dug up and ready for mulch. I'm not entirely satisfied with my final shape, but I think once we add back some bushes or flowers it might make more sense. For now we're just kinda working with what's already there.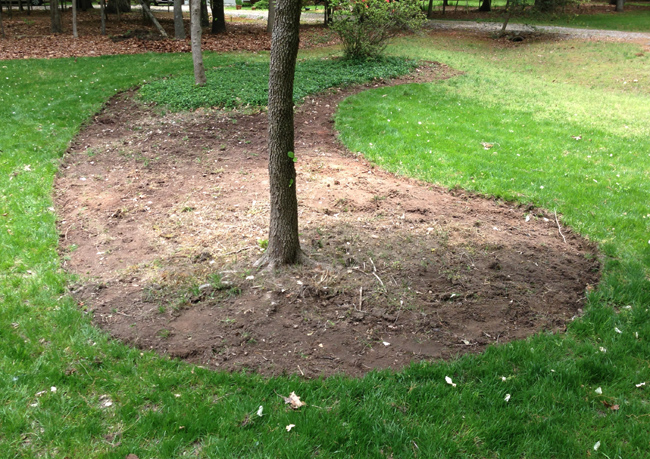 And here it is all mulched up and ready to party. Well, except for that sad looking azalea on the end there. He must be very popular with the deer.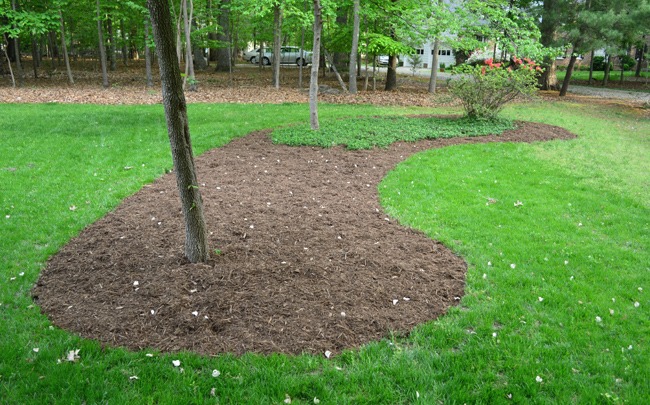 I won't give you a bed-by-bed tour of the yard, but here's another quick before and after progress look at how much things have evolved in the last nine months or so.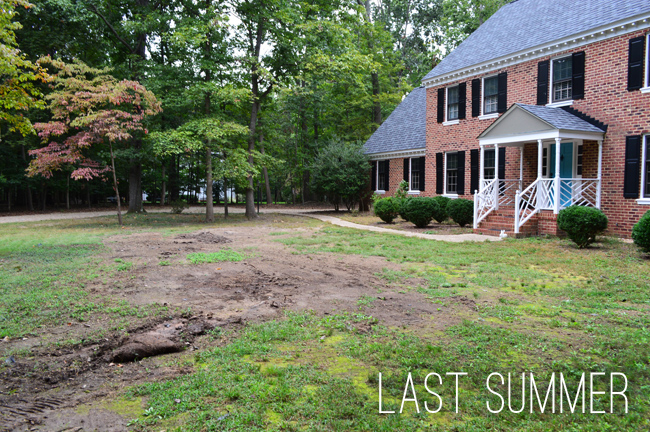 This picture makes me so grateful that winter is over.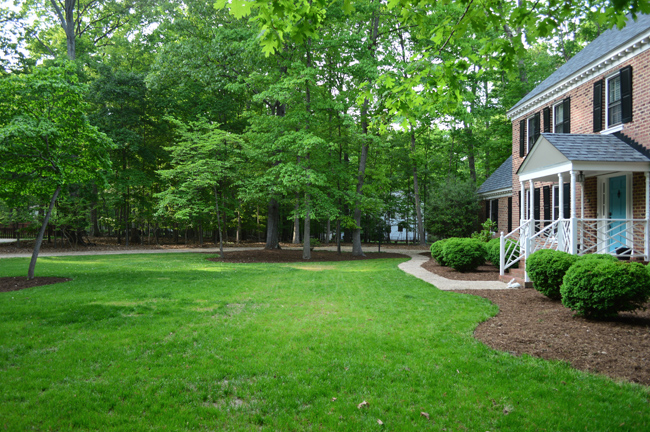 Ten cubic yards ended up being more than we needed (we did some rough measurements and used an online mulch calculator to get that figure) so I think next time we'll just need 7 or 8 and we should be good to go.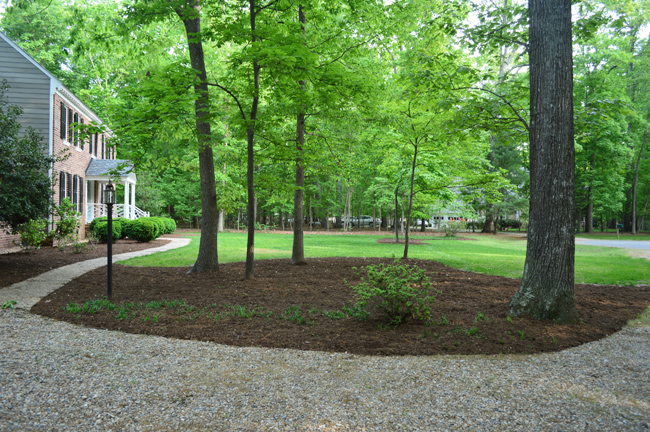 I used up the extra by mulching some areas in the backyard, and then spread the rest over the big bed in next to the driveway (in the photo above) to make it extra thick.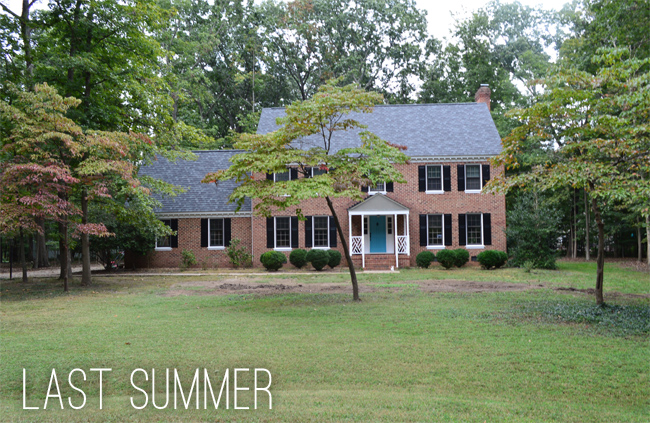 With this task done, we feel like we're finally close to "Landscape Zero" where the property doesn't look too neglected (tell that to the weeds in the driveway) but we haven't really moved forward to getting those empty beds planted yet.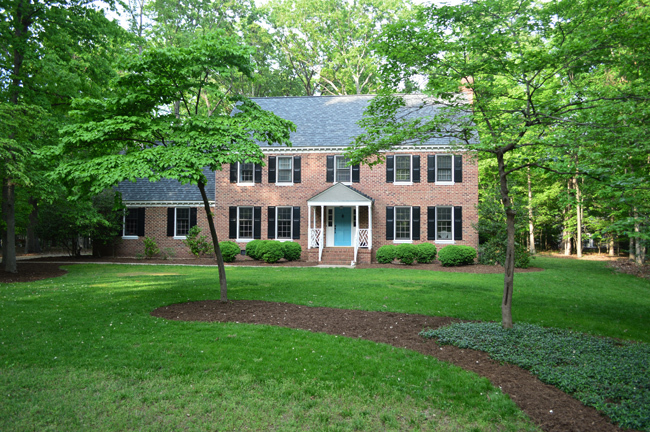 We're actually thinking of hiring the landscaper who did our showhouse for a consultation since we really liked working with him. We'd do all the planting grunt work, but we think that talking to a pro about what should work with the deer and the light that we get would be worth the trouble. We really liked getting a professional opinion on our last house, which seemed to get the ball rolling over there, so we're hoping it has the same effect here.
Is anyone else getting their hands dirty lately?
PS – Sherry made a Teddy's Photo Project page (and a new sidebar button to lead you there) this weekend, complete with his three week photo and a few outtakes. We'll be updating it with each week's photo as we go, just like we did with Clara's.