A bunch of you asked if we'd be continuing this series from Young House Life over here after this post, and the answer is yes. So… happy Saturday! And happy Mother's Day to all the ladies out there who are celebrating it (says the bleary eyed sleep-deprived mom who wouldn't have it any other way).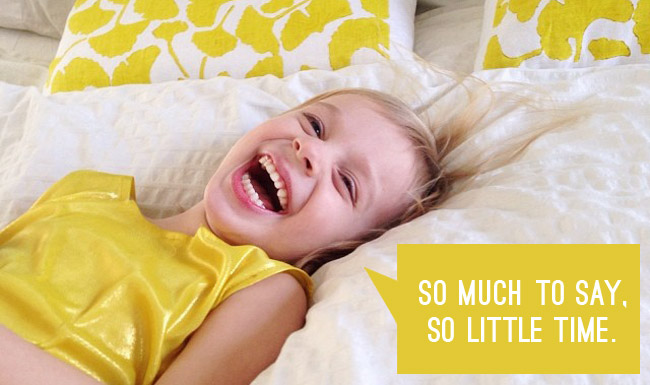 Convo #1
Clara (stalling before bedtime): Wait! Before bed let's talk about my room!
Mom: What about your room?
Clara: My fairy lights.
Mom: What about them?
Clara: They make… my eyes… feel… so… round.
Convo #2
Clara (randomly in the middle of breakfast after looking down at her outfit): I have the most beautiful dress in Virginia.
Convo #3
Clara (looking through an old People magazine & pointing to a gold Oscar statue from the Academy Awards): What's that?
Mom: That's called an Oscar statue.
Clara: The Oscar statue looks like a big fruit snack.
Convo #4
Clara (after throwing a ball in the air and catching it before it hit the ground): I'm a hero! Or maybe I'm not.
Convo #5:
Clara (after we got home from the hospital with Teddy): Today I'm going to name him Teddy, and then next time I'm going to name him Butch, and then next time I'm going to name him Barnacle, and then next time he'll be Teddy again!