In the mood to give your bathroom a shot of luxury and some dramatic height? Here's another simple and speedy mini-makeover that anyone can do. Just upgrade from the average 72″ shower curtain to a super tall version (we snagged a 95″ curtain from here, and it works perfectly with our 98″ ceilings).
While we were at it, we also picked up an 84″ fabric shower curtain liner (the liner didn't need to be as long as the actual curtain since it just needed to hit the top of the tub and not go all the way to the floor like the curtain). And we didn't even have to order the liner online since good ol' Bed Bath & Beyond carried 'em. Now, you might be asking yourself why we went for a fabric liner over one of those clear plastic ones. Well, our inspirational new friend Lesley (who let us crash her house a few weeks ago) mentioned that she picked one up because they last forever and can be thrown in the wash if they get any sort of mildew-esque issues instead of tossed into the garbage after a year or so. We're always down with snagging things for the long haul, and it was about time that we switched out our old plastic liner anyway, so the fabric liner really does seem just as practical as it does luxurious and hotel-chic.
And since we know you guys love a good before and after, here's the old 72″ shower curtain: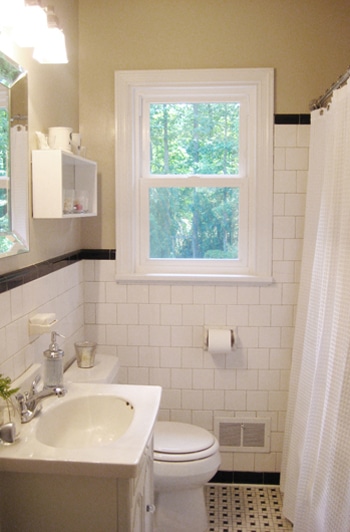 And the high-society 95″ version: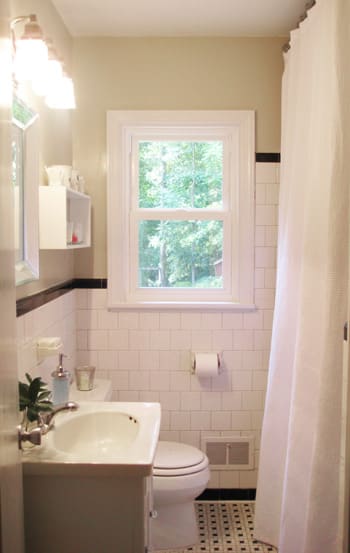 The room looks taller, and somehow seems to have better architecture, like those old homes with extra tall ceilings. And since tiling a tub from floor to ceiling is a new trend (and our tile stops a few feet from the ceiling) it somehow makes up for the vertically challenged tile and feels super luxe and special.
Note: To further spiff up your shower, you can add some shiny new brushed nickel rings along with a gleaming new rod to totally update an old plastic shower rod (we made that change a few months ago, and they were just crying out for an ooh-la-la curtain to match). Check.
So go ahead, swankify up your shower and send us the pics (no shots of you sudsing up in your new shower necessary).