We have no idea what our future living room will actually look like, but today this is what I'm loving: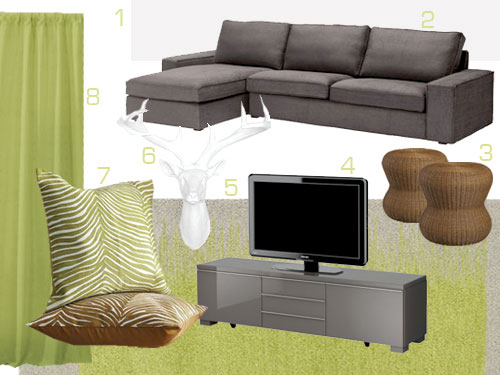 Soft gray walls (like Benjamin Moore's Light Pewter) with crisp glossy white trim
A huge comfy sectional (with washable covers- score) in a gray-brown hue. The fact that this baby is $848 has me permasmiling.
Some sort of woven round ottomans (like these) that can be moved around for casual texture that can double as extra seating in a pinch.
This sleek TV stand in high gloss gray from Ikea (we figure a room that's big enough for a large sectional will probably dwarf our current TV stand, so we might need to go a bit bigger).
A lovely wool rug like this one with a gray and lime green modern design- although the price for an 8 x 10 (which we'd need with a large sectional) has us sweating a little. Maybe it'll go on sale?
This cool white deer head hanging above a fireplace or even above a nice wide doorway (it would look so great with our exotic animal-inspired lime and caramel colored zebra pillows).
These aforementioned pillows.
Some bold green curtains like these (which we could DIY with fabric and hem tape, just like the ones we made for Clara's nursery).
So there you have it. All the items that are floating around in my head for our future living room- at least at this moment. I'm so friggin' impatient. I'm like that kid in the back seat asking "are we there yet?" every two seconds.