Our master bathroom came with a mirror dilemma. Instead of having the traditional mirror-over-the-sink set up, there's a window (seen here on this moving day pic that we snapped before we removed those bi-fold doors).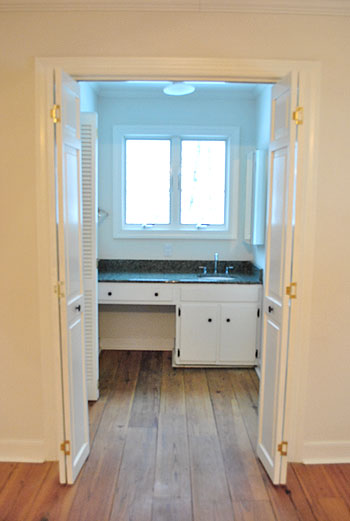 But although that picture makes the window look all glow-y and angelic, staring out at the house next door (it's a side window) isn't exactly ideal for brushing your teeth, shaving, fixing your hair, or walking by after a shower in the buff. Nor is that the first impression that we really want to make on the neighbors. So we knew we needed a privacy solution stat.
We also needed a functional mirror solution too. The room is (ironically) far from mirror-less. There's a full-length one on the water closet door (yep, just broke out "water closet")…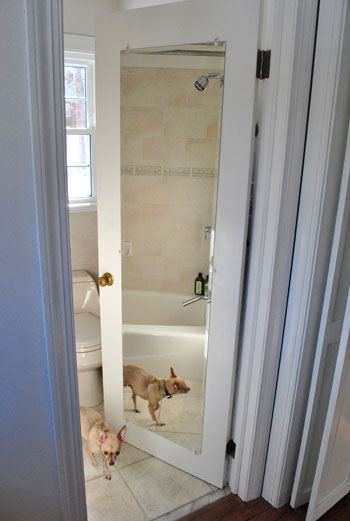 …and another on the nearby medicine cabinet (that's two mirrors in one 4′ span of wall if you're keeping track).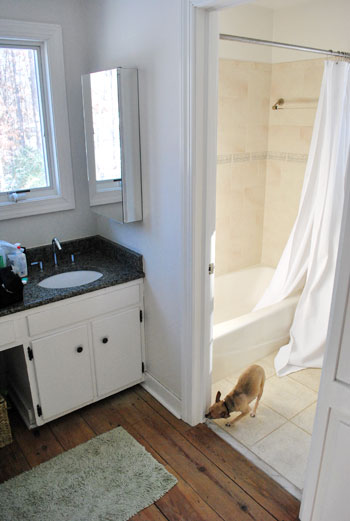 And yes, those are both shots stolen from old posts (so you don't have to worry that Burger spends all of his free time posing for pics in our bathroom) since you know we have since removed the ol' backsplash to yield this result: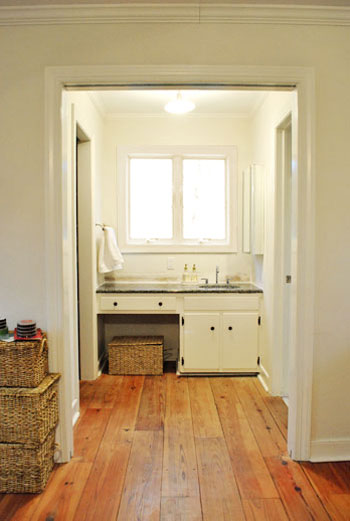 Anyway, back to the mirror dilemma. After living with the mirrors-to-the-right layout for a couple of weeks (while singing "To The Right" instead of "To The Left" a la Beyoncé), the traditionalist in us was just itching for one in front of our faces. Right smack in the middle of the window. Although we had an embarrassment of riches when it came to the number of mirrors surrounding us in the master, we just didn't have one where it was most sorely needed. So we opted for a not-so-traditional solution. This: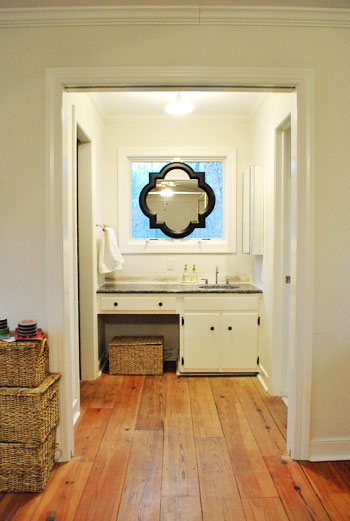 Call us crazy, but we hung a mirror right on the window frame itself. Sure we'll miss some of the light that it let in, but thankfully we have two other huge windows in the bedroom and a third in the bathroom- so the room's not hurting for light). And we definitely won't miss the actual view of the house next door (and the fear that we were making quite an odd first impression by sharing so many tooth-brushing moments). And the function. Can we just talk about the function? I am a man. So that stuff is king. And I can't even tell you how much easier it is to shave without having to keep my head at a right angle to see what I'm doing.
The mirror itself is from the Allen + Roth line at Lowe's. After searching unsuccessfully for a perfectly sized round one at HomeGoods, TJ Maxx, Marshalls, Pier 1, and World Market we were more than happy to spill 65 beans on one with such a distinct shape and clean look (a whopping $614 cheaper than this similar version from Restoration Hardware). And all it took to hang it was one screw in the center piece of wood between the windows and a small square of velcro on the bottom (to hold it firmly in place from the bottom so it wouldn't teeter from side to side). Bonus: the windows can still be opened and closed while it's hanging thanks to the knob placement at the bottom of the panes (instead of the center, which would have been blocked by the mirror).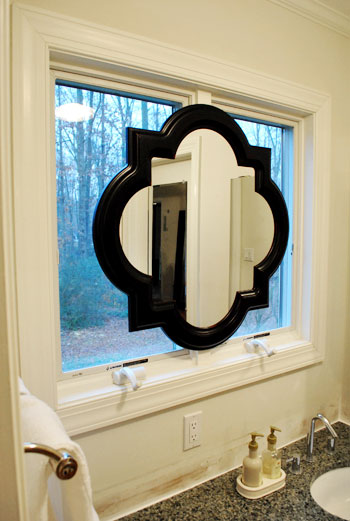 And let's revisit the shape. We mentioned we were originally looking for a round mirror because the wife thought it would add some nice curves to those angular windows, but it needed to be huge because something that was under 28″ wide wouldn't allow both of us to see our entire faces in it (thanks to our 10″ height difference) if it was hung completely centered (top to bottom) on the window- which Sherry was adamant about. The miracle of finding something this shape meant that there was a little extra span of reflective room on the bottom thanks to the irregular shape- which is almost like two ovals overlapping at 90 degree angles) which makes Sherry positively giddy about all that added "mirror real-estate." Here's a direct quote: "not only can I see my face, I can see my neck!" The girl was beside herself with joy.
Oh and for those wondering why we didn't opt for a mirror that could be mounted on the side wall but folded out so we could look see our faces by looking straight ahead, we just thought that would look more bathroom-y, while this solution looked a lot more decorative and would read more as "vanity in the corner of a bedroom" instead of "sink across from the bed." Plus it's balanced, and you know we have a thing for balance.
But the project was not complete until we said goodbye to the old mirrored medicine cabinet.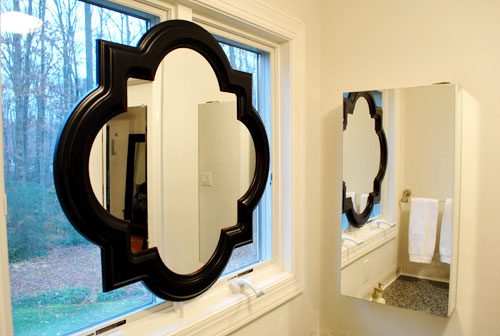 So we took it off the wall, along with the towel bar on the opposite side (we now keep a white towel folded next to the sink which seems to do the trick) and added both the medicine cabinet and the towel bar to our ReStore donation pile.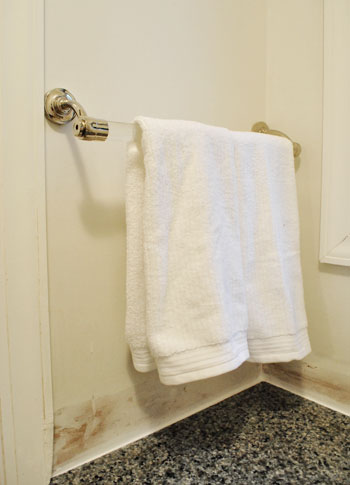 Doesn't it look even less bathroom-sinky in there now that those two elements are gone? And we don't mean to tease, but painting the entire bedroom is on the agenda for today or tomorrow. Woot! We also might paint the mirror frame white (or a softer color to help it blend in with the window moldings like gray) though we haven't decided on that 100% yet… so we could go either way.
And as for how it looks from outside, it's one big tan shape from behind (nothing too messy looking) so it just a symmetrical light brown shape suspended in the middle of the window. Which oddly enough blends in with all the colors of the tree trunks and other exterior elements. And of course frosting the window could add even more privacy when it comes to the view from outside, but since the neighbor's house is actually a ways away, we don't think they can make out our shapes anymore with so much of the window obscured.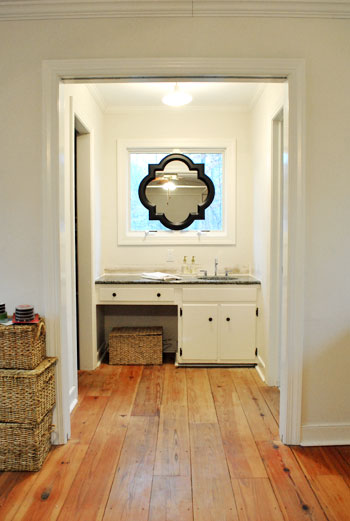 Words can't describe how spoiled we feel to have a mirror above the sink again. Seriously, it's rocking our world right now. And we're not the first people to do the whole mirror in front of a window thing. Check some others out here, here, here, and here. What do you guys think of our not-so-normal solution?
Update: See how our sink mirror project turned out here.