Since you guys have enjoyed the past messy house tour videos that we've shared (like this one from our last house in 2011), we seized the opportunity to remind everyone that we're not all carefully folded towels and meticulously placed pillows 24/7 (not even close). With our attention focused mostly on the showhouse & some last minute nursery updates, many of our other house projects have been put on hold (some are literally halfway done) and a handful of rooms have quickly devolved into chaos. And when your house is a mess, why not video tape it for the whole internet to see?
A few notes:
There is no rapping in this video. I am both relieved and somewhat disappointed.
I hate narrating these things and usually just hold the camera (I have steadier hands) while Sherry talks, but she was doing showhouse stuff so I put on my big boy pants and went for it.
Burger is all over this thing like a helicopter in a P.Diddy video.
Don't worry about the droopy figs in the office. They bounce right back after getting some water… although they do seem to be suspiciously thirsty.
If there truly were a wedding between a sabre toothed tiger and a pony, I would have given anything to attend it as a child (I was a huge fan of any type of tiger, and checked out a library book about tigers every week for two years straight in elementary school)
Look at those gleaming hardwood floors after the climb to the second floor. They make my chest swell with pride.
For everyone asking what's on the fourth wall of the nursery, you catch a quick glimpse of it in the video (it's just a floor lamp and the doorway to the hall for now, but we might add a "wall of fun" like we did in Clara's room eventually)
There's some rarely seen footage of the unfinished storage room at the end of the upstairs hallway (and – surprise! – that's a mess too)
I edited the end of the video to cut off myself shouting "keeping it real" because something possessed me to yell that out and the end of the video like a Backstreet Boy circa 1995 and I couldn't not let it see the light of day. You understand, right?
In case you can't watch the video at work (it would still pretty much tell the story sans sound), here's a quick tour-via-screengrab of some of the highlights.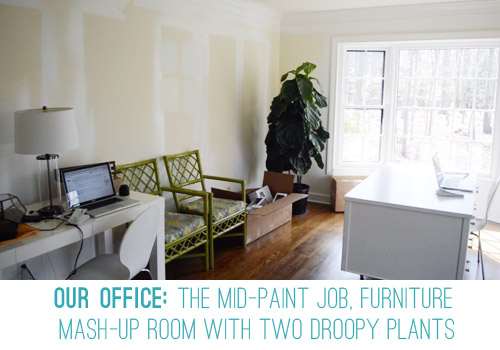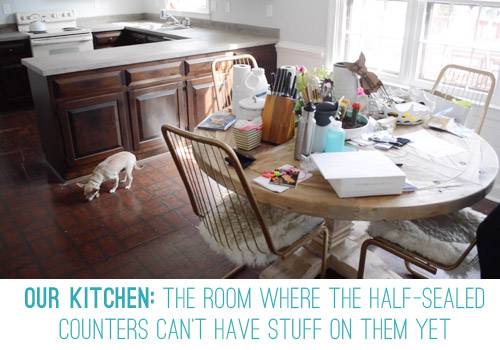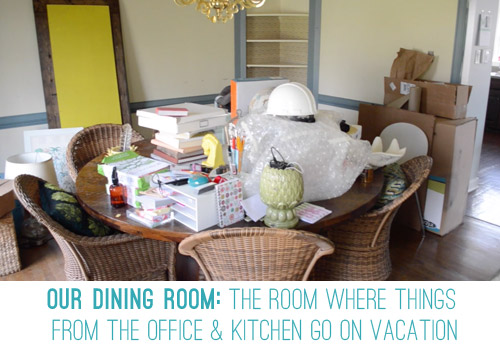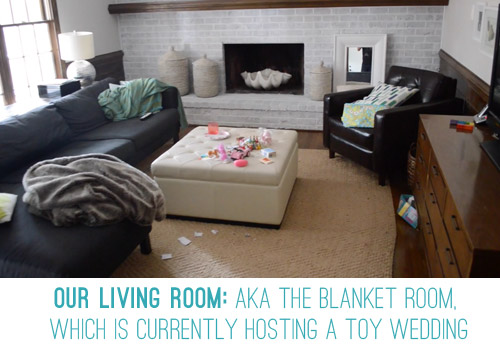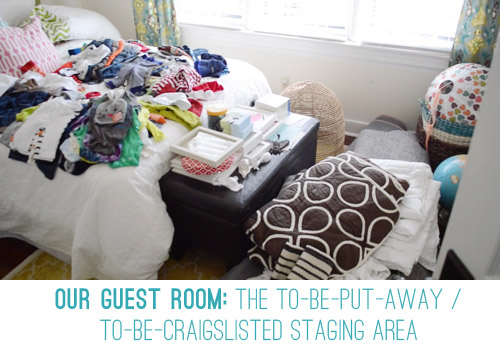 If everything stays on schedule, we should have a few days between our big Homearama deadline and our baby arrival date when we can hopefully wrap up a couple of projects and return things to some semblance of order. You know, right before Barnacle comes along and throws us all out of whack again…
Does anyone else have any messes to fess up to? Is there some half-finished project that's causing a ripple effect into other rooms around it? We can't be the only ones.
Psst – Showhouse deadlines have kept us even crazier than expected this week, so we're not going to have a post for you tomorrow, but we hope to be back at it again on Monday.