For the last few weeks we have eaten, slept, and breathed all things showhouse. We knew it was going to be a lot of work, but I'll be the first to admit that we completely underestimated how much time, effort, and – well, shopping – it would take to turn a 3,500 square foot blank-ish slate into a lived-in-ish looking home. In two weeks, no less. So as you can imagine we've pretty much been camped out there. Or driving back and forth with a car full of stuff, unloading it, placing it on various surfaces, and repeating.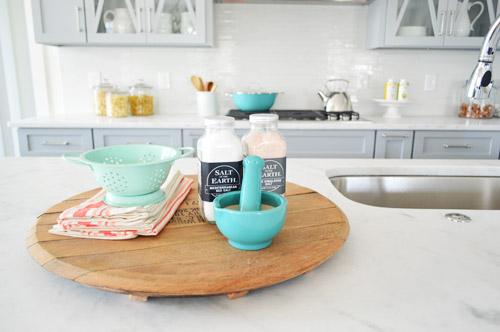 We thought most of the major hurdles had been cleared after choosing fixtures and finishes over the last few months, but that's because we didn't realize just how many surfaces there would be to decorate. We'd been gradually collecting items for the house since January (which is when we picked out a lot of furniture, honed in some art selections, ordered curtains and bedding, and started stocking up on general accessories) so after our furniture-unloading-day two weeks ago, we (naively) expected the house to look pretty complete. Instead, most spaces just looked like this. #sadtrombone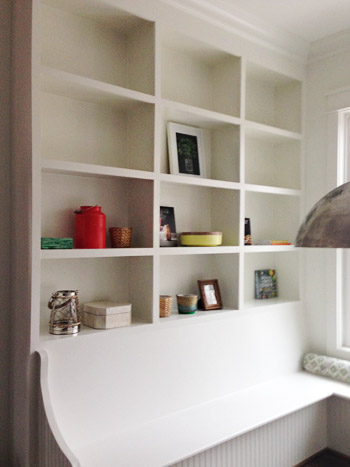 Sure, those breakfast nook built-ins were a big task on their own, but we fell short everywhere – on tabletops, vanities, counters, porches, beds, desks, etc. Everything looked sparse, and we had a minor freak-out. But our builder and the Homearama folks reassured us that we were in good shape. We just had to shop our little hearts out. Thank goodness we bought a bigger car because it looks like this almost constantly. We estimate that we have made close to 20 car-completely-full runs from small local boutiques, thrift shops, and larger retailers with everything from pillows, rugs, planters, tabletop accessories, bedding, books, and beyond.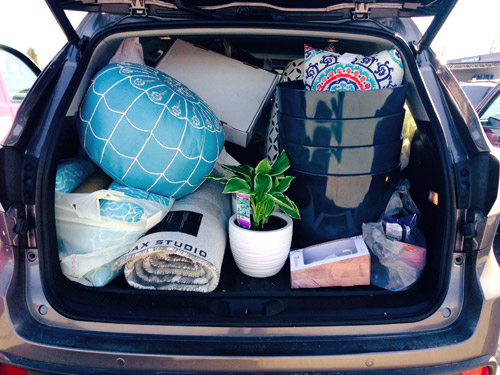 Picture us filling multiple carts at HomeGoods, Target, and World Market on at least four occasions, to stock up on everything from frames and pillows to dishware and towels. And as we rolled towards the checkout (and watched various cashiers get wide-eyed) we profusely apologized every time.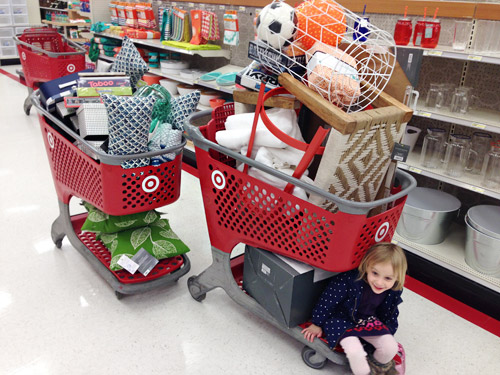 We even found ourselves at the grocery store to pick up items to stock/style the kitchen. I think the cashier just chalked up our unusual purchase to pregnancy cravings. Well, at least the 9 bags of powdered donuts. Which, btw, pro-tip: don't put your donuts out so early that they get mostly eaten by everyone working on the house (there are still people dropping by to fix scratches in the floor, touch up paint, make last minute electrical updates, finish a few carpentry projects, etc). But it was nice to reward such an awesome team… so maybe the tip should be: motivation can be handed out in donut form.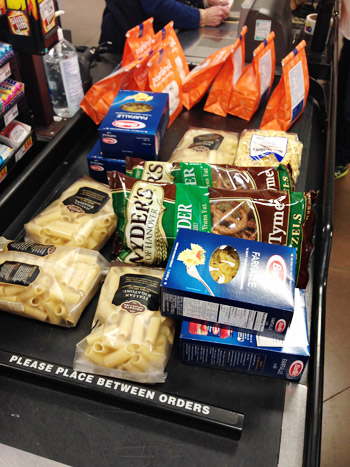 As of yesterday, the house was looking about 85% done – including those breakfast nook shelves. Sherry still has a bunch of tweaks that she wants to make (just sharing this not-completely-done shot makes her twitchy) but they're a lot further along than they were a few weeks ago. A crew rolled through on Friday and shot video & photos to use while promoting the show (our first deadline) and the builder is hosting an event there today (our second deadline), which is why it has been such a rush to get things in order – even though each of these seven showhouses don't open to the public until May 1st. Oh, that and there's a baby coming soon for us (nine days and counting) so we have our own little deadline going on too.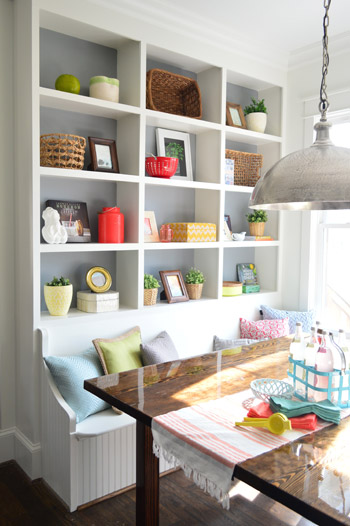 You'll notice the shelves above also got painted gray in the back, which was one of those 11th hour tweaks that we found ourselves making. We'd thought they might need some color back there, but it wasn't until things started to come together that we decided that the same gray tone from the kitchen cabinets would tie them together, so we held up paint swatches to find a match (the winner was Timber Wolf Gray by Ben Moore if anyone's wondering).
So yeah, they juuuuust got painted yesterday afternooon by Parker, the same guy who hung the laundry room wallpaper for us. Speaking of which, we made a last-minute change in there too. We were staring at it with the builder and the woman who runs the entire event and said "should we add a shelf? A chunky white floating one would probably be really functional." Both voted yes, and it was on. The carpenter came over and knocked one out within 24 hours (including hanging it and painting it) and we all love it. Hooray for final-hour updates.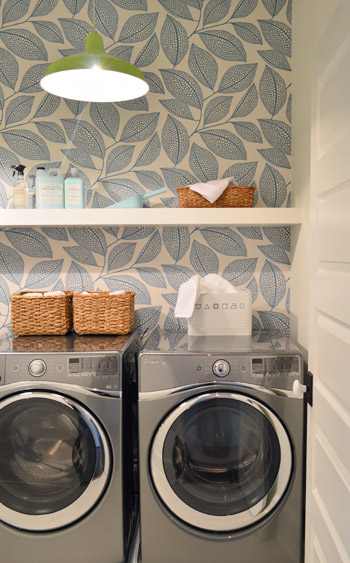 Here's the foyer area, now sporting a big white driftwood mirror that we grabbed at HomeGoods on Thursday. We had hung framed art there just two days before, so our decorating process definitely hasn't been a straight line. Trial and error is the name of the game. Sometimes we just have to see things before we know if it's IT or if it's "meh" – and then there's a mad scramble to turn as many "mehs" into "heck yeahs" as we can.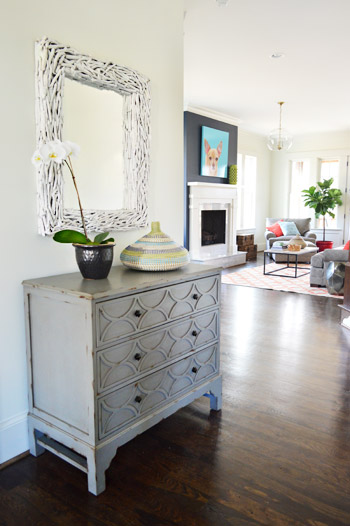 In the background you can see a bit of the living room, which plays host to a big painting of Burger that our amazing friend Lesli Devito made just for that spot. Sure the real homeowner probably won't put a giant pet painting up there (there's a TV hookup behind there in case they want to mount theirs in that spot) but we thought it'd be a bit cheeky and fun for the show. A nod to our handsome four-legged friend, if you will. Especially since there are a bunch of more serious furnishings and accessories in the rest of the kitchen and living room.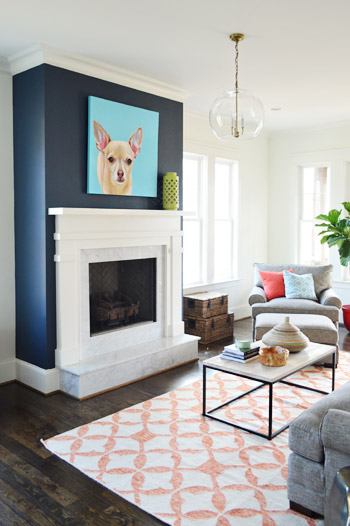 A lot of you guys have asked where these furnishings and accessories will go when the house is sold since they're all purchased (or donated or borrowed) just for the show. The answer is that once the show's over, the homeowner has the option to buy a few items of furniture or art if they'd like – but they will mostly be furnishing/decorating this house so it works for their family (and not the fictional family that we've created in our minds). So many of the donated items will be paid forward to the Habitat ReStore or returned to the vendors, while things that came out of the builder's decorating budget might be re-used in future model homes.
One of the toughest spaces to fill was the playroom/reading room upstairs, which I don't think we've shown before. We wanted to do big bookshelves (with a built-in bench) in this room so it could be used as a quiet reading spot if the future owner didn't need a younger kids play space, although we decorated it somewhere in the middle – both with games and books so everyone in the family could picture a spot to chill out and relax. We're still waiting on our upholstered bench cushion for the window and a few other touches, but it's coming along.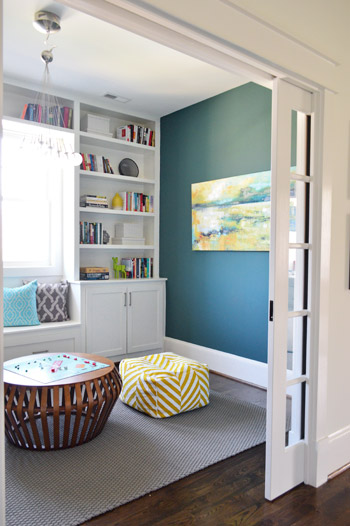 Of course last fall when we chatted about this room with the builder and the architect, we didn't really think about having to get books upon books to fill all of those shelves that flank the window bench on both sides. So a few weeks ago in a moment of desperation, we called our buddy Kelly at a favorite local bookshop (Fountain Bookstore) and she said she had boxes and boxes of early-sample paperbacks that she was just going to recycle (they're not allowed to be sold or donated since they're advance copies). Phew!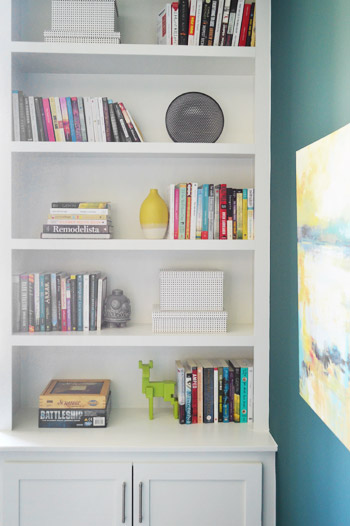 We realized that we also haven't shared this fun light fixture in there. It's a spun glass chandelier from Shades of Light that looks great against the Dragonfly-colored walls, but is a little tough to see when photographed against the window. Can you tell we're still learning our photography angles in this house?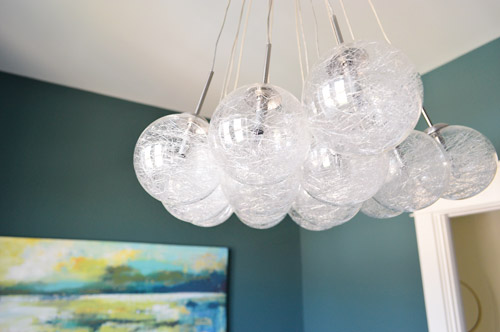 One of the biggest car-fillers when it came to shopping was bedding and pillows. Not just decorative pillows for the couch and stuff, but more basic things like shams, duvets, quilts, sheets, bedskirts, and other various staples for the four beds that we had to make. A lot of it was picked up on the fly, but we did get this pretty patterned bedding donated from Pine Cone Hill for the master. It looks pretty awesome with another Lesli Devito painting that she loaned us for the show.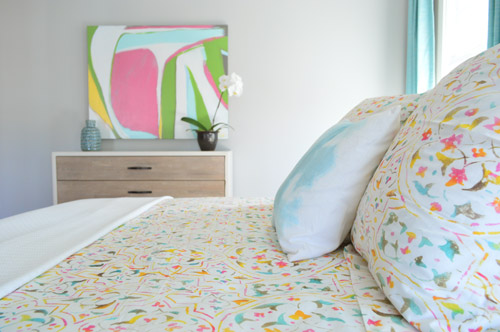 It'll feel good to have the last remaining bits checked off this week, so we can hopefully squeeze in a few normal-ish days before normal gets redefined by baby Barnacle's arrival. Our parents have been a big help in watching Clara outside of school hours, and she has clocked some pretty great quality time at the showhouse with us as well. She's "breaking in" a lot of the rooms – like coloring at the desk in the girls room, playing make-believe with the Monopoly pieces in the playroom, and assembling Legos at the desk in the boys room.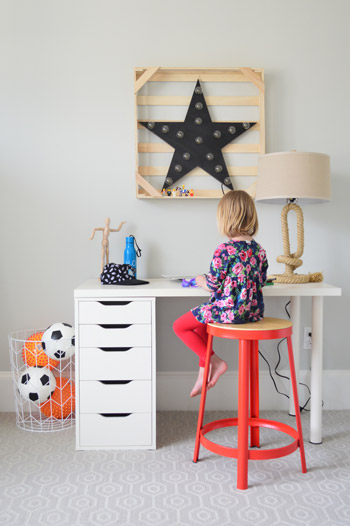 This week will be showhouse heavy since we haven't had much time to do anything else. But being so close to "finished" is getting us really excited to fully shoot each room and share the full monty details (listing sources, alternate angles, explanations for what went where and why, etc). So if you could hold any "where's that from?" questions until we share each room, we plan to source every last item for you in those more detailed posts, which we'll hopefully be rolling out this week (we're planning to start shooting "after" photos before the party today if things come together like we hope).

I'll leave you with one last glance of a space that we're CRAZY excited about. We hired a local artist to deck out the chalkboard wall in the butler's pantry (which has become a coffee/wine station for our imaginary family) with a chalk pen mural full of coffee and wine terms, and boy is she decking. it. out. It's not dusty or smudge-able with a finger, but it can be scrubbed off with a magic eraser if the future homeowner doesn't want to keep it. She'll be back tomorrow to put the finishing touches on it, and then we can't wait to shoot a million wide shots to show you how that awesome little hallway between the kitchen and the dining room has evolved.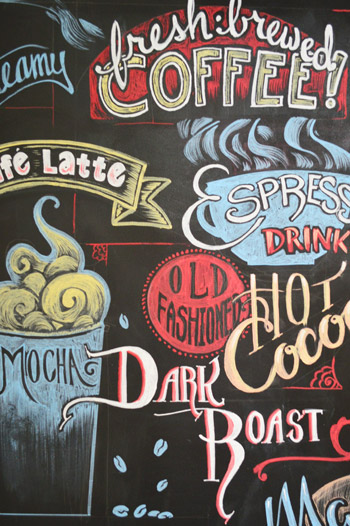 We realize it – as well as lots of other design choices in the house – aren't necessarily everyone's cup of coffee tea, which might be an issue if we were decorating a spec or a model home (where the goal is to sell it by appealing to as many potential buyers at possible), but as a showhome, the purpose of this house is a tad more complex. Each of the seven Homearama teams have been encouraged to make unique and specific choices to keep the show varied and interesting – and oddly enough, these homes tend to sell pretty fast thanks to all of those special features, even though they might not be safe/universal.
So while these builders create dozens of more basic and mass-appealing homes each year, these showhomes aren't like that at all. In fact, on Friday we got to run through a couple of the others in this year's event, and we can't wait to share some wide shots when everyone's done decorating. In the meantime, here are just a few examples of some specific choices that other builders & design teams are integrating: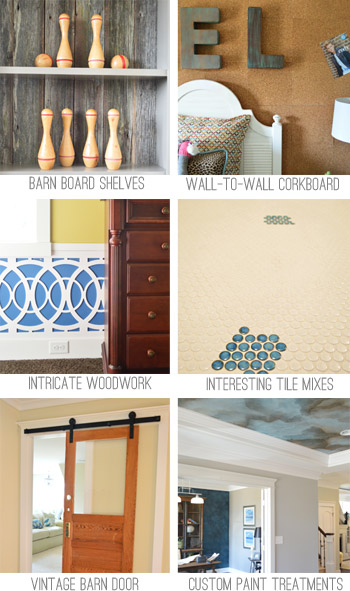 Please bear with us while we power through this last intense week of showhouse stuff (knock on wood) and slowly work our way around the house to share all of the afters (and sources) with you guys. Speaking of powering through, I've been killing it on my FitBit steps thanks to this job lately. And poor Sherry, her feet have just been killing her. That reminds me, seeing as it's 10:32 on Sunday night as I wrap up this post, I probably have a foot rub that I should be getting to…
Psst – Wanna see more showhouse info & photos? Click here for Our Full Showhouse Tour, which includes final pictures of every room, the floor plan, budget info, a video walk-through, and shoppable showhouse furniture & accessories.